Candle Organization Ideas 
This post is sponsored and may contain affiliate links, please read my disclosure policy.
I have a fun organization post for you today! I'll be showing you how I store my candles and other candle products in my home! Candle organization is something that you normally don't think about because there are so many other places and spaces that need to be organized.
This post is sponsored by TARGET. All opinions are mine.
Ideally, I would love to have my candles organized in a dedicated closet area. Think of a small linen closet but for candles and other entertaining spaces. ( Note to self for dream house haha) But right now all my candles are kept in our entryway.
Yep hidden in these drawers are candles and candle accessories that I use for entertaining or just for mood settings. I also keep my oils and candle waxes here too. There are just so many ways to make a house smell great that I knew this spaces would not only be needed but organized and ready to use.
Of course, just like most drawers downstairs, this became a junk area, and mixed in were candles and all of the accessories.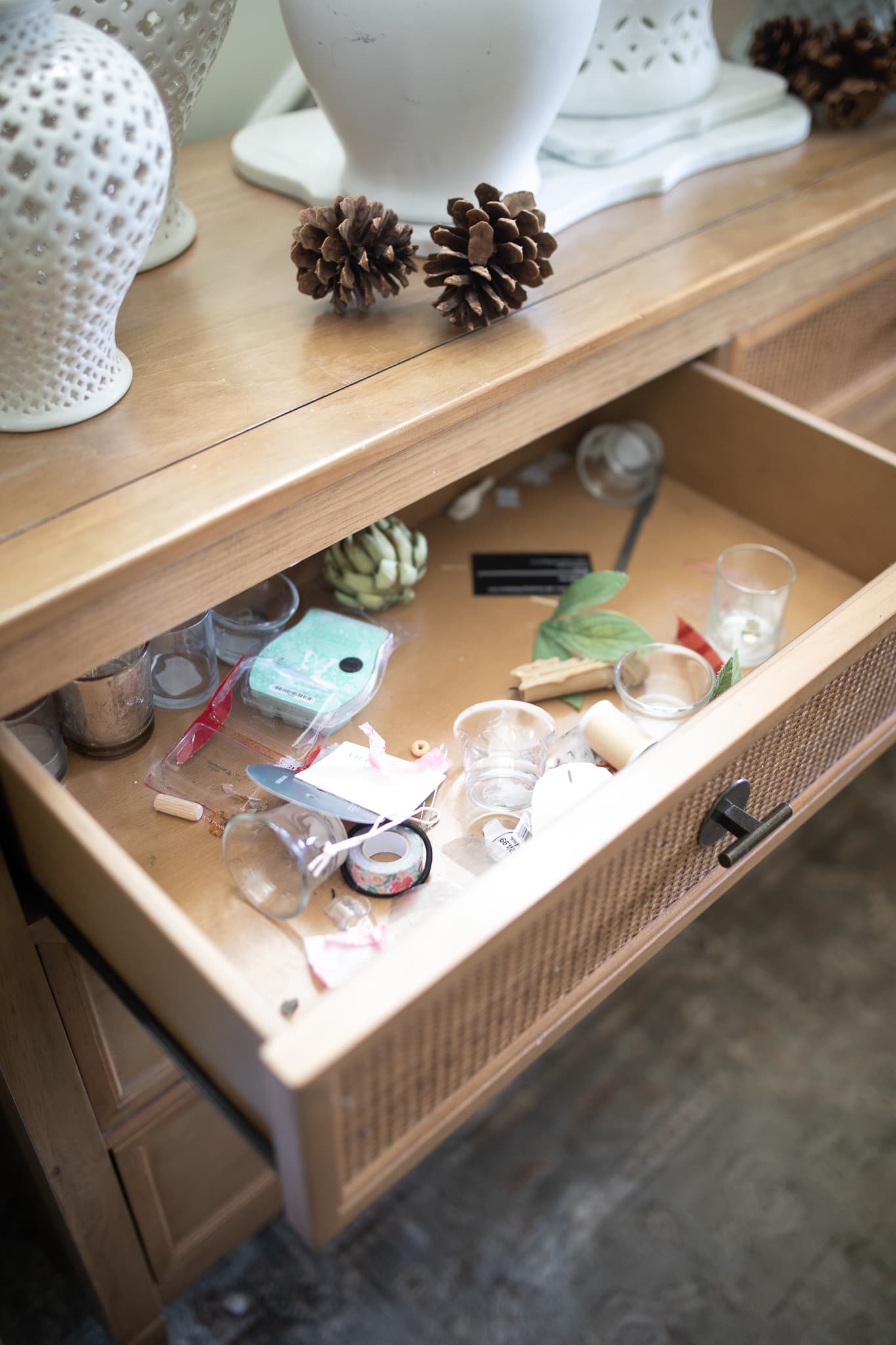 I always like to say that even if things get messy, at least plan to put things back and get them in order. So after parties, I would just throw the extra candles in this area without putting it back in order. But at least I know I have a place for candles, even if it's not in the best condition lol!
So I cleared everything out of the drawers and started to plan out what drawer would hold what. Here are a few different products I needed to sort
Tapered Candles

Jar Candles

Pillars

Glass Votives

Votive Candles

Candle Melts

Lighter

Candle Holders
Just to name a few.
So at the top, I sorted all my beautiful tapered candles using a clear tray from Brightroom. Brightroom is exclusively at Target and has the MOST affordable organization products for your home. I'm talking about baskets, trays, pantry organization, laundry, everything.
Not only did I use the clear trays for the drawers, I also picked up some other smaller trays that can be used with them or separately.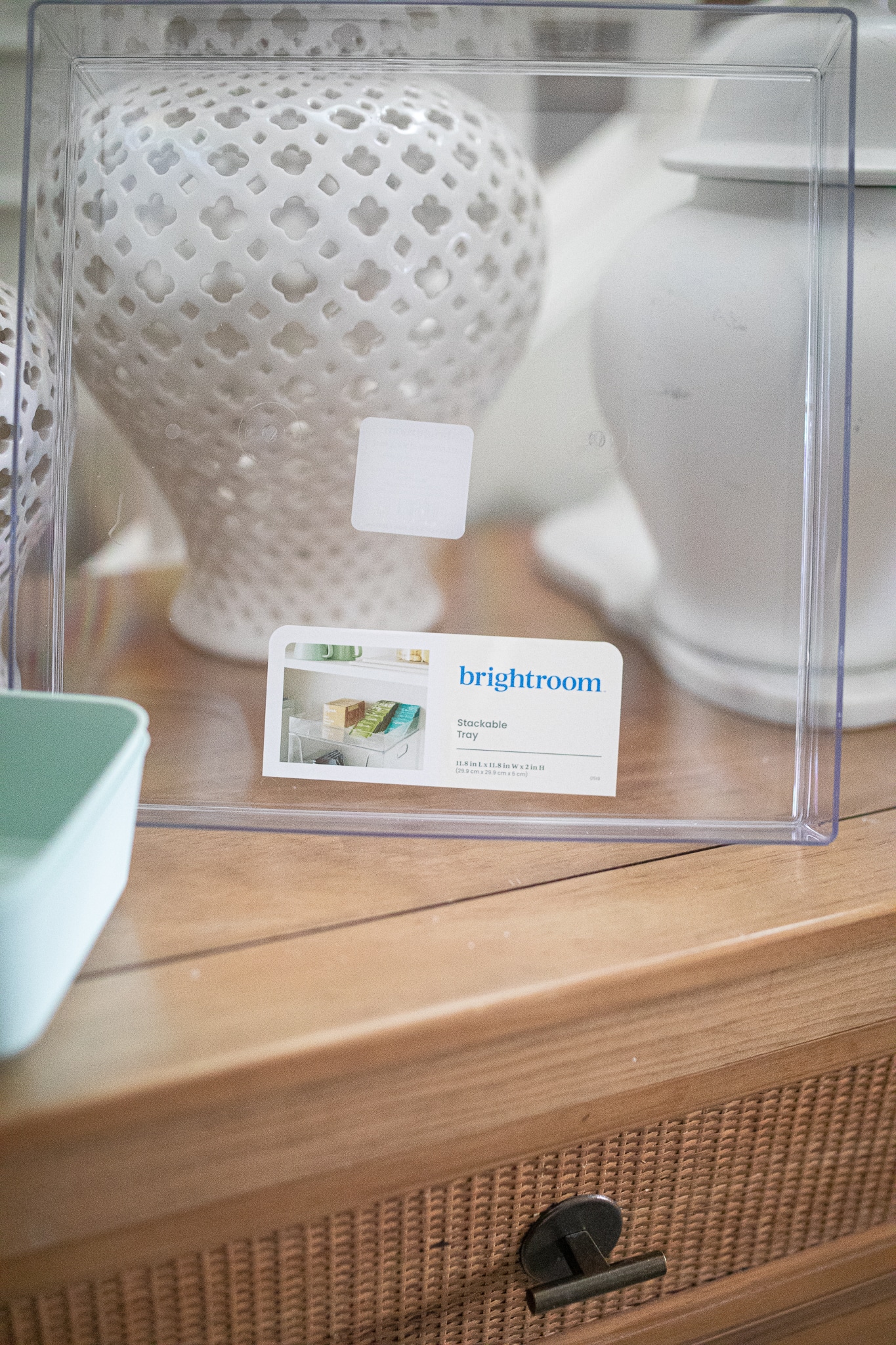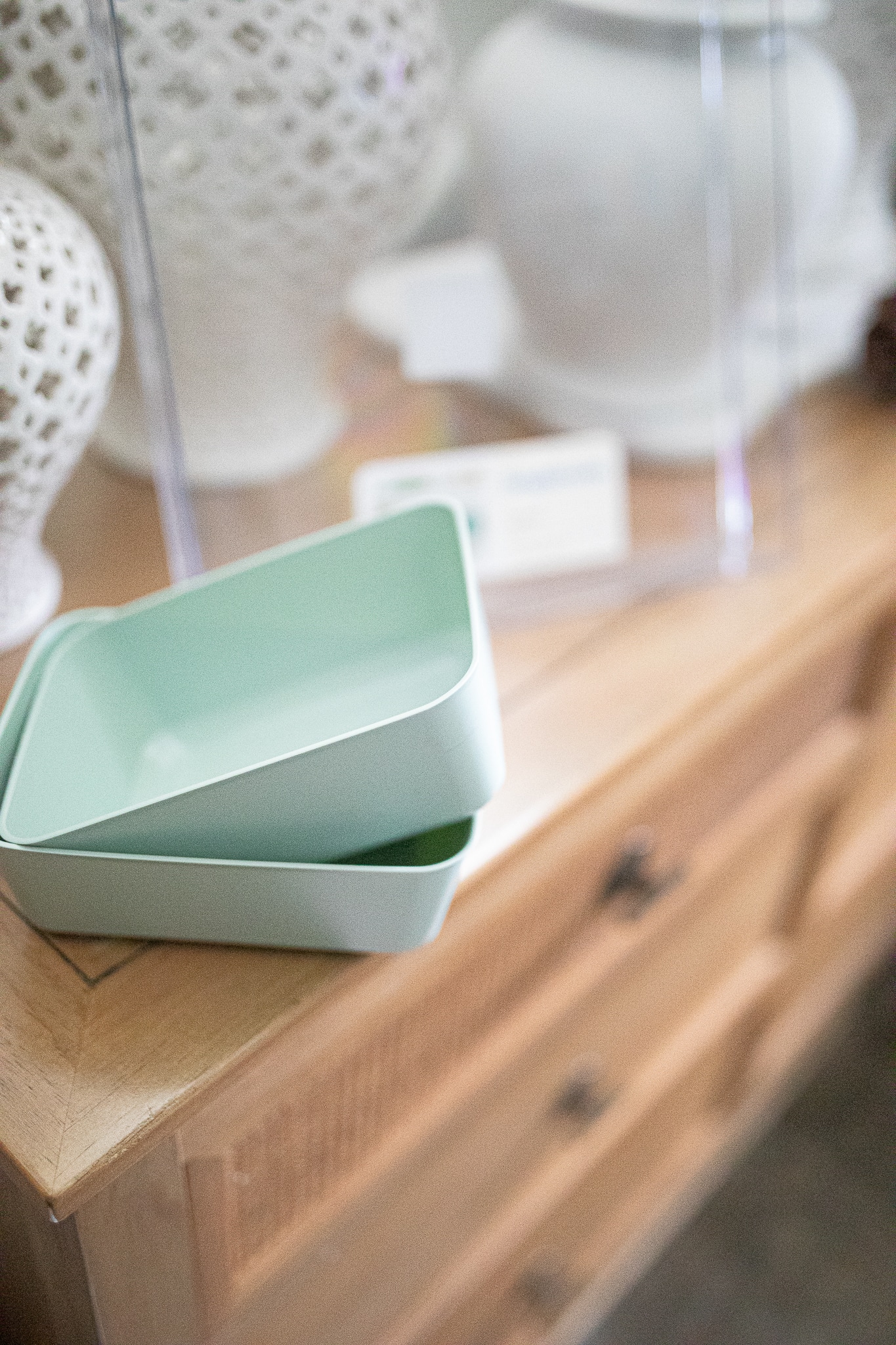 I just think a row of tapered candles in the most beautiful colors is just what I needed to get me motivated to get this spot organized.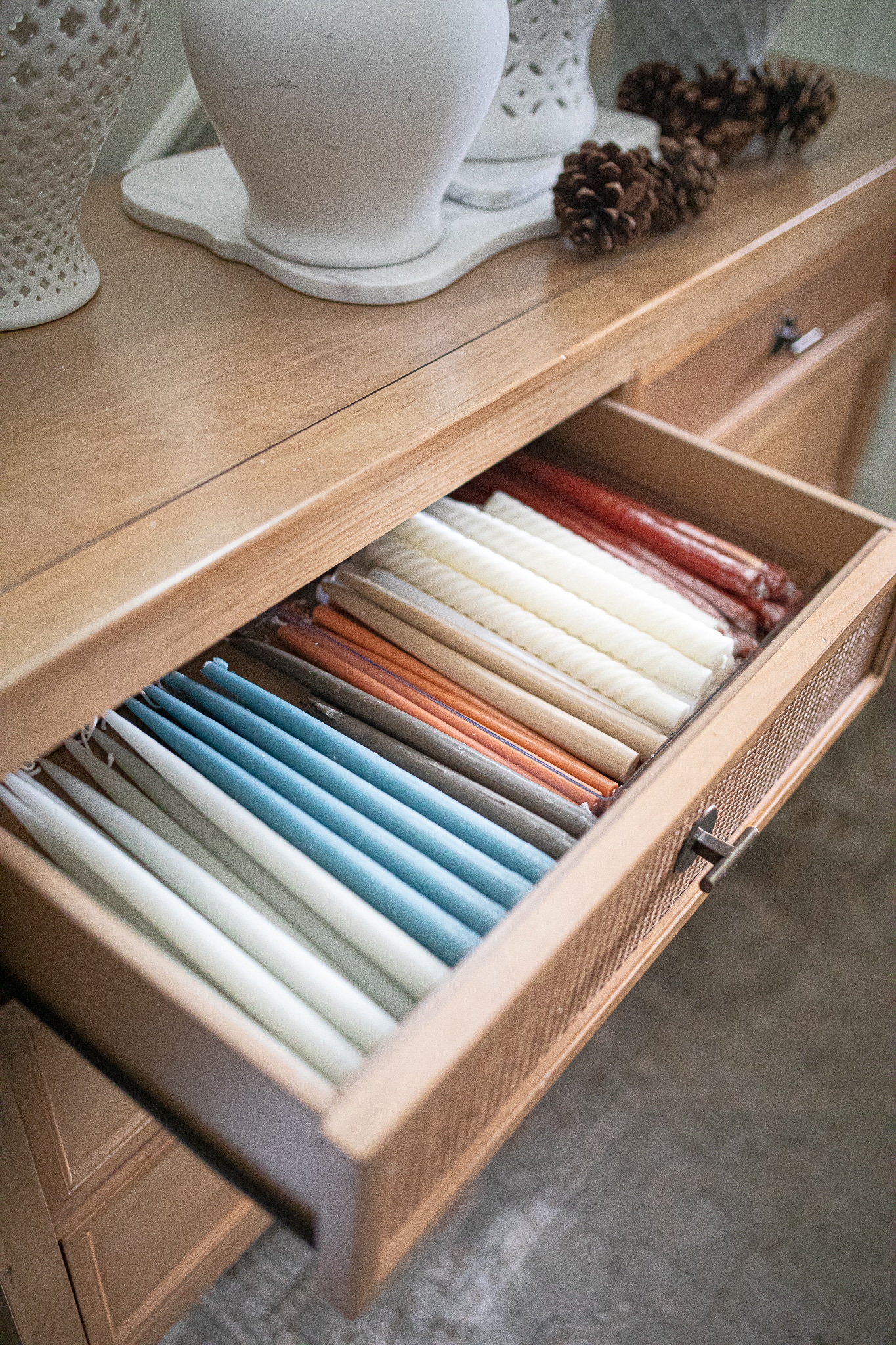 I organized all my clear votive candles and home candles in the drawers under this drawer. These are great for parties! Just light a few tea lights all over the house and you have an instant atmosphere!
The medium trays really came in handy. I can't believe how affordable they are and the green color is so pretty!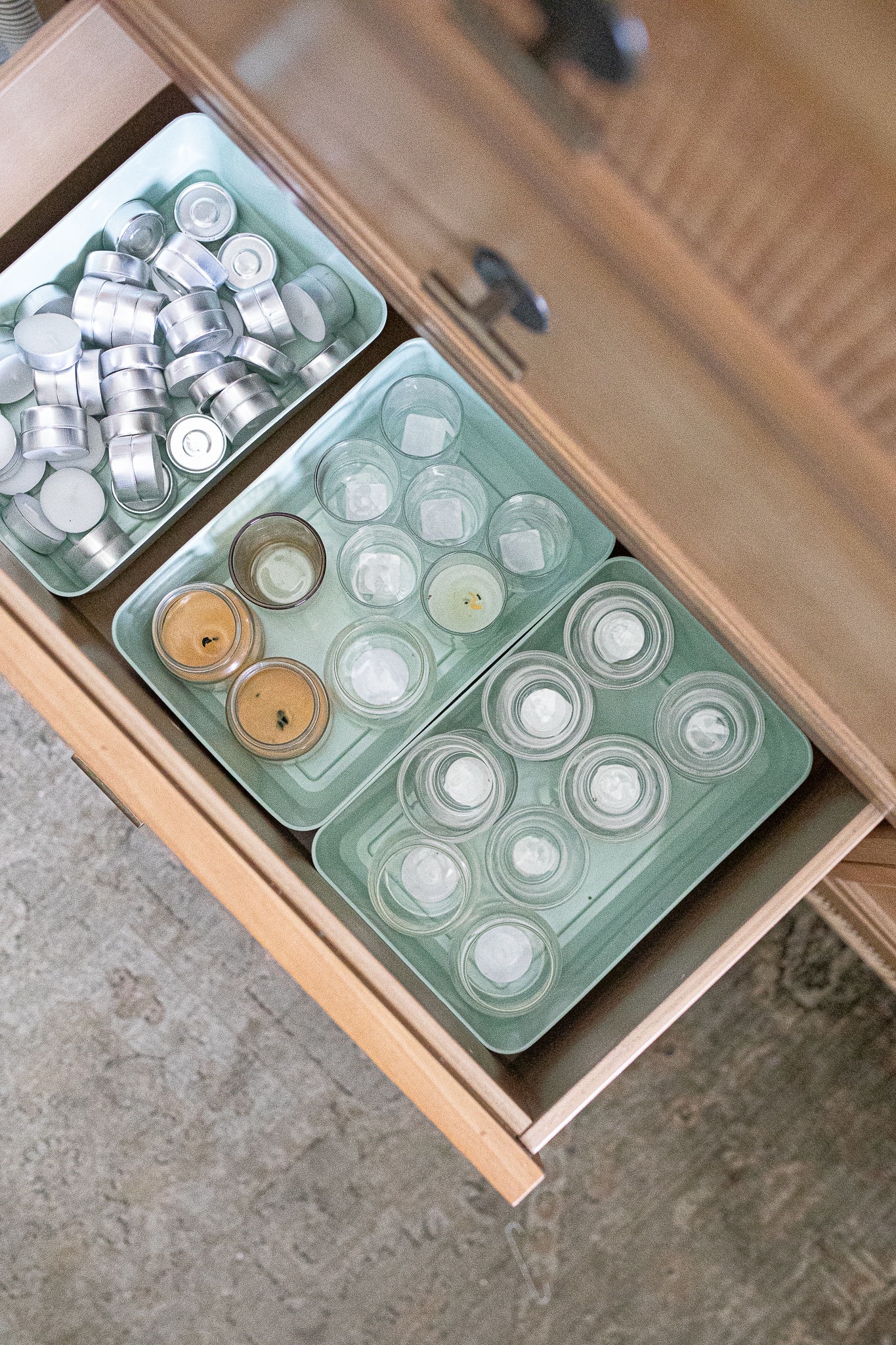 In the other drawer, I organized all my jar candles and pillars. These candles are used to make the house smell great! I love to keep them in stock during each season and when they aren't in use they go right back to the drawer.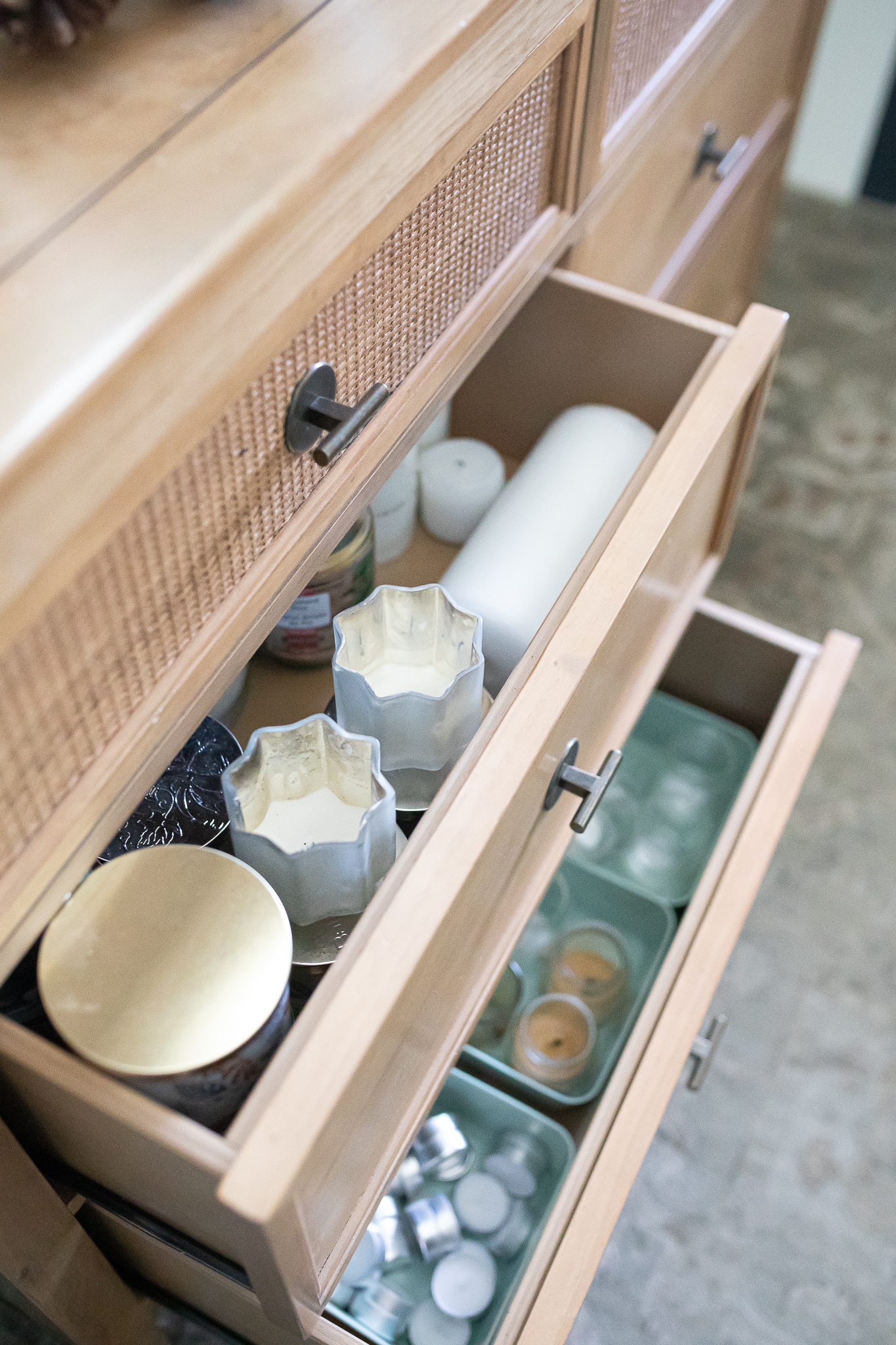 The great thing about using a dresser in your entryway is that you have PLENTY of storage options.
I also organized candle holders and specialty votives in the other drawers, all corralled using the small and large trays from the Bright room collection.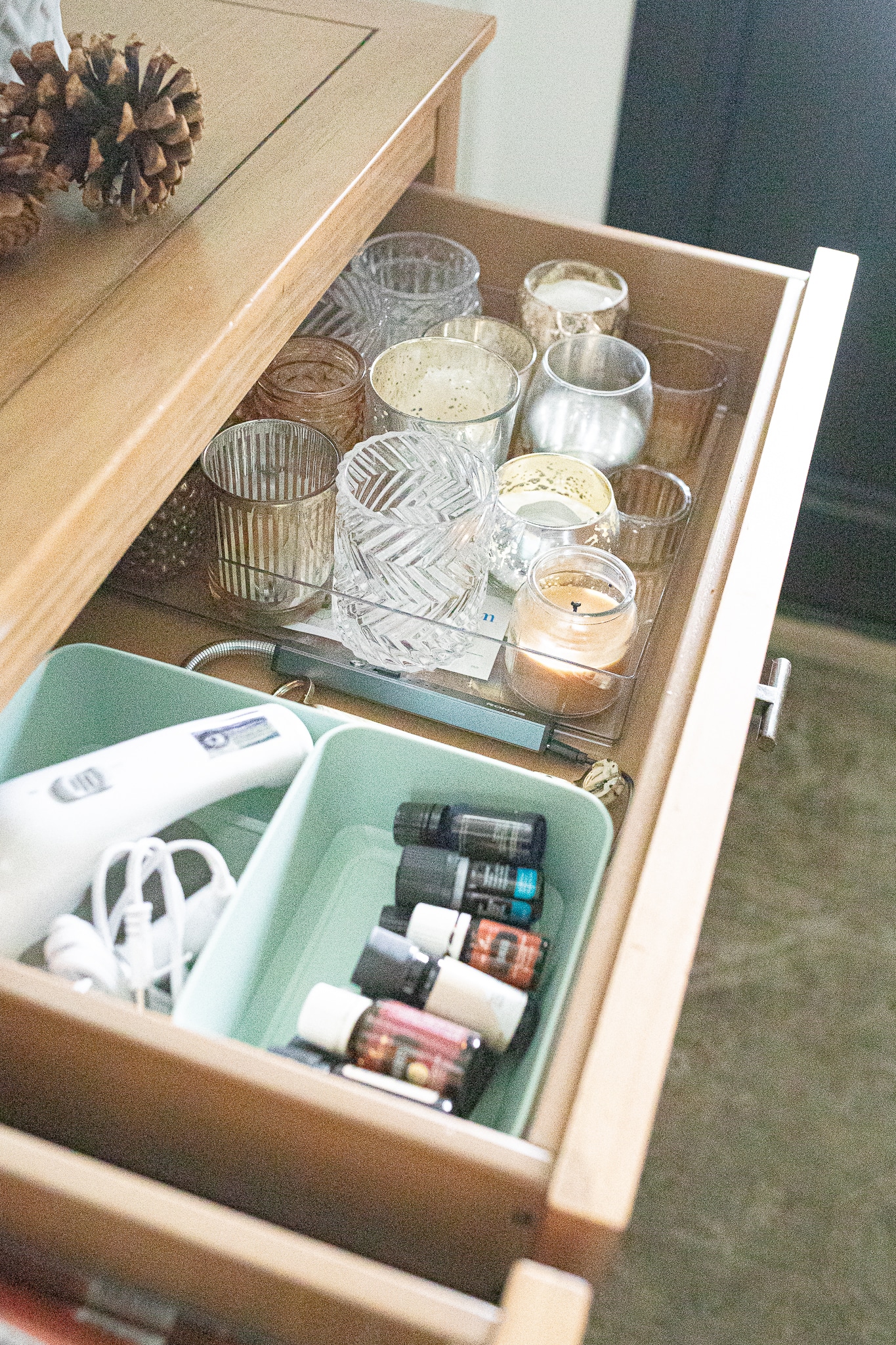 The drawers are shallow on top but deep enough on the bottom to store a good amount of product.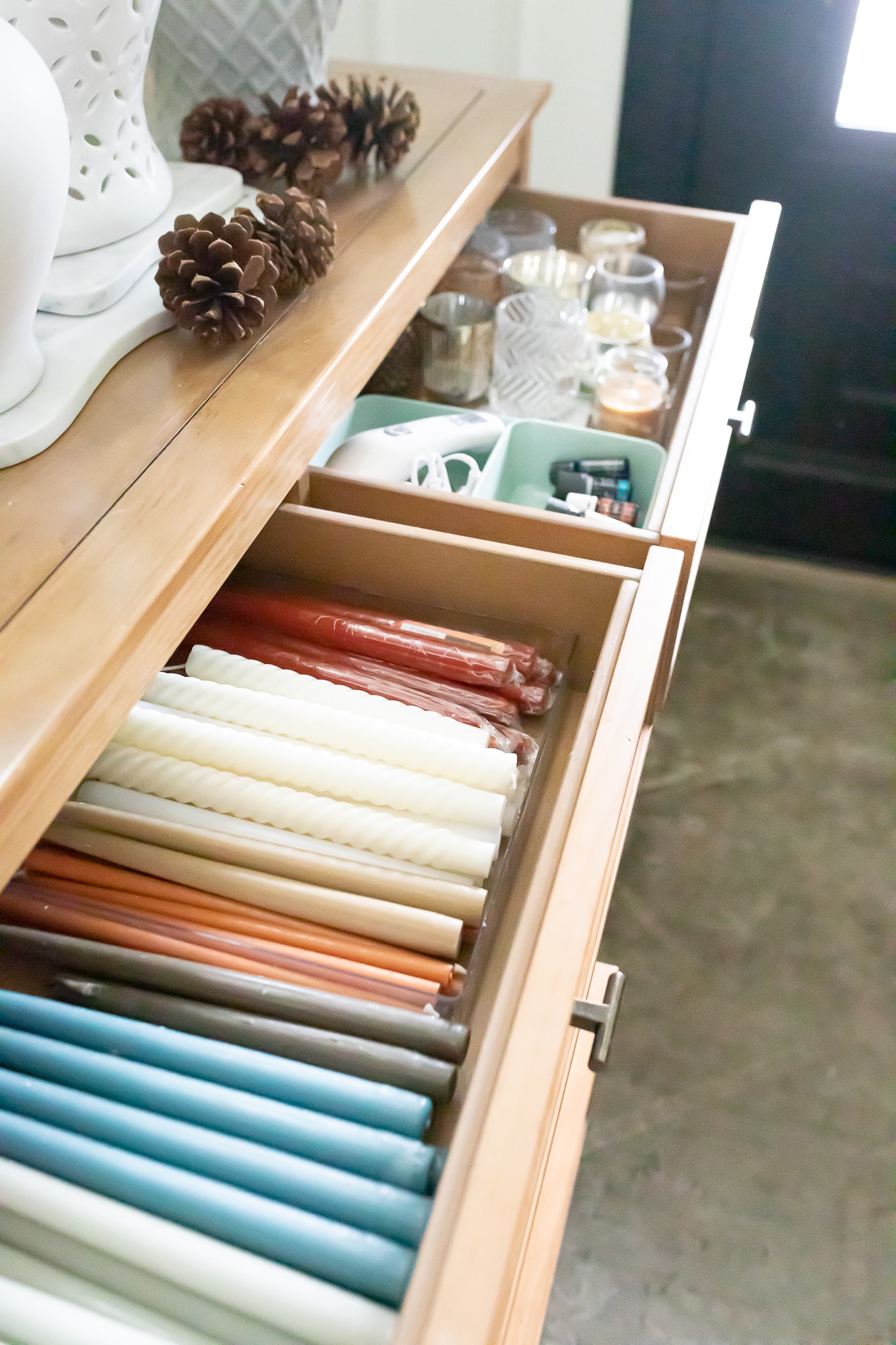 The clear trays and small containers are perfect to keep everything separate but seen. I can open up the drawers and find exactly what I need without scrummaging through the entire drawer.
Hopefully, this gives you some great ideas on how to store your own candle or as I like to say " Smell Goods" in the future! A cabinet, dresser or even an entire closet can be a perfect spot to store all your candles and accessories. Make it even better by adding a few of these mentioned items above!