This post is sponsored and may contain affiliate links, please read my disclosure policy.
This backyard of ours has been a dream come true. From a very rough concept on scraps of paper to reality, we are finally starting to enjoy this little oasis of ours! When we went to design our space we really wanted to get everything right, so we hired a landscape architect to guide us with space planning. What he did was told us the best place to put everything so we could fit all of our must haves. I will talk about that process later. You can imagine with was a great marriage builder that was for us…lol!
Being on a little more than half an acre we had plenty of room to do just about anything we wanted, so we decided to get it right and get some expert advice. Although we changed 90% of everything after words( making spaces bigger, changing shapes, landscapes, finishes,etc)  we basically stuck with the placement of the pool, fireplace, outdoor kitchen, shower and built in outdoor sofa. We had to research all the hardscapes and coordinate the flow and look of the entire space. Which by the way is very similar to pulling together a room inside. The only bump I ran into was color! Out here in Arizona they love browns, tans, and beige. It is the desert! So when I presented a very gray and white chic, rustic, modern Mediterranean vision, the looks of confusion were everywhere. No one could find materials and everything was special SPECIAL order…lol!  But to see it all now, my husband and even our contractor can't believe how great it looks!
While Reggie was dreaming about a diving pool and a jumping platform, I was dreaming out this space….a built in outdoor sofa.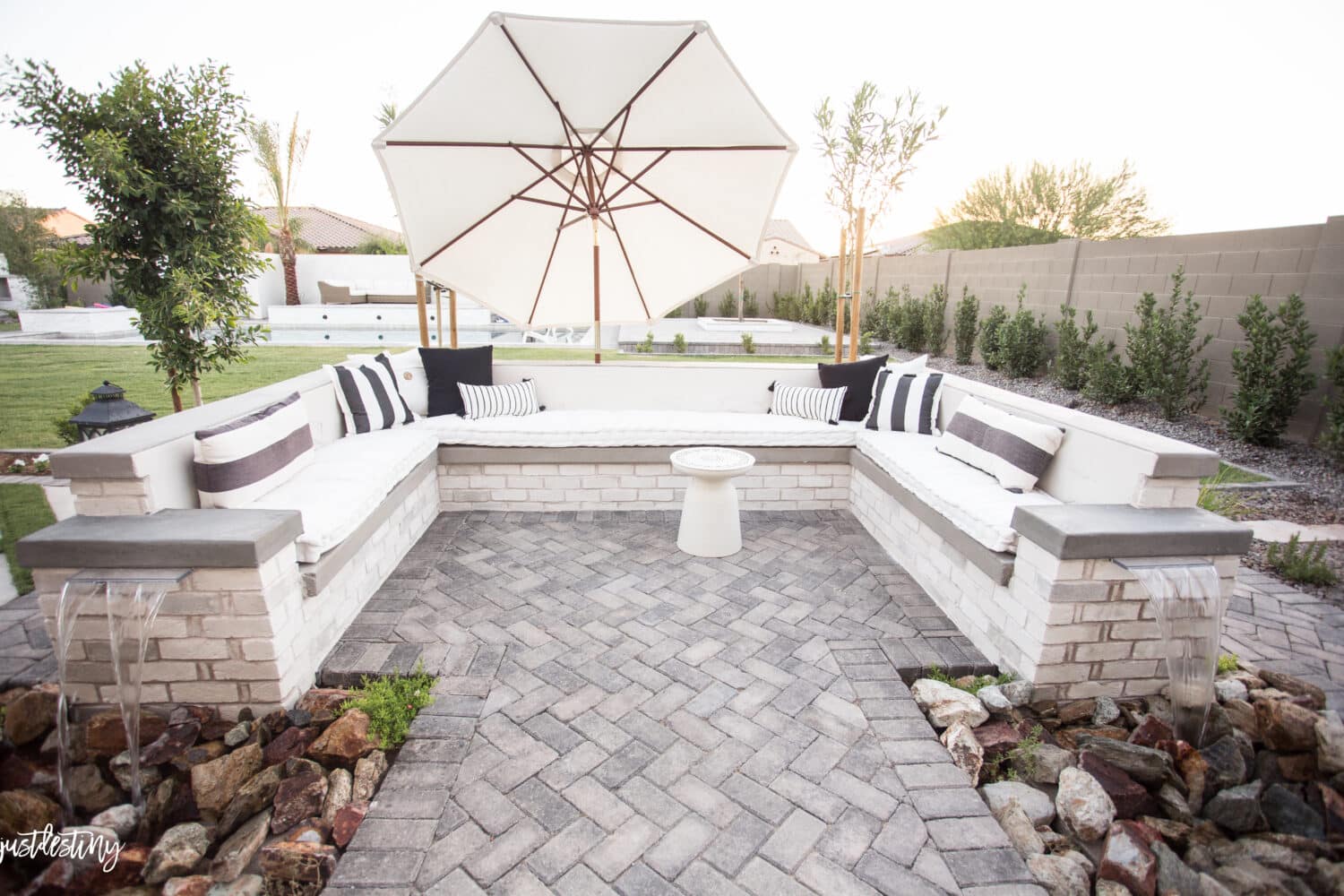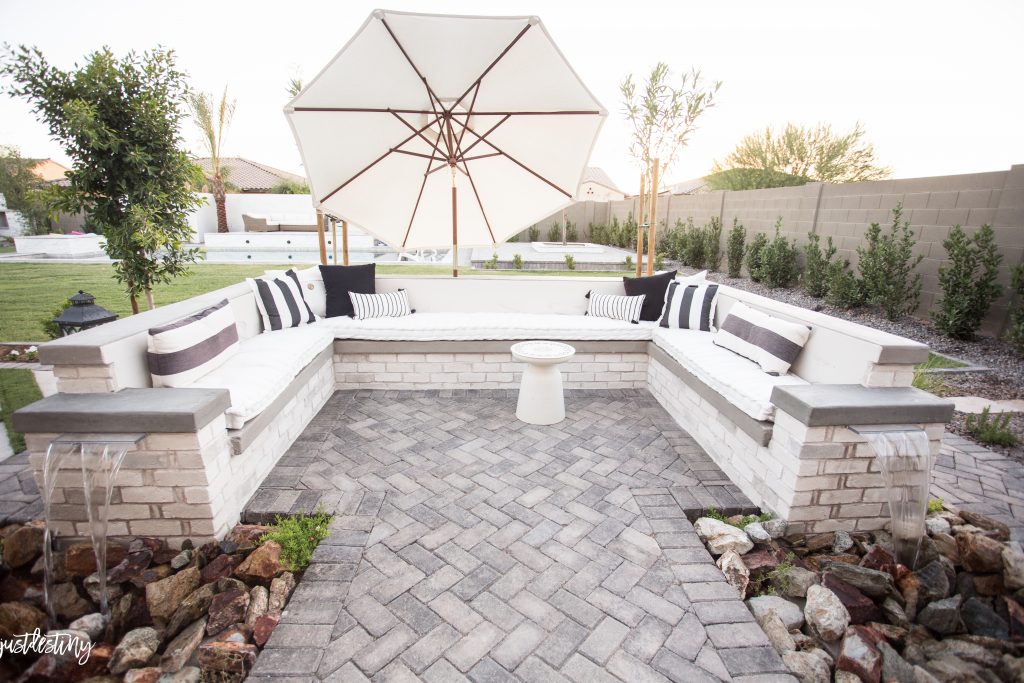 My vision was to have french doors ( coming soon) to open up to a beautiful sitting area right outside the master bedroom. A place where I could sit and enjoy the outside, read my morning devotionals and sip on ice cold coffee, a favorite of mine these days. I also imagined it would be a great space for friends to congregate during parties. During our first party a few weeks ago, it was cool to see our friends do just that!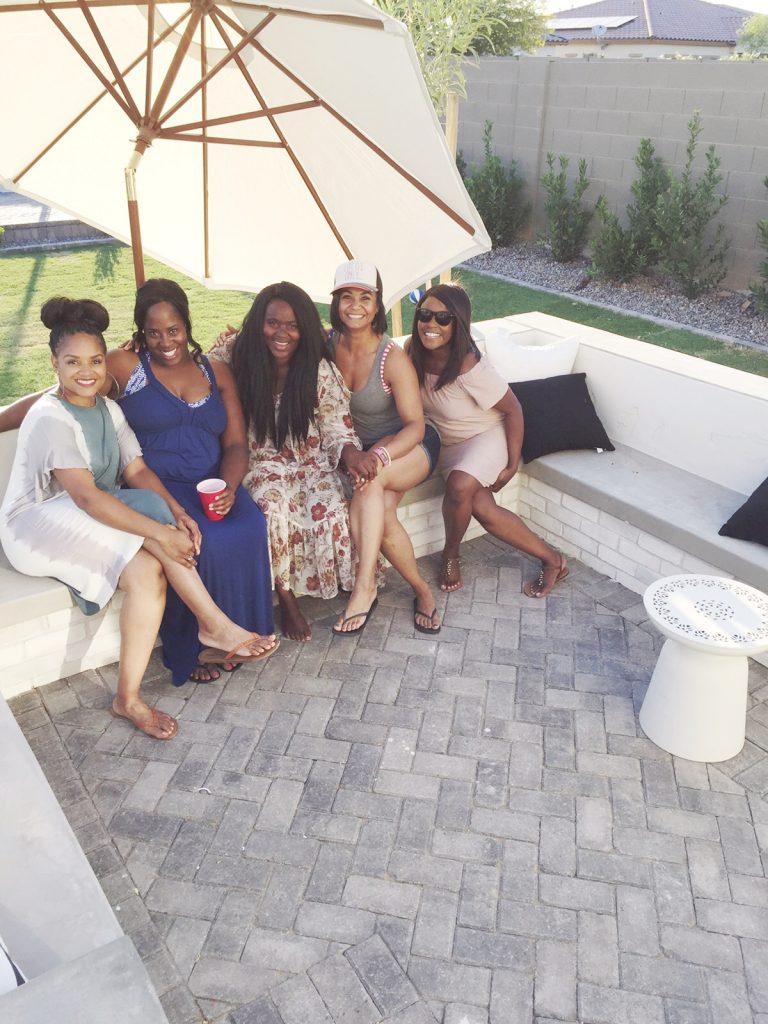 The sofa itself was built with cinder blocks as the base.  Our contractor did a great job working with me so we could get the appropriate height and width for the entire area. I do wish I would have made the seats a bit deeper though. These are standard seat height and depth ( maybe a even deeper) but I LOOOOOOVE deep seating, so I think I would have loved something even deeper! ha!
I went back and forth between the sofa facing the master, doing a split sofa with an opening, and facing the entire sofa towards the yard. Ultimately I decided I was going to be using it mostly in the morning EVERYDAY and I didn't want to walk around a sofa, I just wanted to walk into it. If the kids are swimming, I wouldn't be over here, I would be over by the pool. If I went with the split sofa that didn't give me as much seating as I wanted.
That's the thing about designing a yard space like this. You need to really figure out how YOU are going to use it MOST of the time. Walk it, pretend, imagine and really REALLY think each detail you can afford to do.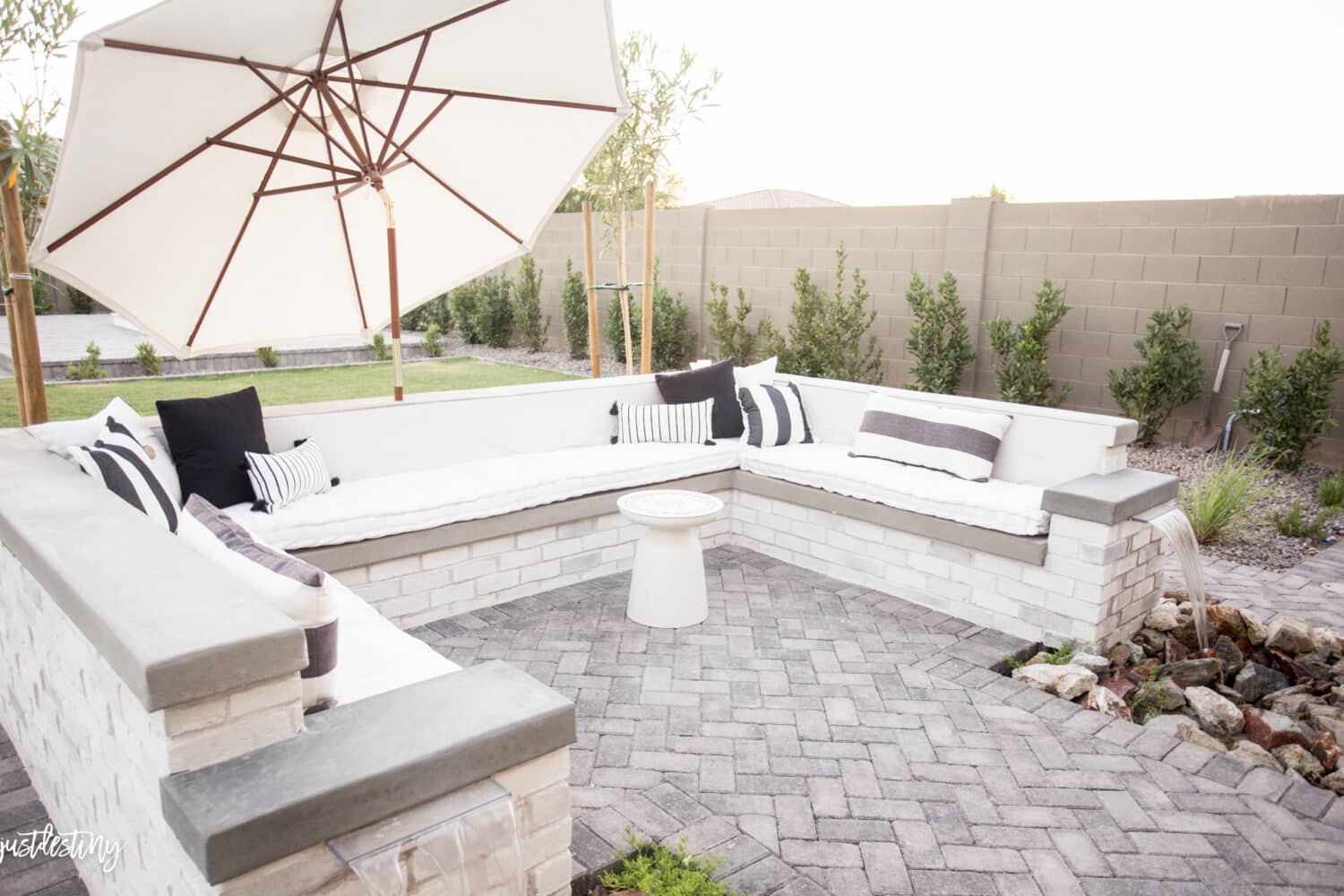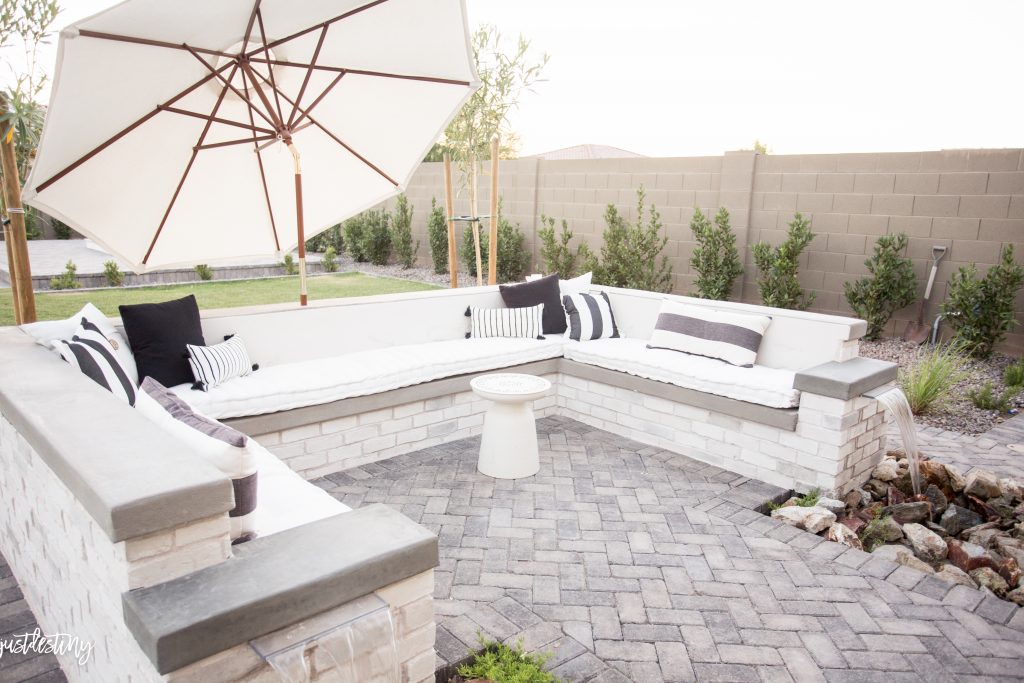 After the base was built, he added the fountain to the front of the seat and built an entire system underground so that the water would flow appropriately. Its pretty cool, but way to complicated for me to explain.
The entire built in sofa has a concrete top and concrete seat that ties in with the rest of the backyard. To face the seating area we used a veneer white brick to also tie in with the concrete.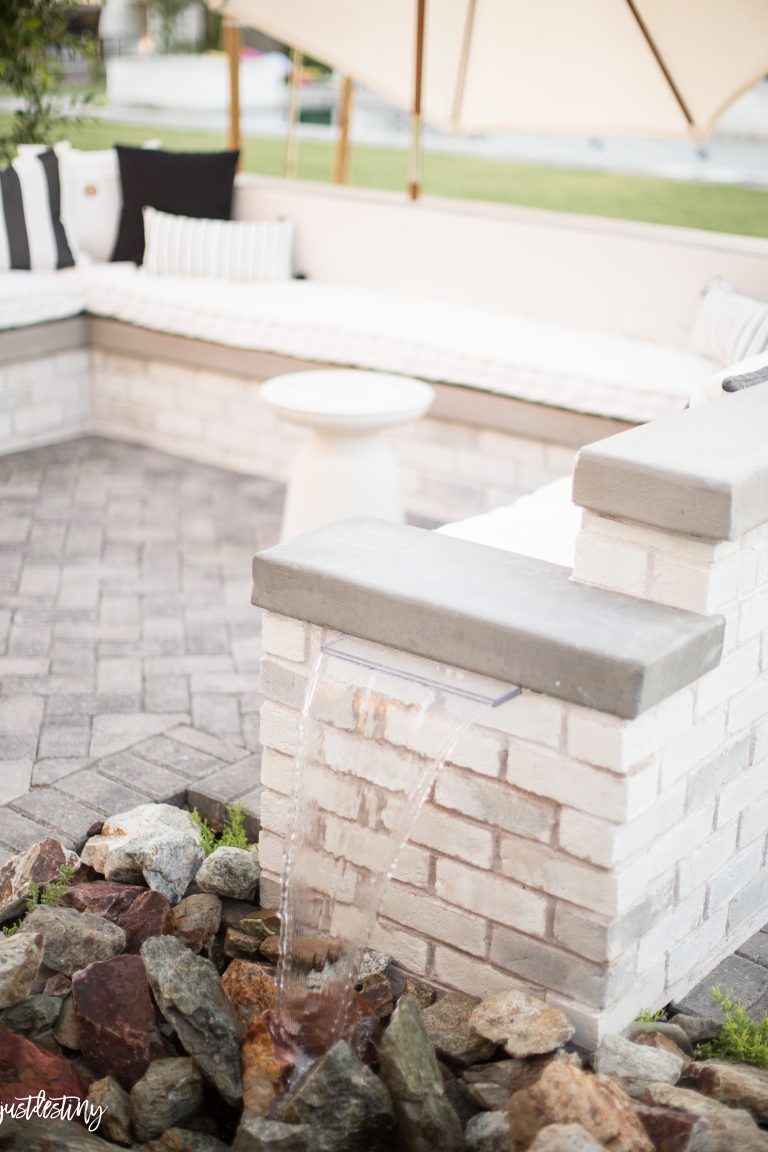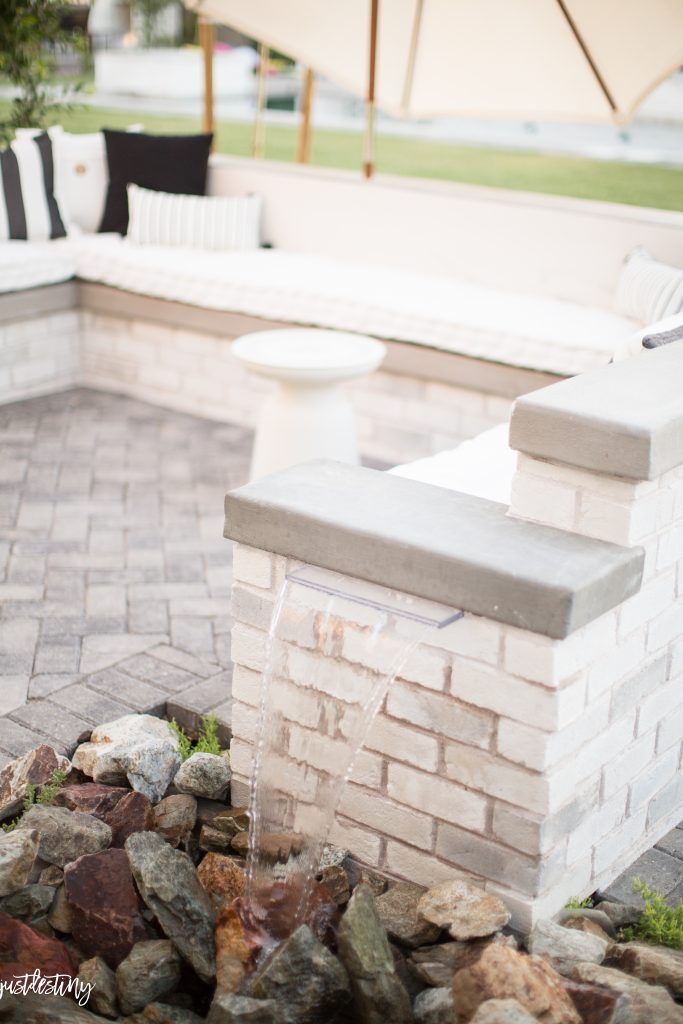 On the floor we used Pavestone Holland Heritage Series in a tumbled gray. Tumbling the brick cost a bit more but it gives it a old look that makes the space a bit more rustic. Using the 3×7 brick allowed us to put the pavers in a herringbone pattern which I knew I wanted! I used that same pattern around the entire backyard. The install was more of course but so worth it!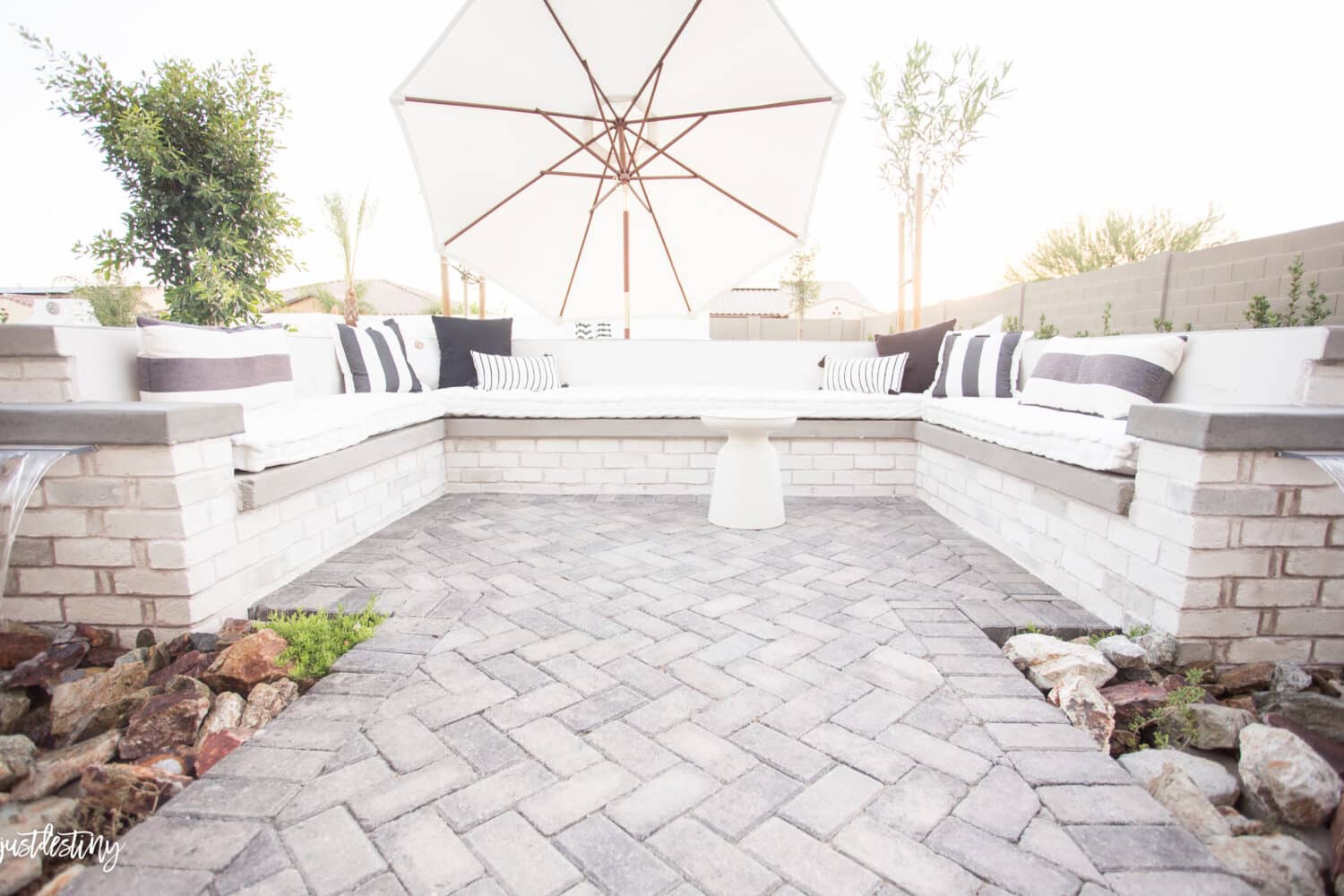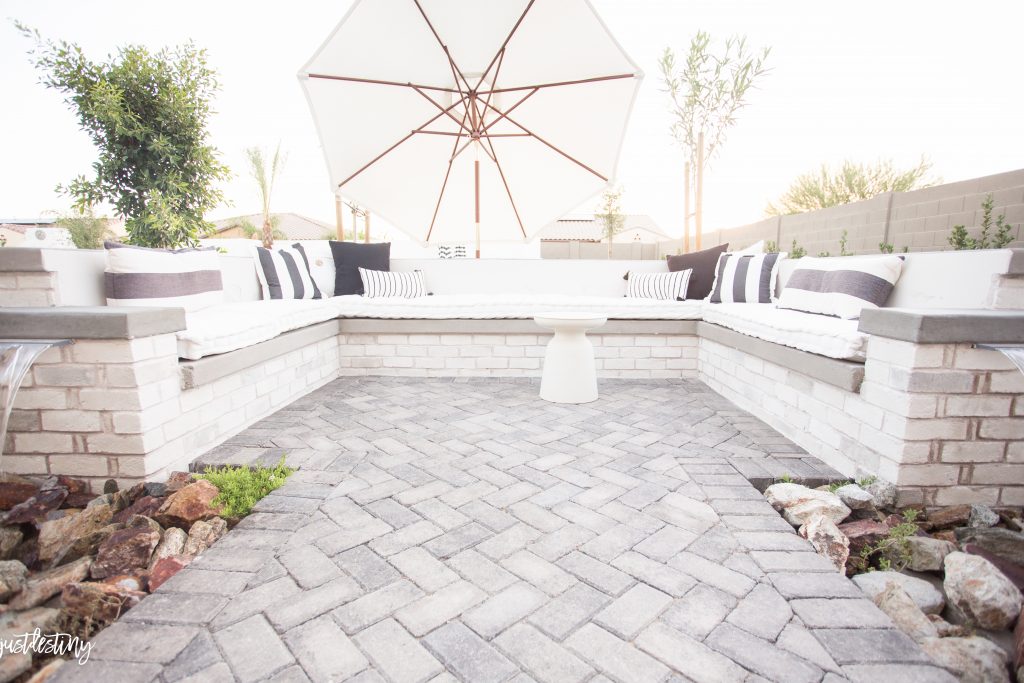 We also installed lights around the outside of the sofa so it gives off a nice glow at night.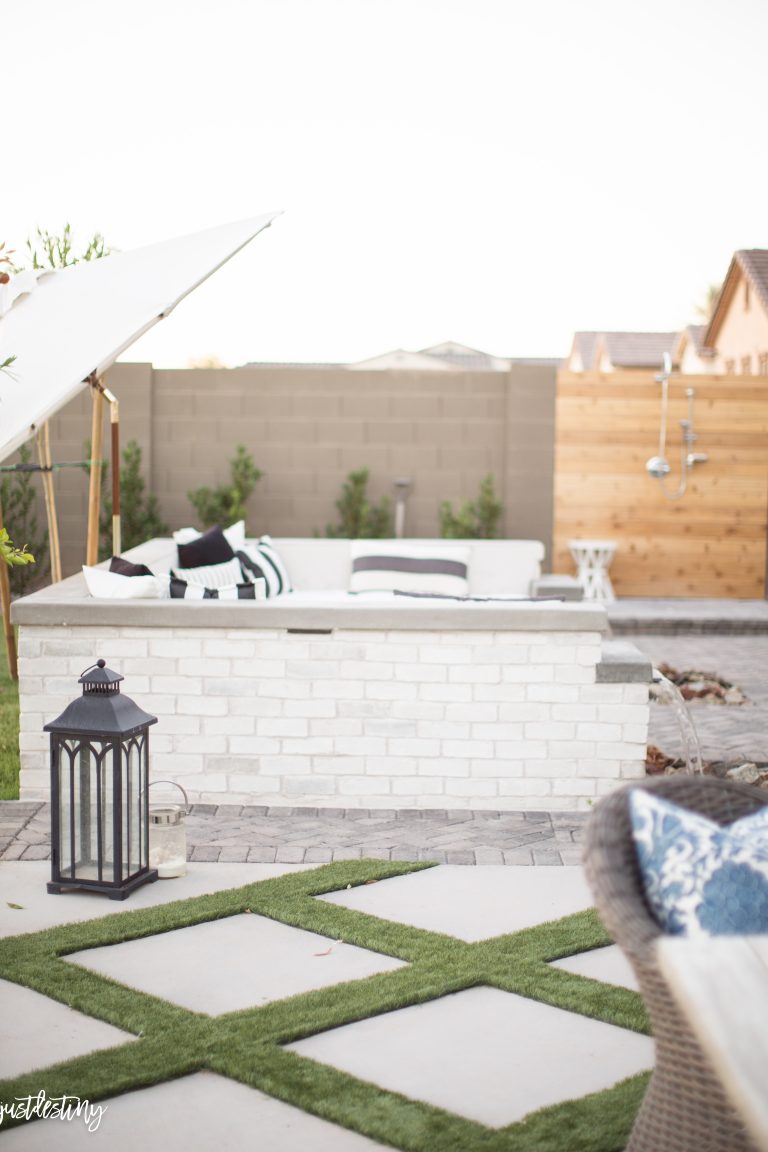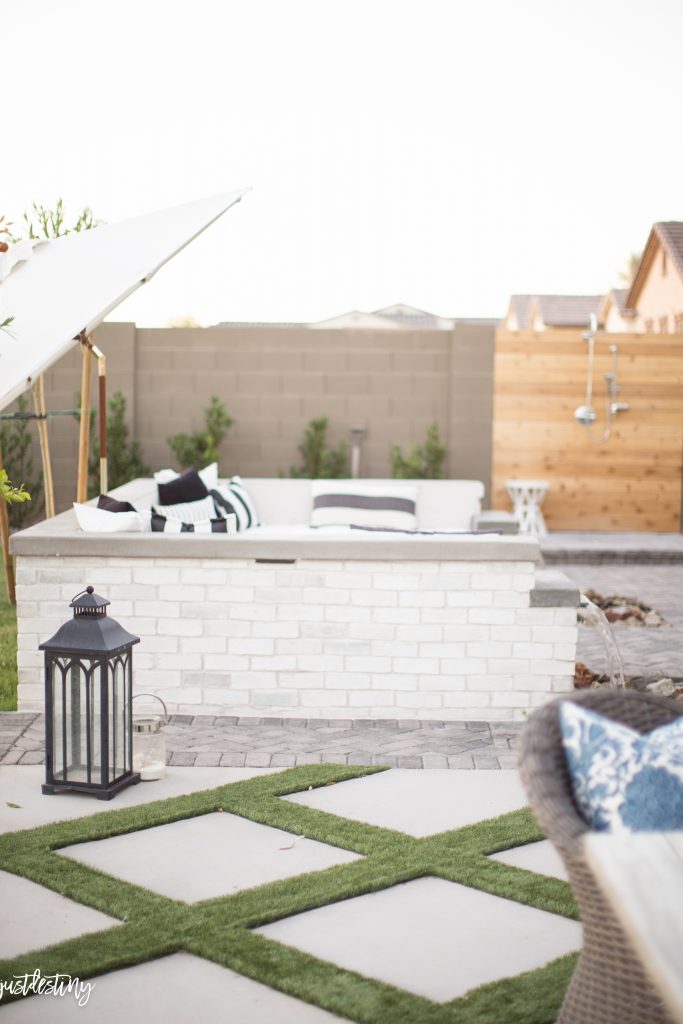 For the bench part I decided to get some custom cushions made in a sunbrella outdoor fabric. Hearth and Home is an Etsy store I found that sells amazing french style cushions with tufted details like the ones you see below. When Ibie was over for our Memorial Day party I found out that she also got her bench cushions from them years ago! She highly recommended them so I was excited to finally get them in!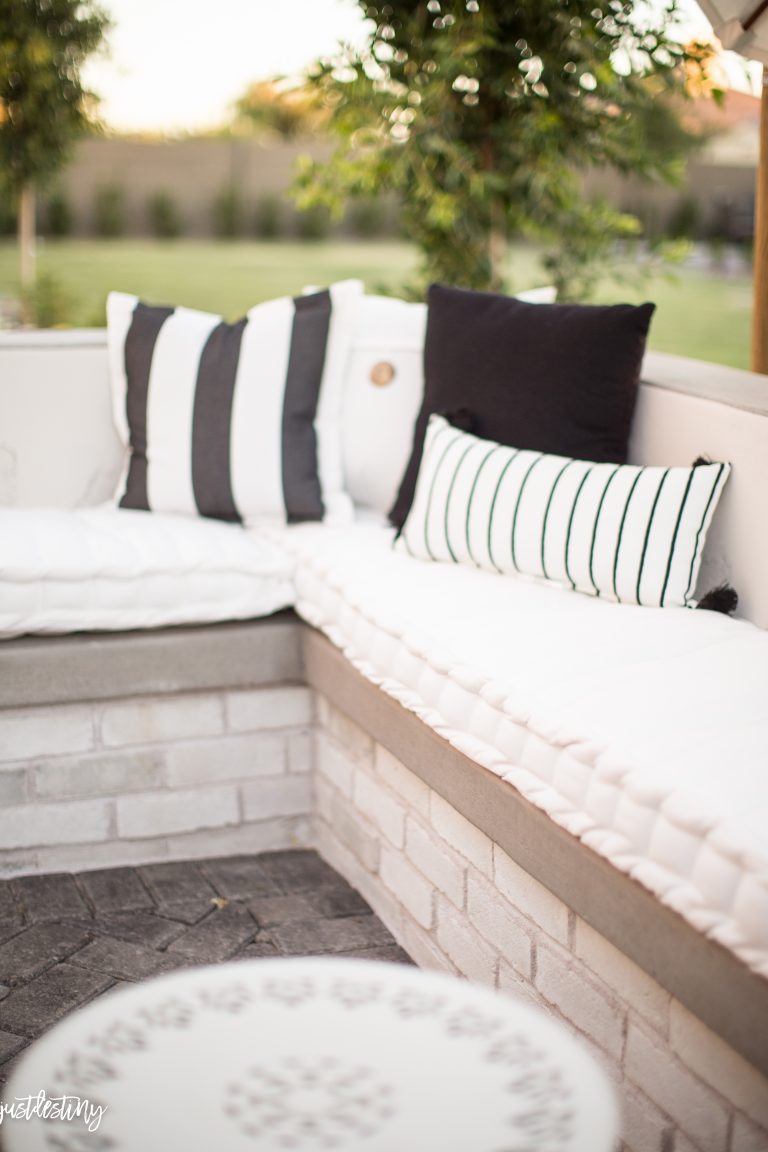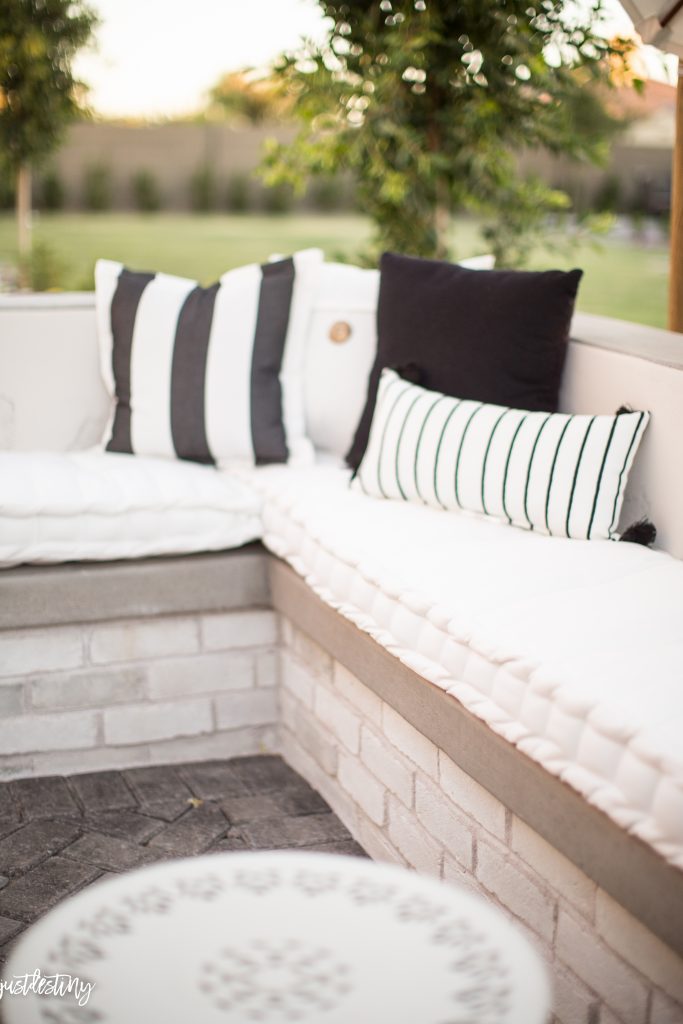 Our Arizona sun is no joke you guys. It's about to be 120 degrees on Tuesday! So I'm trying to get everything in Sunbrella so it last a little longer. I also plan on putting the cushions away during the monsoon season and getting covers for the furniture! All things I wouldn't have done before but now I know better!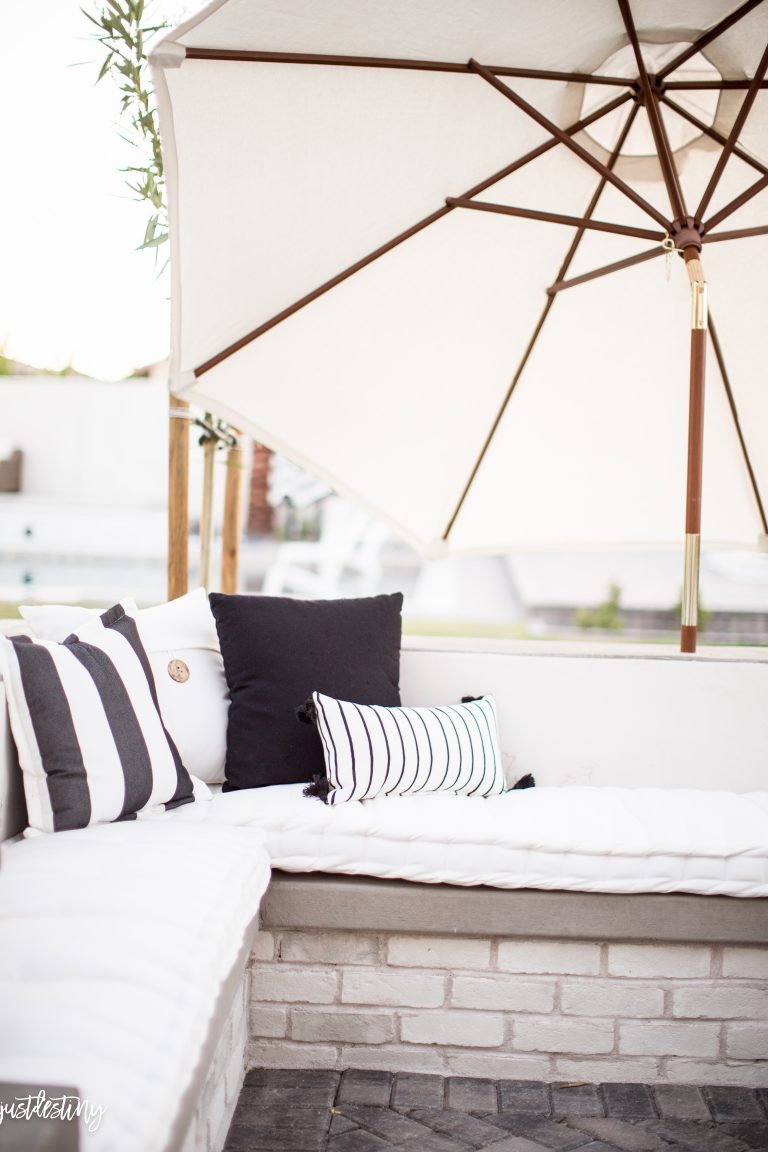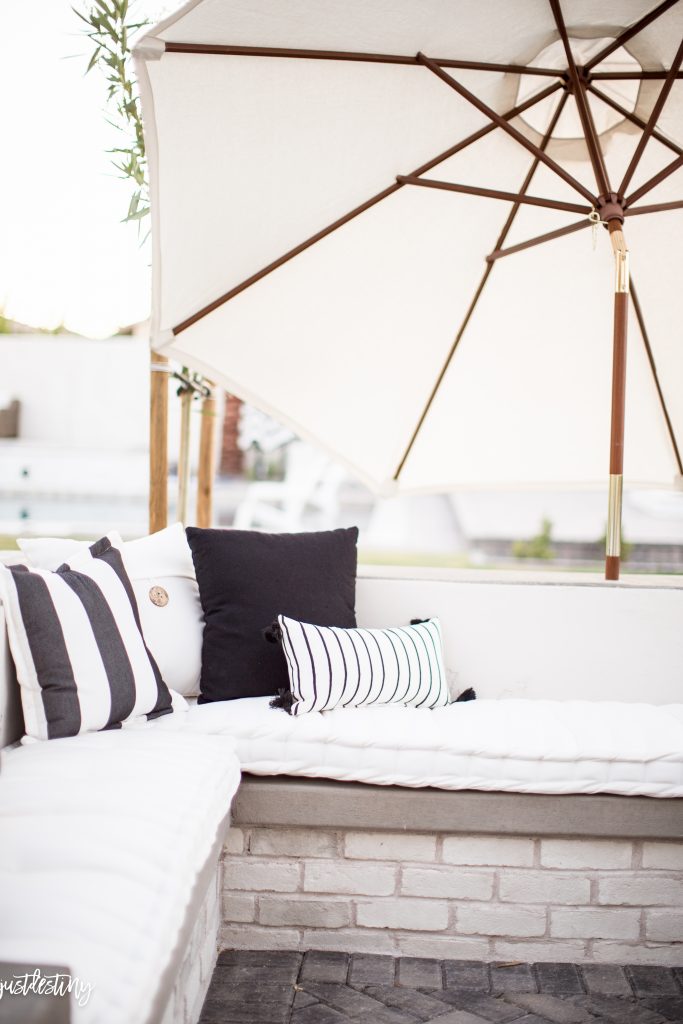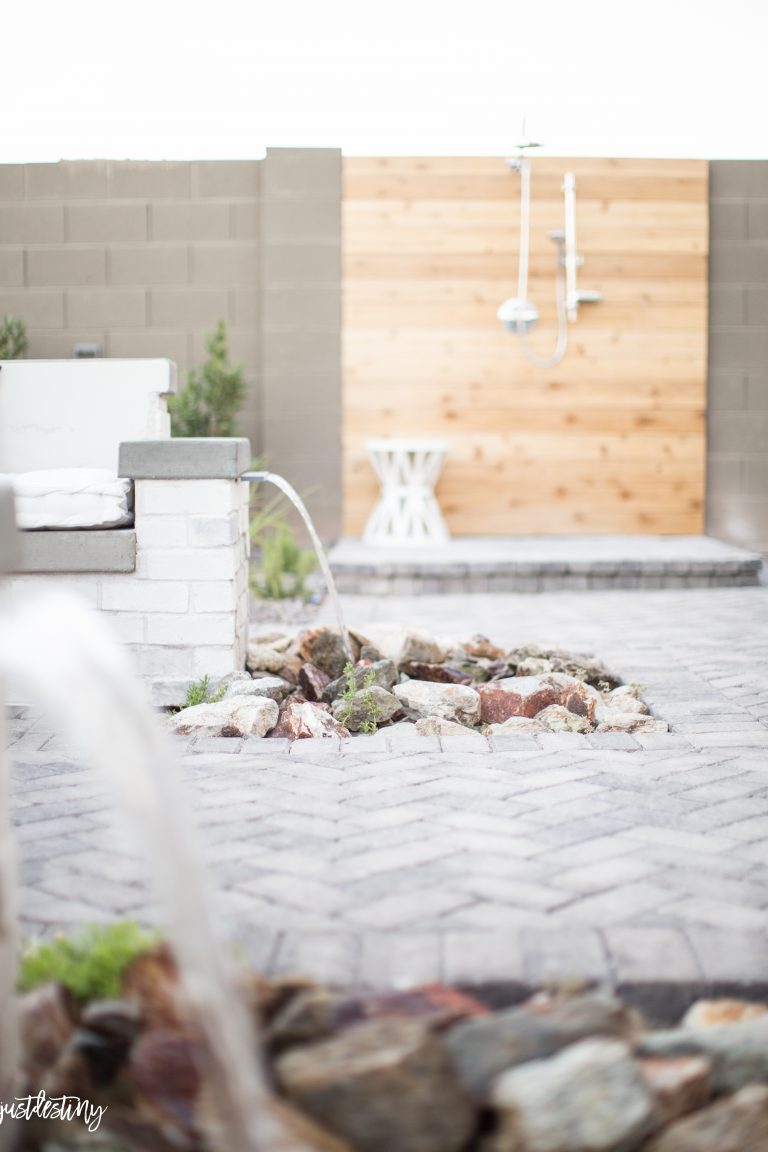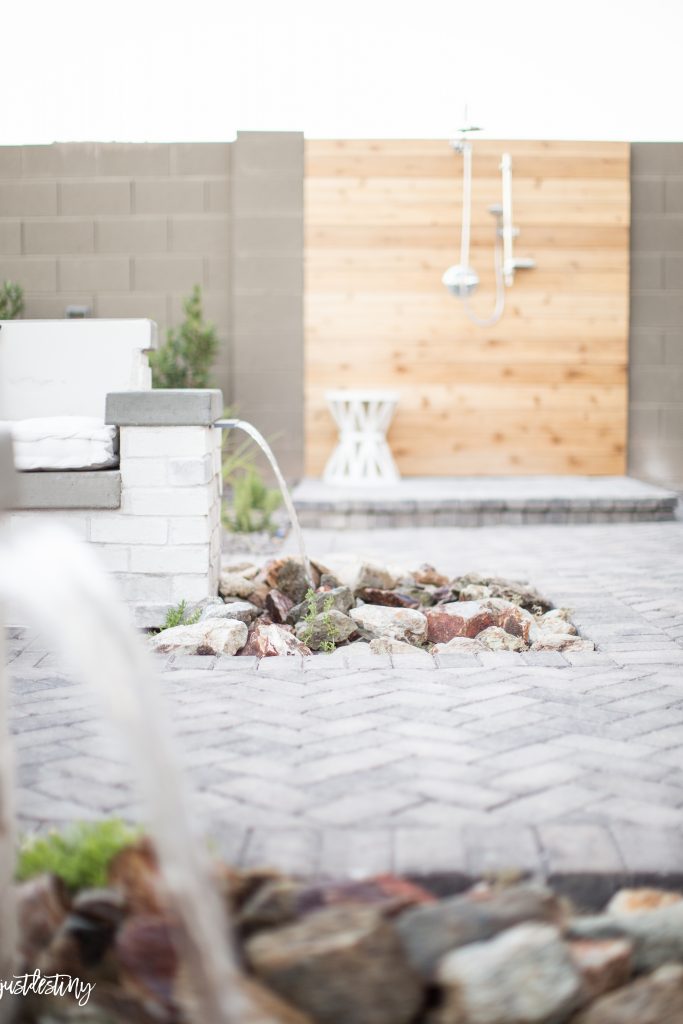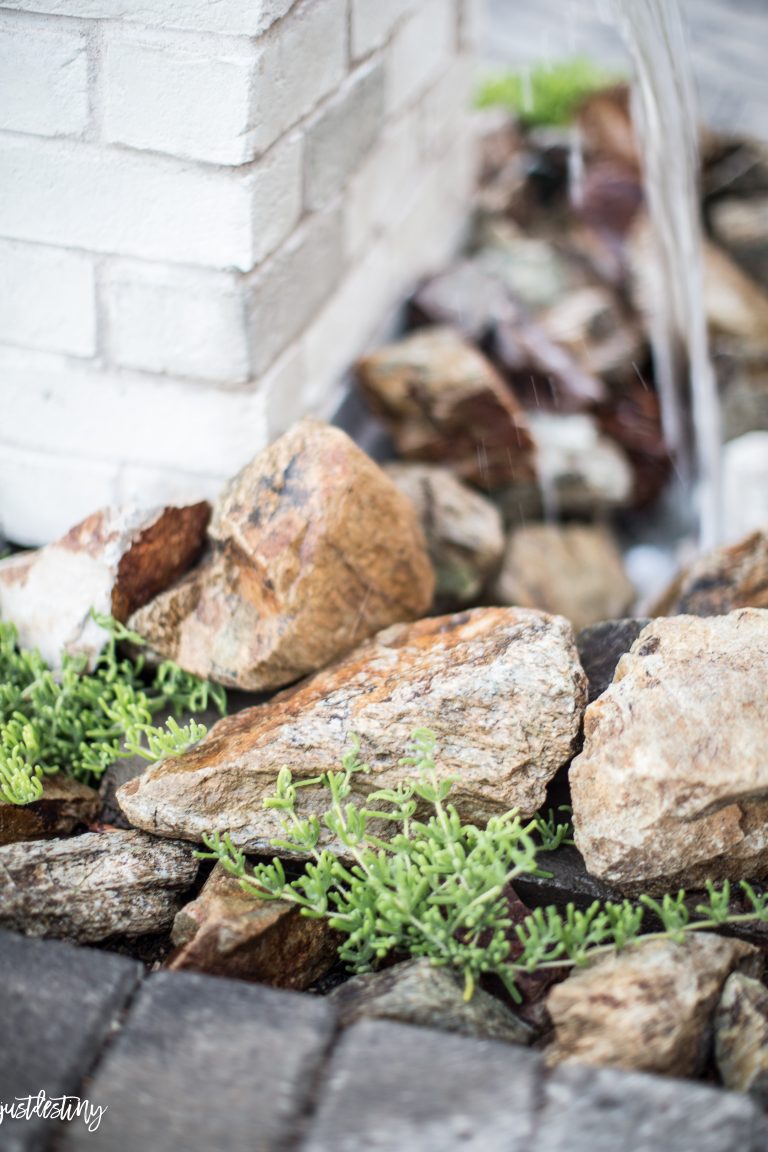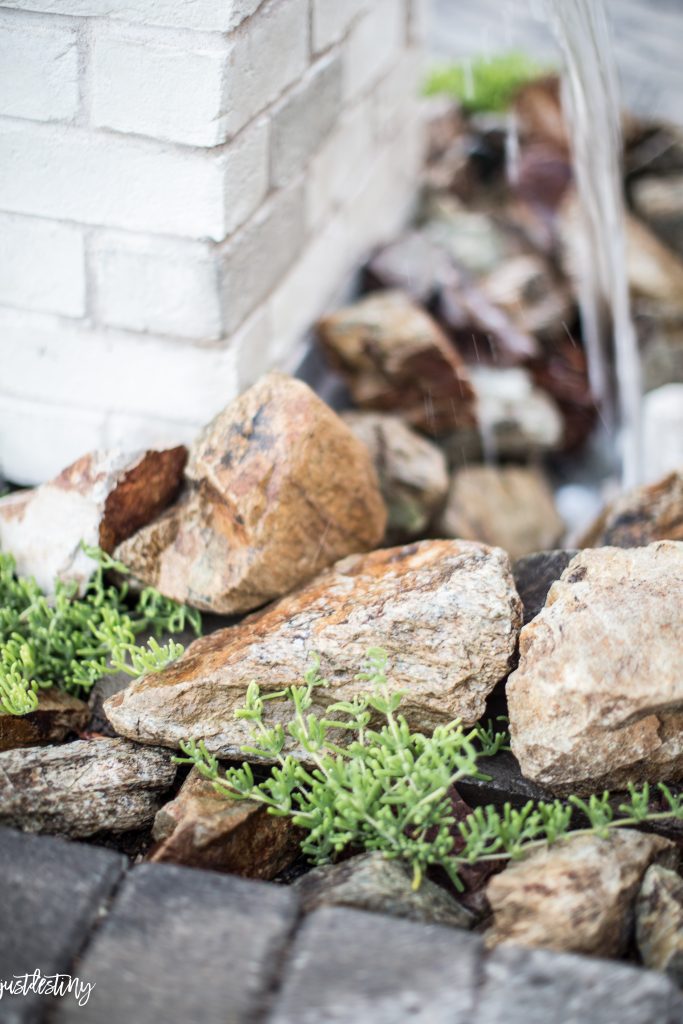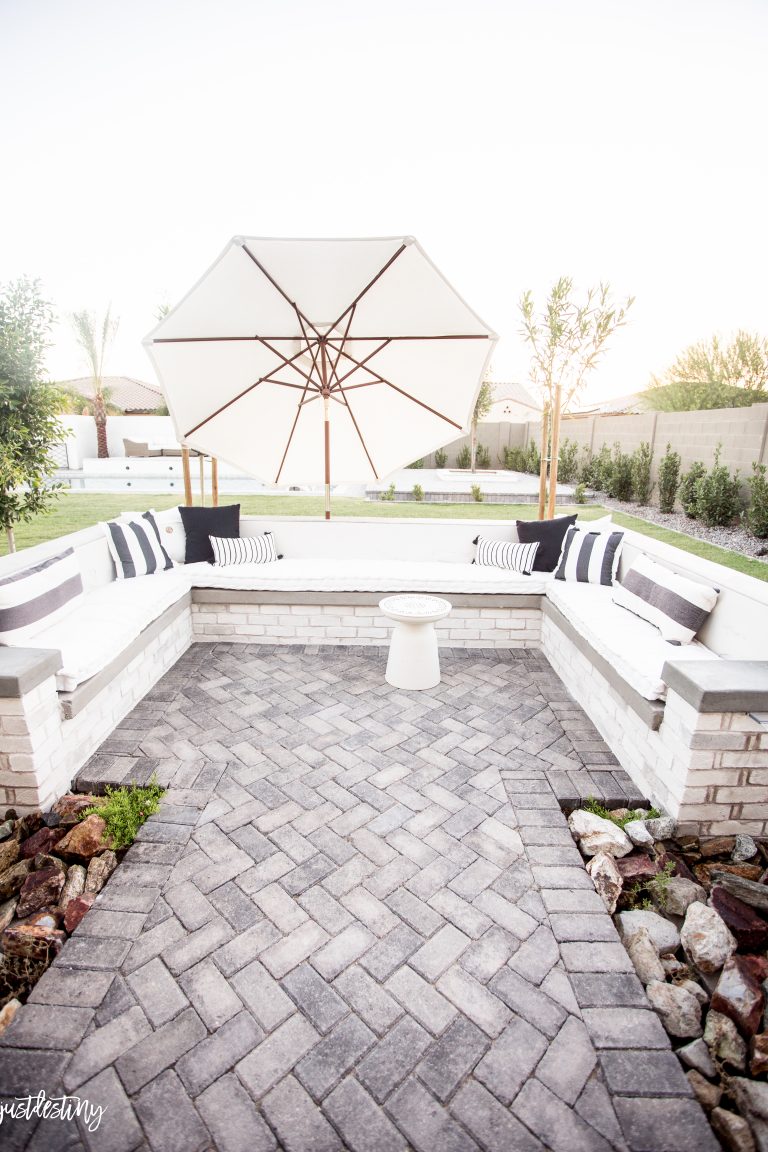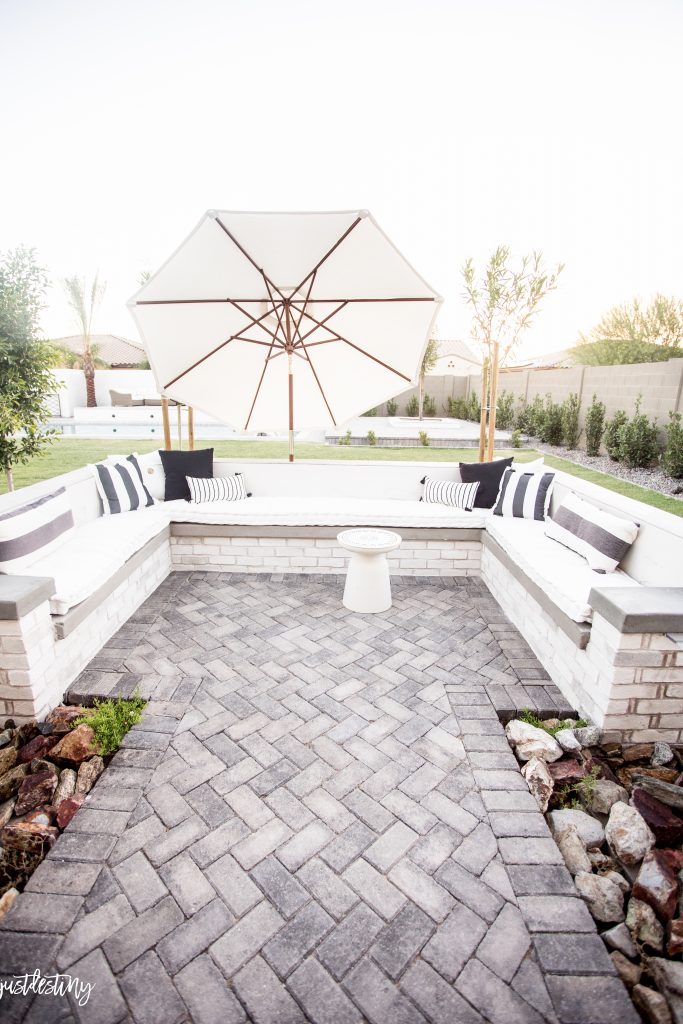 I do plan on putting a table in the middle of the space but just waiting for find the right one.I was thinking about a group of ottomans, fire pit with a tabletop or something more rustic like a old piece of wood! But these things take time!
Stay tuned for a post like this about our pool, why we decided to put it away from the house, pool colors, and what we learned!