Stunning Outdoor Table Decor for Spring
This post is sponsored and may contain affiliate links, please read my disclosure policy.
One of the benefits of living in Phoenix is that we really get to entertain all year around. The spring and fall are the perfect time to set up a space outside to enjoy coffee, friends for brunch, a little impromptu family BBQ, or garden party. Really any excuse to get outdoors while the weather is near perfect, we are taking it!
This post is brought to you by Tuesday Morning. All opinions are mine.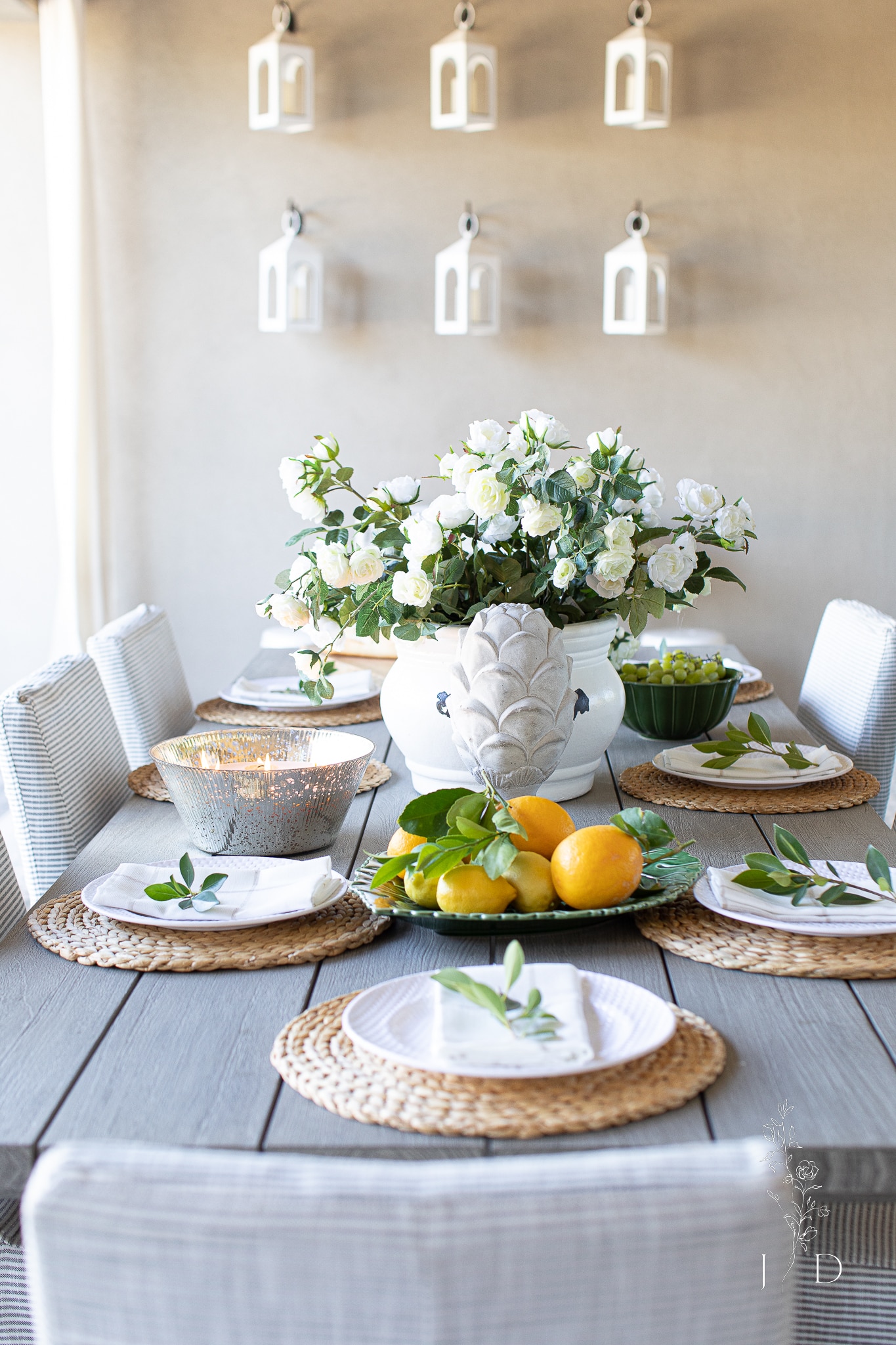 Today I set up a garden-inspired table that hopefully gives you some inspiration for your next outdoor get together. All of our outdoor table decor was found at our local Tuesday Morning! The name might sound very familiar because they are known for always having 20-60% off what you can
find in specialty and department stores! If you've never made a trip to the store I encourage you to do so as you prepare your space for outdoor entertaining!
You can walk into the store and spot so many great deals. Just take a look at some of these beauties that gave our table a designer look with tons of savings.
First up is the planter and the artichoke outdoor statue elements. I saw these and knew immediately they would be perfect for a classic garden look.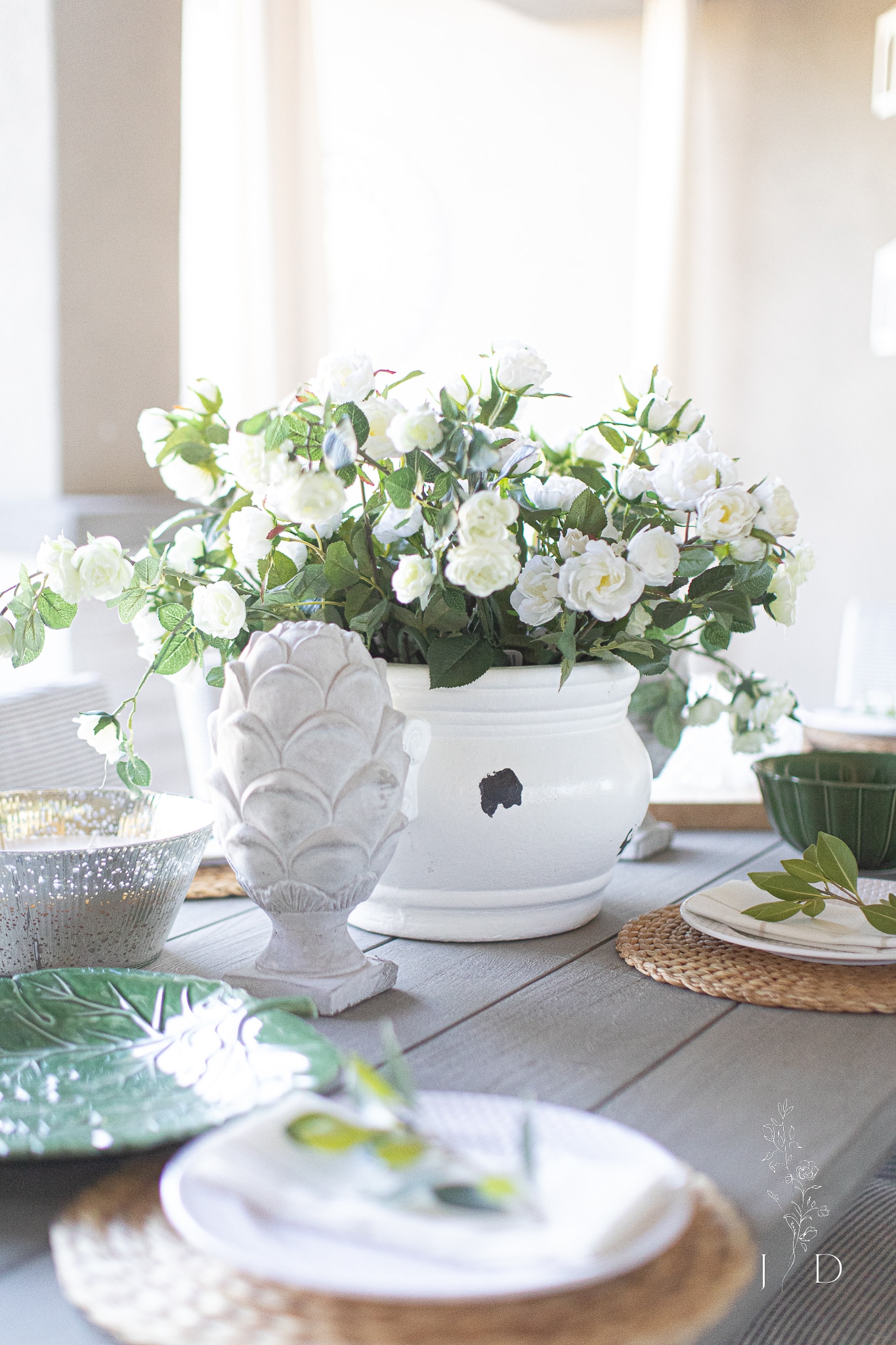 For only $14.99 each for the artichokes and 19.99 for the planter (mind you these have a great weight to them, which makes them even more of a great find), these will be backyard staples for me.
Adding one on each side of the planter made the table symmetric, which I LOVE doing while decorating. 
Another AMAZING find was this long board that will be perfect for charcuterie nights!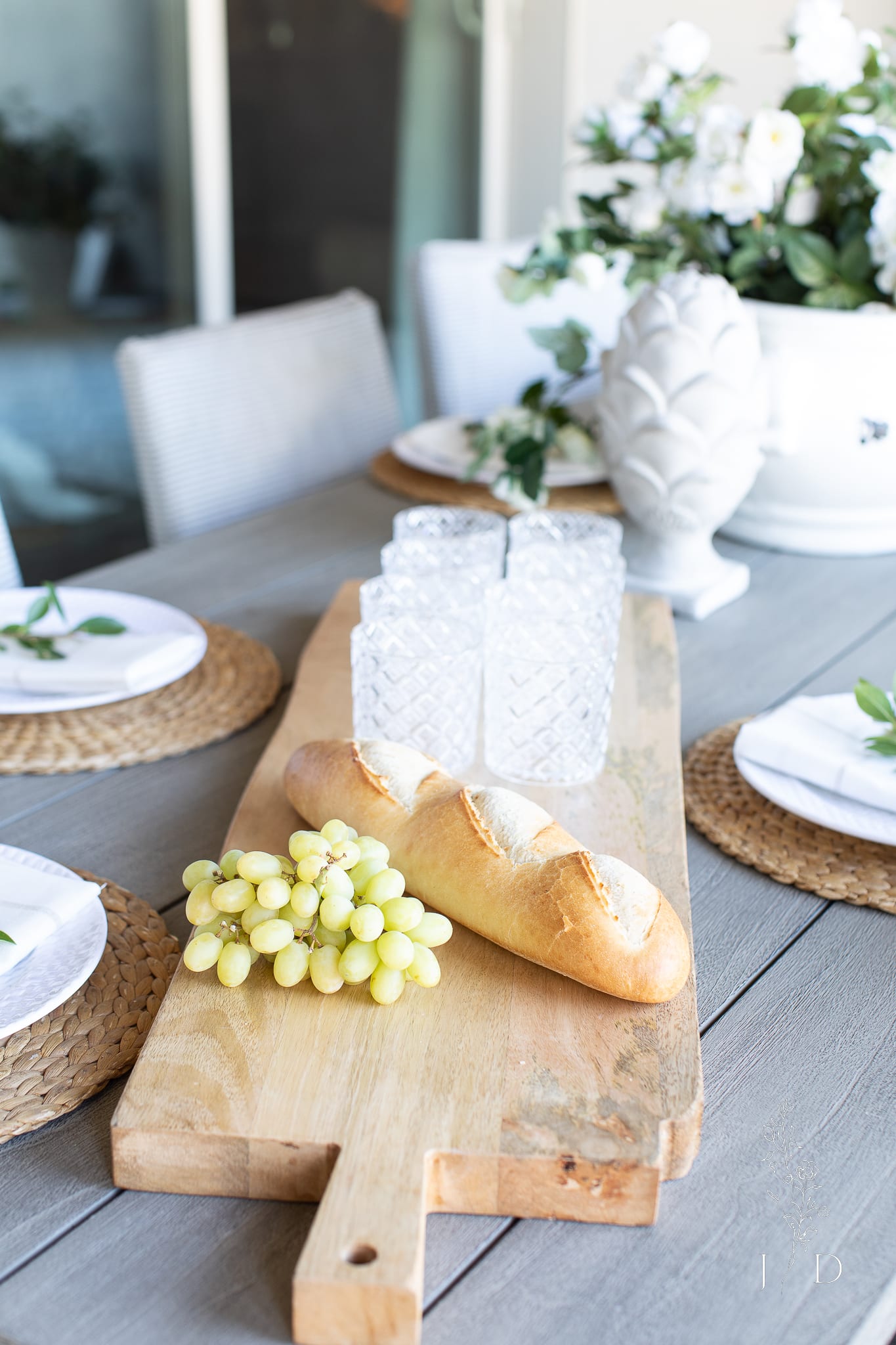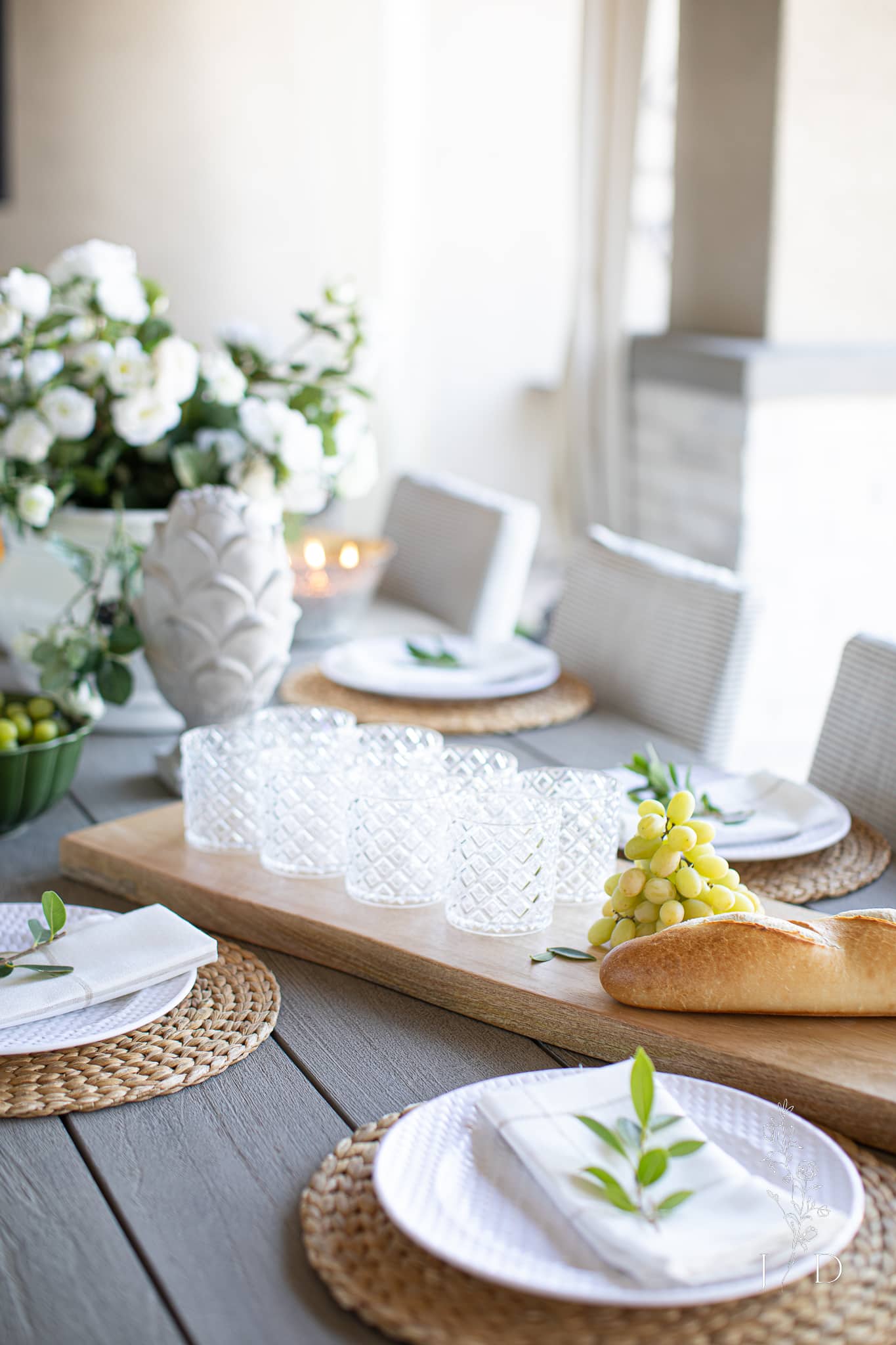 The acrylic glasses on the end where another Tuesday Morning finds! Using acrylic glasses outside gives your table a very sophisticated look because it looks like real glass! But these beauties can drop and not shatter which makes them great for practical entertaining.
The table setting is layered with a seagrass charger, textured melamine plates, and a plaid napkin. I clipped some branches from our trees to bring in some natural elements and green color which I love! It's something you can do and that so many homeowners have done over the years. Use what you have to elevate your space!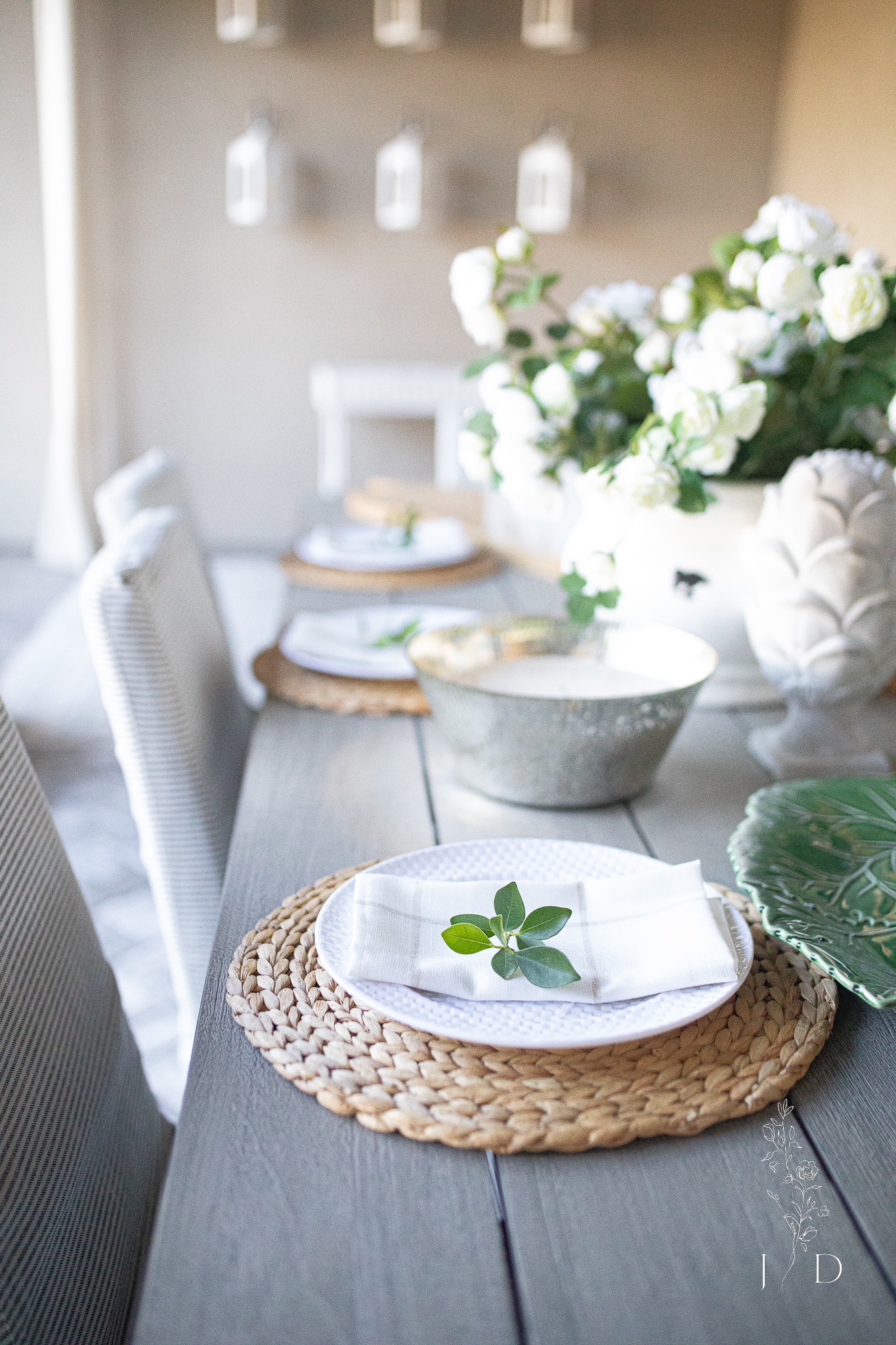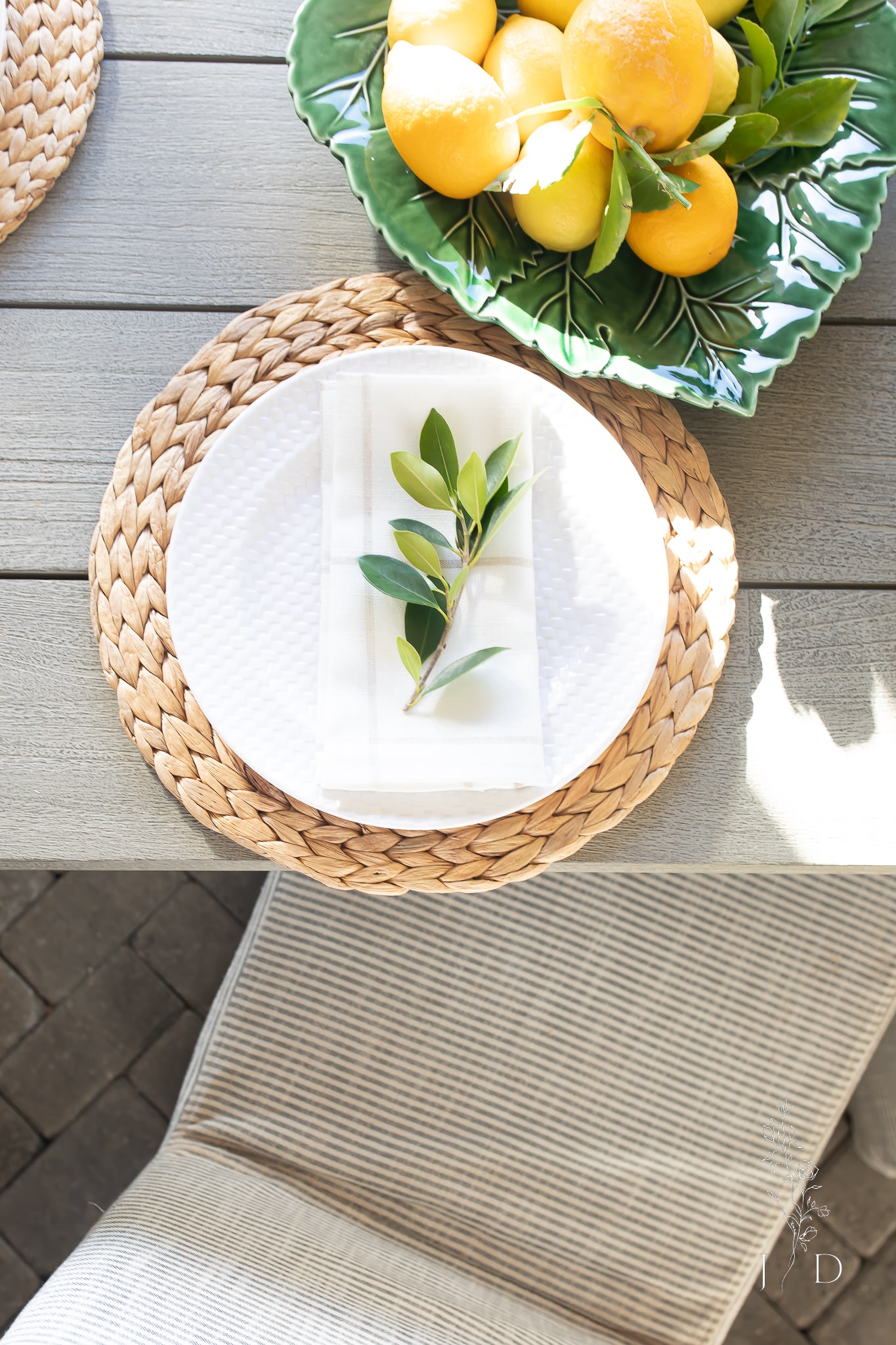 Take a look at some other finds.
This large mercury glass candle is perfect for outdoor nights. I've never met a big candle I didn't love!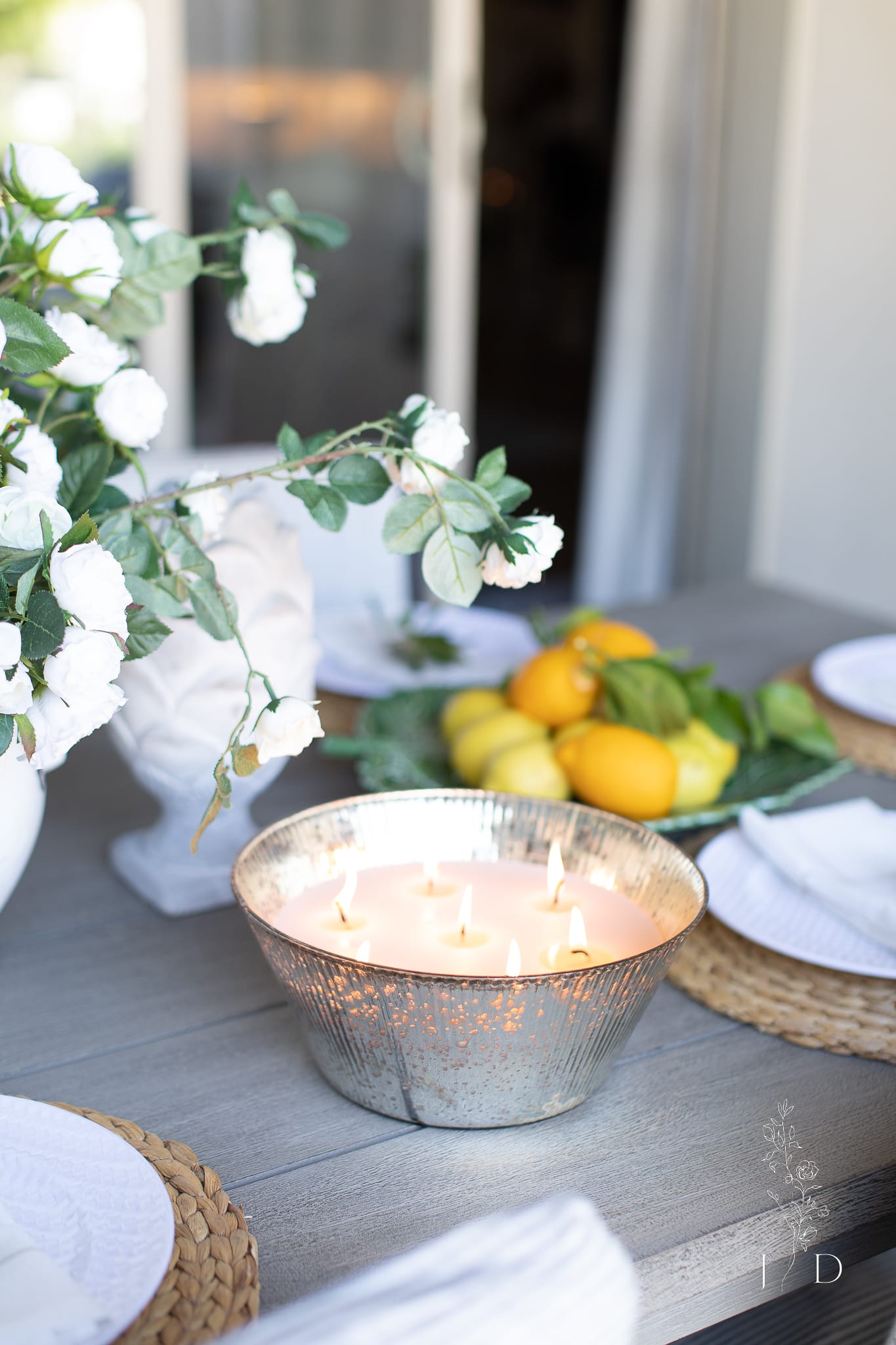 I knew I wanted to add some green so when I spotted this pretty bowl (love the detail!) and the platter that gives off a designer flair I thought it was perfect. Plus I love adding to my serving ware collection and saving money at the same time!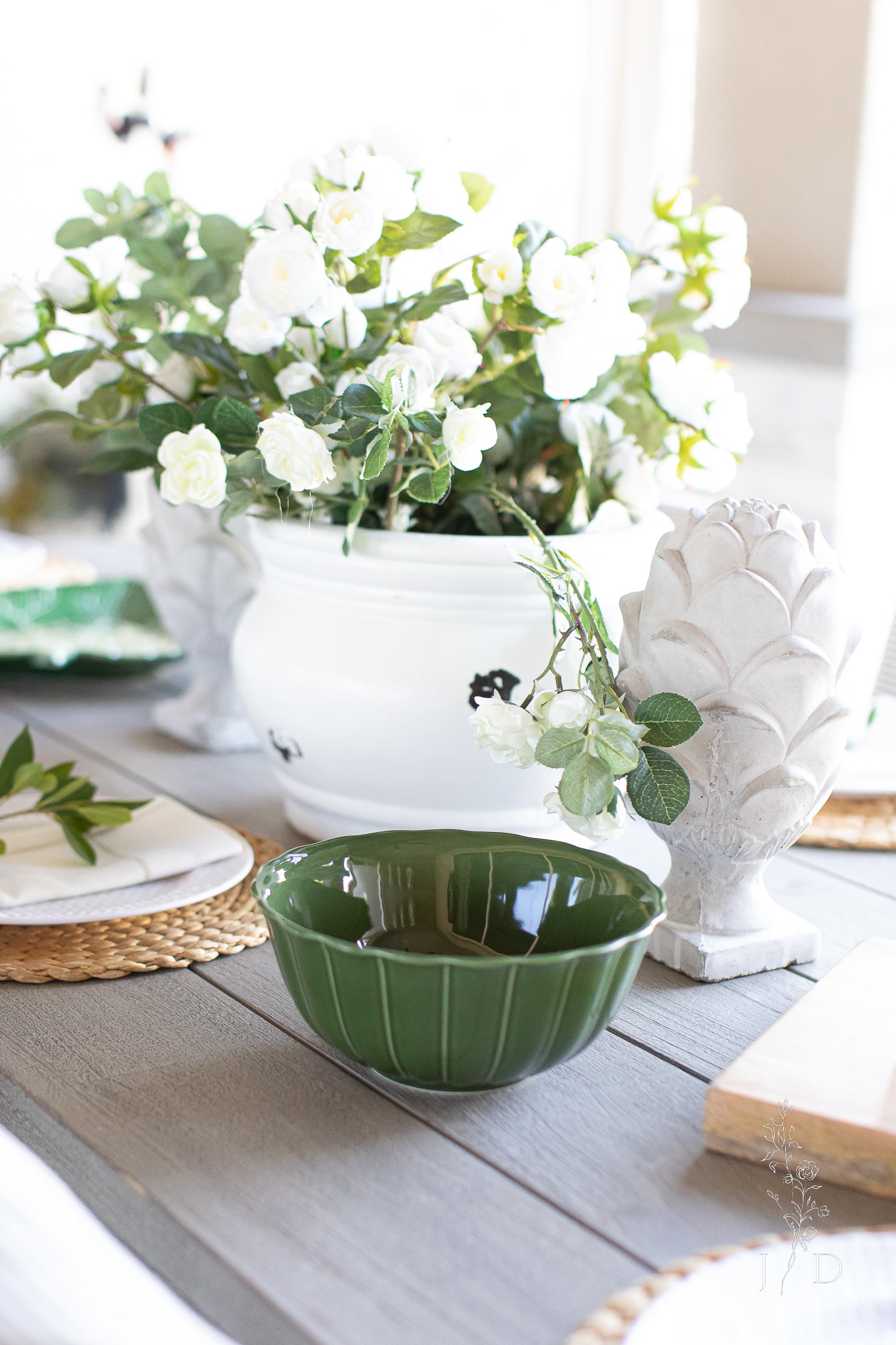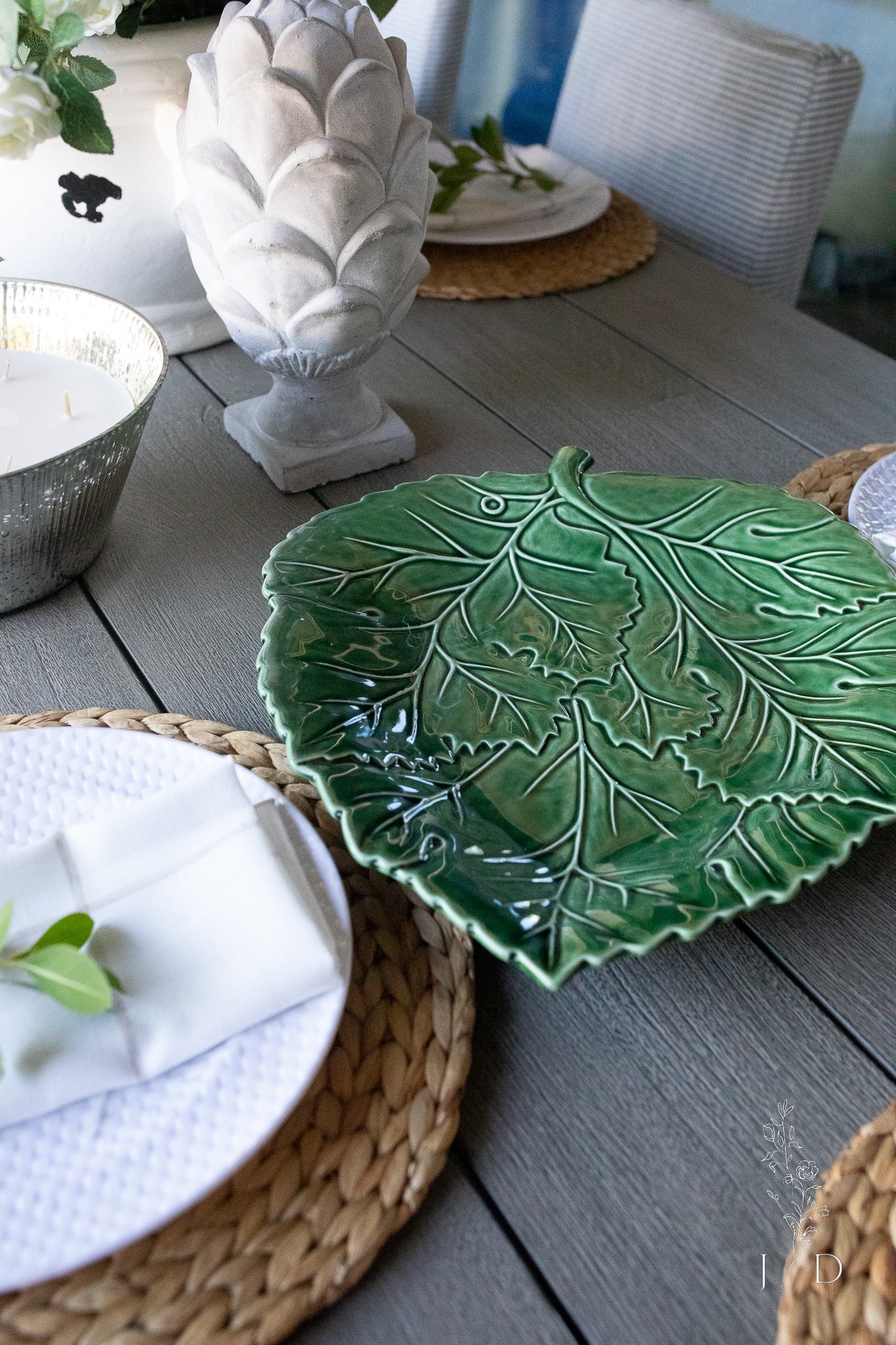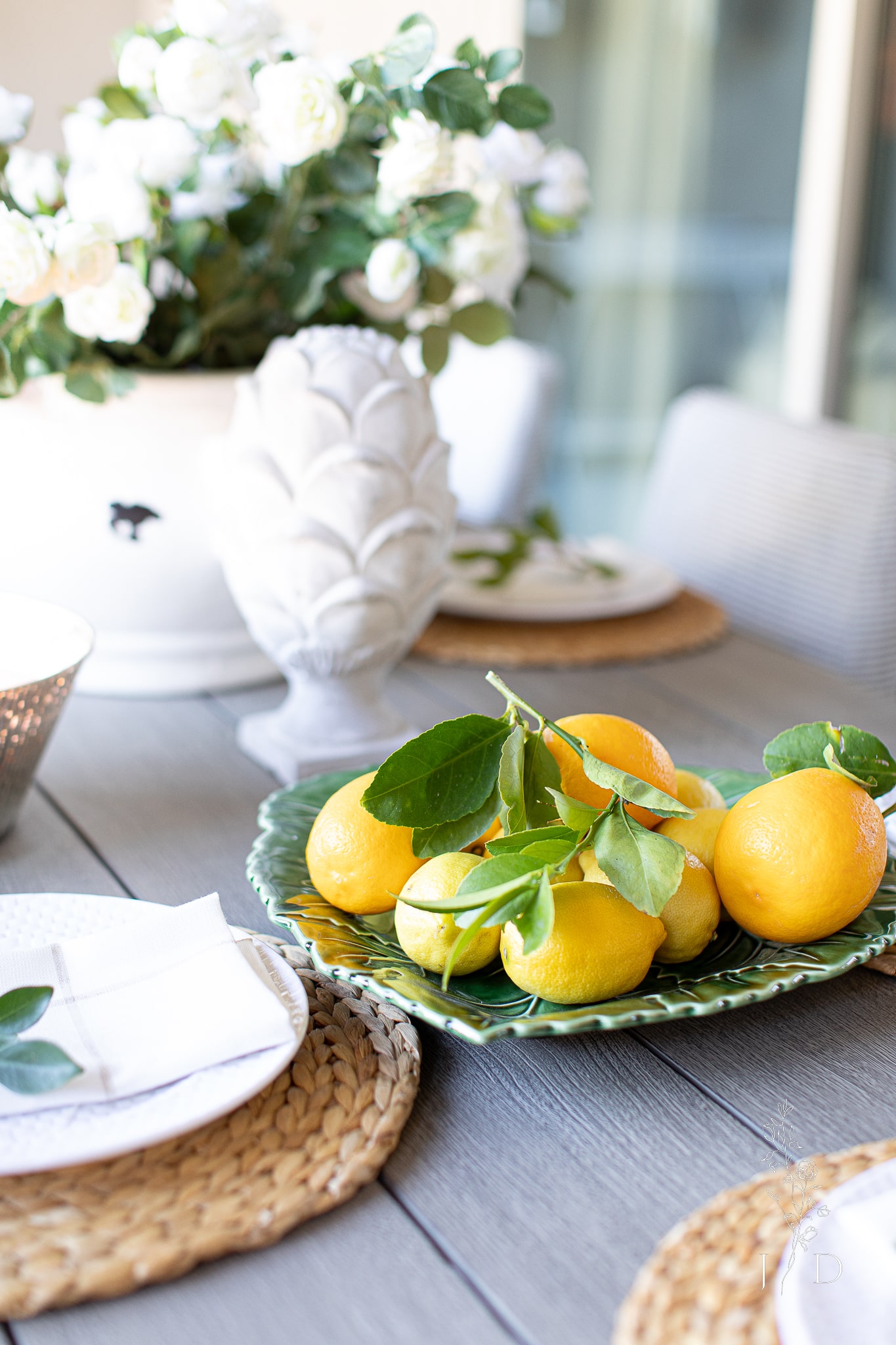 This large green platter with these embossed leaves, just gorgeous.
This green serving bowl is perfect for fruits and salad. I just LOVE that green. Very Just Destiny!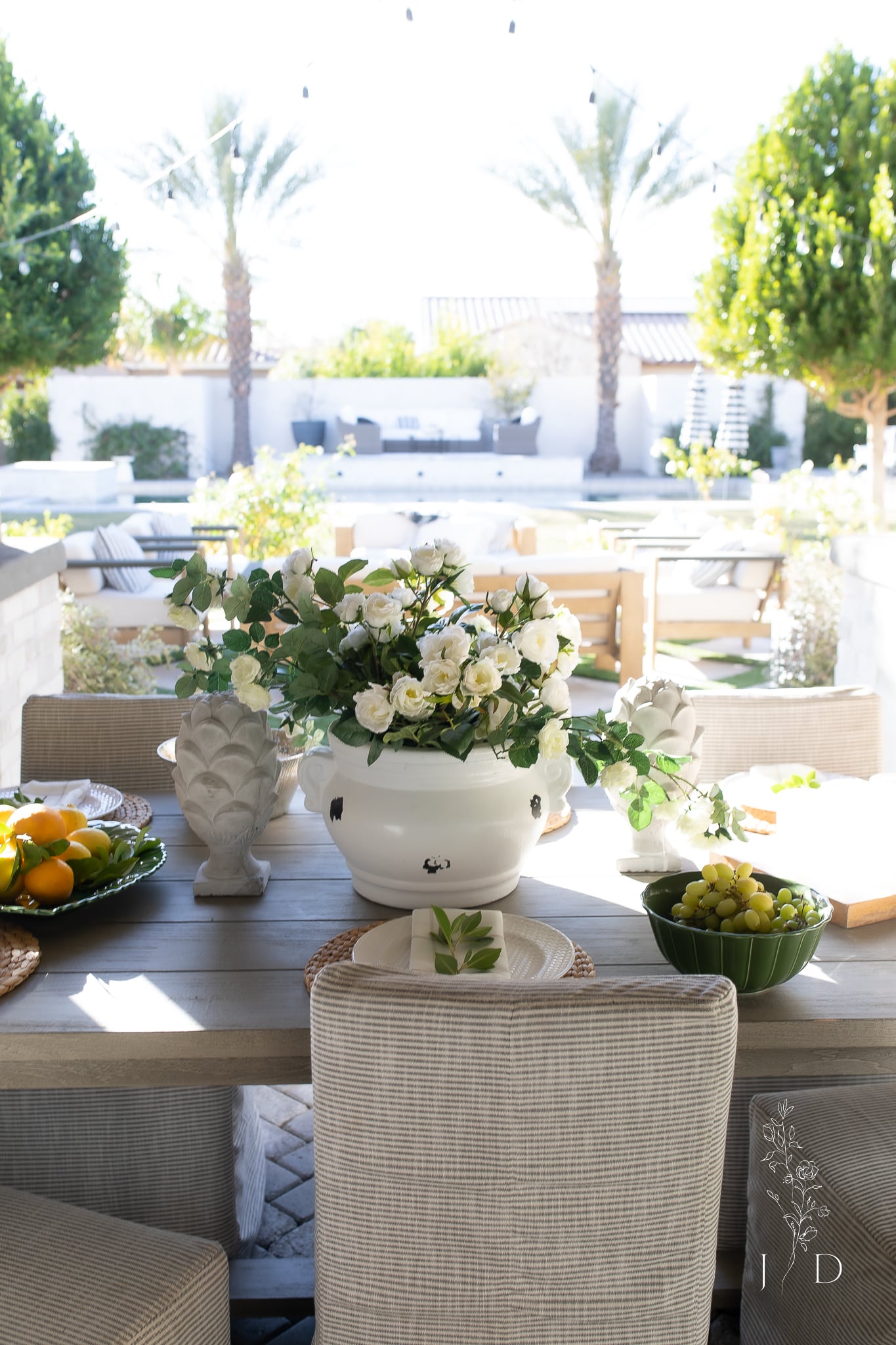 Hopefully, you are inspired to get outdoors and create some beauty of your own! Making spaces extra special is your gift friends!! So go find something extra special for your space at your local Tuesday Morning! #ad #TuesdayMorningFinds #TuesdayMorning