HERSHEY'S Chocolate Lovers Brownie Recipe
This post is sponsored and may contain affiliate links, please read my disclosure policy.
This post is sponsored by HERSHEY'S. All opinions are mine. 
We are in the kitchen today baking up one delicious recipe with help from my friends at HERSHEY'S!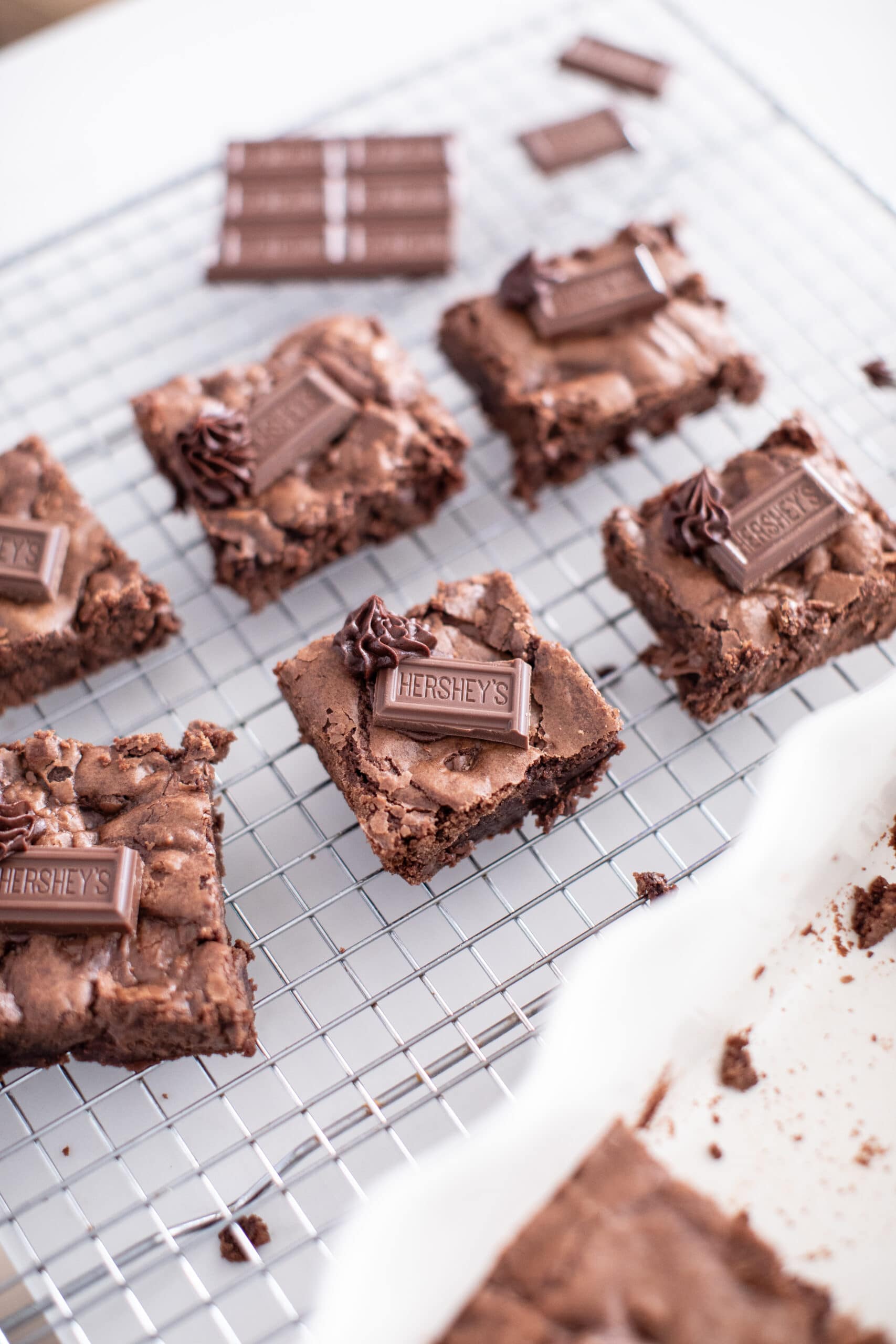 If you're a chocolate lover then you are going to love this made from scratch chocolate brownie recipe, perfect for fall baking season.  Adorned with a little HERSHEY'S Chocolate Bar pip, this brownie recipe has chocolate in every bite and every corner. You will not be disappointed!
FUN FACT: A pip is a piece of chocolate! Like the piece of chocolate your break off from a HERSHEY'S Chocolate Bar!
Fall Baking: Chocolate Brownie
Fall is the PERFECT time to bake all of your favorite treats that leads seamlessly into the holidays. Fall is cool enough to get back in the kitchen and cozy enough to want to spend some time indoors again.
Today the entire family joined in on the baking fun. You see, usually we have a great time together in the kitchen cooking breakfast. It's sort of our thing lol! But they didn't know this was coming! This mamma loves to bake and surprise the family with treats, so I decided to let them in the kitchen so we could spend some time baking together.
What makes this chocolate brownie recipe unique is that it uses two different HERSHEY'S products and combines two different HERSHEY'S recipes! You'll start with HERSHEY'S Cocoa Unsweetened Cacao Powder and classic HERSHEY'S Bars. You'll also use the HERSHEY'S Chocolate Frosting Recipe! You see? I told you! Chocolate lovers only!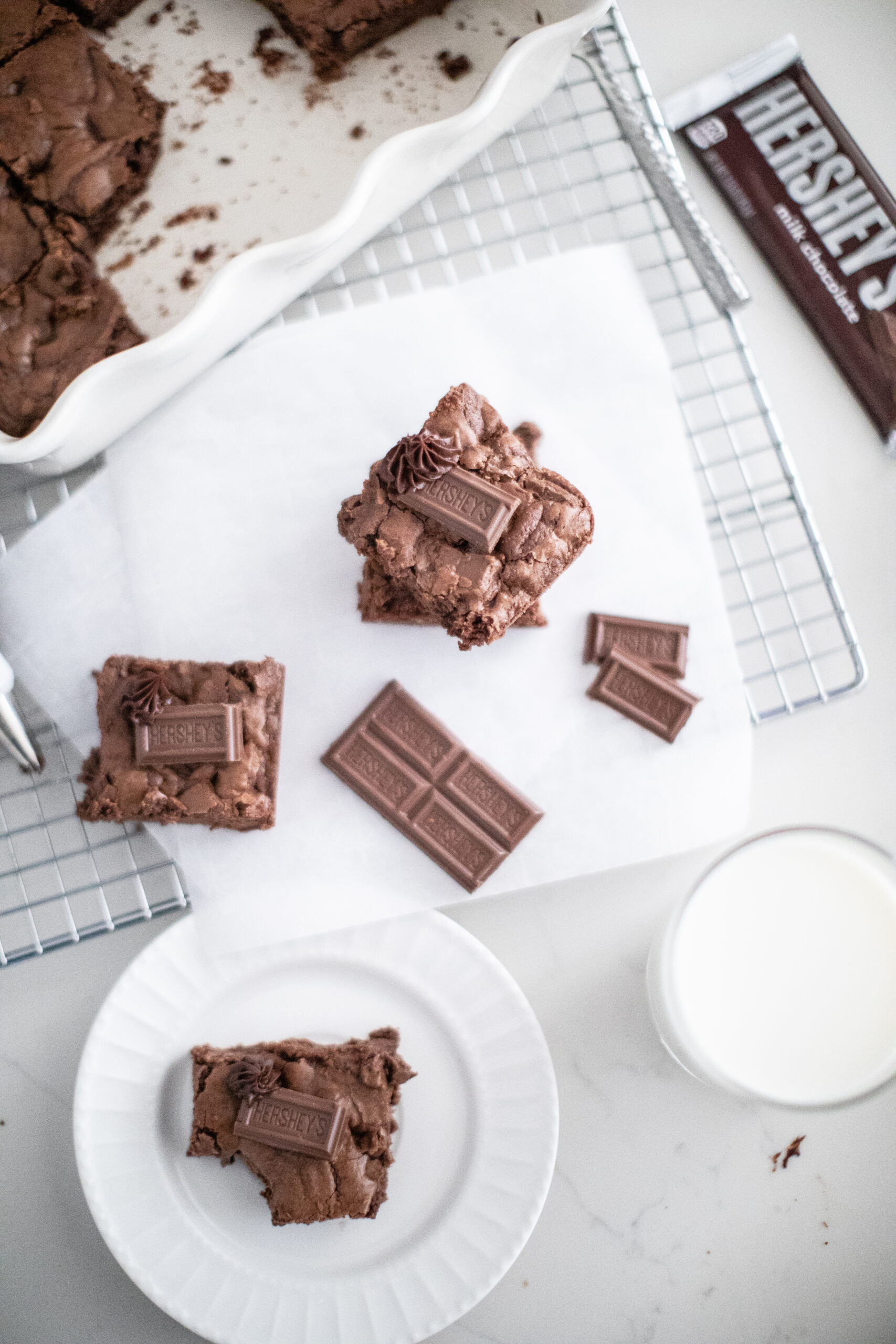 How to make HERSHEY'S Chocolate Lover's Brownies
For this recipe you'll need 5-6 HERSHEY'S bars all broken into 1/2 inch pieces.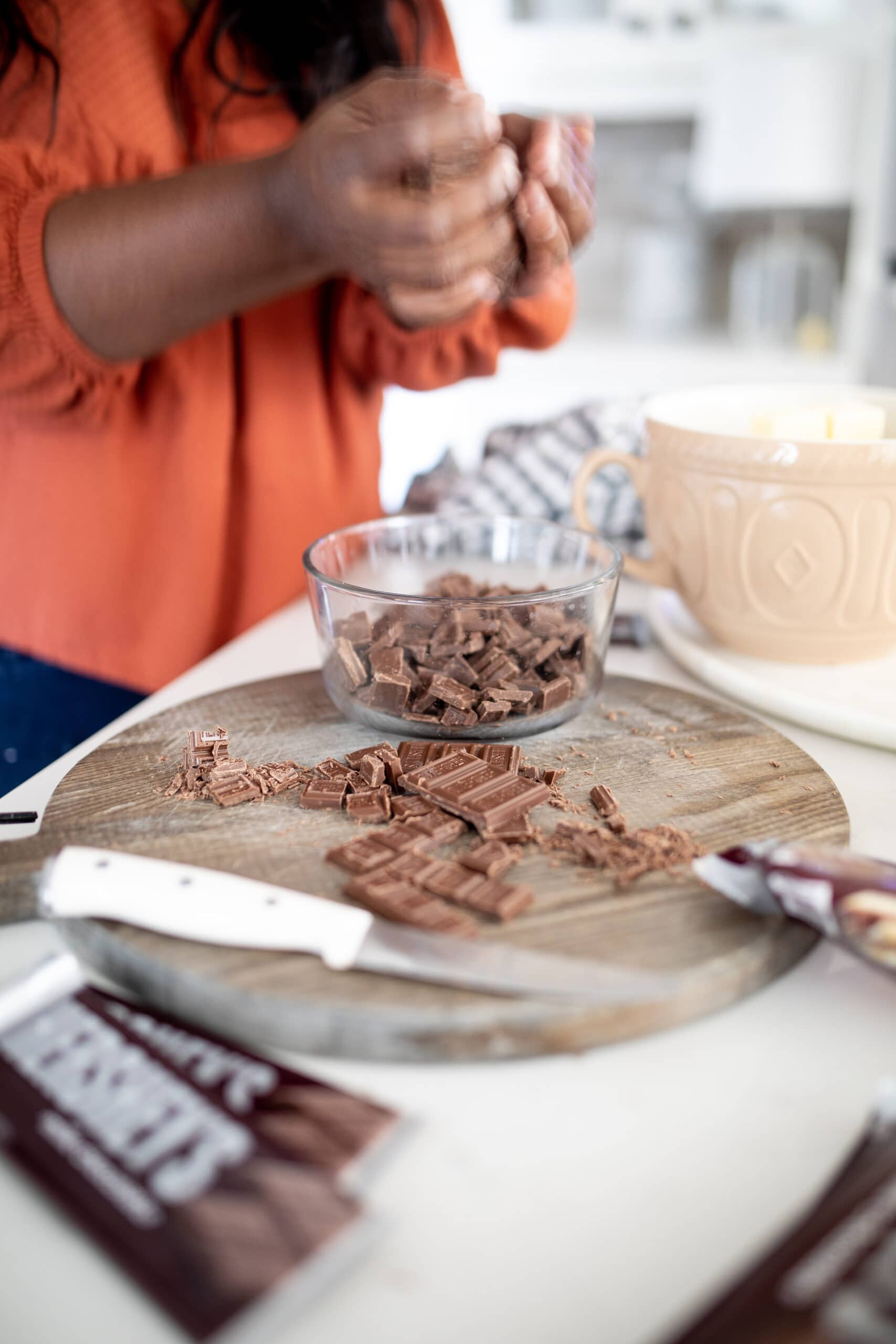 You can use a knife to break them apart easily. Go ahead and set them aside to be used for later.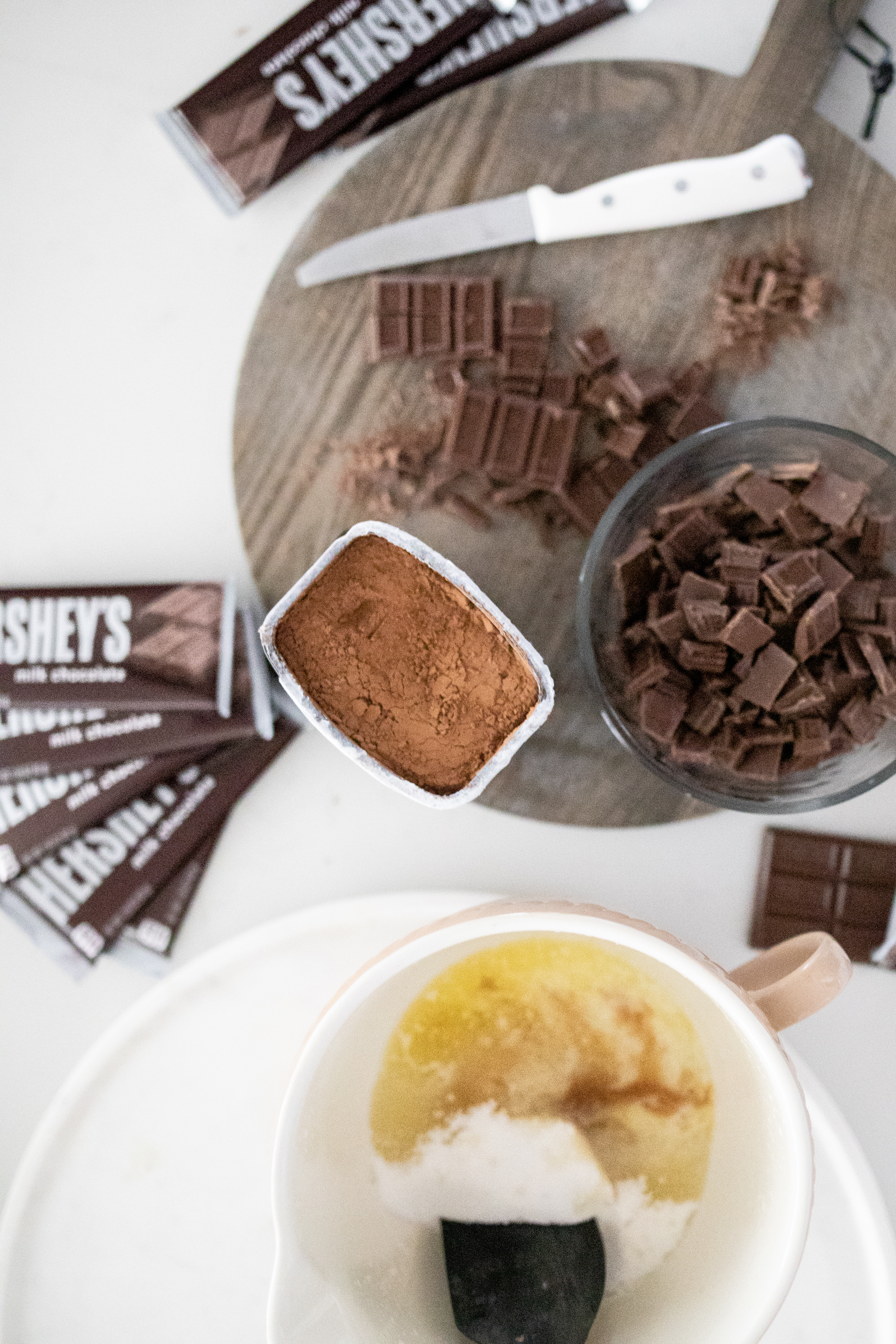 In a large mixing bowl, stir together melted butter, sugar and vanilla with spoon or whisk. Then add the eggs and stir it all together until well blended.
Usually Livy is the first one to stir and crack eggs in the house. She makes her way in between her big brothers to sort of boss them around. haha! But this time around the boys gathered to help their mamma out. This year they both went from being my little boys to young men who are just about to tower over me!
 Next stir in all the dry ingredients including the HERSHEY'S Cocoa Powder.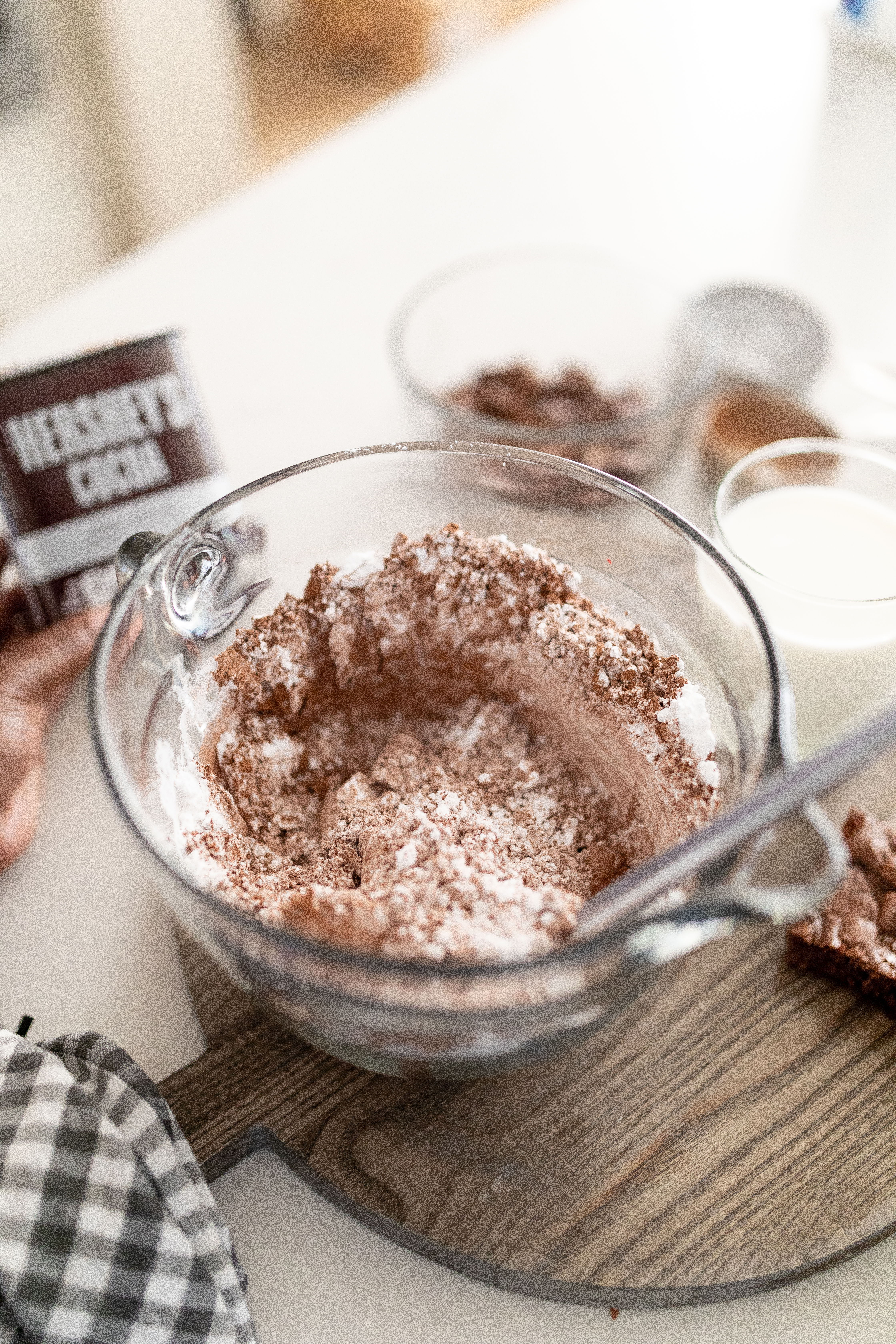 Stir together the dry and wet ingredients with a mixer or by hand. Once all the ingredients have been mixed together, fold in the chocolate bar pieces into batter; spread in the prepared pan.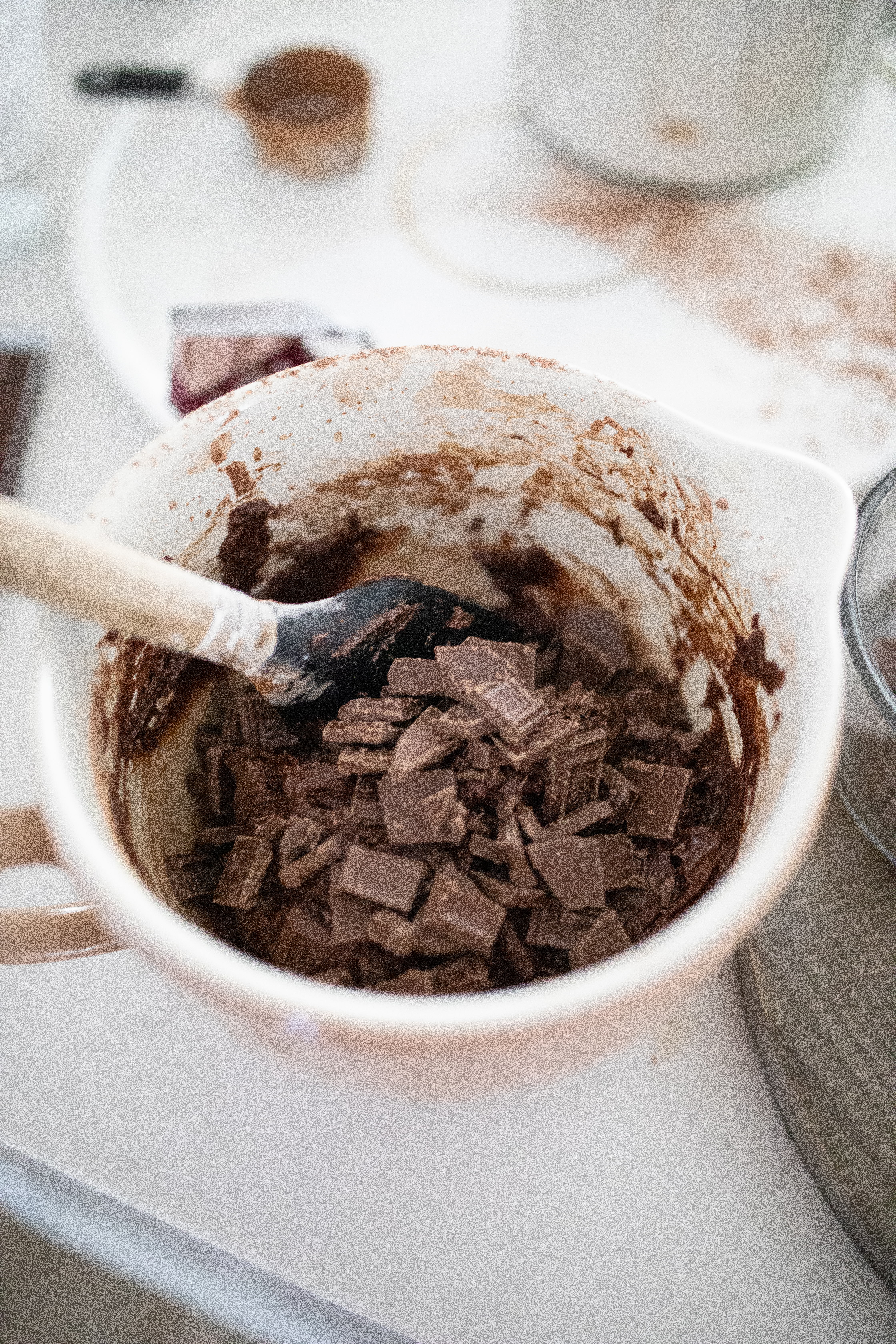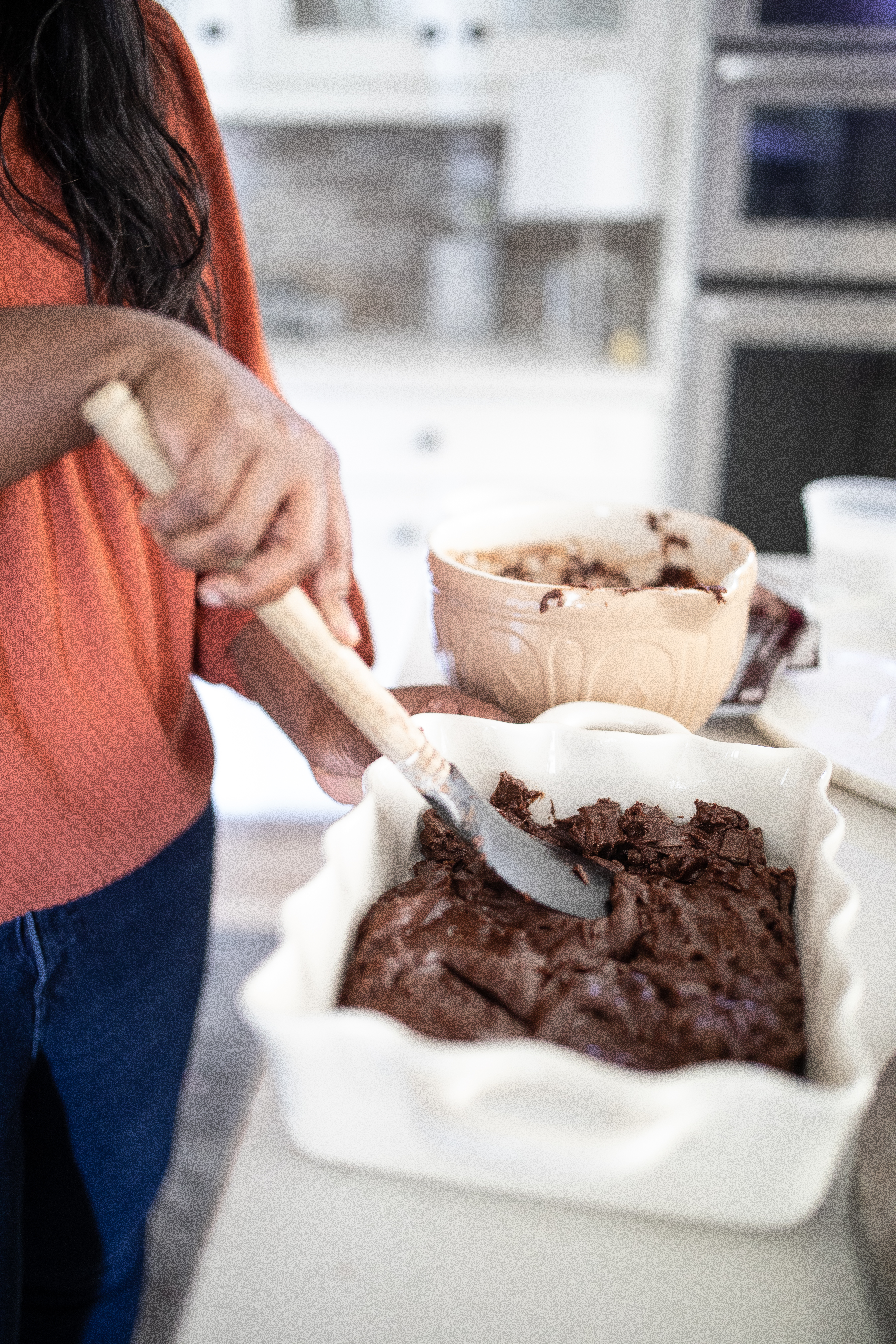 While the brownies are baking you can start to make the HERSHEY'S Perfectly Chocolate frosting. This recipe is the perfect way to attach a little HERSHEY'S pip onto the brownies after they have cooled. To start, you'll need HERSHEY'S Cocoa powder along with soft butter, powdered sugar, milk and vanilla. You can see the full recipe below!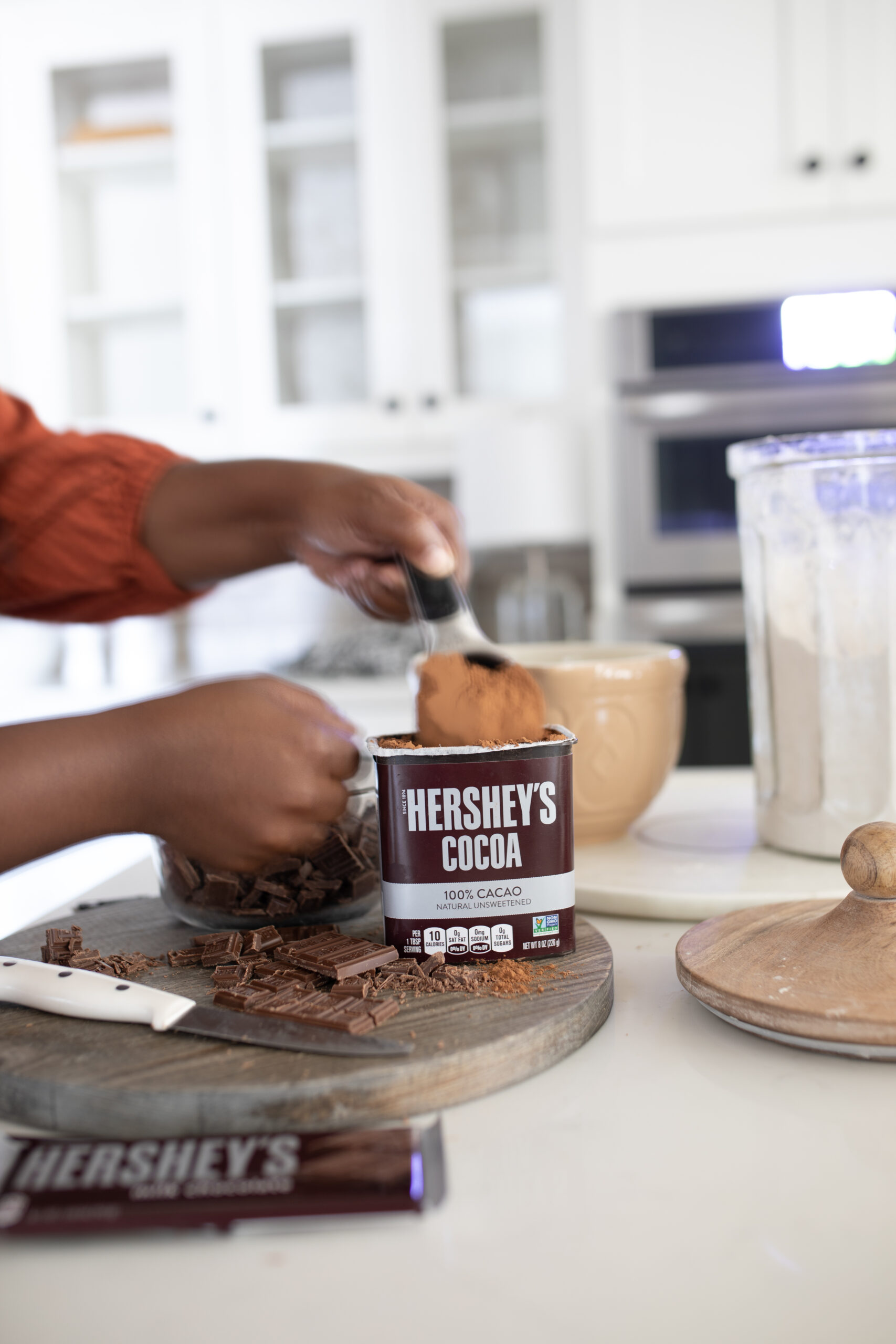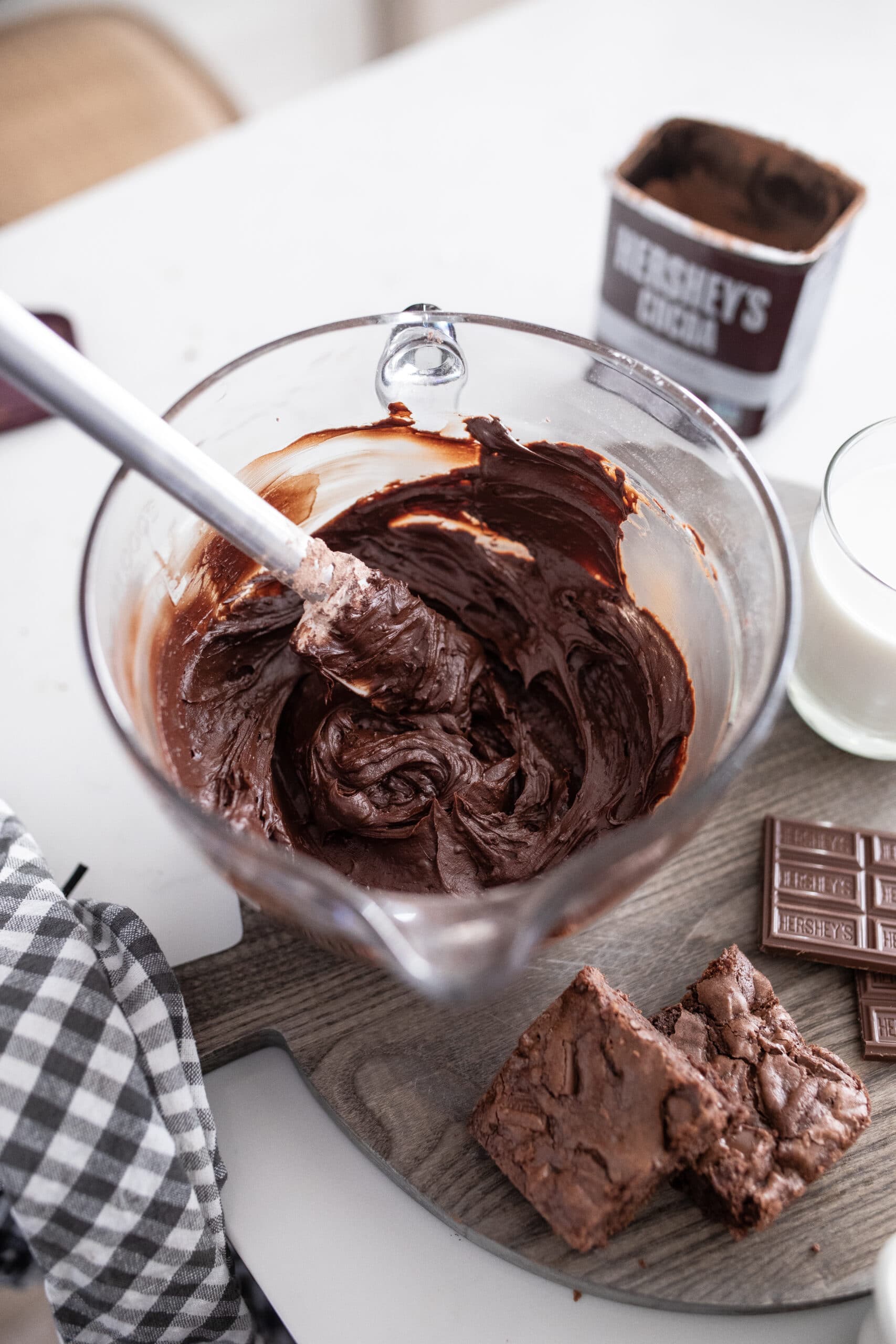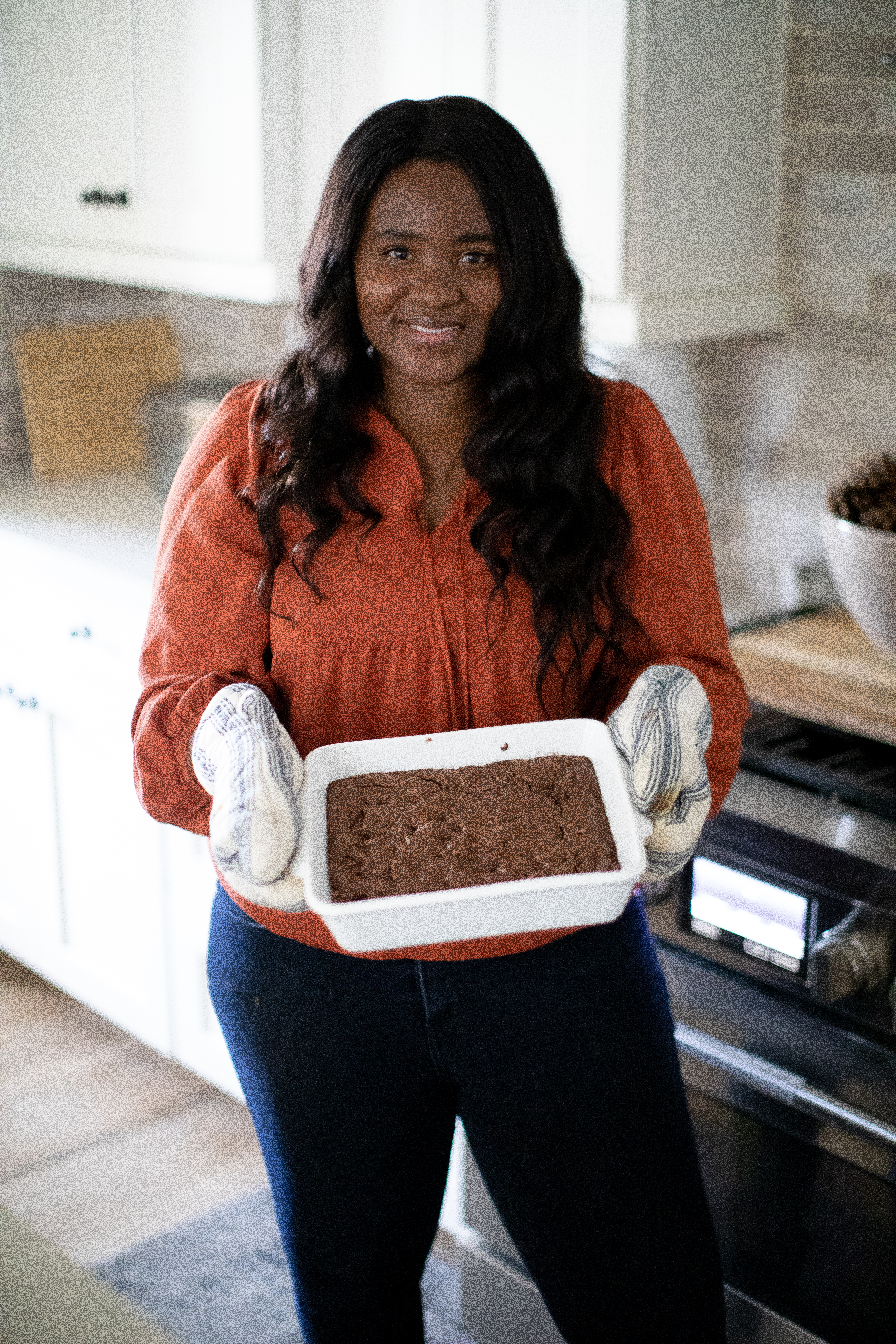 Once the brownies are cooled, attach a pip using a bag full of frosting. Give a small amount of frosting to the back of the pip and then stick it into the middle of the chocolate brownie. Top it off with just a small amount of frosting in the corner!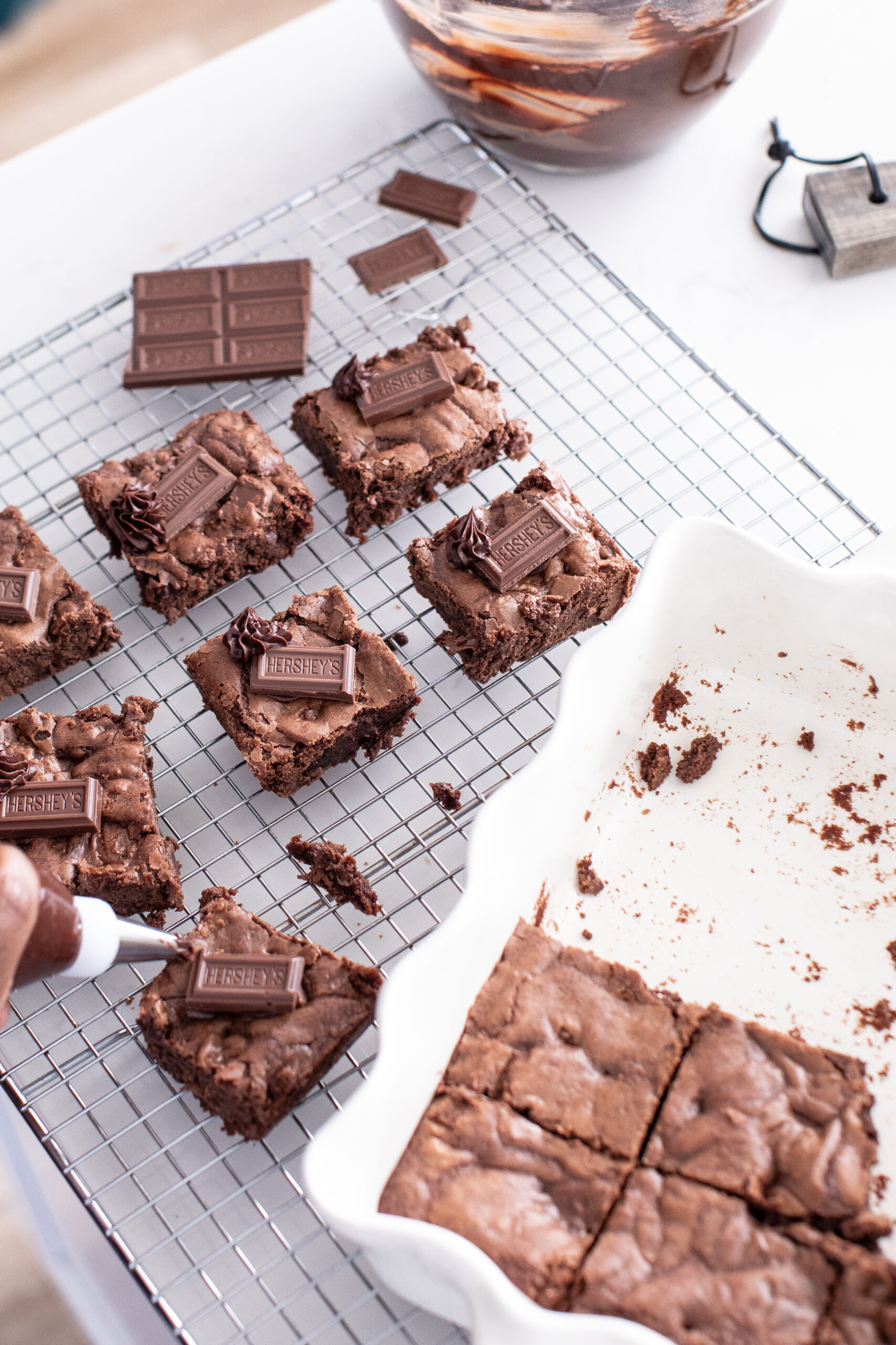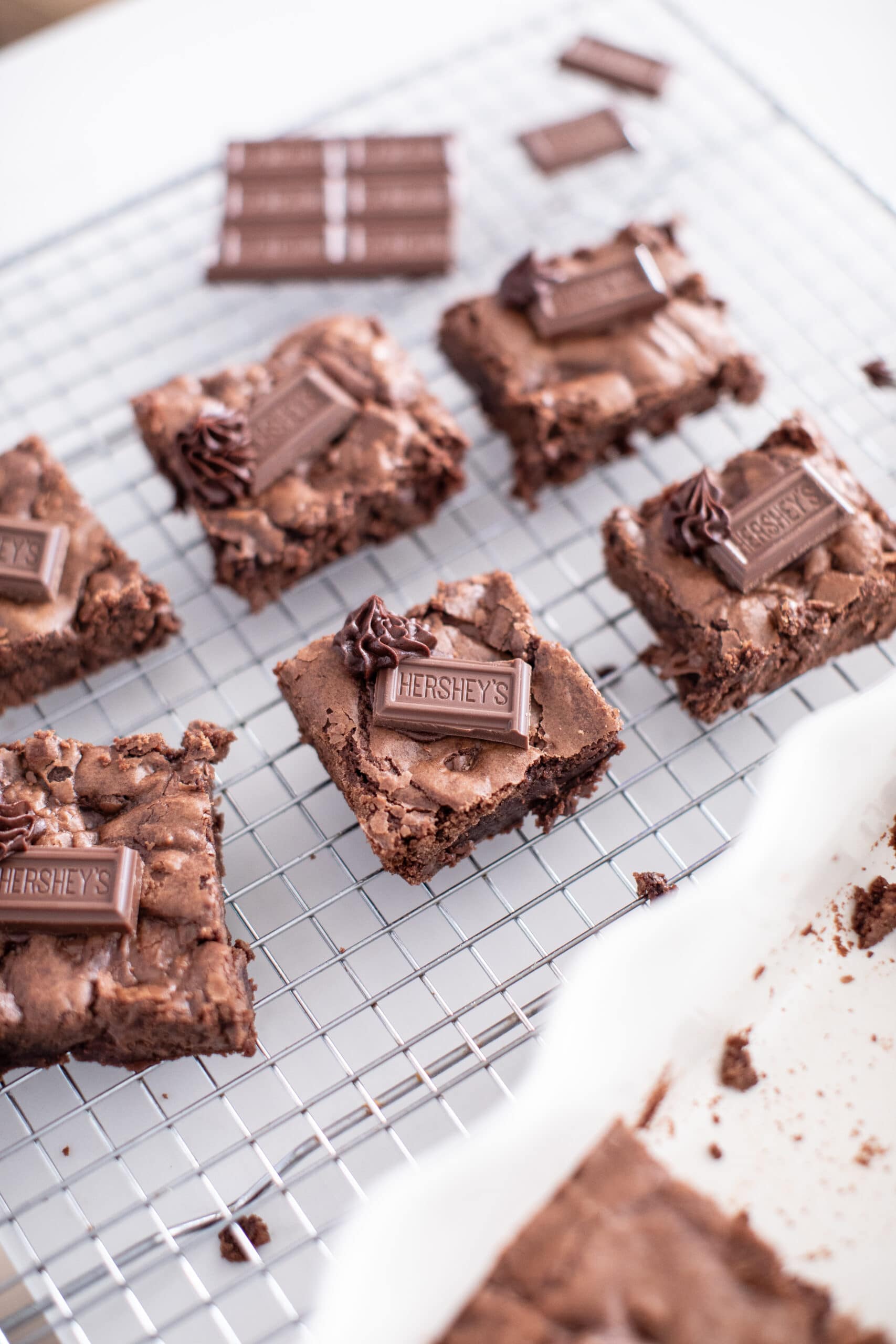 Ready to make your own Chocolate Lovers Brownies this fall? Find everything you'll need on my LIKEtoKNOWit page and instantly add all you need to your shopping cart.
You can also find this recipe and more featured in the October 2021 issue of Food Network Magazine, Good Housekeeping, and HGTV Magazine!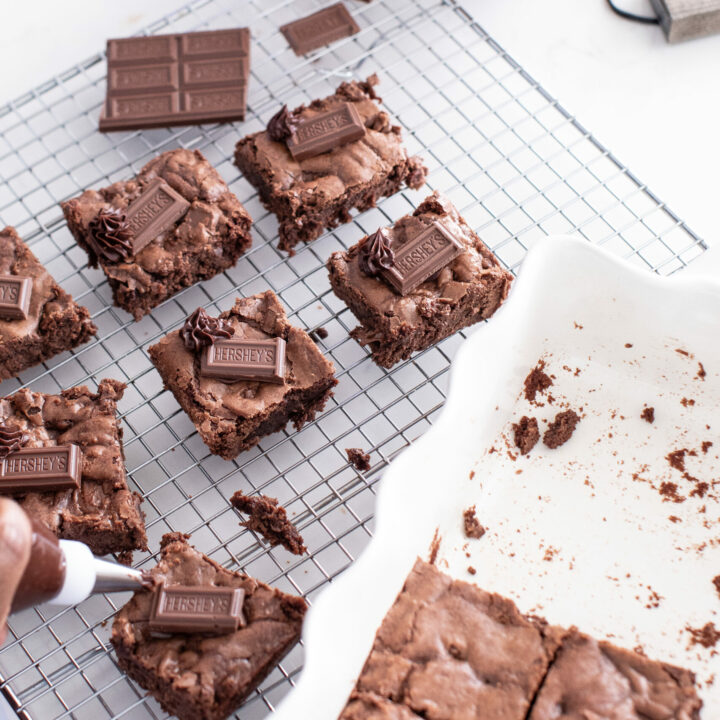 HERSHEY'S Chocolate Lover's Brownie Recipe
A chocolate lovers dream. The brownie recipe has chocolate in every bite. This recipe includes Hershey's Cocoa Powder, Hershey's Chocolate bars and ends with just a little dap of Hershey's Chocolate Frosting.
Ingredients
4 to 5 (1.55 oz. each) HERSHEY'S Milk Chocolate Bars
6 tablespoons butter or margarine, melted
1-1/4 cups sugar
1 teaspoon vanilla extract
2 eggs
1 cup all-purpose flour
1/3 cup HERSHEY'S Cocoa
1/2 teaspoon baking powder
1/2 teaspoon salt
Instructions
Heat oven to 350°F. (325°F. for glass baking dish). Grease 8- or 9-inch square baking pan.
Remove wrappers from chocolate bars; cut into 1/2-inch pieces. Set aside.

Stir together melted butter, sugar and vanilla in large bowl with spoon or whisk. Add eggs; stir until
well blended. Add flour, cocoa, baking powder and salt, stirring until well blended. Fold chocolate bar
pieces into batter; spread in prepared pan.

Bake 25 to 30 minutes or until brownie begins to pull from sides of pan and small cracks start to form
on brownie surface. Cool completely in pan on wire rack; cut into squares. Makes 16 brownies.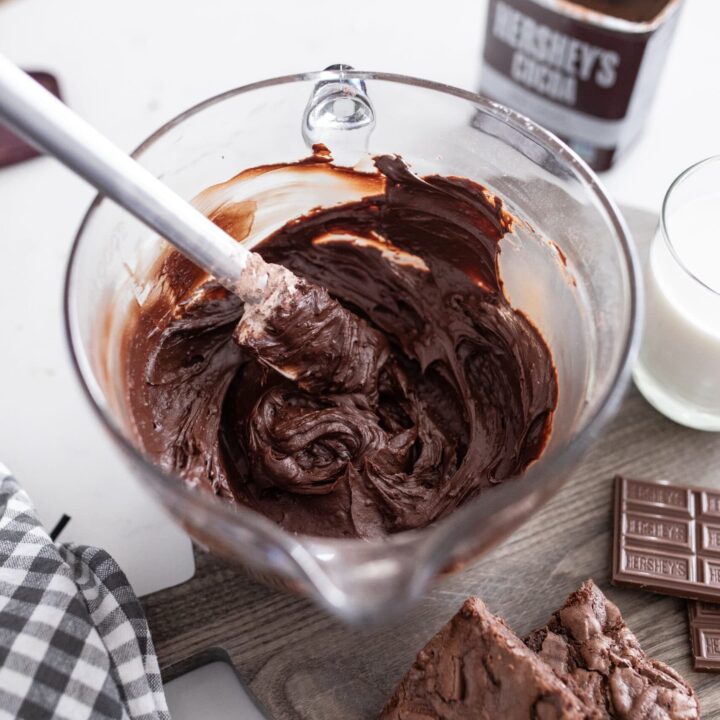 HERSHEY'S Perfectly Chocolate Frosting
A chocolate frosting recipe perfect for your next chocolate cake!
Ingredients
1/2 cup butter or margarine (1 stick)
2/3 cup HERSHEY'S Cocoa
3 cups powdered sugar
1/3 cup milk
1 tsp vanilla extract
Instructions
Melt butter. Stir in cocoa. Alternately, add powdered sugar and milk, beating to spreading consistency.
Add small amount additional milk, if needed. Stir in vanilla.
Notes
Perfect frosting for cakes, cookies and brownies. Original recipe from HERSHEY'S