Gooey Chewy Coconut Chex Mix
This post is sponsored and may contain affiliate links, please read my disclosure policy.
If you're looking for a great recipe to add to your Christmas baking round up I have the perfect recipe that will for sure become a family favorite. I got the recipe from a neighbor after her Christmas party one year and I've made it for Christmas ever since. It's actually my sons most requested Christmas treat. You know because each kid has their favorite thing mom makes around Christmas, right?!
This chewy Chex mix has a sugar and butter base which is the foundation for all things good haha! What sets this recipe apart is the toasted coconut and almonds. It gives the entire snack a rustic homey taste.
All though I save this treat for Christmas, it can also be made for game day or any other yearly celebration like Easter!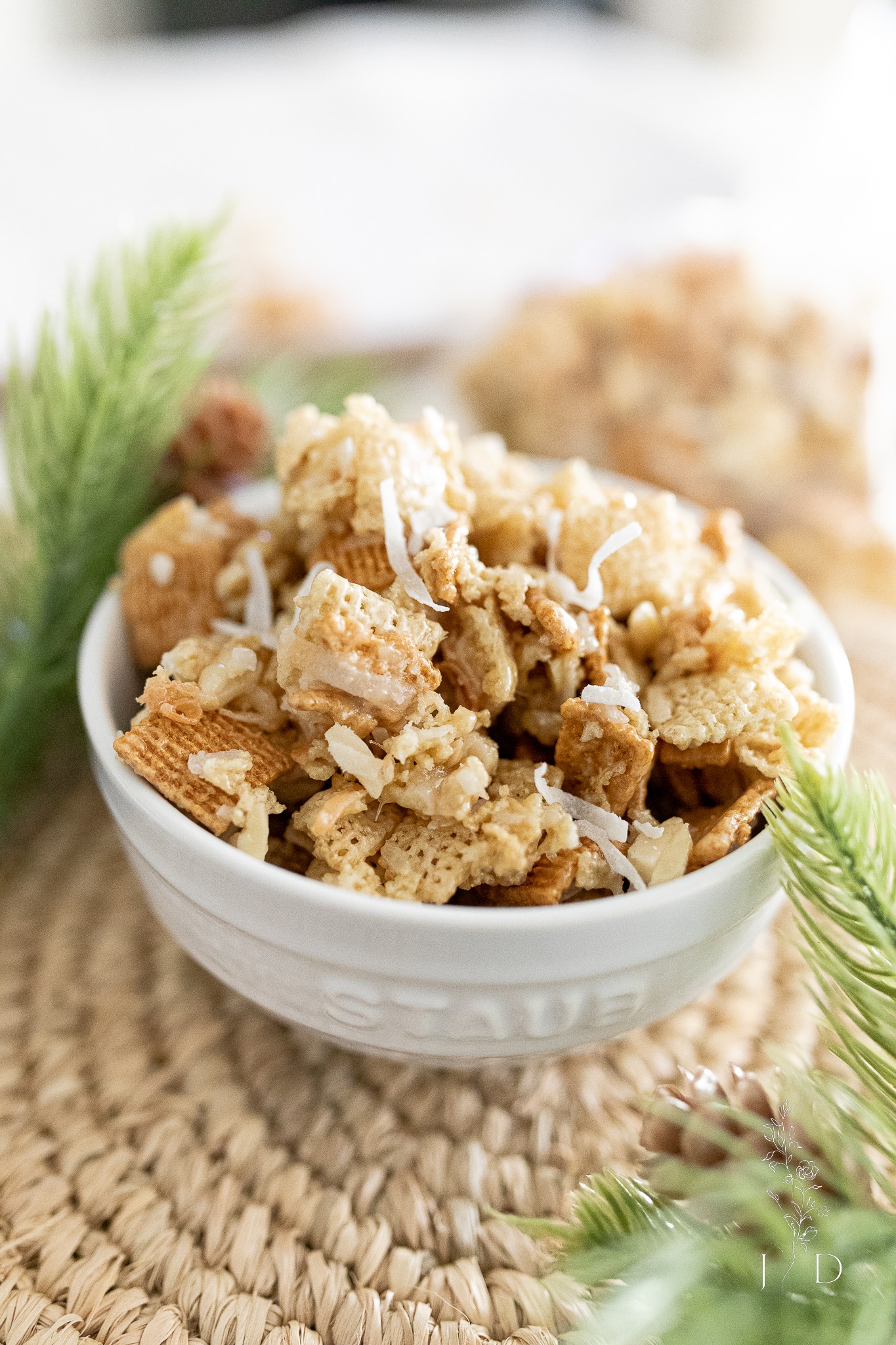 How to Make Gooey Chewy Coconut Chex Mix
To start line a large cookie sheet with parchment paper. Toast the coconut and almonds for 5-10 minutes. Remove from the oven set aside. In an extra-large bowl mix the Chex cereal, honey grahams, coconut, and almonds.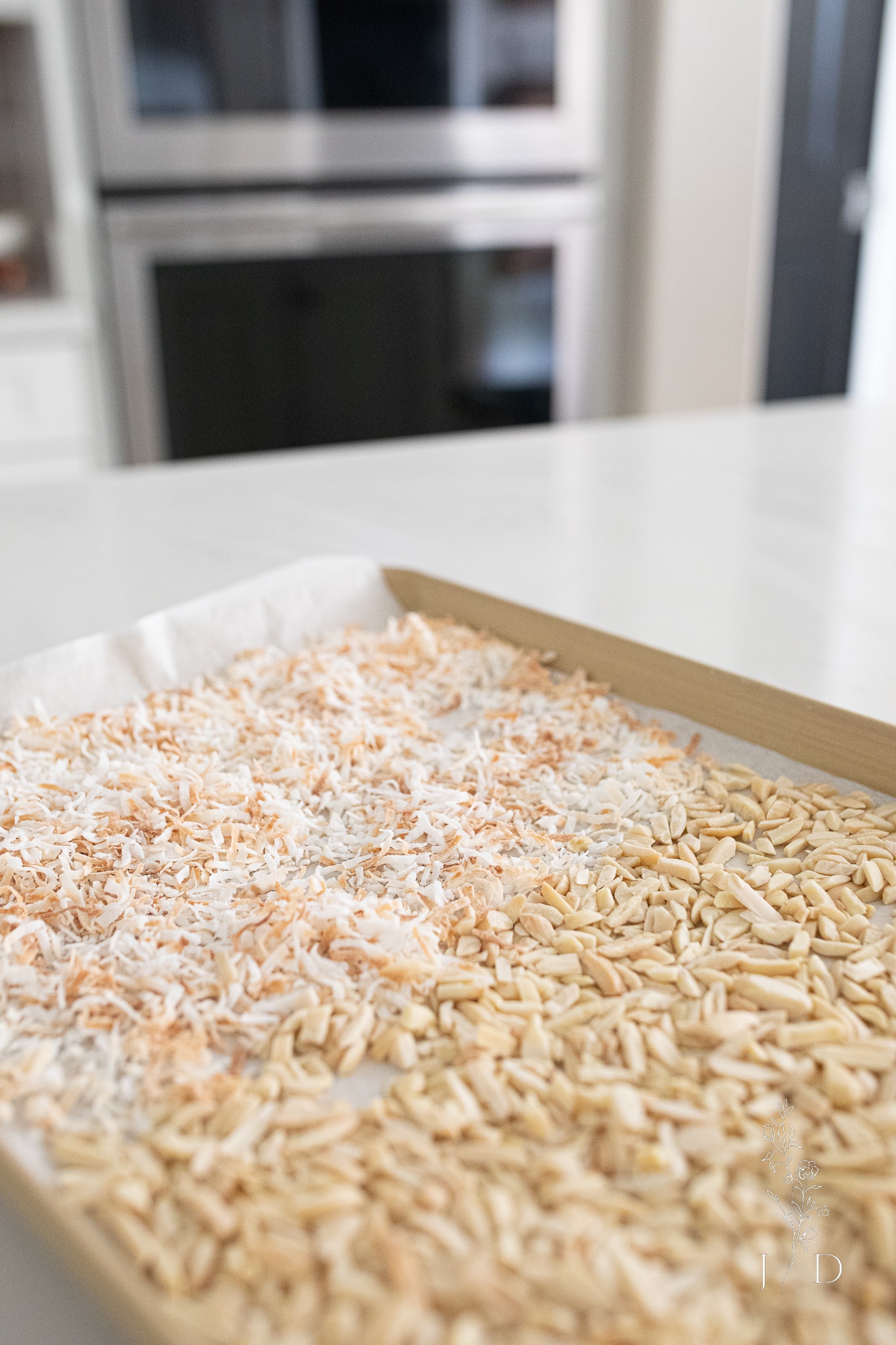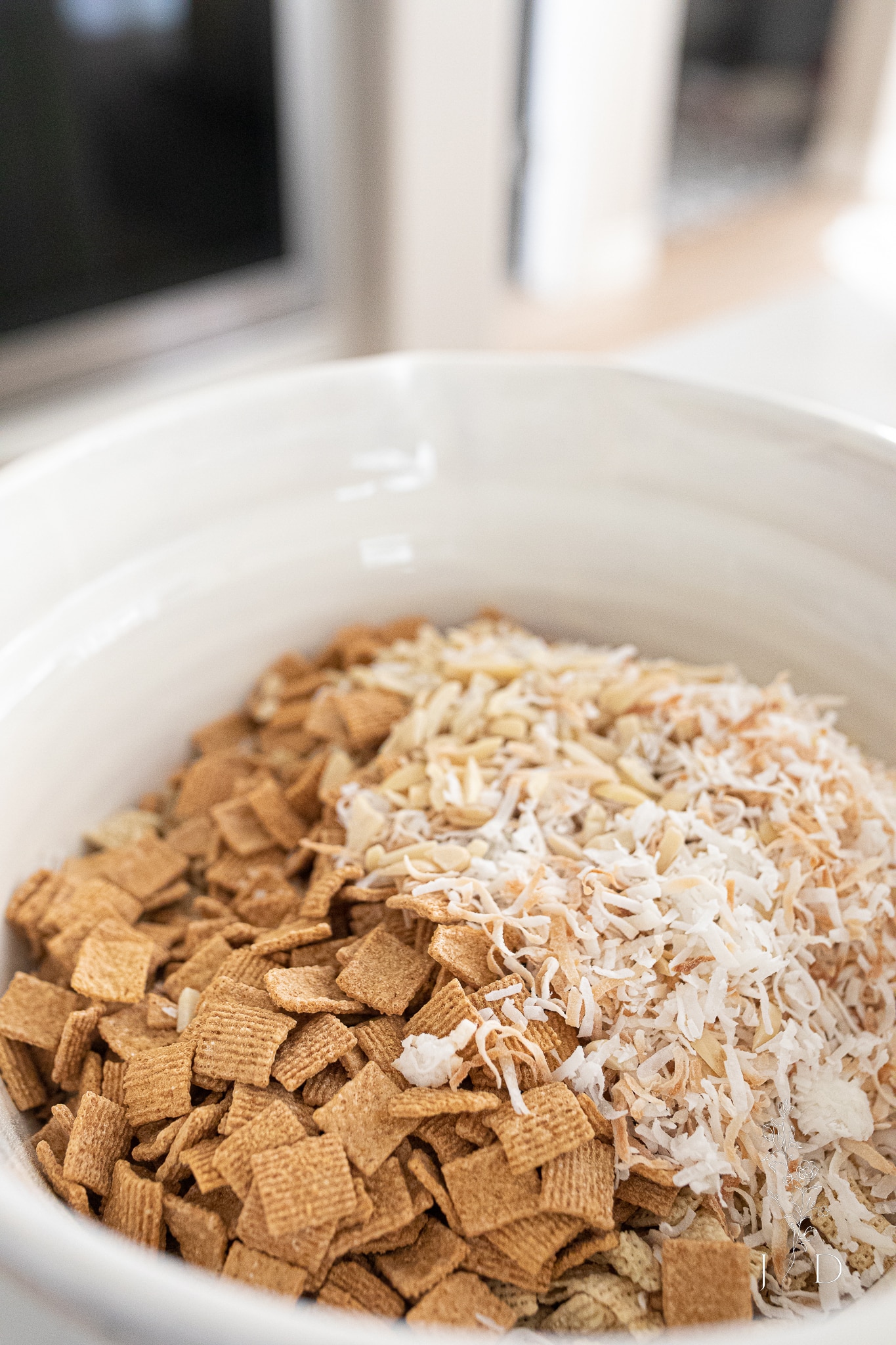 In a medium saucepan melt and stir the butter, sugar, and corn syrup. Heat the mixture to 230 degrees or a "softball form".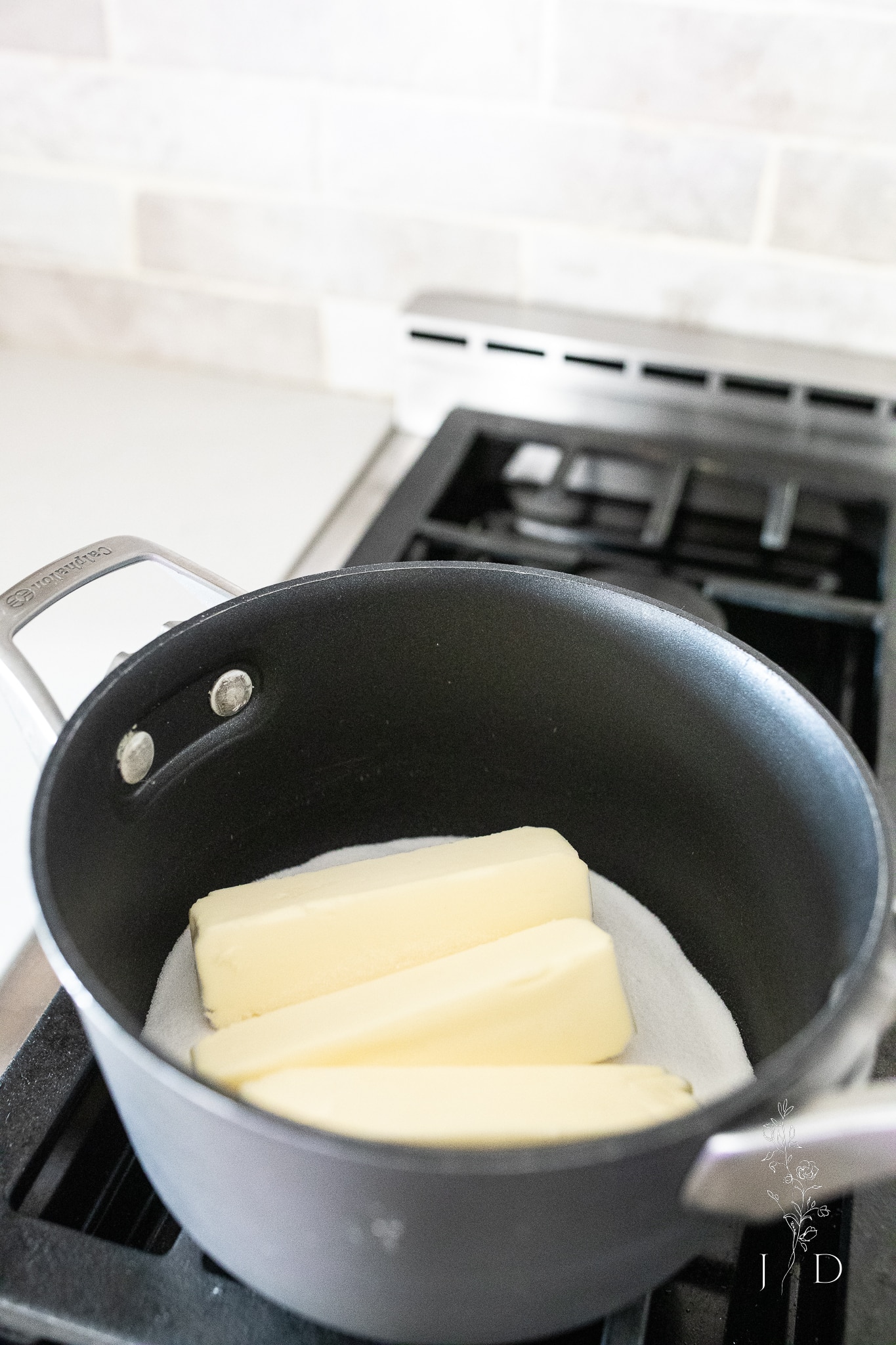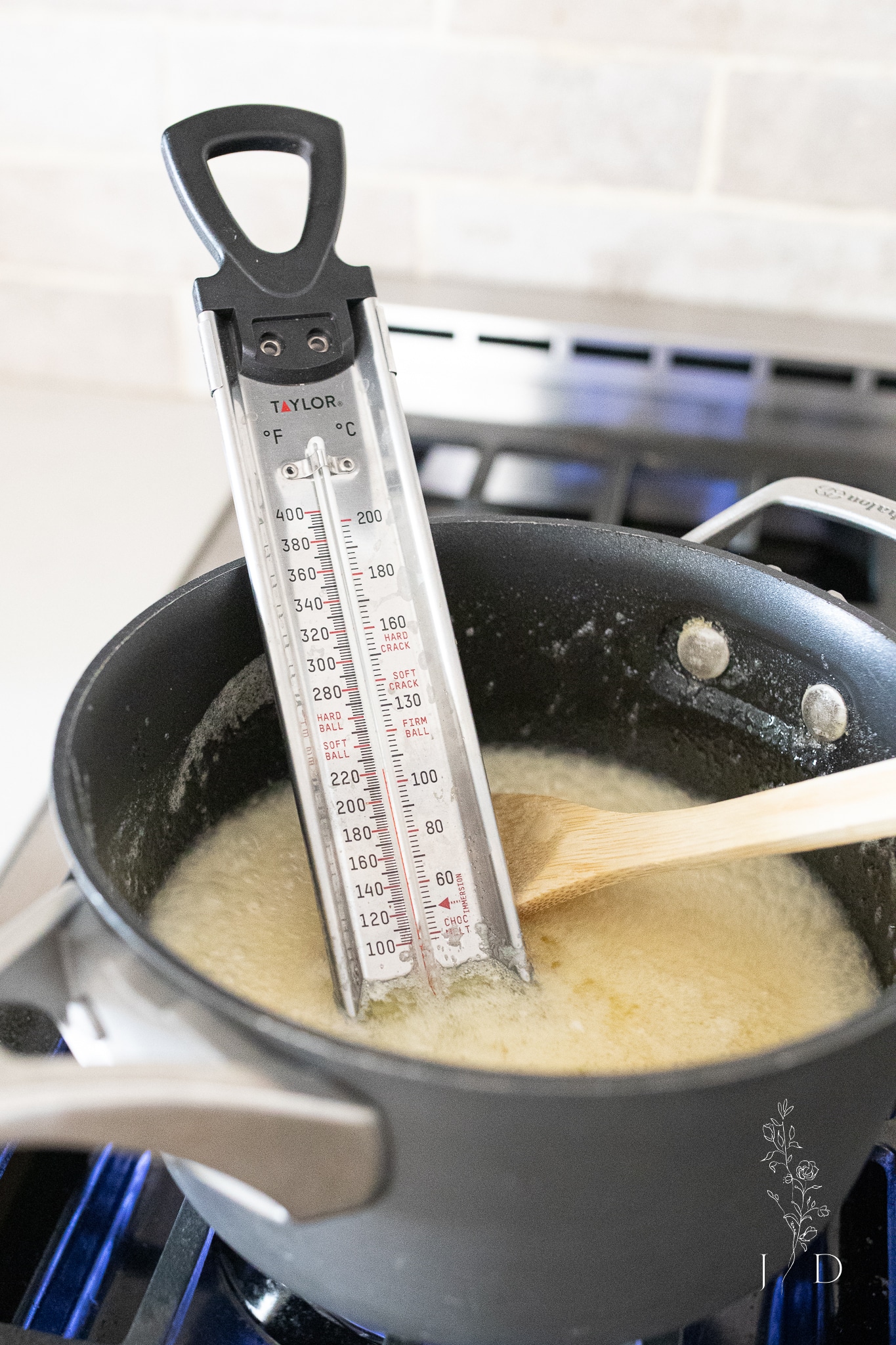 Remove from the heat.
Pour the sugar mixture over the cereal mix. Stir until well combined.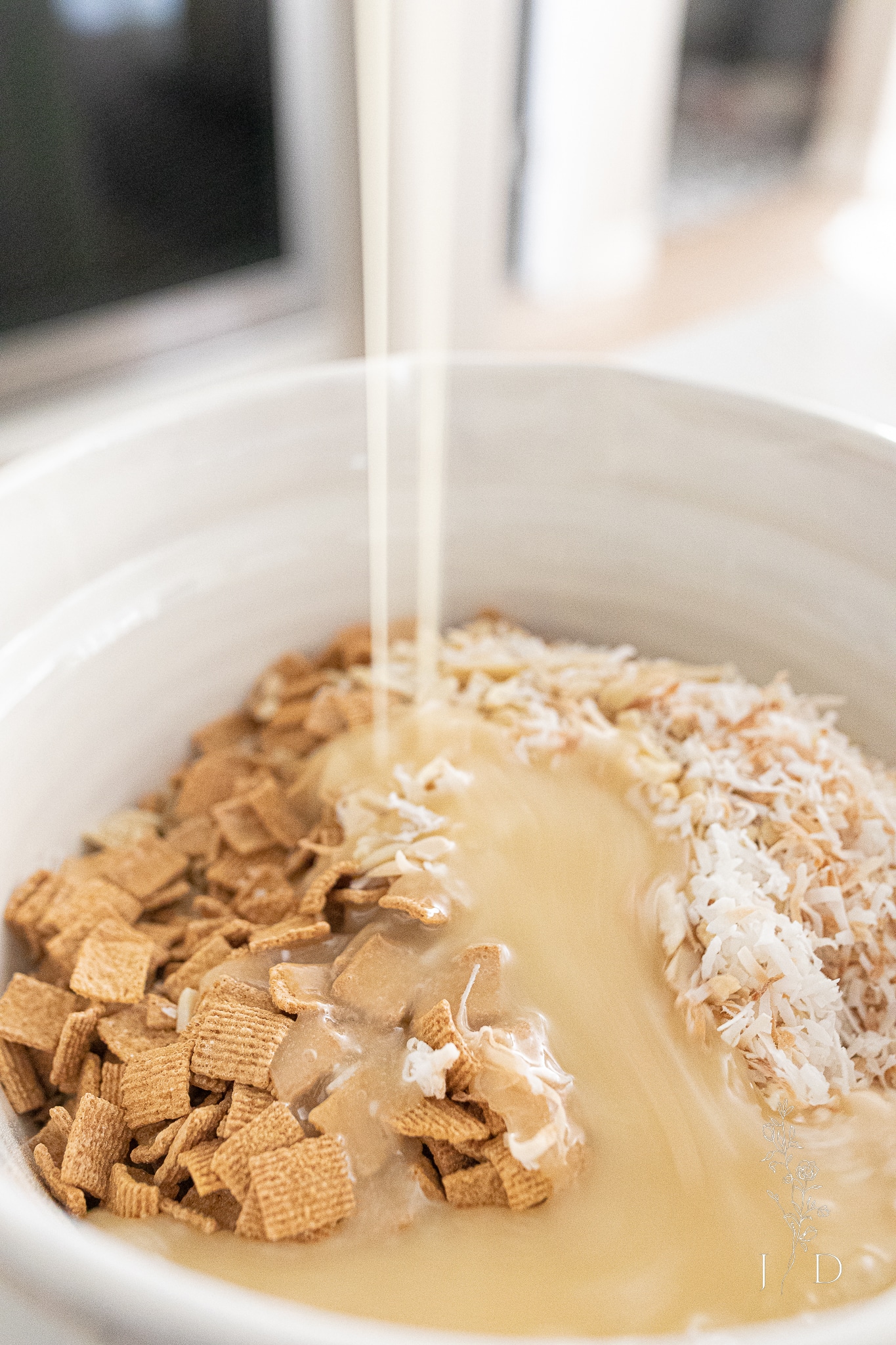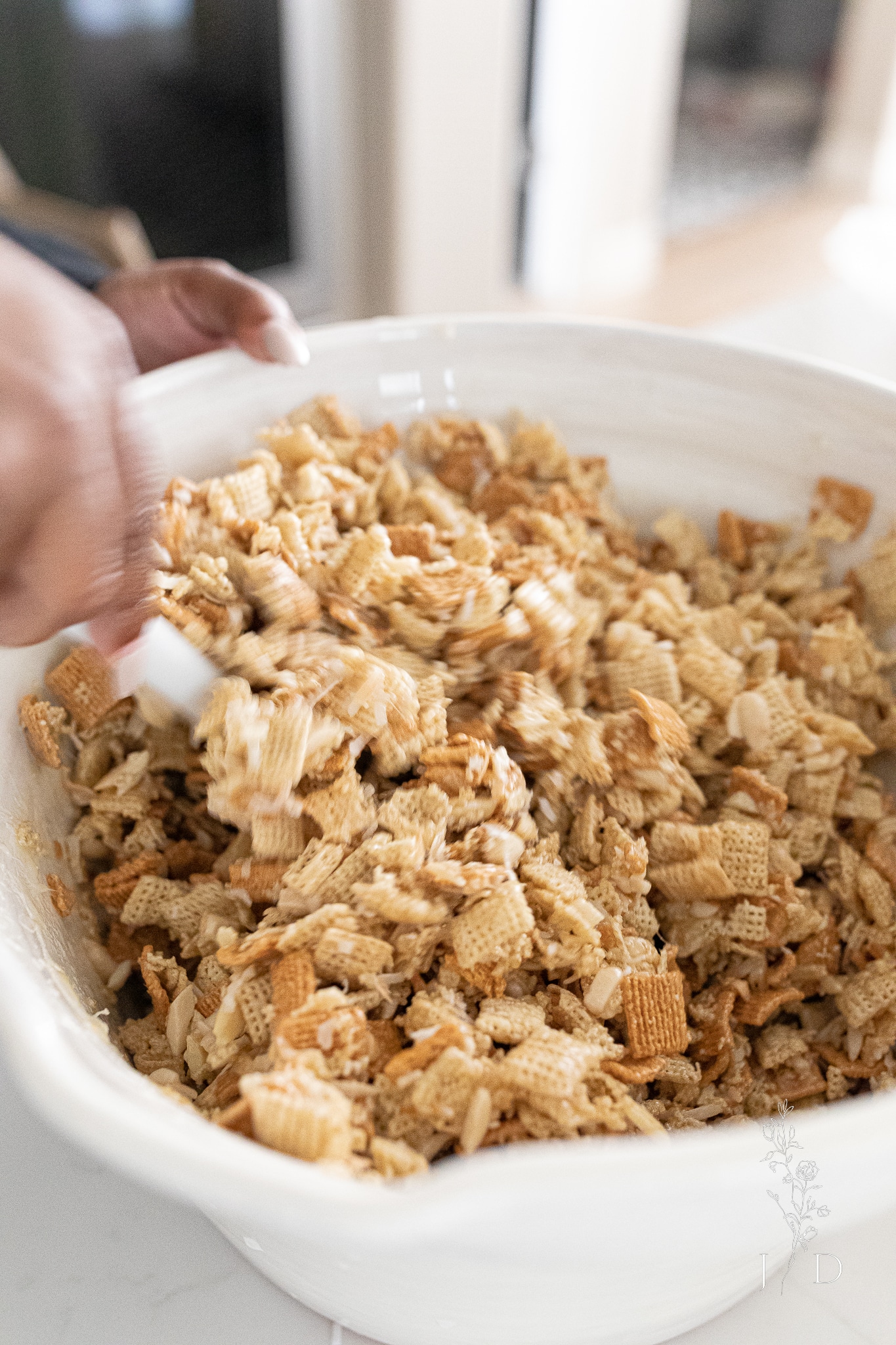 Spread the mixture onto cookie sheets lined with parchment paper and allow it to cool. You can serve immediately in bowls or you can place them in baggies to give away as gifts to friends and neighbors.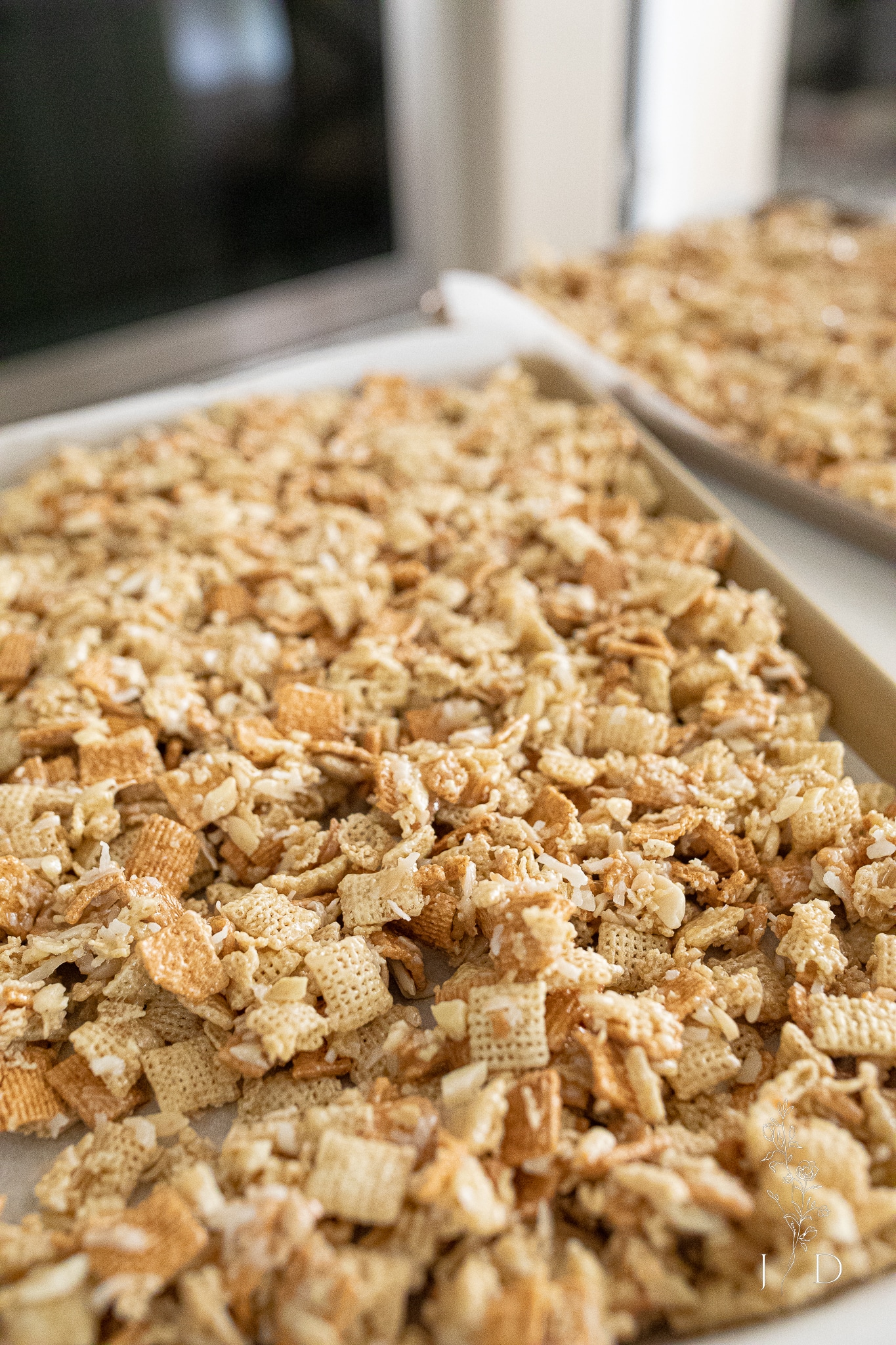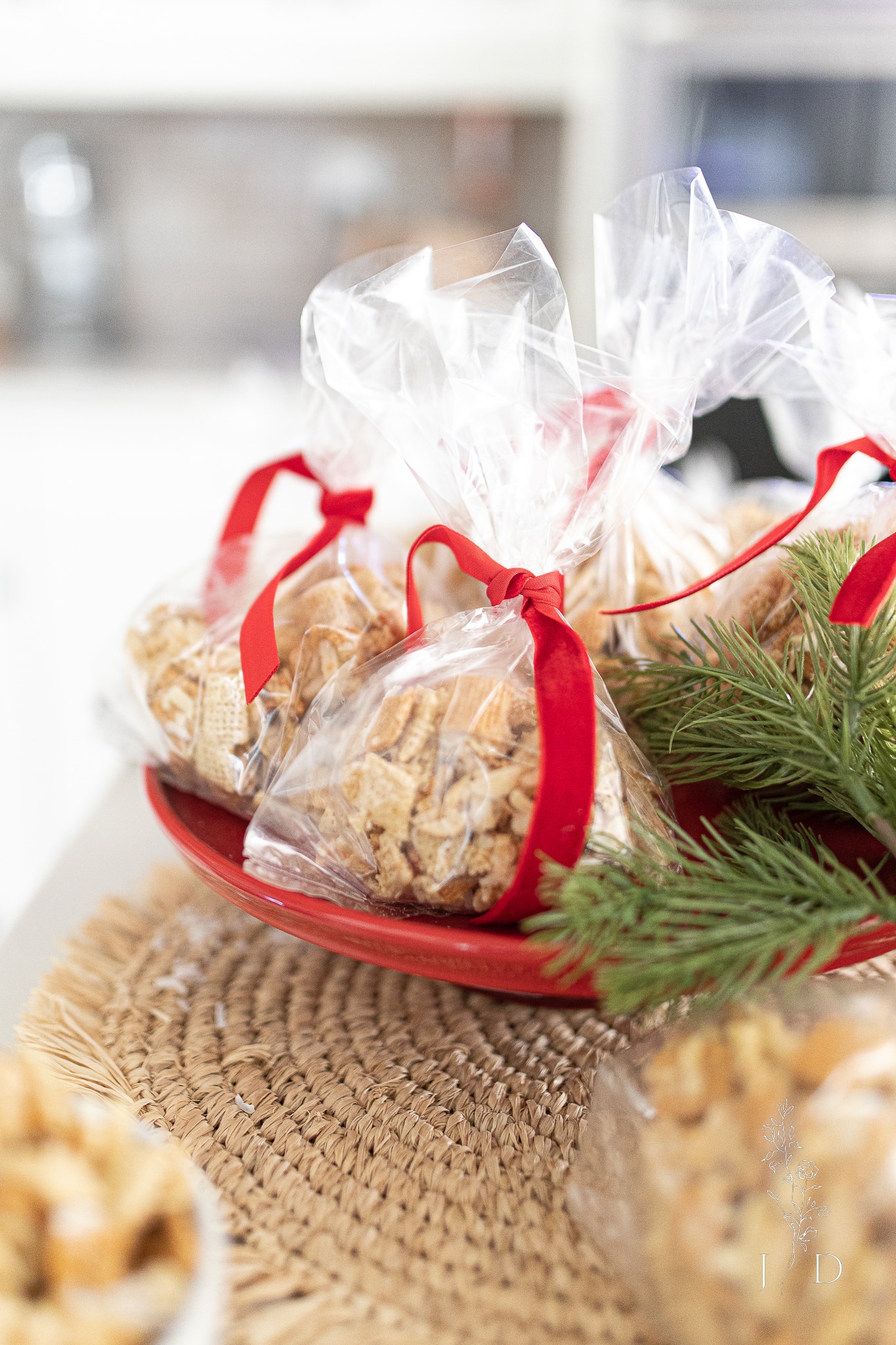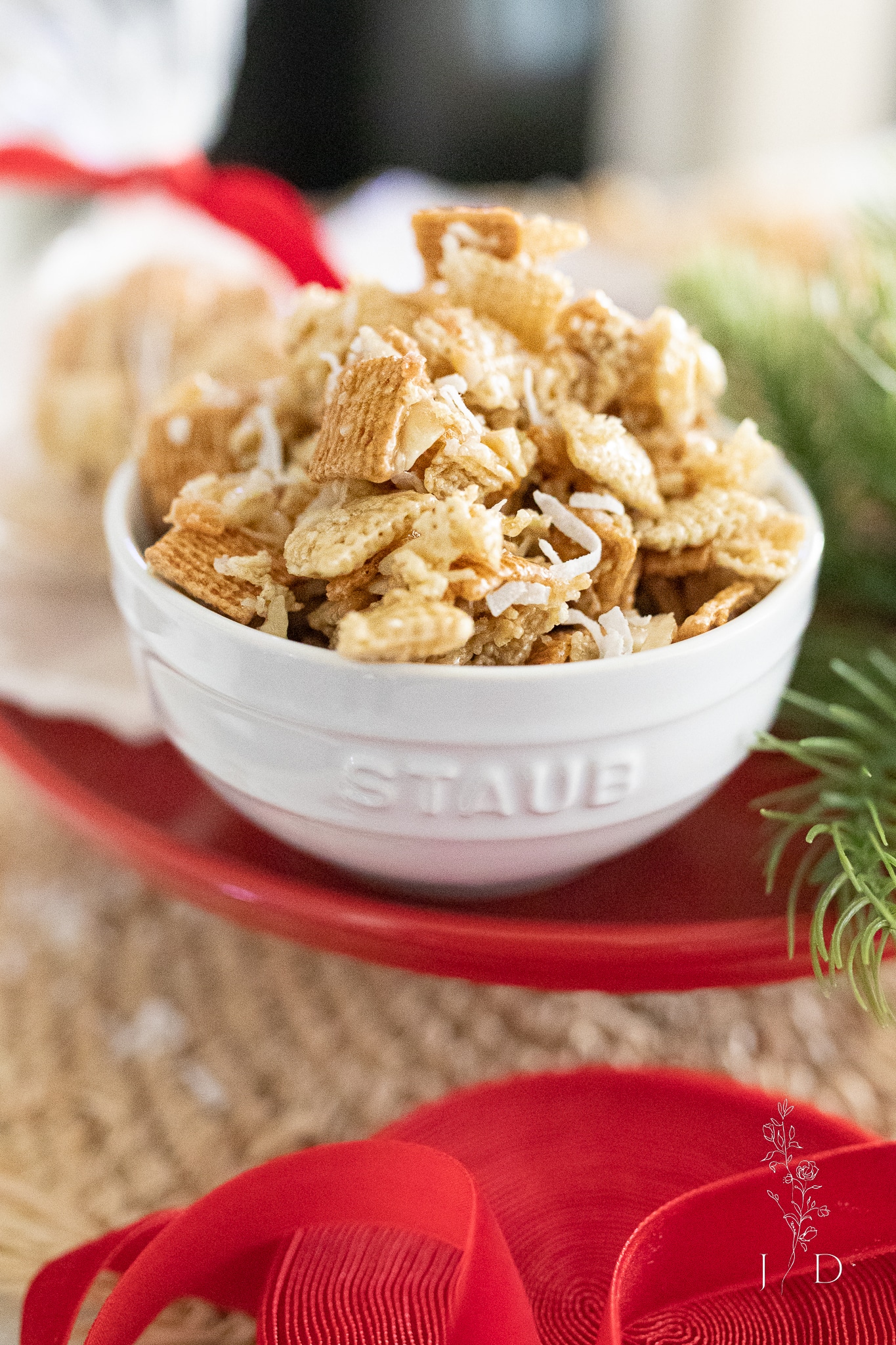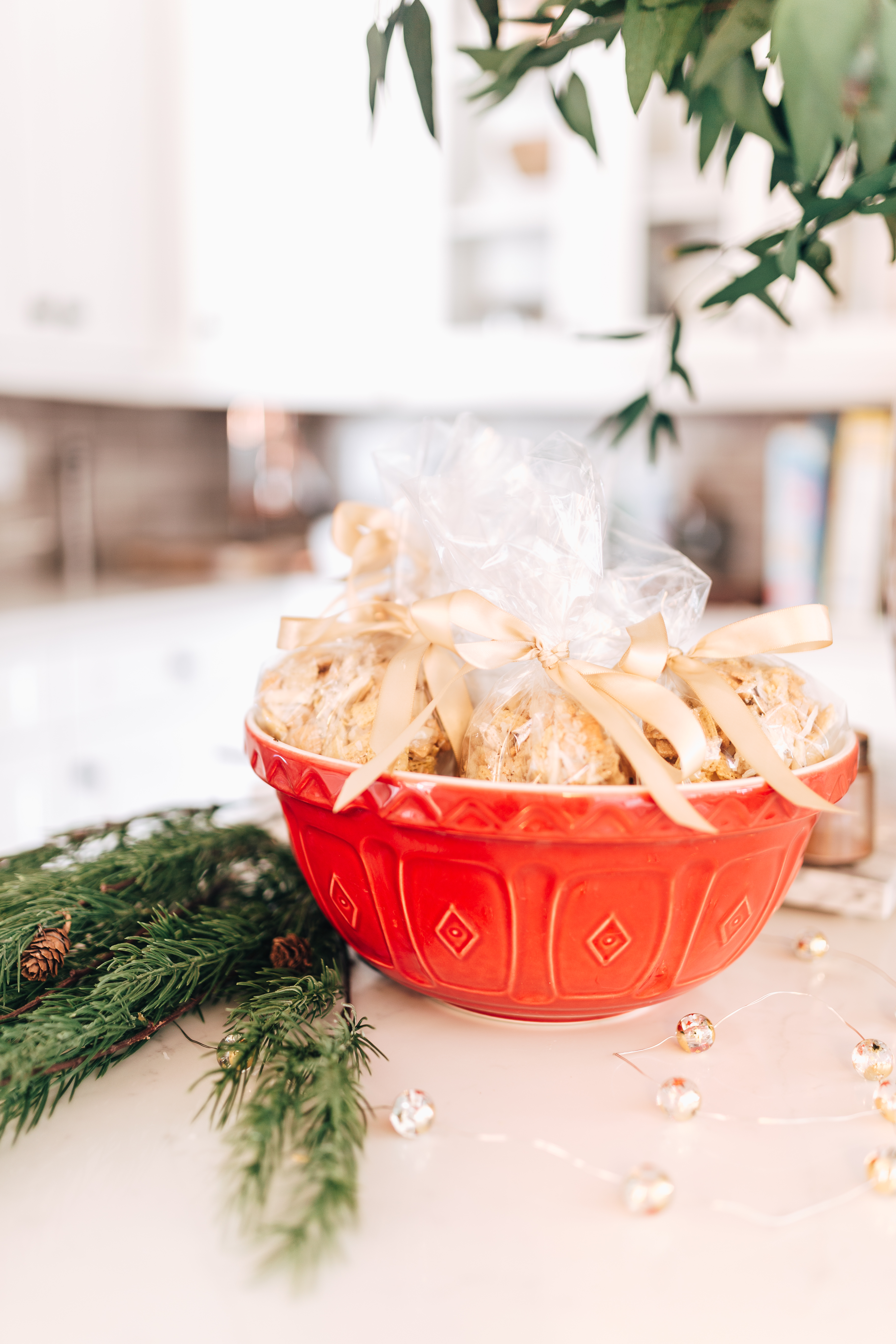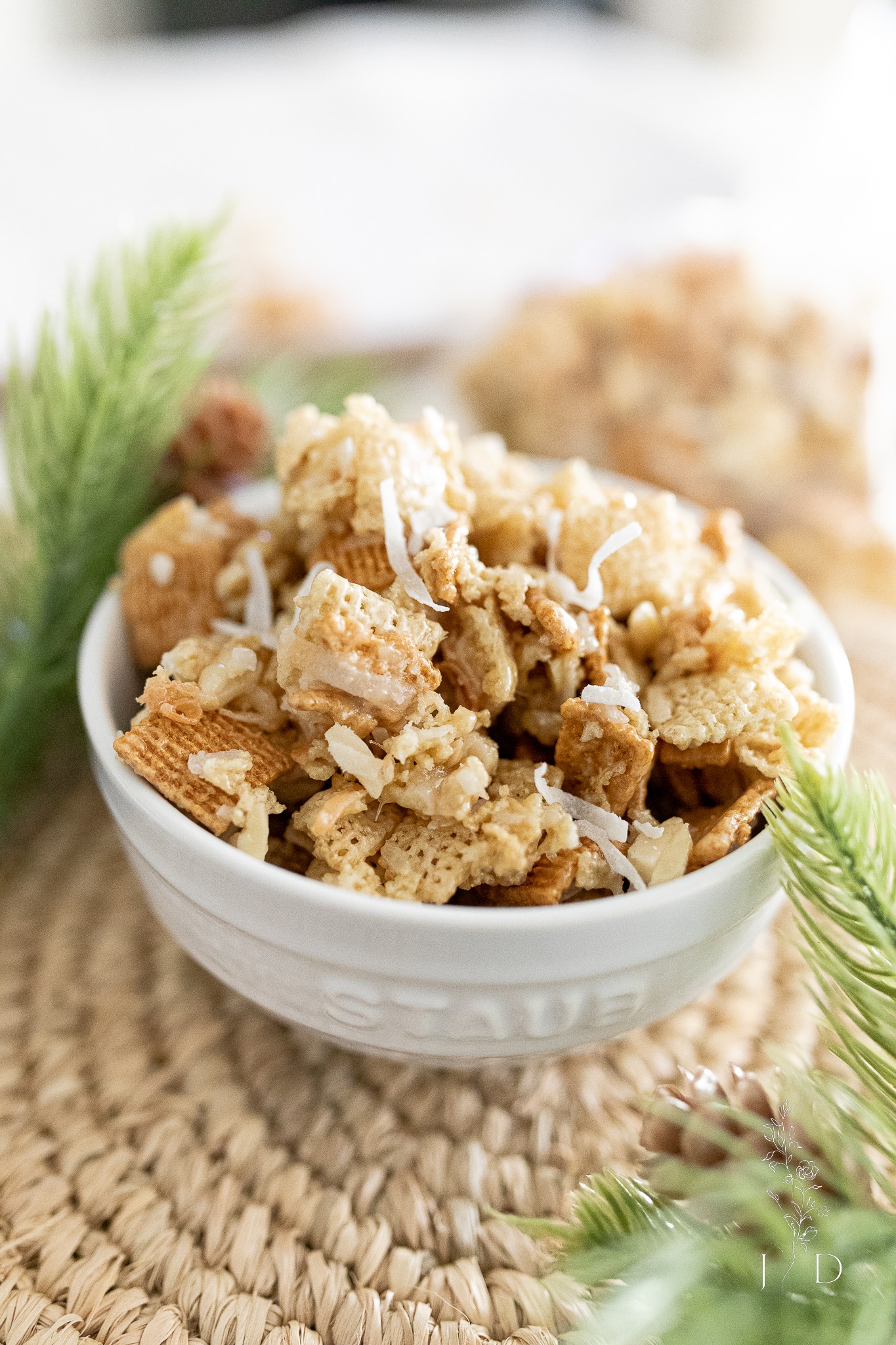 Gooey Chewy Coconut Chex Mix
Additional Time:
10 minutes
Ingredients
1 -package sweetened shredded coconut ( 14 oz)
2 -packages slivered almonds (6 oz)
1 -box rice chex cereal ( 12 oz)
1 -golden grahams cereal ( 12 oz)
2 cups white sugar
2 cups corn syrup
1 ½ cups butter
Instructions
Preheat oven to 350 degrees.

Place coconut and almonds on a baking sheet. Bake coconut and almonds in the preheated oven for 15 minutes. Rotate and stir every 5 minutes until coconuts and almonds are toasted on both sides.

Mix coconut, almonds, rice cereal, and honey graham cereal in an extra-large bowl.
Bring white sugar, corn syrup, and butter to a boil in a medium saucepan. Heat to 240 degrees. Use a candy thermometer for accurate temperature.

Pour sugar mixture over cereal mixture and stir until well coated.
Lay mixture out onto 2 baking sheets to cool. Serve or wrap to give as a gift.