Walmart Christmas Gift Ideas EVERYONE on Your List Will Love
This post is sponsored and may contain affiliate links, please read my disclosure policy.
If there's one thing I know you probably have a Walmart near you. So when it comes to Christmas shopping a big Walmart store might be a little overwhelming! So I'm going to help you out and point you to the best Walmart Christmas gift ideas that you can find in-store or online!
The great thing about Walmart is that you can find a gift for just about anyone here and it's most likley going to fit your budget. You can spend anywhere between $5-$1500 on a good gift at Walmart. $5 dollars will get you a cute box of chocolate for a neighbor or teacher while a $1500 + gift can get you a nice TV for that special someone!
Walmart has the perfect headquarters to get your gift list all organized by price or person! Just start with these gift guides below and get even more ideas on the Home Gifting Page!
Walmart Christmas Gifts for the Home
Favorite Gifts Under $25
Gifts that are under $25 are going to be perfect if you're on a budget, have a big family you are exchanging gifts or are thinking of a gift for a neighbor, teacher, co-worker or a friend!
A tray with a cookbook and wooden spoons all wrapped in a bow is great presentation.
Marble Rolling pin wrapped in a classic red ribbon is a great gift for a cook! Or your friend with the pretty kitchen.
My favorite gift to give is a throw. I even have a printable for you to have so you can wrap them up super cute! Perfect for teachers!
A crock with wooden spoons is great to gift a hostess! Wrap it up with a cute ribbon for a pretty presentation!
Silk pillow cases are all the rage and Walmart has a great selection to choose from. Perfect for protecting your hair at night.
I also love giving a casserole dish after I've made something for a party! Plus you don't have to worry about getting it back.
Candles are always a good idea. Just get candles that are not too mainstream and have unique scents that match the recipients personality.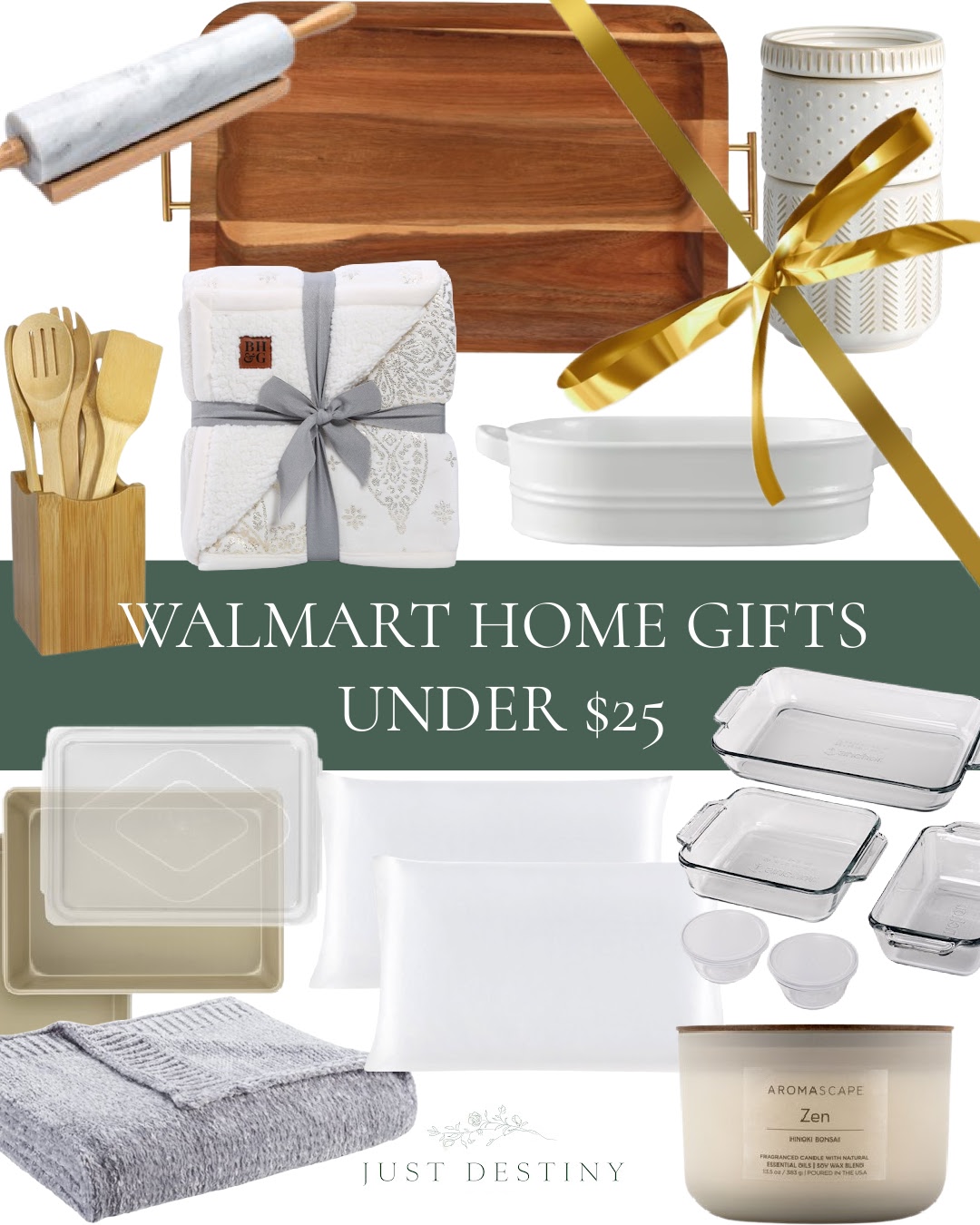 Walmart Christmas Gifts Under $50
$50 gifts are perfect if you a little more to spend. This might be a sister in-law, favorite cousin or even aunt! These gift ideas for the home are great for someone who is just moving into a first home or looking to upgrade a few things.
I'm also giving you some styling ideas so you can present them in a cute way!!
Gold Marble Tray– Another tray but this one is a bit more glam and classy. Great for your girlfriends front entrance or an accent decor piece in your sister in laws gorgeous kitchen. You can pair this with a candle and present it as a centerpiece idea or even for bathroom styling.
Everyone needs a steamer and this one might be the best on the market. Steaming curtains, pillows, duvet covers or ANYTHING that needs to be steamed. It fits right in your hand and is portable for easy set up and storage.
Every few years we ALL need a new set of baking pans. Christmas is the perfect reset. I adore these gold ones so much and plan on replacing all of mine with them. This set is another great find and for $50 you can also get yourself a new set.
Baskets and Blankets – the perfect gift combo in my opinion and makes for a great presentation! Walmart has SO many cozy blanket options I can't choose just one! This idea can be presented with the blanket or throws in the basket and wrapped with a big bow!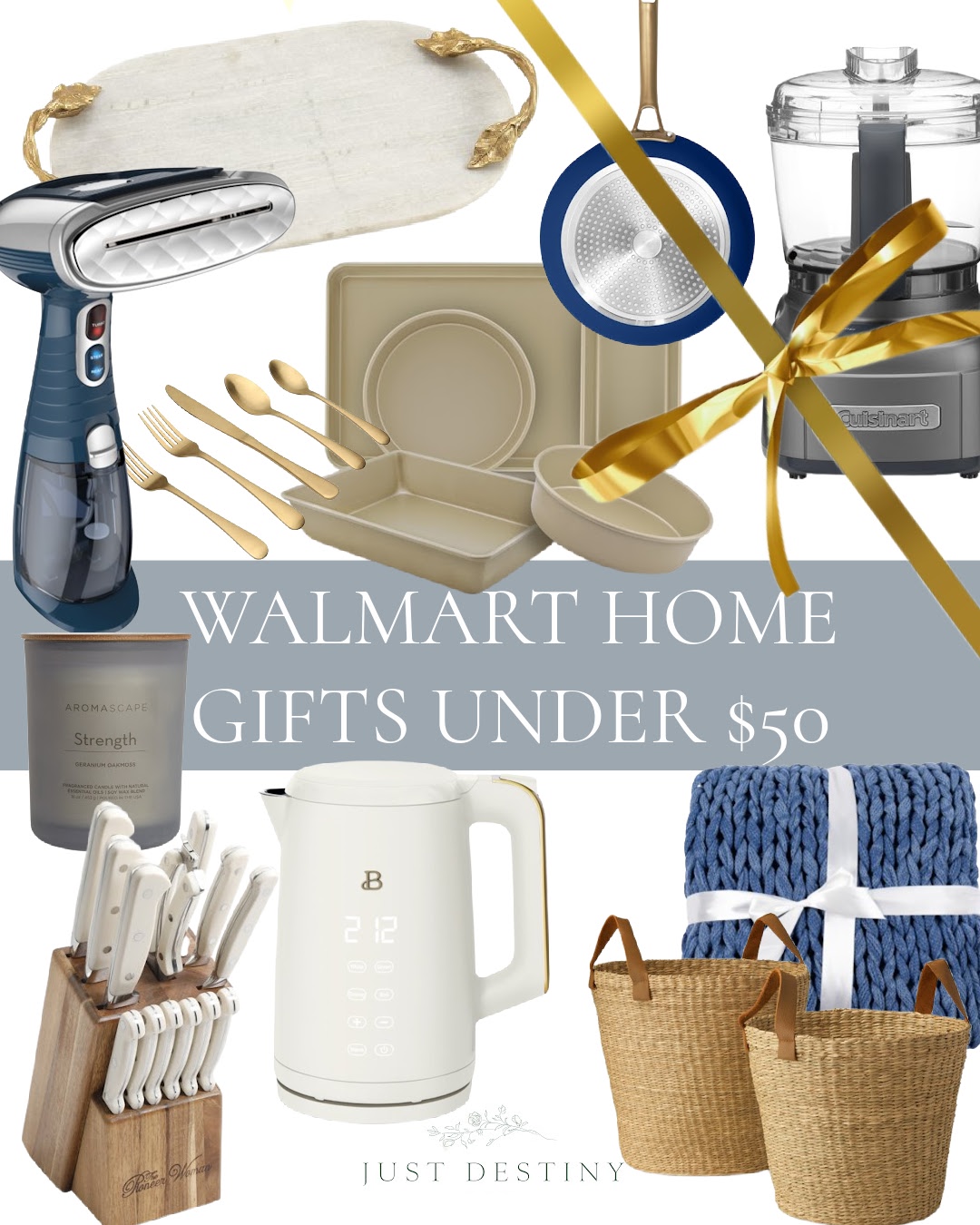 Gifts Under $100
If your looking for Walmart Christmas gift ideas under $100 then I got you covered! You might have more to spend but you I know you want to make sure your money is well spent on the person you love. Check out my favorite ideas below!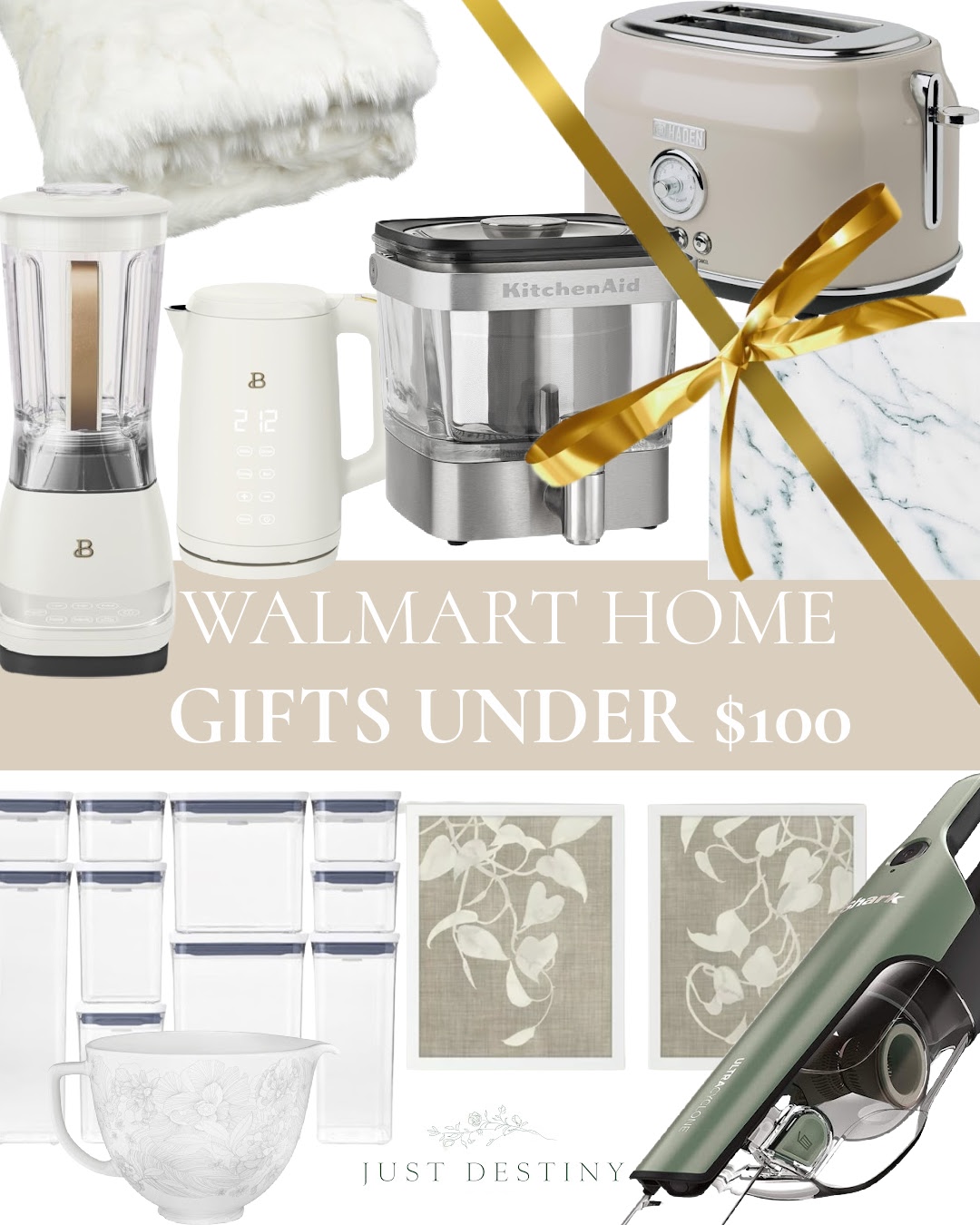 Christmas Gifts Ideas for Her
Here's another great home gift guide directly aimed for HER in the home. The only thing missing from this list is a stick vacuum like the one for Dyson that I LOVE!!! But vaccums are one of those things you might want to wait to see if it's on the list before you buy it. You dont want her to get the wrong idea. lol! Plus she might have something else on her wish list she might want.
My favs from this list are the Haden kettles and toaster. I actually have a Haden toaster in putty and omgoodness that color is so gorgeous. Perfect for neutral home lovers.
Also can we talk about that beautiful KitchenAid bowl. Yes that floral one is for your Kitchen Aid mixer! You just switch out your stainless steel one for this and automatically add some beauty and personality to the kitchen.
I also have my eye on that weighted blanket. It's a great gift for women who need a little extra help relaxing.

Christmas Gift Ideas for Him from Walmart
Can't forget about the guys! Guys have a ton of different hobbies and roles when it comes to the home. I know in our house breakfast is Reggies domain. He makes some amazing cheesy eggs and bacon on the weekends. So if you have a guy who loves the kitchen or maybe even a son or nephew who's just starting out on their own here are some gift ideas just for them!
My favorite from this collection is the Haden tea kettle ( again loving this line!) and the cocktail maker even though I don't even drink lol! If I did I think it would be such a cool gift to receive! Both would make handsome items on the kitchen counter.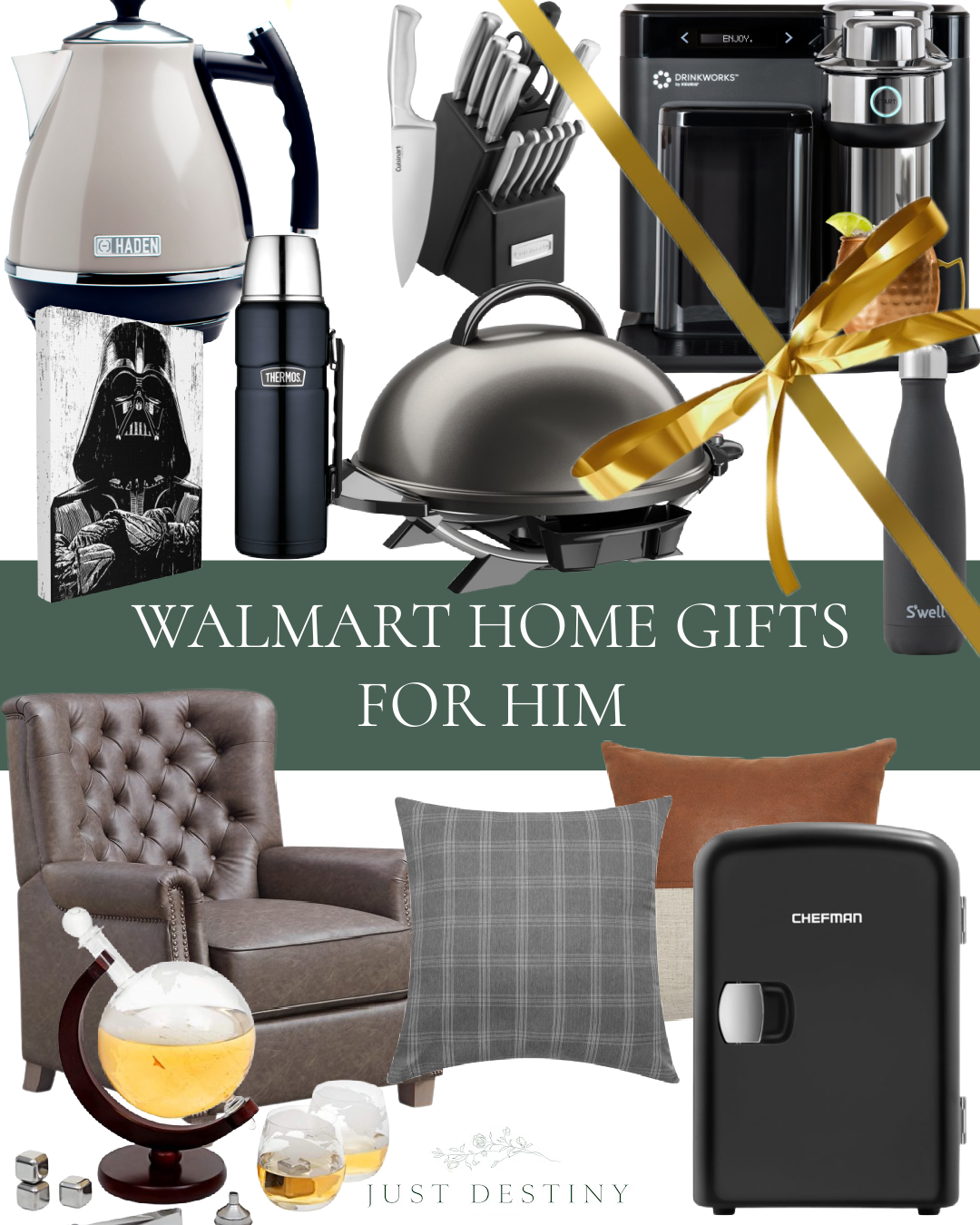 Gifts for the Whole Family from Walmart
Sometimes it's more practical to give a gift that the entire family can use. Below are my favorite ideas to gift a family of 2,3,4 or more. Everything from popcorn maker for movie night to a smore maker for outdoor time. These gifts will get everyone excited.
I personally have the soft cream maker and its amazing during the summertime! But records are making a comeback to the record player would be great for those nights when the family unplugs and listens to music!