The Best Gazebo for your Luxury Backyard
This post is sponsored and may contain affiliate links, please read my disclosure policy.
This post in in partnership with Leisure Time Products formerly known as Backyard Discovery. A proud sponsor of Just Destiny!
It's backyard pergola reveal day!!! I'm so happy to show you guys the final look. If you want to catch up on what've been doing and how we planned the pergola then make sure you read the blog from a few days ago.
We installed a stunning and luxurious backyard pergola for my parents here in Phoenix and wow! Did it transform this space!
Here is my parents backyard before….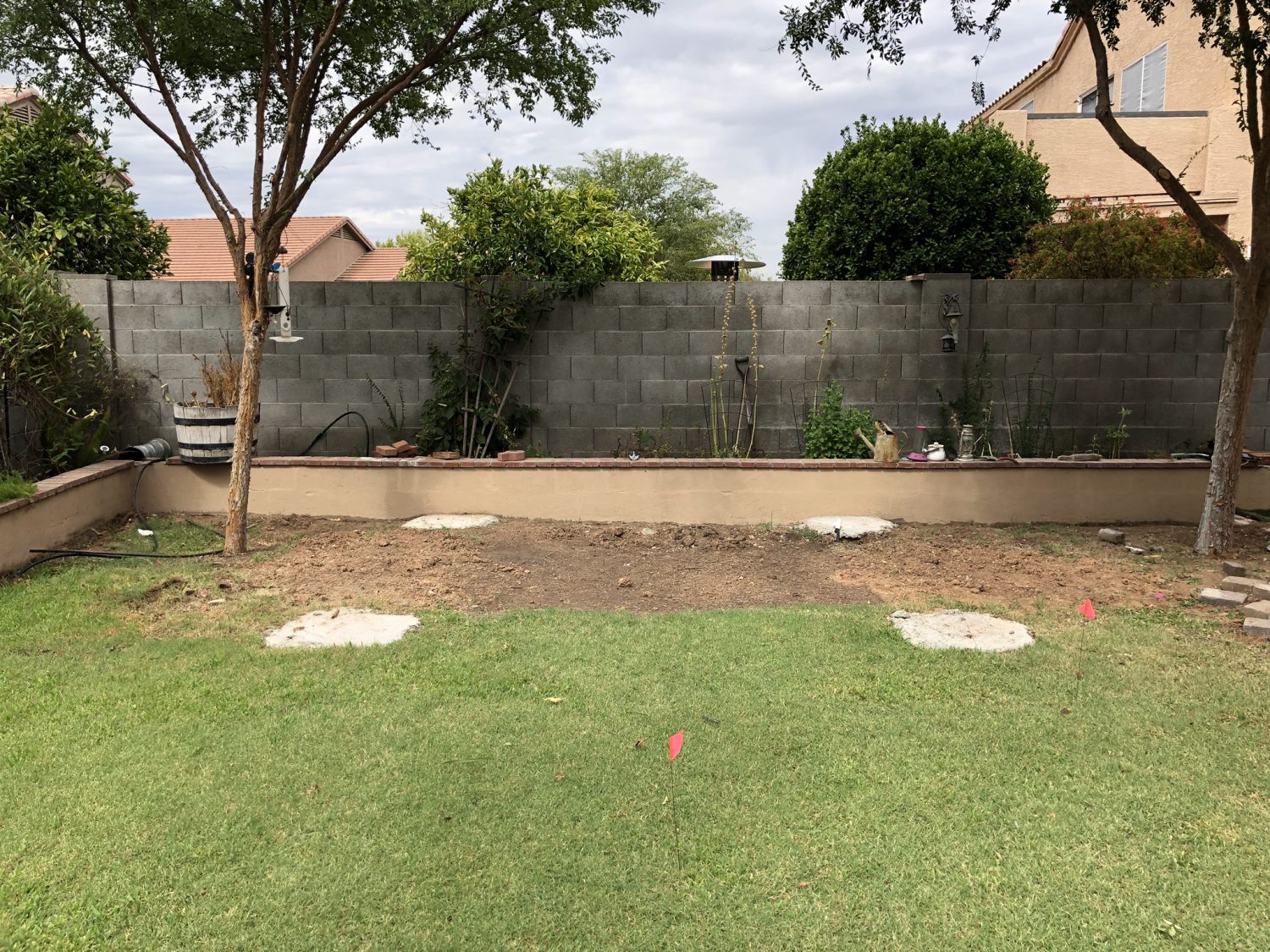 and after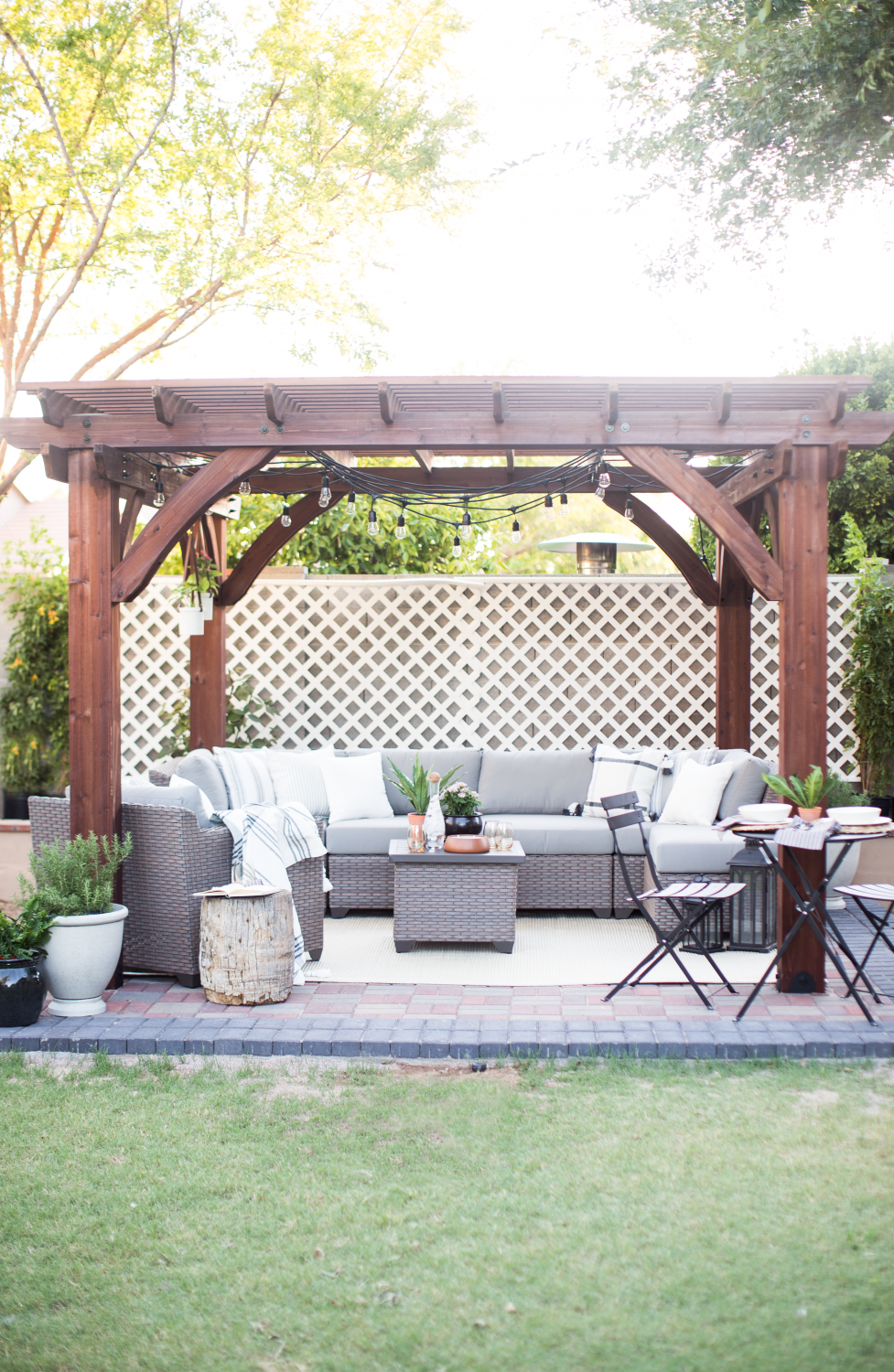 WOW!!
Let's take a look at that again from finished to decorated this time…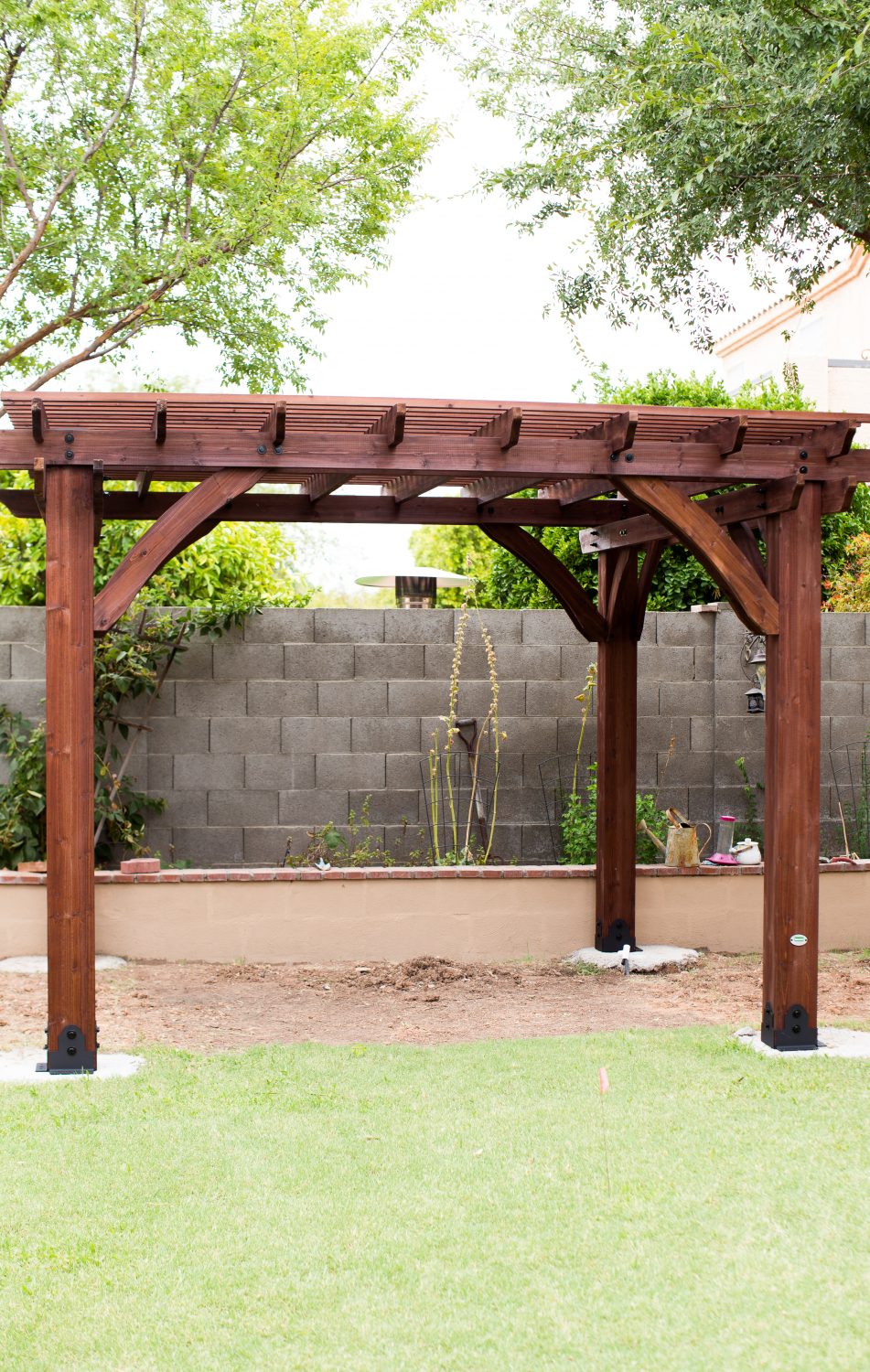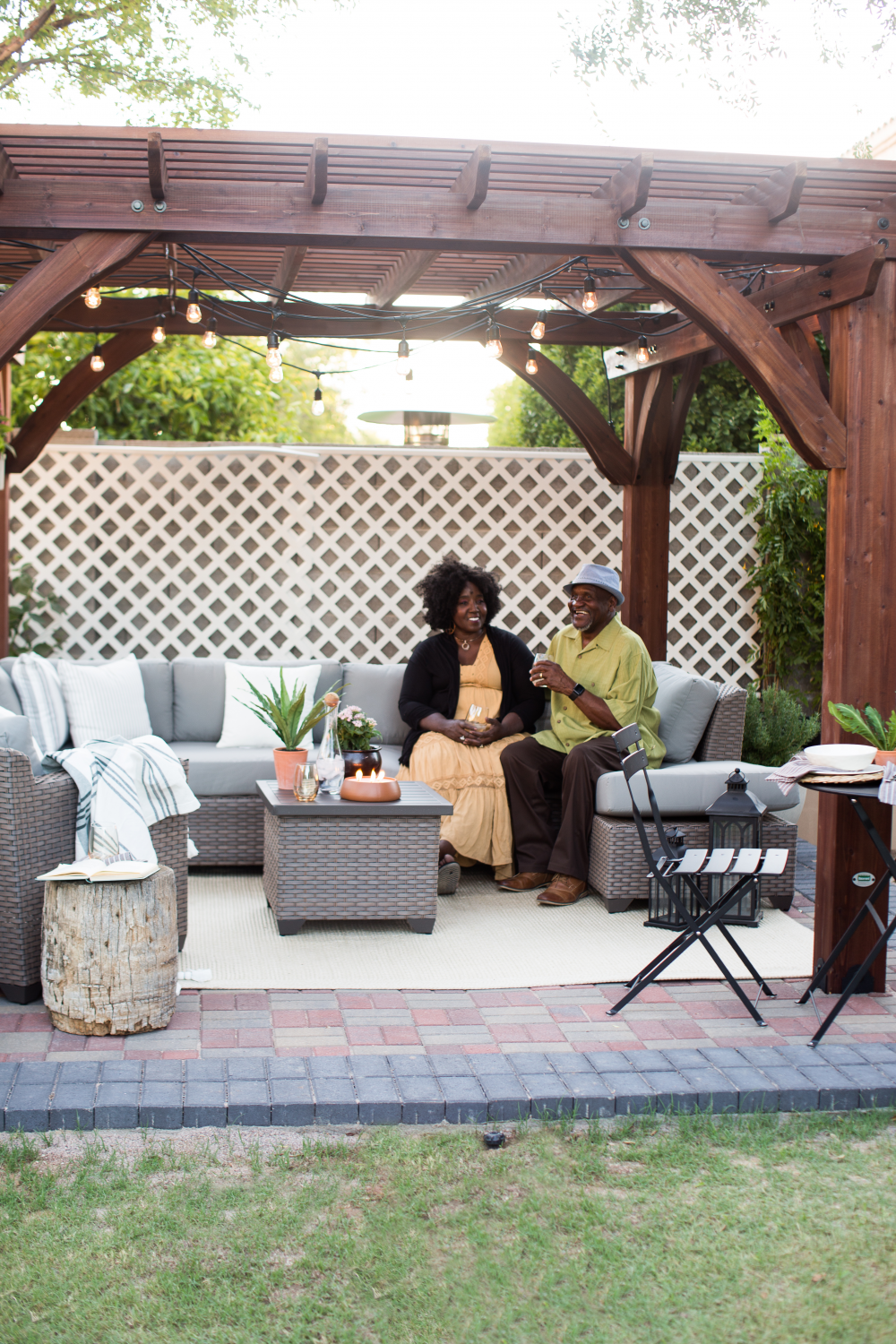 In less than two weeks (from purchase, to delivery, to install, to decorated) we transformed and elevated this unused space in their backyard.
Luckily for us, Phoenix is THE perfect setting for spending time outdoors as the weather cools down. So this install was RIGHT on time. That beautiful fall weather is going to start rolling in.
Now my parents can entertain, hangout with family, host intimate affairs, or invite everyone over for a good backyard bbq all in the privacy of their own backyard. My mom really liked the fact that it felt intimate and beautiful.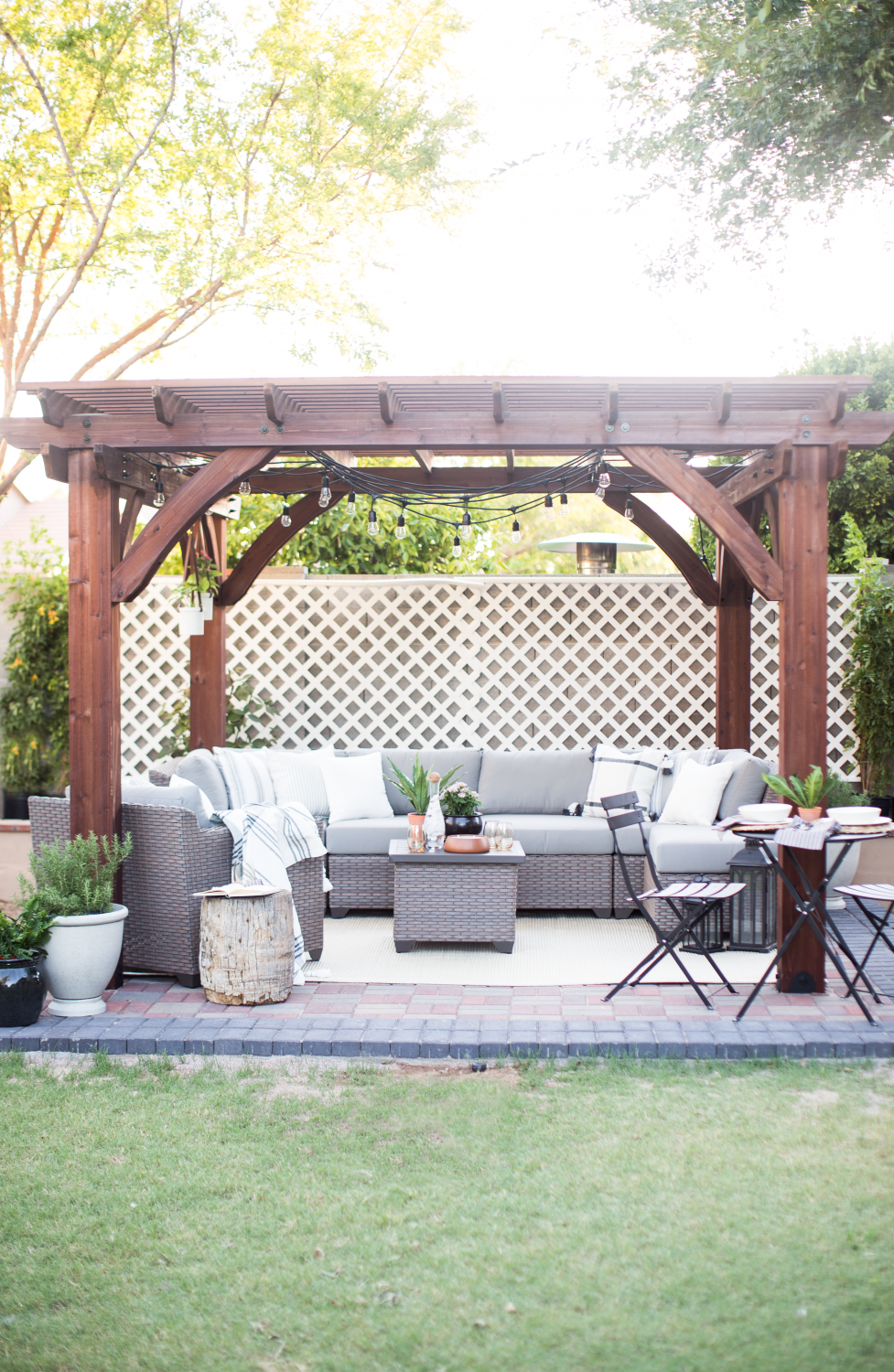 Like I said before this shaded area really breaks up the space in between the two trees and will be even more gorgeous when the trees reach all the way across, providing even more shade and a stunning focal point for the yard.
Backyard Pergola Decor Ideas
We grounded the space with a neutral rug to make the space feel light and airy. Rugs always give that instant " room" feeling. Am I right? Plus it's nice to have something soft under your feet. However, if you're like my mom and I we like our shoes off! So bring on the cozy.
On top of the rug sits a flexible seating area with plenty of seats for my parents to enjoy alone or with company. I love the use of sectionals that are modular so that you can change or add to it as your family grows or even gets smaller (hello empty nesters!) This set has excellent reviews and is such a bargain for 8 pieces!
In addition to all of that, I also added a small dining table just for the two of them. This little bistro set is perfect for coffee in the morning or brunch in the afternoon. This way they have seating for lounging with the sectional and an area to dine at.
Although… we have been known to DINE and LOUNGE at the same time. Ha! But if nothing else, this also provides extra seating for more friends or grandkids.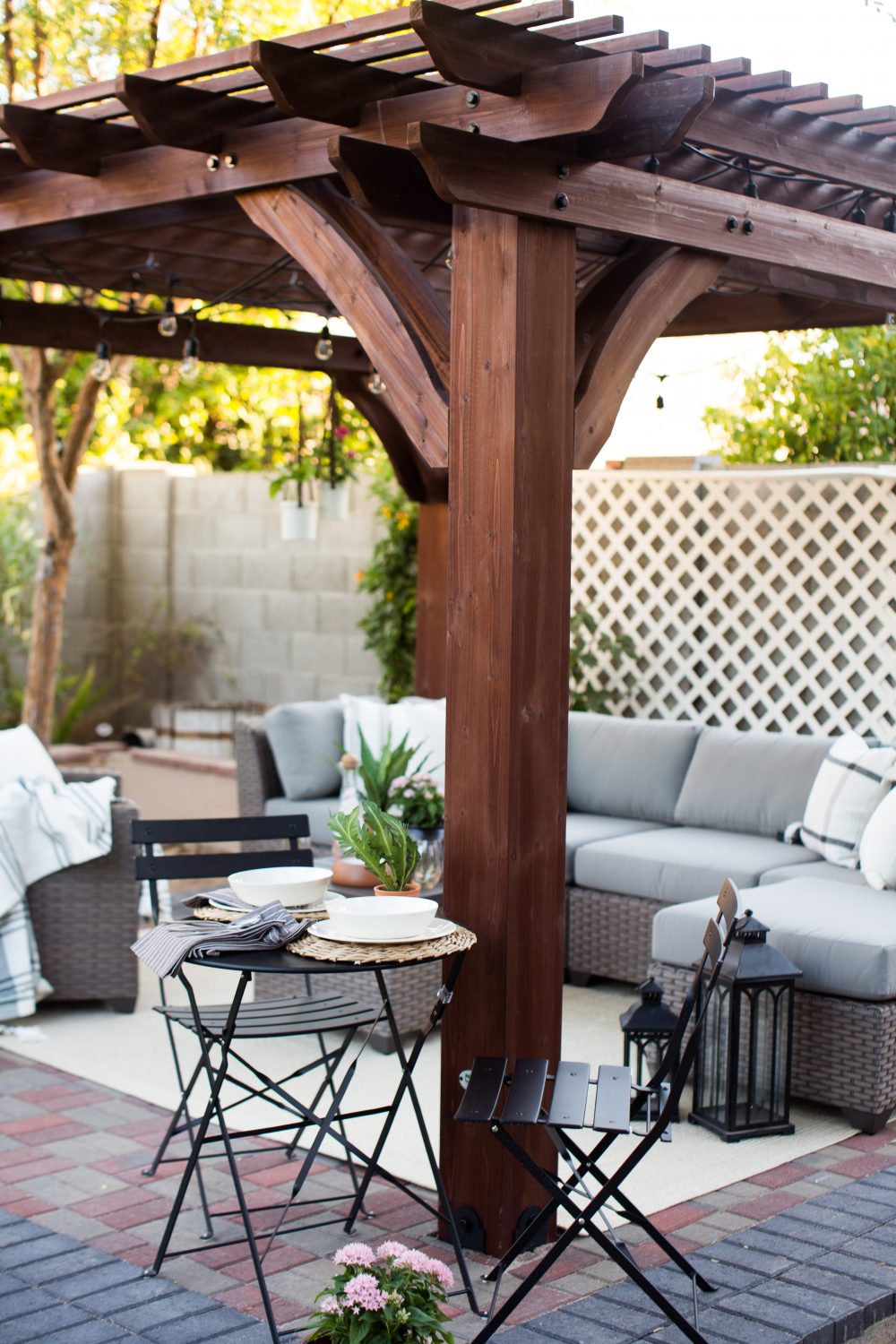 The interior of the pergola is about 10ft x 10ft which leaves more than enough room for a seating area like this one or even a dining area! In other words, it really just depends on what your needs are.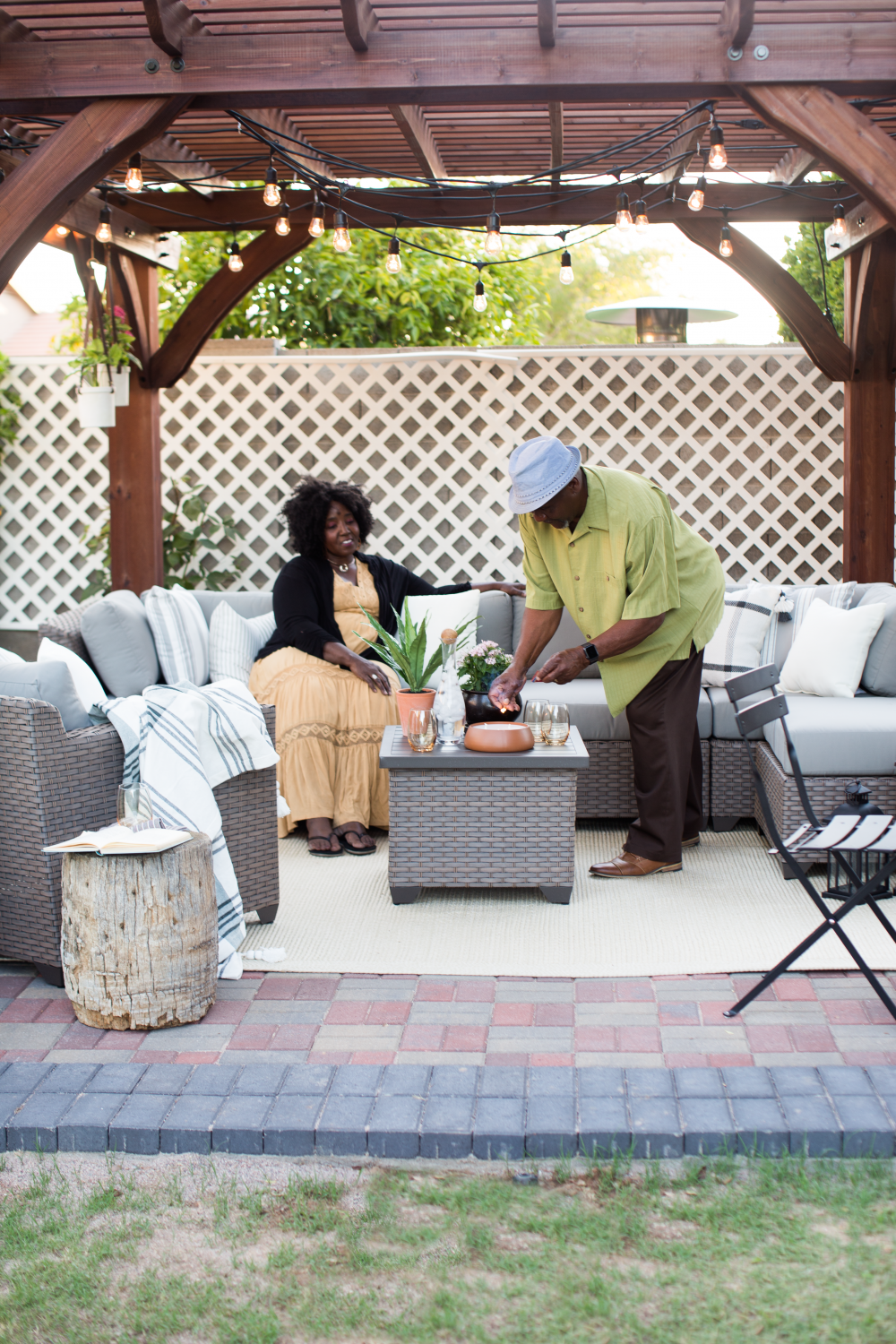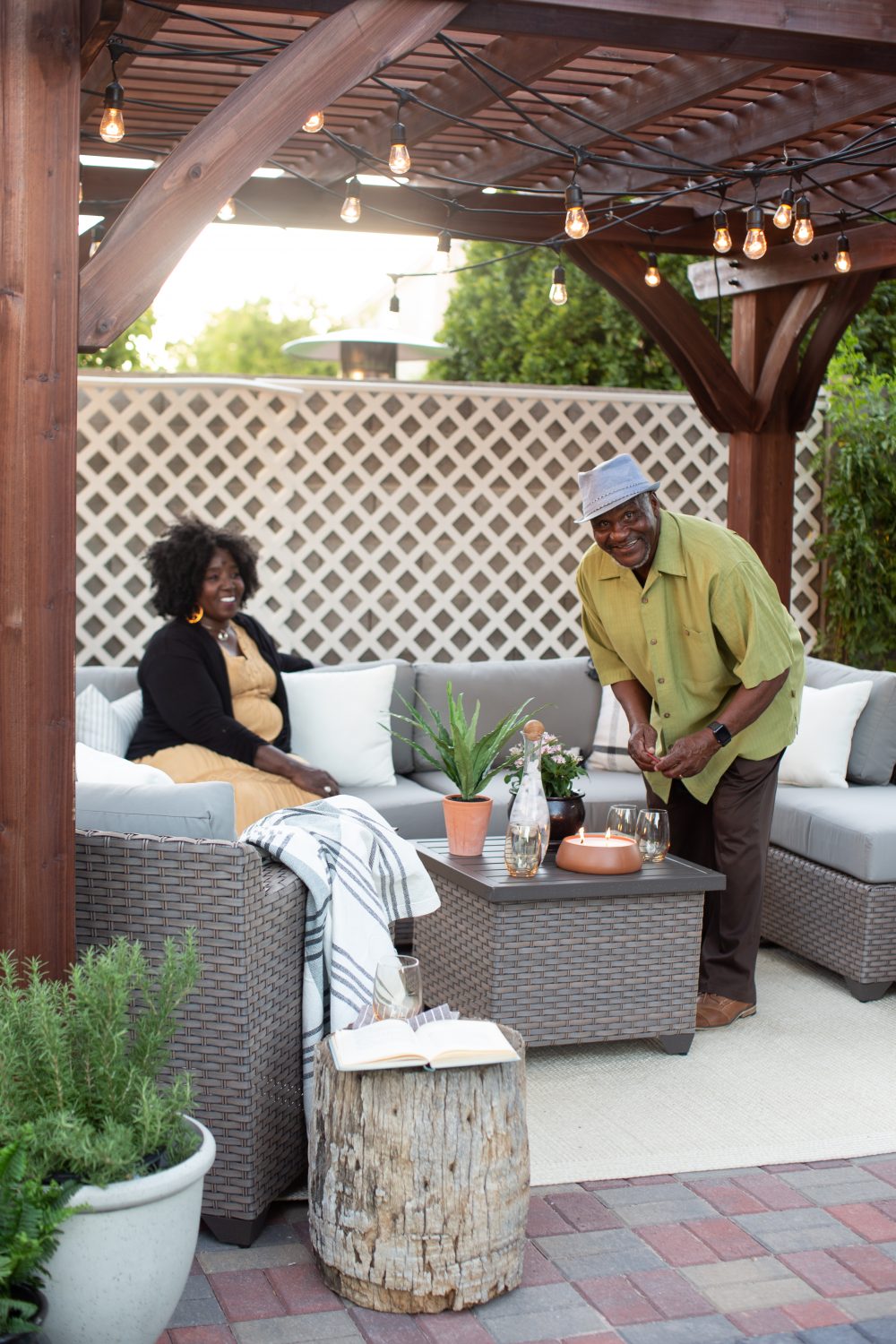 Here's what I want you to know
First, Leisure Time Products backyard pergola and gazebo can be delivered and installed in the Phoenix area for around $3,499 and $2,499 depending on which one you purchase.
Secondly, both the Sahara Pergola and Sonora Gazebo are stunning, strong-for-all-seasons and centerpieces to extend living spaces outside! I was VERY impressed with the stability and sturdiness of the Pergola structure. This thing is STRONG!! I witnessed the delivery and install all the way through and I'm confident this thing isn't going anywhere!
Can I install this Backyard Discovery pergola with electricity?
Yes. My dad just had his electrician come in and install a place for plug in the lights. It was a really easy project.
How do I purchase a backyard pergola?
First, stop by a participating Home Depot. Locations listed here.
Then, coordinate installation with the Leisure Time Products team (2-3 days after purchase) to finalize delivery and installation. They will call you! Remember you don't need to source an additional contractor for install.
You may need to check with your homeowners association to receive approval. Please follow any local regulations/protocol as required by the HOA or city.
Make sure the site is ready for installation
Pergolas can be placed on a patio or in your yard. Your installers will make sure it's properly staked into the ground.
Gazebos must be placed on an existing concrete slab.
The site must be level within 2 inches. Excavate, if needed. And trim any trees/bushes in advance and remove any obstructing structures (sheds, swing sets, etc.)
Then, sit back and relax while Leisure Time Products handles the rest.
What if I don't live in Phoenix? Can I still purchase the backyard pergola or gazebo?
Right now this install and delivery service is only available in the greater Phoenix area. I know I know! But let us know where you are in the comments below or on instagram! I'm sure Leisure Time Products would love to hear from you.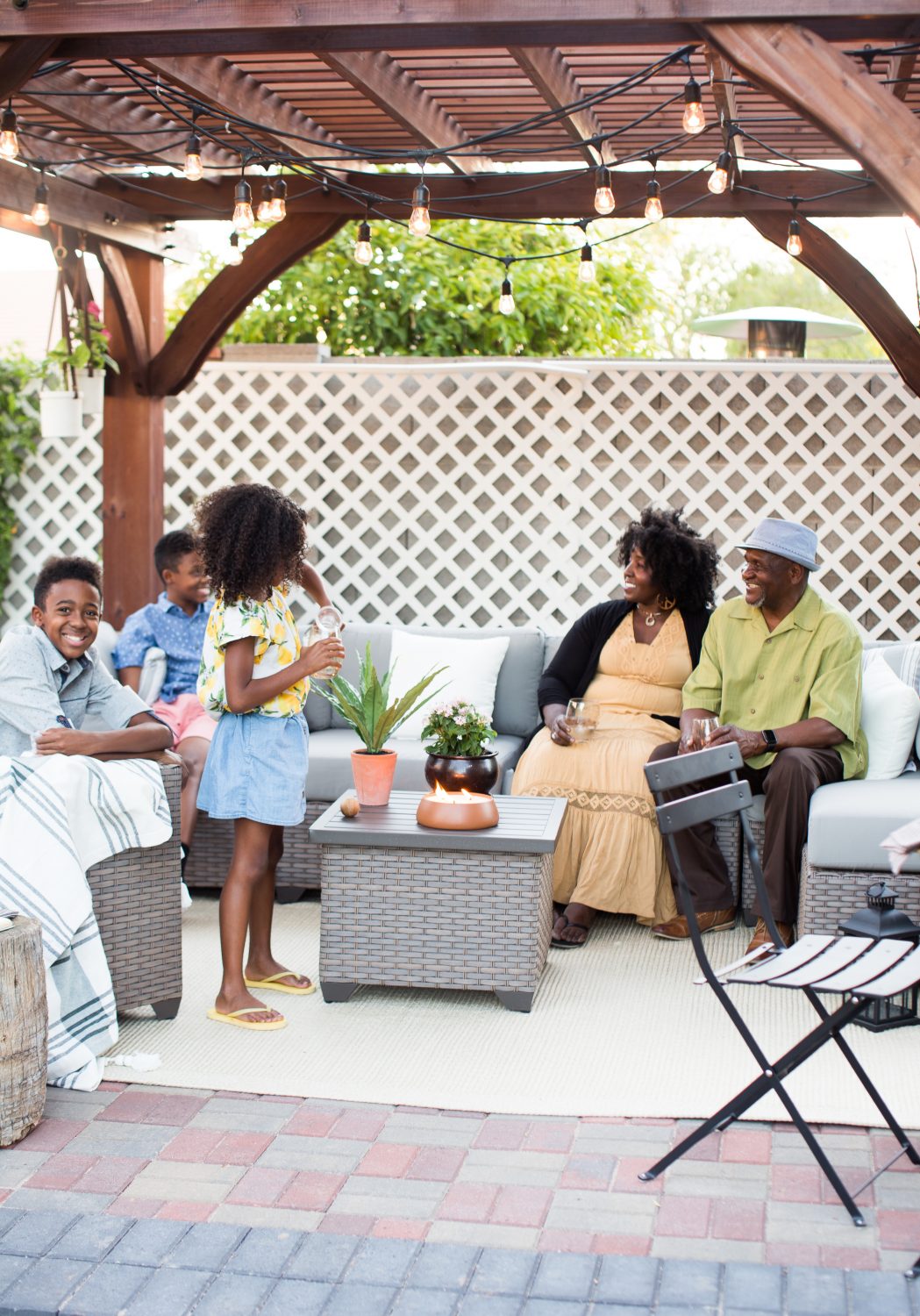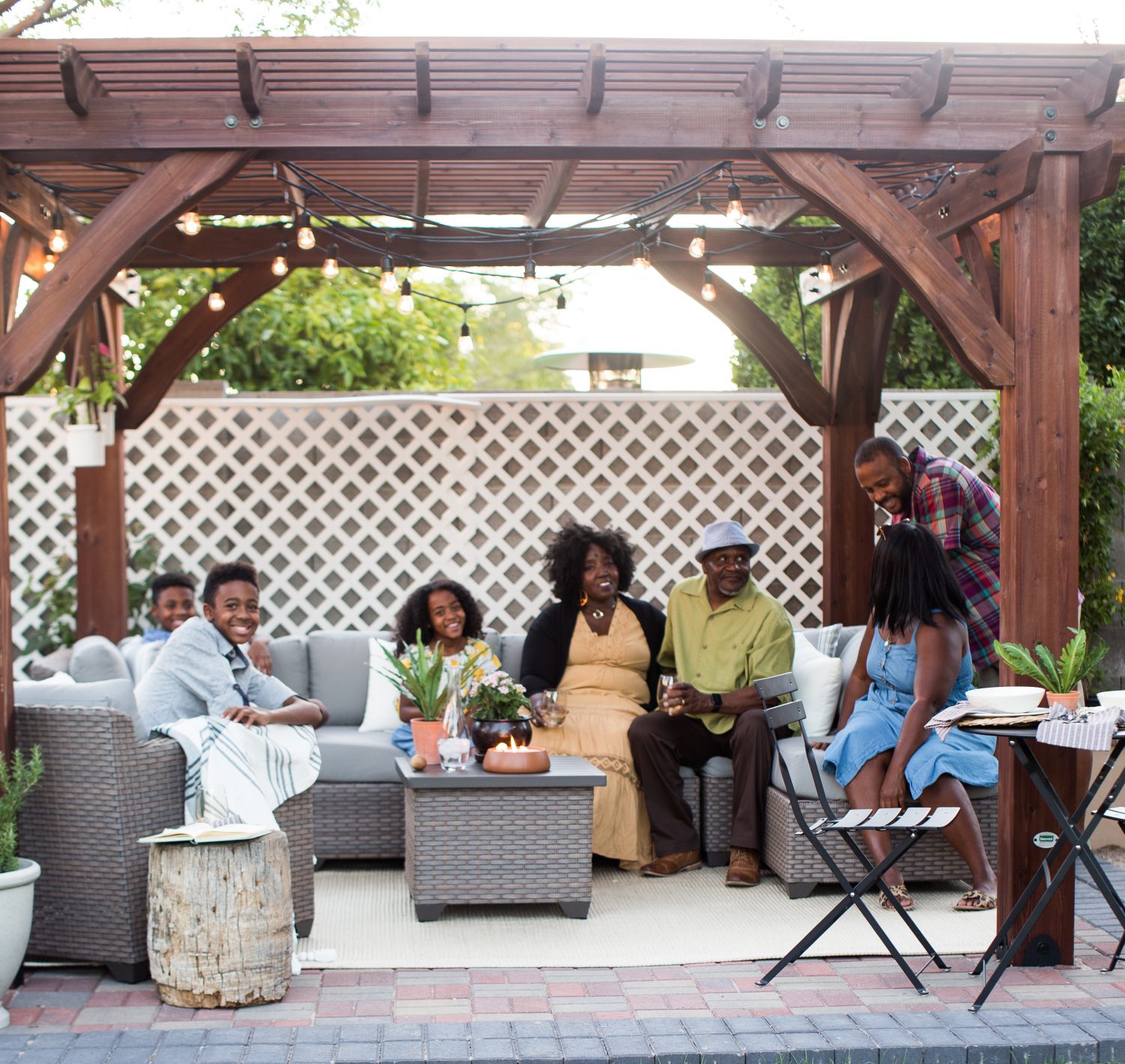 I can't wait for you to add a little beauty and luxury to your outdoor space this fall season! Visit Leisure Time Products to pick out your favorite backyard focal point for your backyard project!
Shop these products and more below!