How to Plan for a Pergola
This post is sponsored and may contain affiliate links, please read my disclosure policy.
This post is sponsored by Leisure Time Products. All opinions are mine.
Hello friends!
It's great to be back on the blog today. I love talking and seeing you all on instagram ( we have so much fun on my stories) but I also love to get back on the blog to really talk about what we are working on. If you've ever thought about installing a pergola in your backyard then I would stick around this week!! We'll be taking you through the process of planning and installing a Leisure Time Products pergola from Home Depot at my parents house! So make sure you catch the process on my stories and the big reveal right here on the blog this Thursday!
Leisure Time Products x The Home Depot are the PERFECT solution for those of you who want something high end, convenient and on budget. The great news is that you don't need to source an additional contractor for this install. They make the process super easy.
I'll definitely talk more about all the benefits when I show you the big reveal this week. But before we start I wanted to share the vision for the space and answer a few questions you might have before you purchase your own pergola.
What's the difference between a pergola and a gazebo?
This is a great question. You will often here people and even designers use the terms interchangeably. But they're actually different! Simply put a pergola lets in natural light from the top and a gazebo has a closed roof.
Leisure Time has two products that fall under those categories. While their Sonora Gazebo ( 12×12) has a strong, durable steel roof, shielding guests from the outdoor elements, the Sahara Pergola (12×12) lets the sunshine in and gives off just the right amount of light and shade.
Here is my parents backyard and the space were the pergola will live. Nestled in between to mature trees and right next to my mom's garden.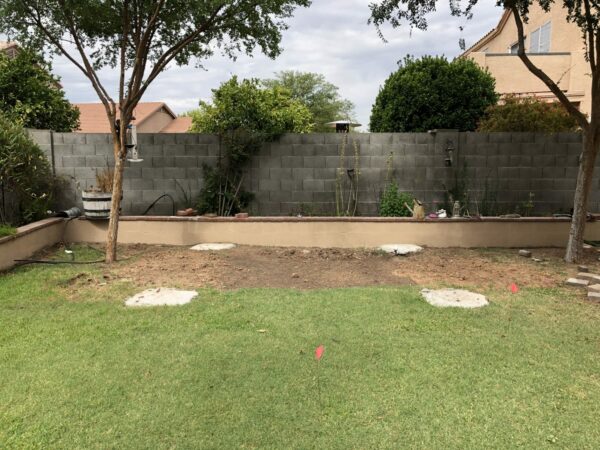 We poured cement were the four posts will be ( all though this is not necessary for the pergola only the gazebo) and then we plan on installing pavers around it for an upgraded look.
Well pergolas are timeless, beautiful and luxurious. They add sophistication and a focal point to your backyard. If you love to entertain just imagine walking out into your yard and having an extended living place to host and love your people. Think a cozy place to hide while the weather is nice, a girls night out, a farm to table dinner party! The possibilities for this space are endless.
They also provide shade, and let sunlight in during colder months. Here in Phoenix during the winter it's nice to feel that warm sun on your face and having a pergola lets you do that.