Favorite Spring Florals for the Home
This post is sponsored and may contain affiliate links, please read my disclosure policy.
It always feels like some variation of spring or summer here in Phoenix. So as the weather starts to warm up I thought it would be a fun to round up some of my favorite spring florals for the house.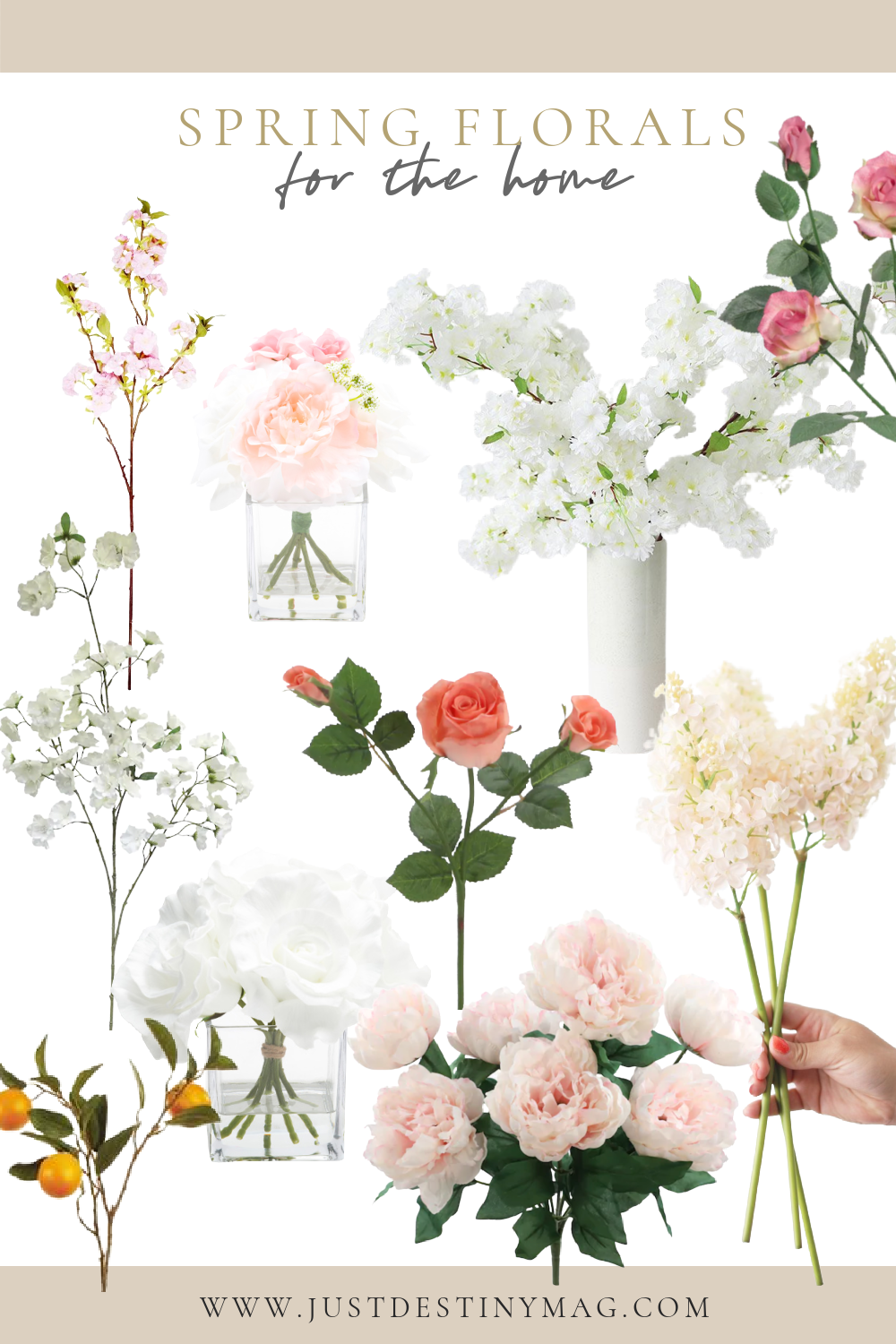 I love to use greenery and florals in neutrals and pinks! Pinks and purples are colors that make me so happy and definitely matches my casual elegant aesthetic.
You can buy faux florals with the vase, floral and even faux water intact OR you can simply purchase stems to make your own custom flower arrangements.
I do both in my home and of course every now and then I also purchases grocery store flowers if I see a pretty bouquet on my way to fresh produce.
Kitchen Countertop Florals for Spring
Here on the kitchen counter I have this simple arrangment of long stem roses and short full tulips all in a serine white. I placed them in these color block vases which I think just adds another element to the entire look.
I also layered it with some texture by adding the rattan tray. These three things, the vases and the tray are what I would call essentials because you can use them not only in the kitchen but all over the house.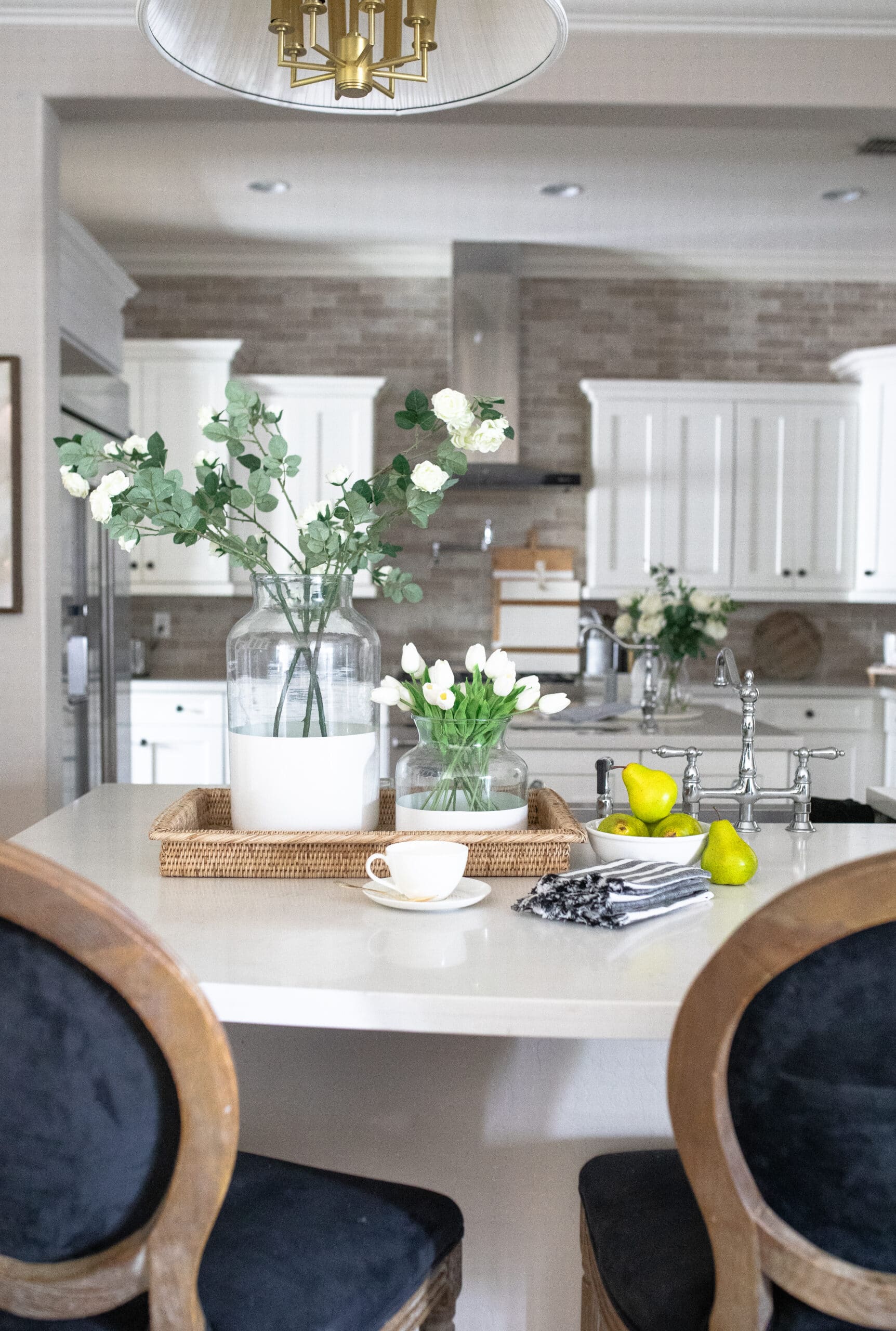 Another kitchen counter arrangement is this one with roses. Nothing says spring like a beautiful rose right? I picked up this arrangment at Homegoods a few days ago and just loved the simplicity of it.
Again I layered the arrangement using a tray but this time it was a marble tray in a circular shape. Then I added some other kitchen tools like salt and pepper mills to make the arrangement function and beautiful.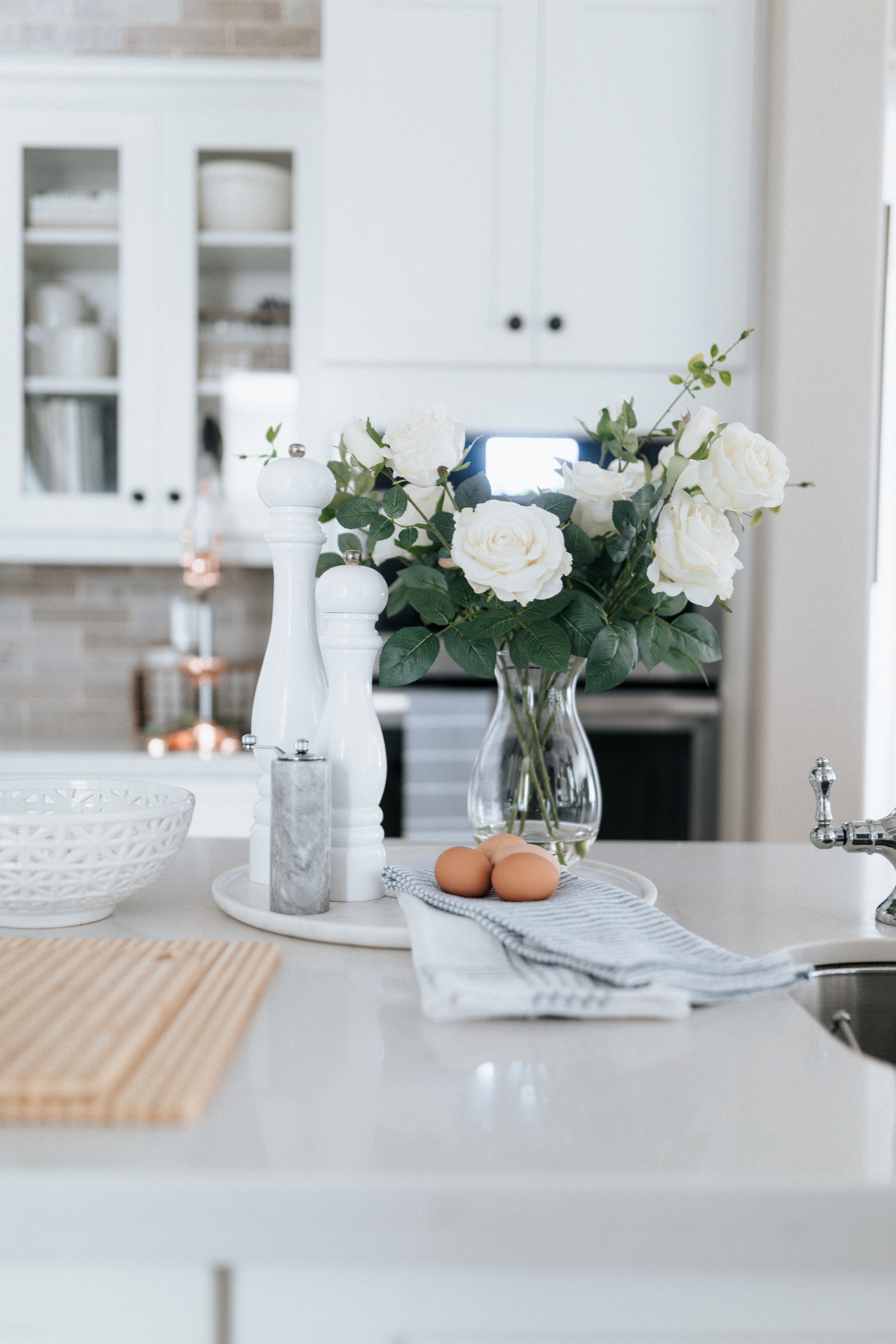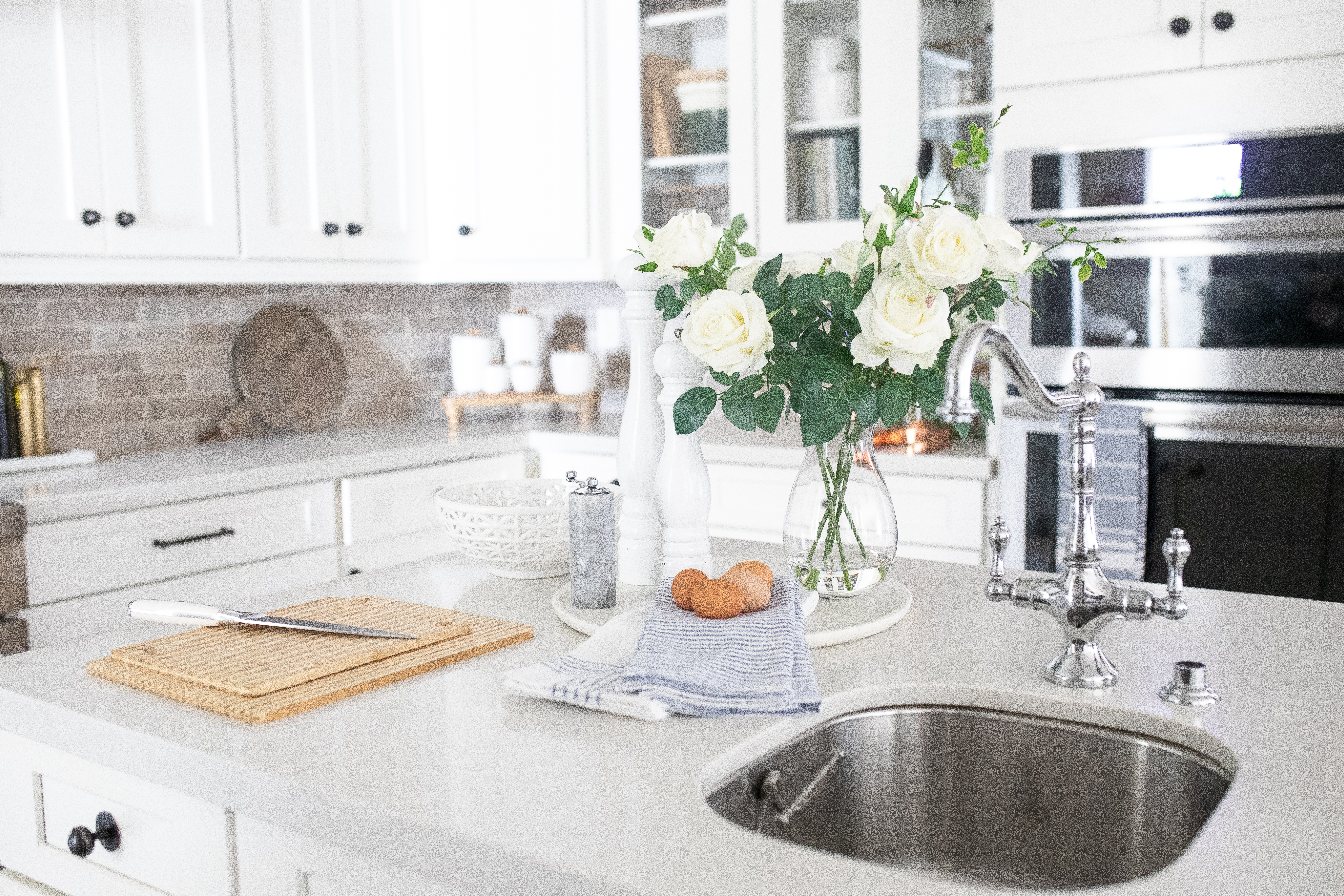 Next to the stove is yet another arrangement that is popping with the color pink! Again I used a tray to layer the arrangement and added more kitchen essentials! Why so many salt and pepper mills? Well because I love them and there is nothing wrong with having more than one thing when you have a larger kitchen space with zones!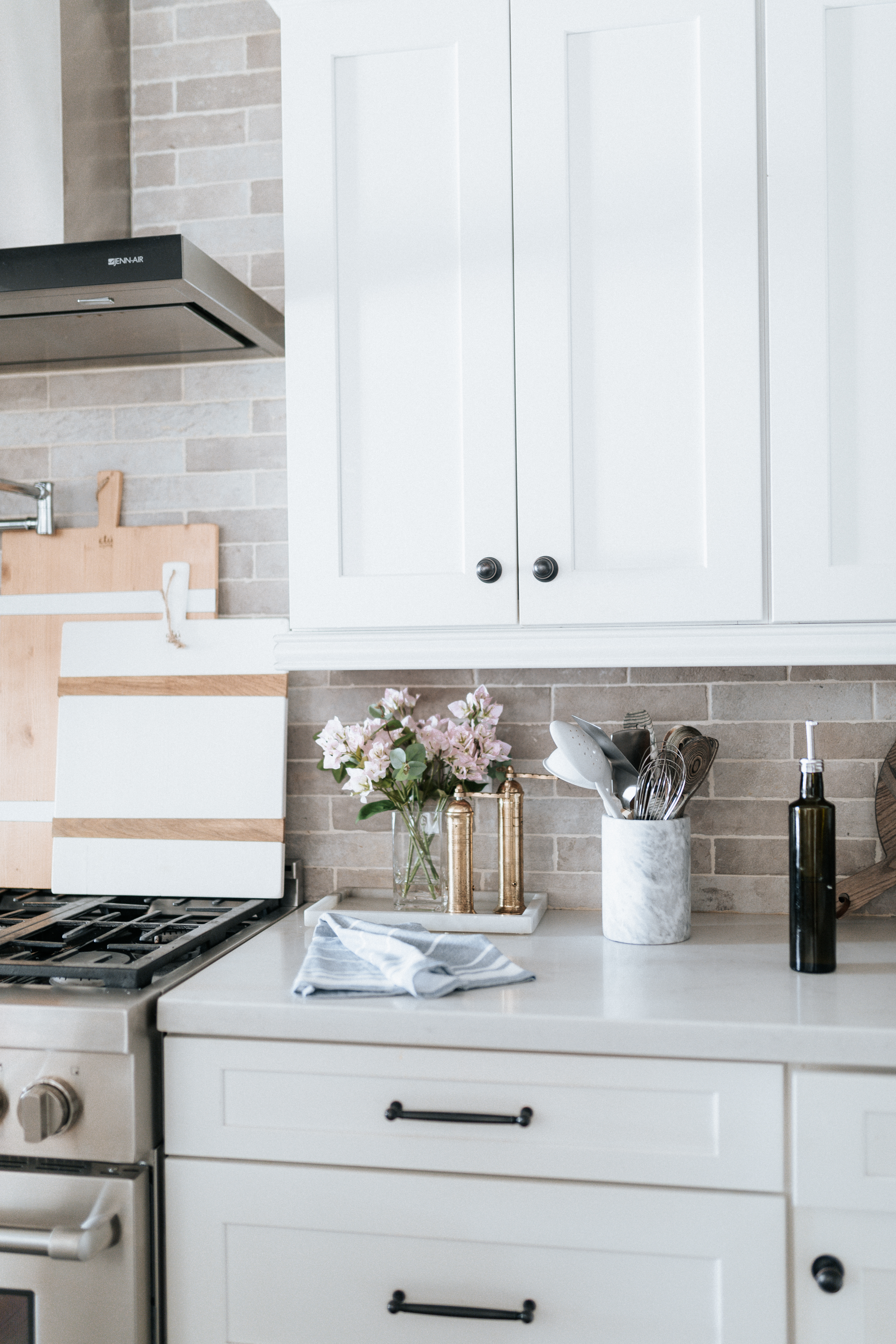 Spring Florals for your Bedroom
Flowers in the bedroom are so romantic! So this is another favorite place to display some spring stems. This beautiful arrangement of roses just screams softness.
You'll notice what makes this set stand out is that it's mostly the roses you see, not too much green! You can achieve this same look by removing some of the green leaves that are higher on the stem or by purchasing a bush of roses or flowers instead of just one single stem.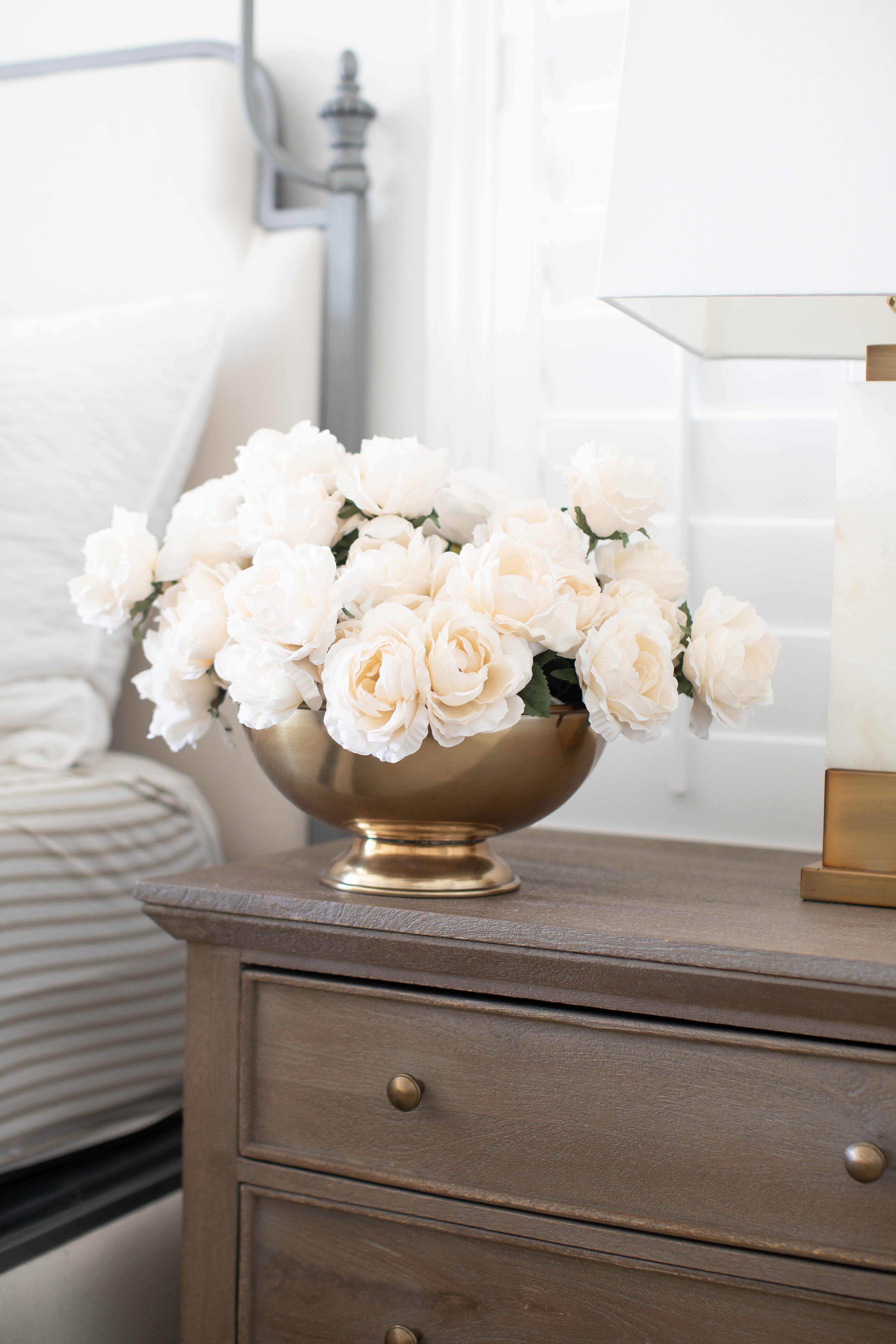 Below is an arrangement of florals in our hallway off our owner suite! I love this little moment in our hallway. When we made over our hallway last year I knew it would be a perfect spot for some seasonal styling. These are filled with some stems I picked up from Joann's! Another great spot for faux flowers and stems!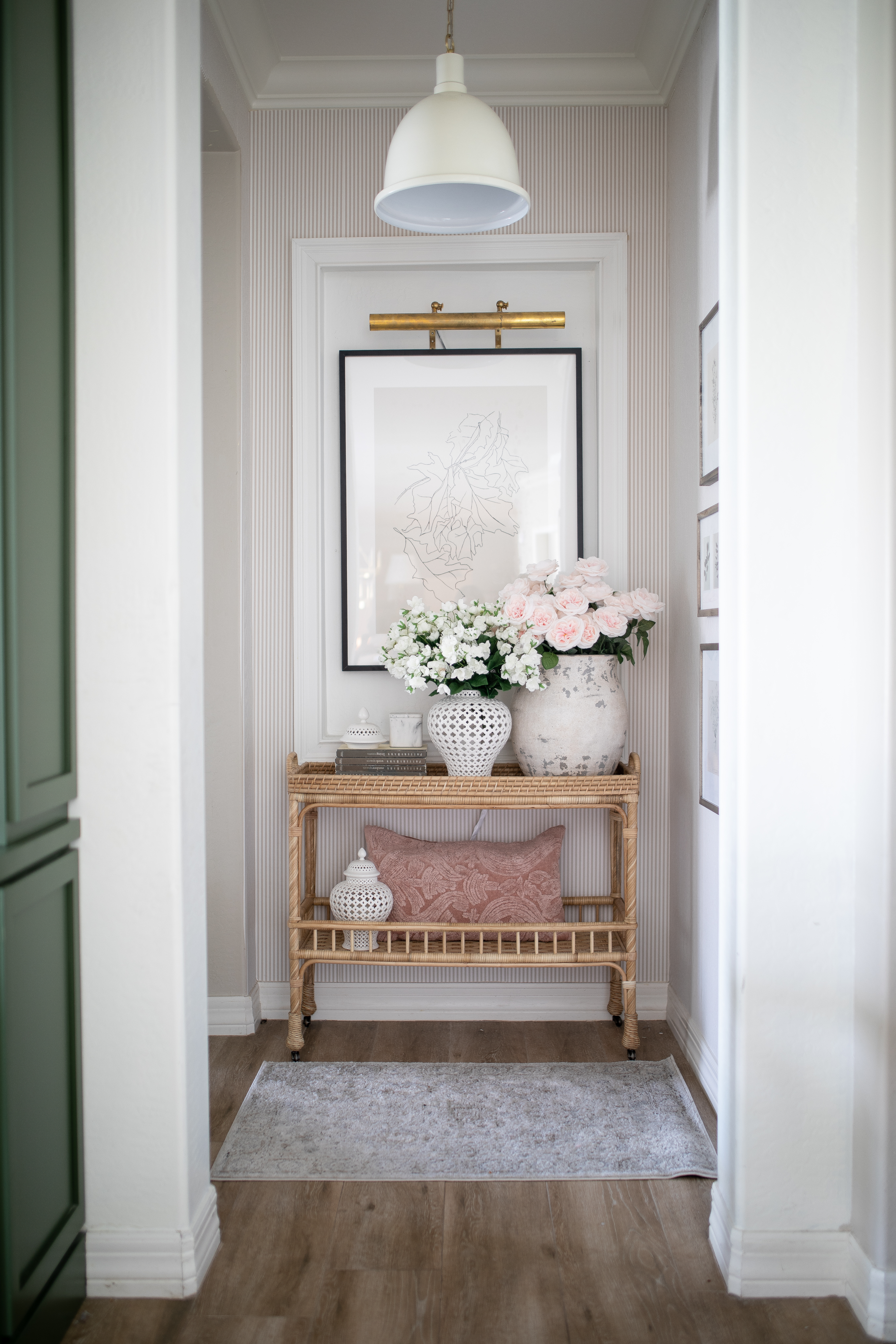 Entryway Spring Flowers
For the entryway I have filled this beautiful crystal glass vase with the most simple white lilac florals. I picked these up a few weeks ago and even though faux flowers are hard to get right I felt like this bush was just beautiful. Love the fact that it looks fuller than a single stem! You sort of get more bang for your buck with a bush of florals.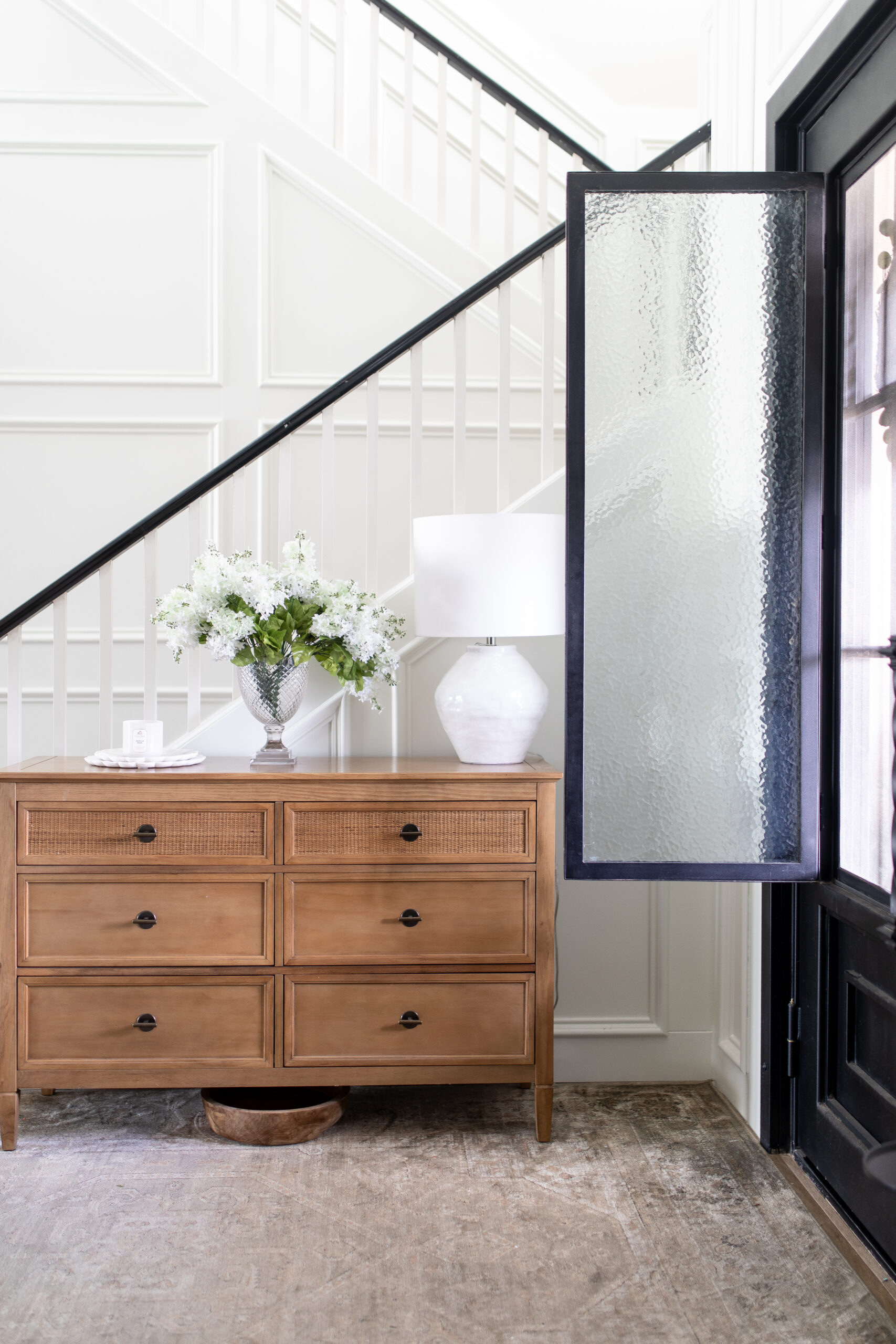 Coffee Table Spring Arrangement
The coffee table is another place to show off some beautiful floral arrangements. I like to keep these arrangements on the low side for the most part but also sometimes I just can't help myself with something a bit more taller, even though I know the hubby is going to end up moving it out of the way 100% of the time!
Front Door Spring Florals
Don't forget to add a little bit of spring to your front door! One time my mom had her seasonal wreath up on her door and she had a little mamma bird making a NEST in it!! Can you imagine? The birds hatched and everything. My parents couldn't use the front door for a long time haha!