Elegant and Classy Closet Design Ideas
This post is sponsored and may contain affiliate links, please read my disclosure policy.
Some spaces in our homes go undecorated and for good reason. Maybe because you're focusing on other rooms in you home like the family room, or the kitchen or even the entryway. But there might come a time when you find yourself with one more room to tackle and that's the closet! But how in the world do you give a closet an elegant and classy look? Well I'm not really sure. But I'm going to try! See all my elegant and classy closet design ideas looks below!
Elegant and Classy Closet Design Ideas
Well I've seen elegant closets before. Mostly in movies and on Pinterest but never in real life. I don't live among the rich and famous, so closets around here are pretty basic. Our beautiful home came with the most basics of closets and this year I was able to give it a big upgrade. With my creative mind always spinning,  I  still dream of our closet having a bit more personality.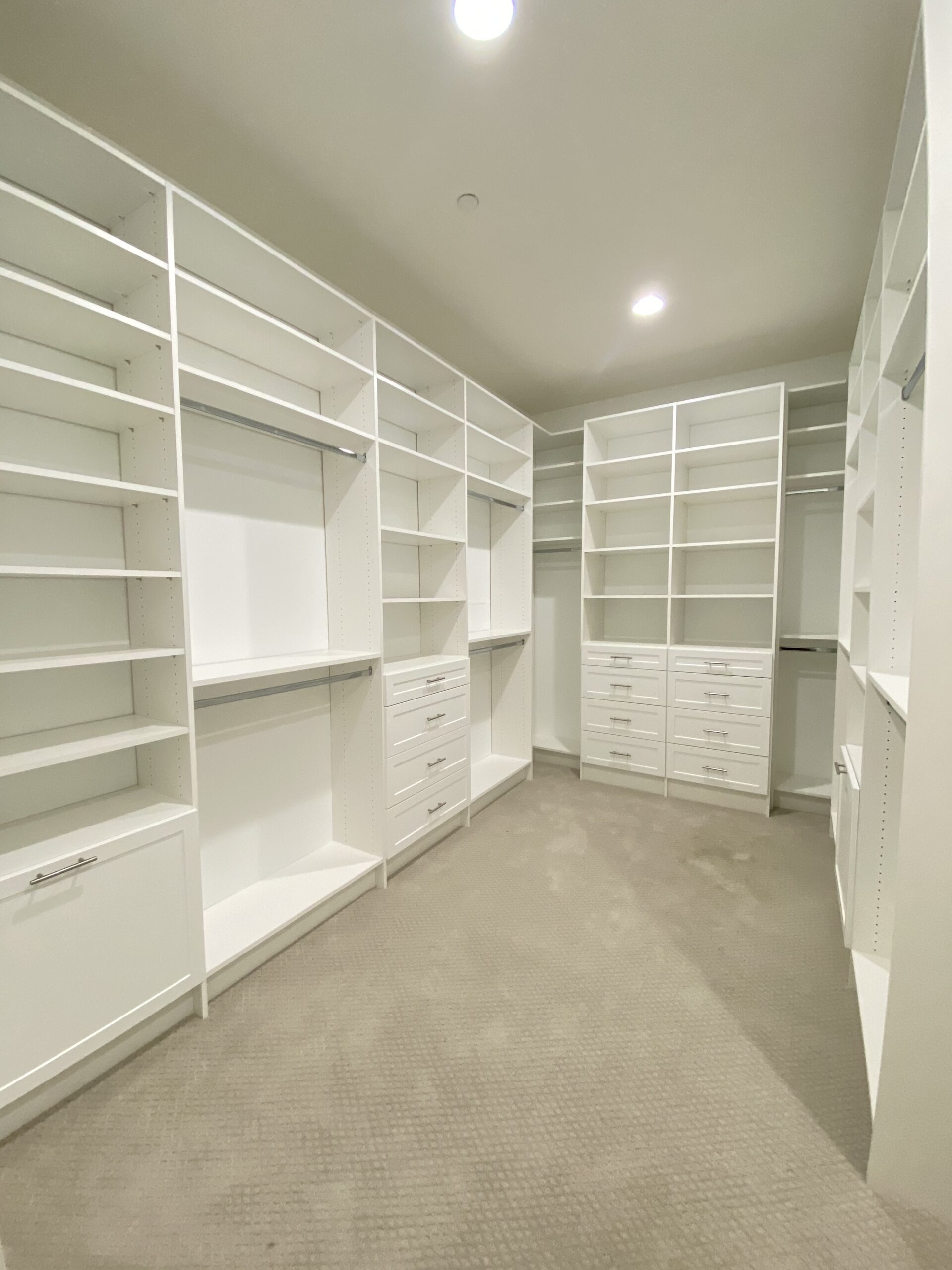 I actually find myself frustrated sometimes of not leaving good enough alone. But there's has always been a very happy and joyful and of course willing part of me to do the extra thing. To add another layer to something that is already beautiful. Final touches on a cake or when doing my daughters hair. I'll choose cup of iced coffee in a glass with beaded detail over the plastic cup. Or I'll reach for the handbag with the extra bow or embellished tassel. 
It's apart of me that I have embraced over the years and I believe is a gift that God has generously gifted me.  For what purpose, I'm not yet sure. But me being a human and  by His grace, who has a relationship with the God all the universe, I could question Him,  but I know I'll never truly understand the fullness of his creation and reasons. So I just happily create and create again and do it unto Him with joy! 
With all that being said,  I knew I wanted to add some personality to our closet. I always try to be mindful that I do share it with a boy ( my hubby Reggie of course haha) so I try not go to much towards my own personal style.  So I decided to come up with a moodboard to organize my ideas! 
How to give your closet more personality. 
Here are a few ways you can give you closet some design love and personality!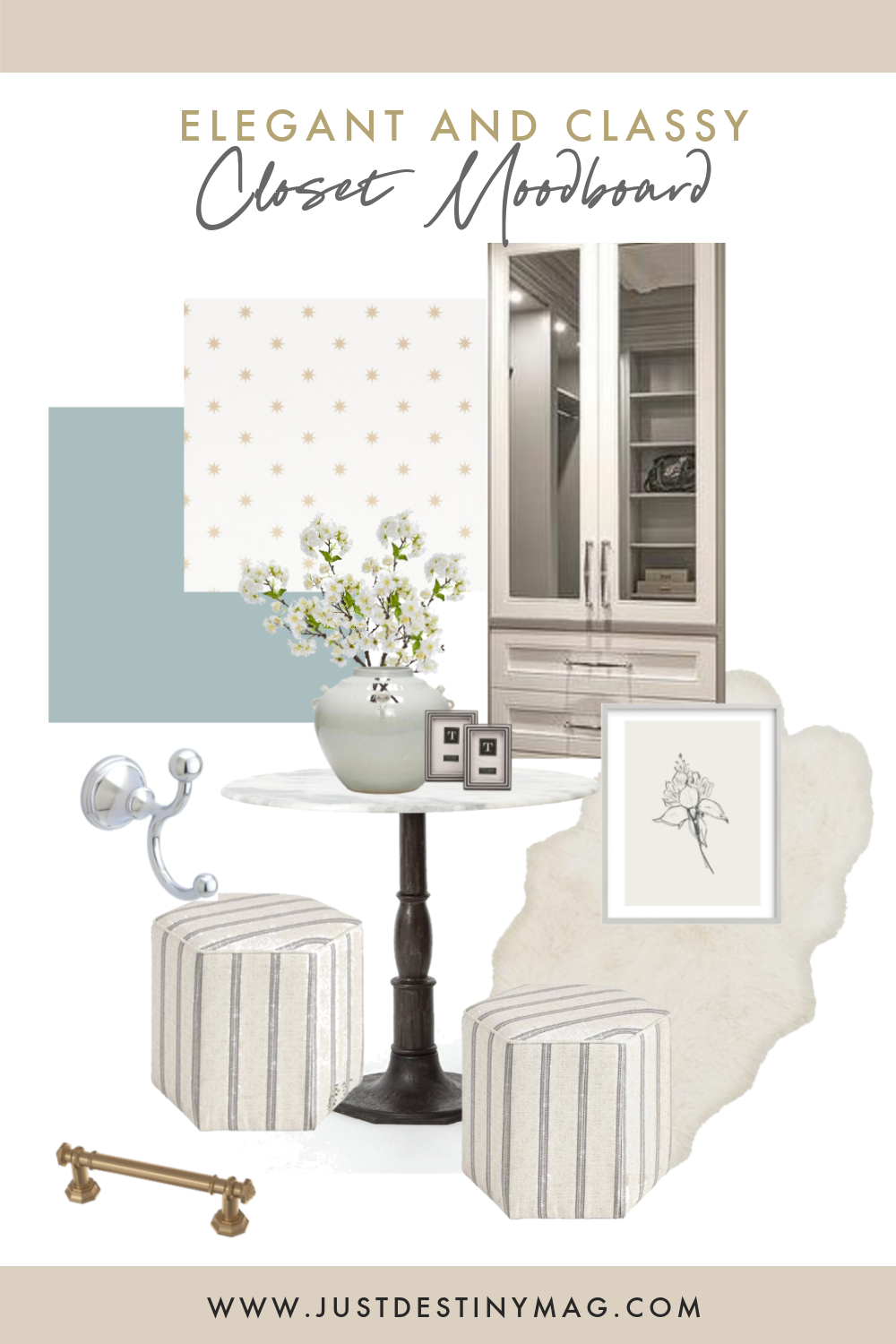 Change the knobs– I think this might be the easiest and most affordable way to give the closet some interest. I found some on Home Depot for a great price. I did want a more lacquered brass but I'm going to try this sheen instead and hope it gives some interest! I just really loved the detail it brought also. 
Table- Well this might be one of the biggest additions. I knew I didn't want a traditional island mostly because it just would be to cramped. So I thought a round table with a few ottomans would do just fine. The ottomans will of course be for seating which surprisingly closets really do need. The table will display some prettier items to make the closet feel more like a room. I really hope this works out! If not then a beautiful tufted ottoman will do! 
Ottomans- I already talked about them above, but I think it's such a great addition to any closet. When you have a walkin closet it's sometime because a little meeting spot. Do you know how many times the kids and Reggie and I just hangout in the closet. Even before it was all dressed up!
So seating, even the smallest is always a great idea. I like the hexagon shape of these ottomans. I feel like it breaks up the circle of the table! I'm hoping they are a beautiful neutral color. But you never know with internet orders. I hope they work out because I'm not the best at returning items!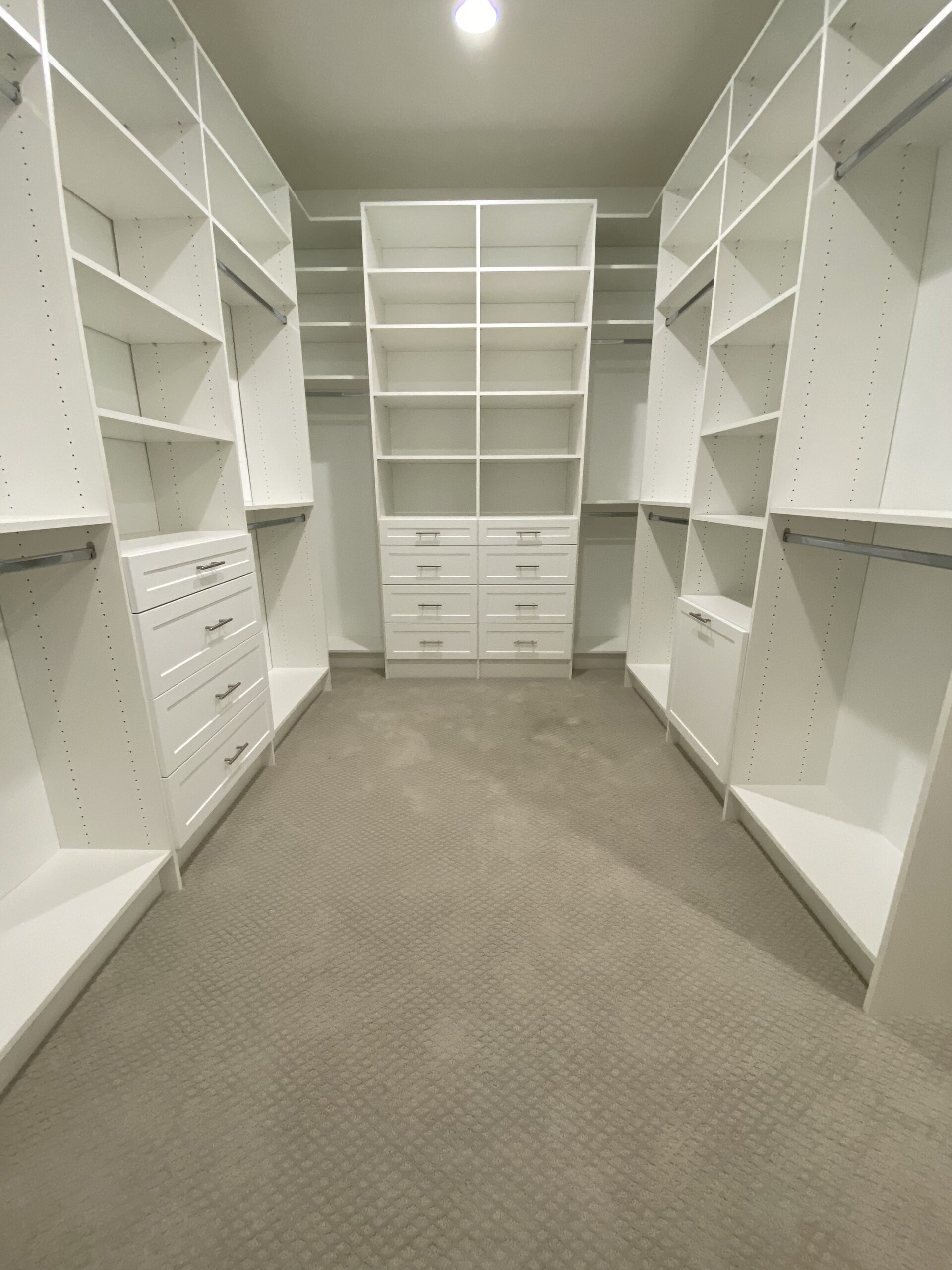 Paint– The first idea that came to me was to paint the ceiling a beautiful blue and I still can't get it out of my mind. It imagined a  pretty blue and according to my deck of Sherwin Williams paint colors the color Rain, just might be the perfect blue for this space. 
Lighting- Still not 100% about the lighting in here. I definitely think it need something but I don't know if I want to go more casual and do something more natural or go elegant and do glass/crystal/mixed material look. Maybe once the ceiling is painted I'll have a better vision. 
More Closet Design Ideas 
Wallpaper- Behind our doors I'm hoping to install some wallpaper. I've always been in love with the north star wallpaper from Schumacher. It's probably one of the most affordable prints they have and I just LOVE it. It's so simple but so pretty and is definitely a perfect detail. 
Art– I have some wall space  to add some interesting pieces of art to the closet. I love the photo options I brainstormed for the the hallway so maybe a few more sketches? 
Mirror- We already have the perfect sized mirror in here. But you know me. I can't leave good enough alone. So if I end up finding one that might work better, I'll make the switch.
Rug- A natural fur rug would be pretty in here. But I'm still not sure about it. The last thing I want to do is overfill the closet. So I have a rug in the living room that I will try out in here. If if works out then I'll be something similar! 
Shop some of my featured Closet Design Ideas below