This post is sponsored and may contain affiliate links, please read my disclosure policy.
This conversation is brought to you by Happy Egg Co, all opinions are my own.
Spring is right around the corner! So if you're still dealing with bone chilling snow, then hopefully you'll start to get some relief! Phoenix has some amazing weather all year around. So I've been enjoying " spring" weather for a few weeks now! So when Happy Eggs contacted me to make a spring table highlighting their heritage line of eggs, I thought YES! What a great way to get those spring creative vibes going!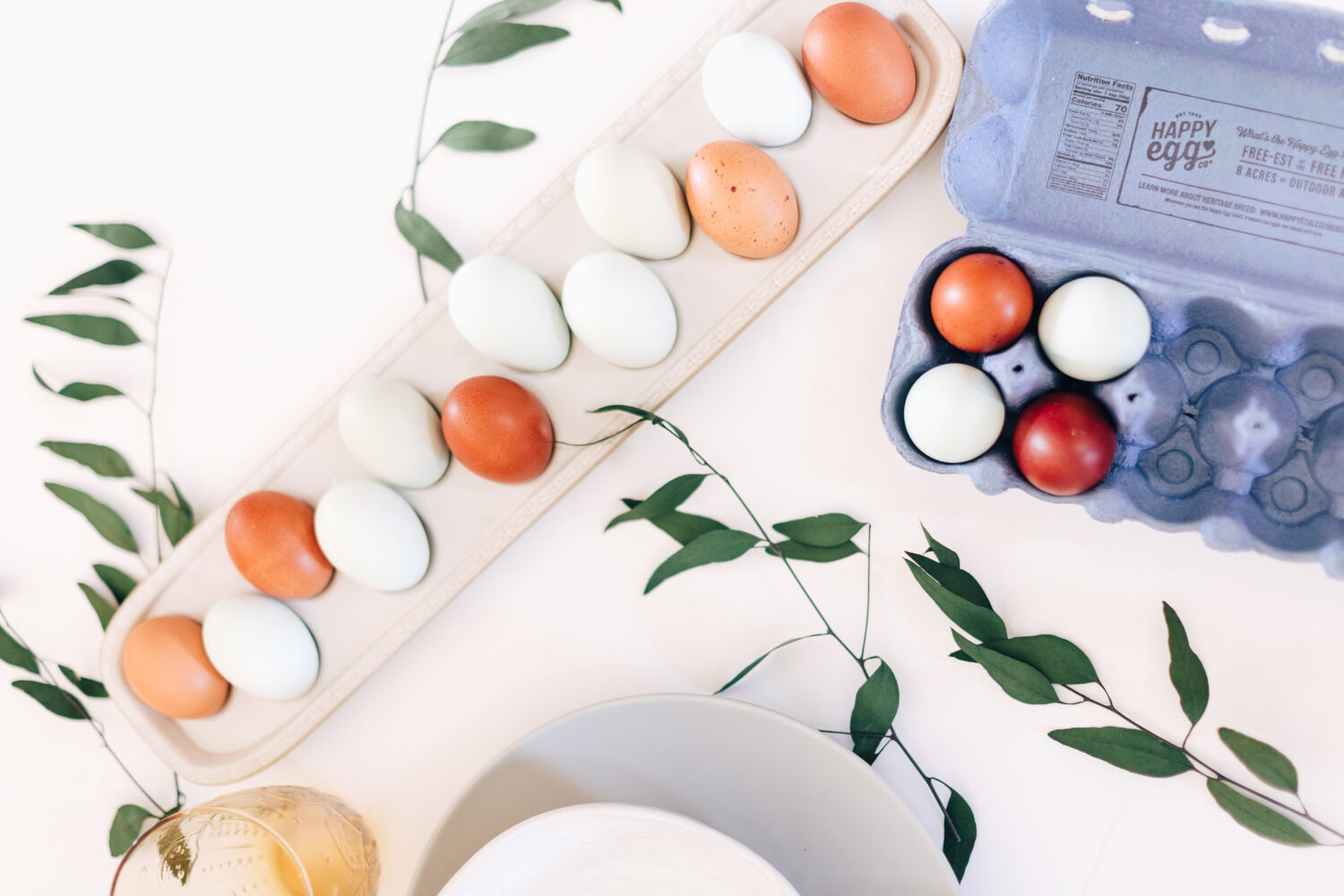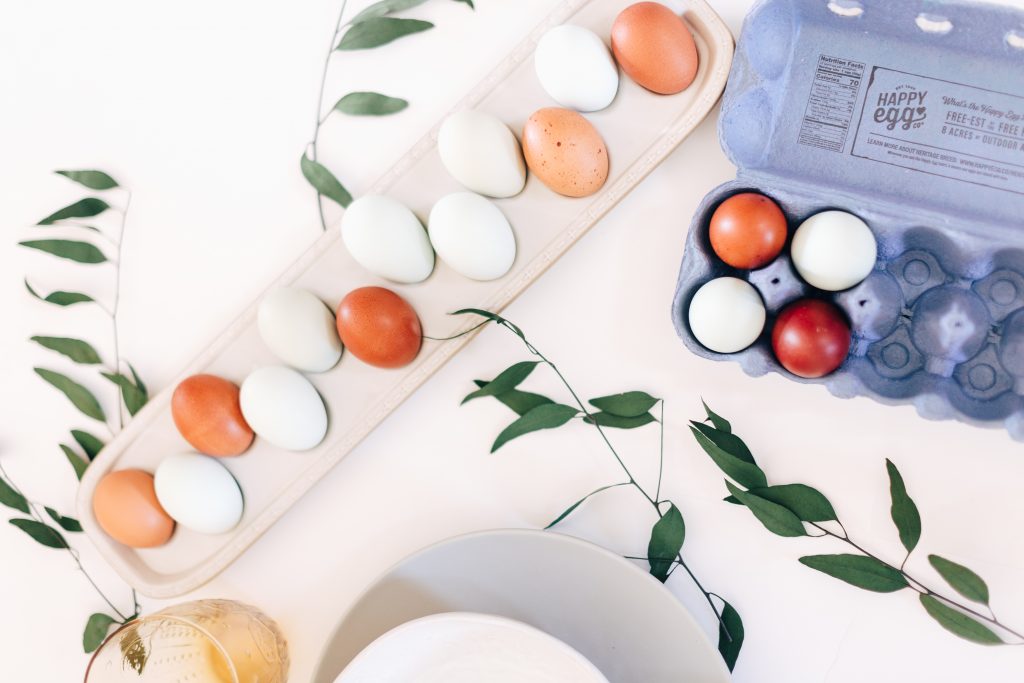 Not only are these eggs GORGEOUS but their the FREE-EST of the Free Range™! So eating them meets all your nutritional needs of like being organic, high in protein, and in vitamins like B2, D, B6, B12, zinc, iron, and copper. If you're looking for them in your local grocery store, just look for the beautiful blue Happy Egg carton that features the Heritage Line. I got mine at Sprouts!
Fun Fact: I was wondering how in the world a BLUE egg is hatched so I read that the unique coloring of the shells actually comes from two distinct breeds of birds. The beautiful pastel blue egg is laid by the Speckled Legbar and the deep, chocolate brown egg is laid by the Copper Maran! #socool

Check your local store
here
!

Casual Easter Table

I've been setting tables for years and sometimes my tables are super fancy and sometimes they're super simple. When it comes to setting a table my advice to you is have fun. If you want to pull out all your fancy things do it! If you only want to set a table setting with a fork and knife and one plate, then do that too! My point is to relax and make the table a reflection of your style and a place for friends and family to gather!
I think these beautiful eggs really speak for themselves. So as I was planning my tablescape I wanted to keep things simple. I got a collection of natural, organic and rustic elements from around the house and developed a tablescape that was casual but interesting because of all of the different elements!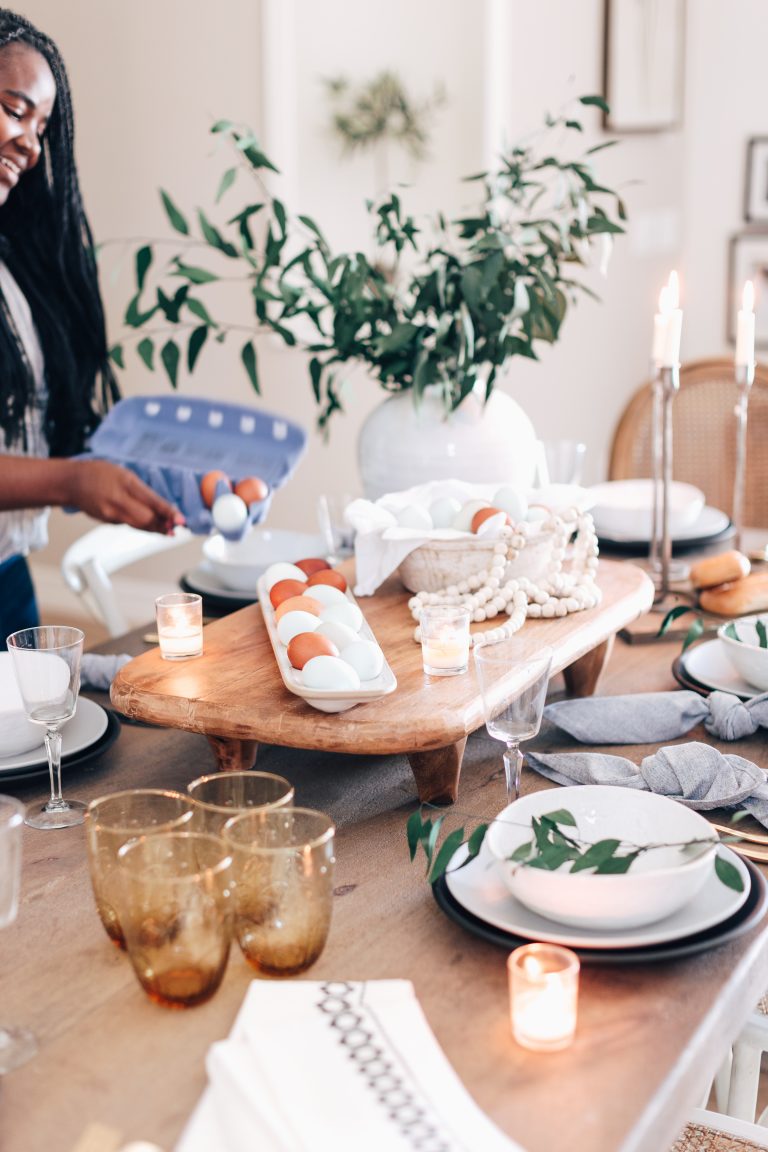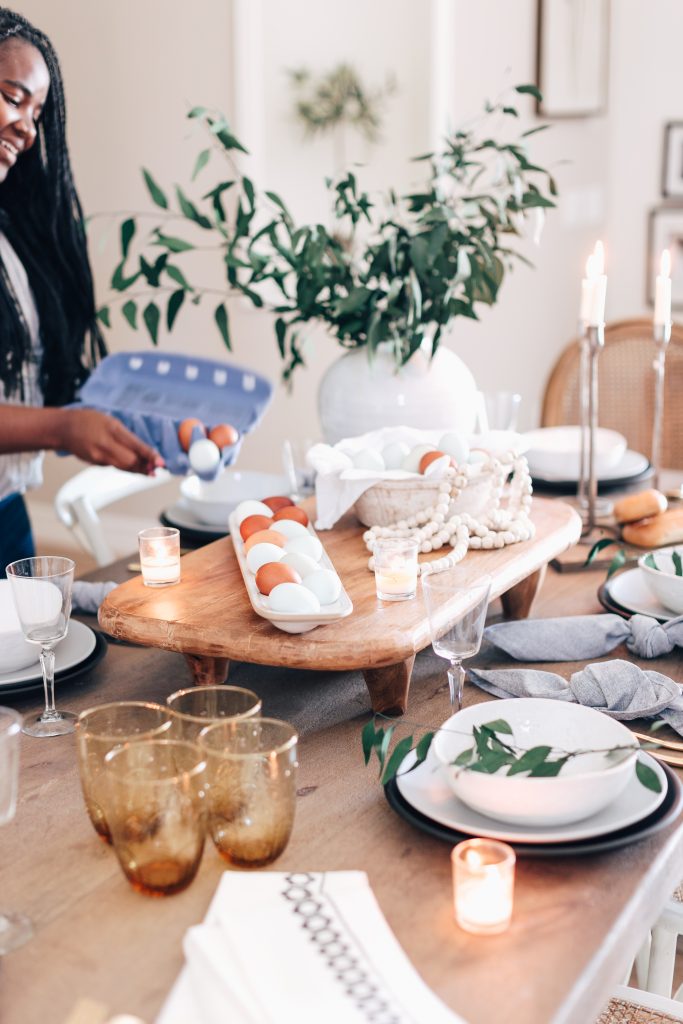 To start I layered a collection of black chargers , blue/gray plates and rustic white bowls. For this setting I felt like the black charger was the perfect piece to ground the entire table. Adding anything black instantly gives the table a rustic feeling without going too dark. Then I added some clipped stems to top things off.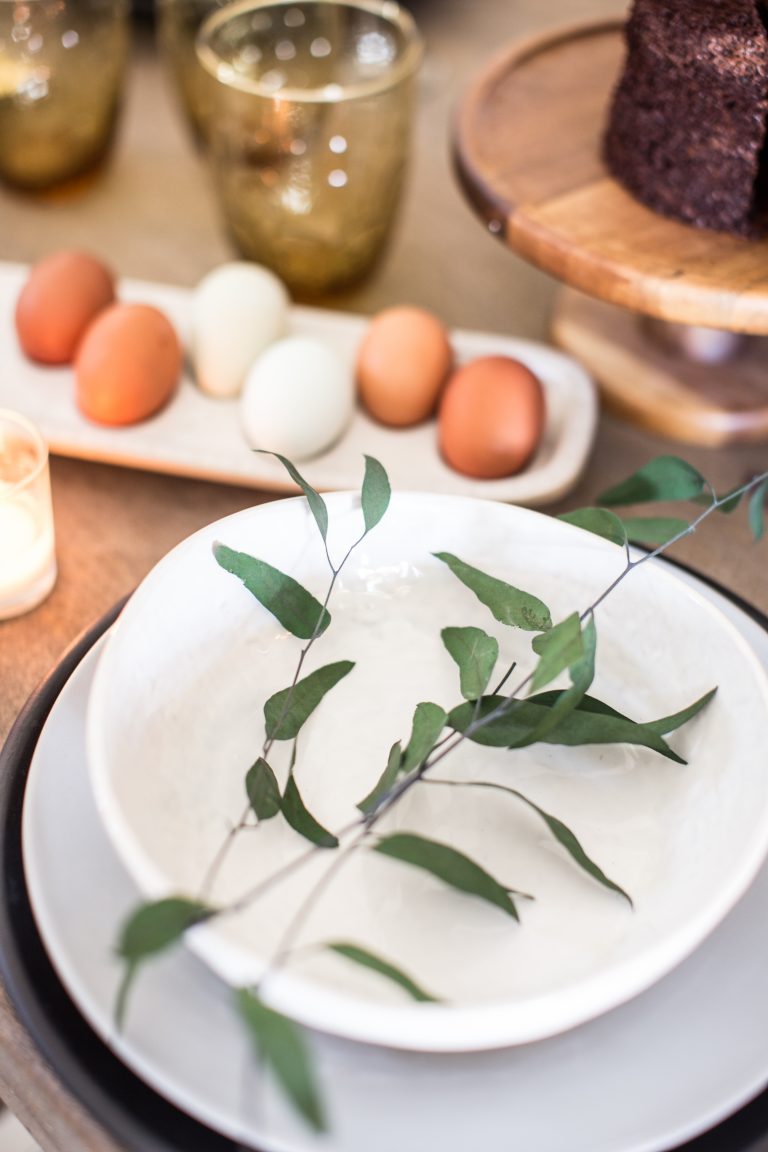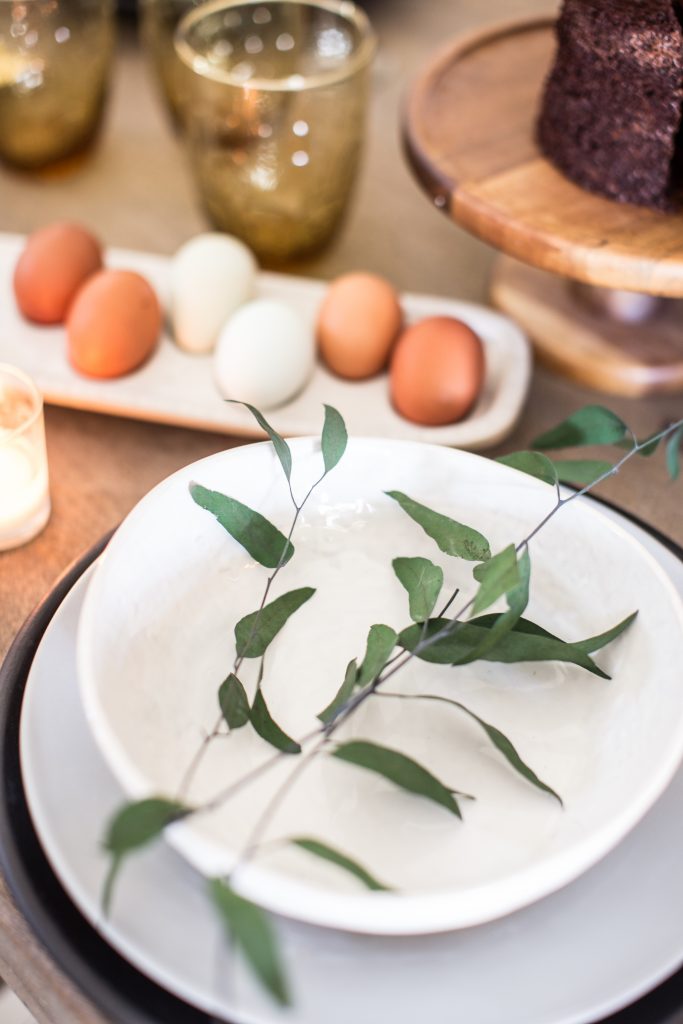 How to make a Simple Centerpiece
I thought the Heritage Line would look amazing in a simple rustic bowl. So I piled them nice and high to show off the color and cute speckled texture. Along with some wooden beads this makes a simple and beautiful centerpiece.
Tip: If you don't have enough eggs to fill the entire bowl, use paper or plastic on the bottom, cover it with a linen napkin and fill it up with eggs. This gives the bowl an instant lift!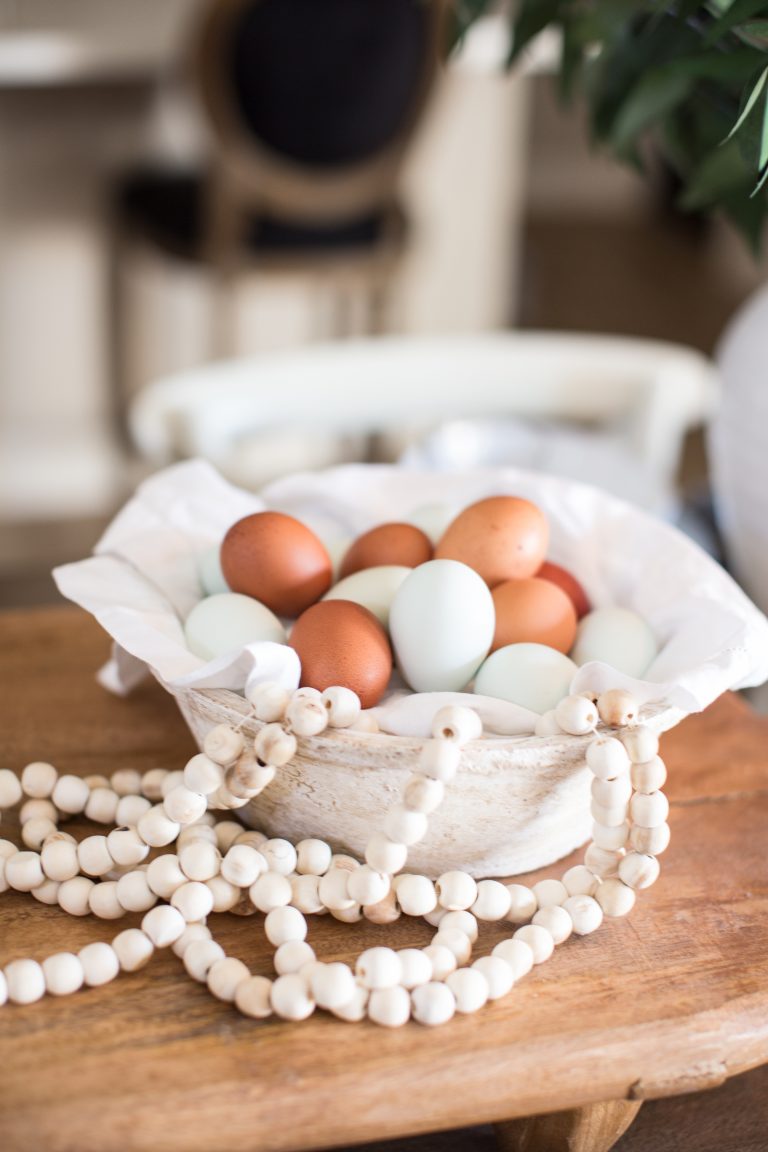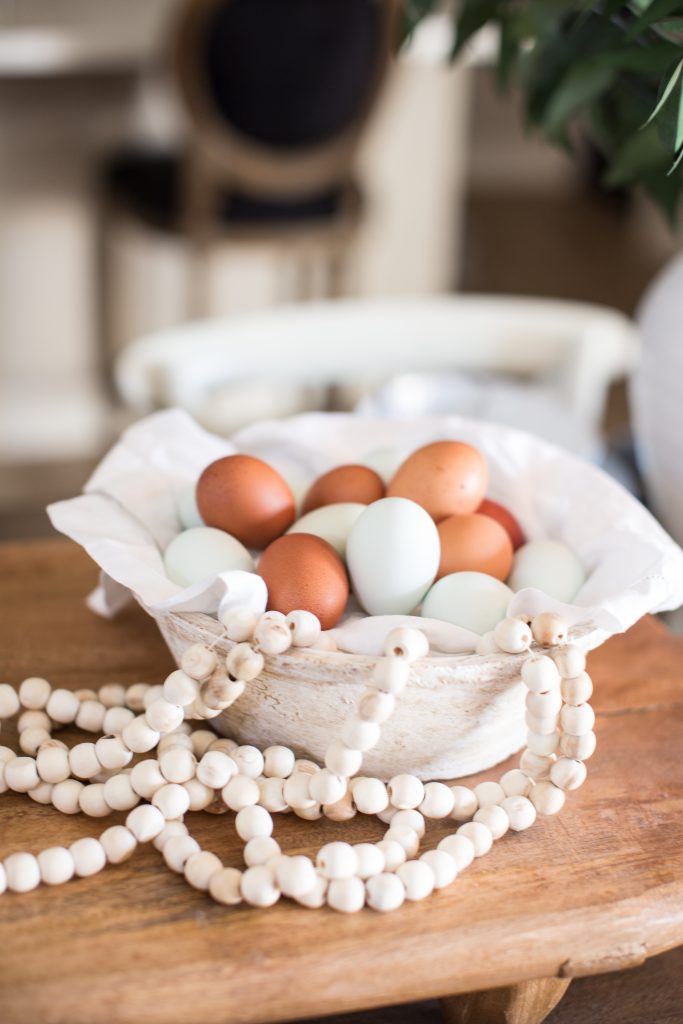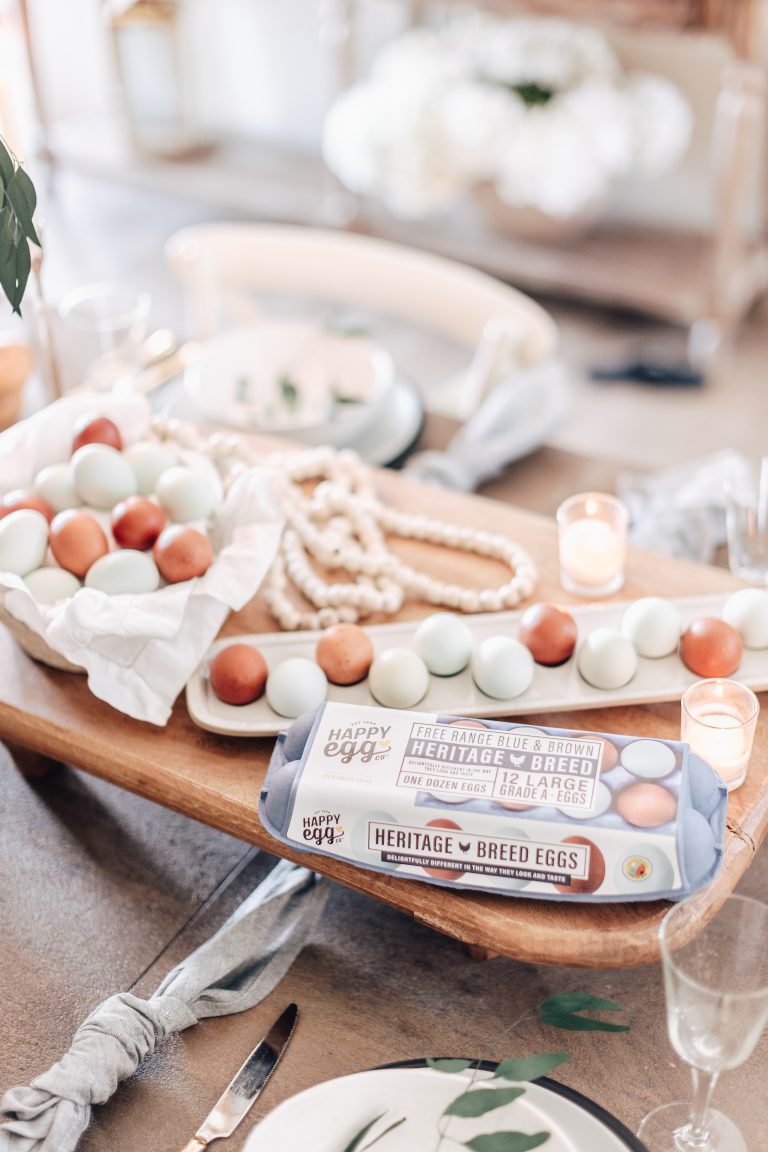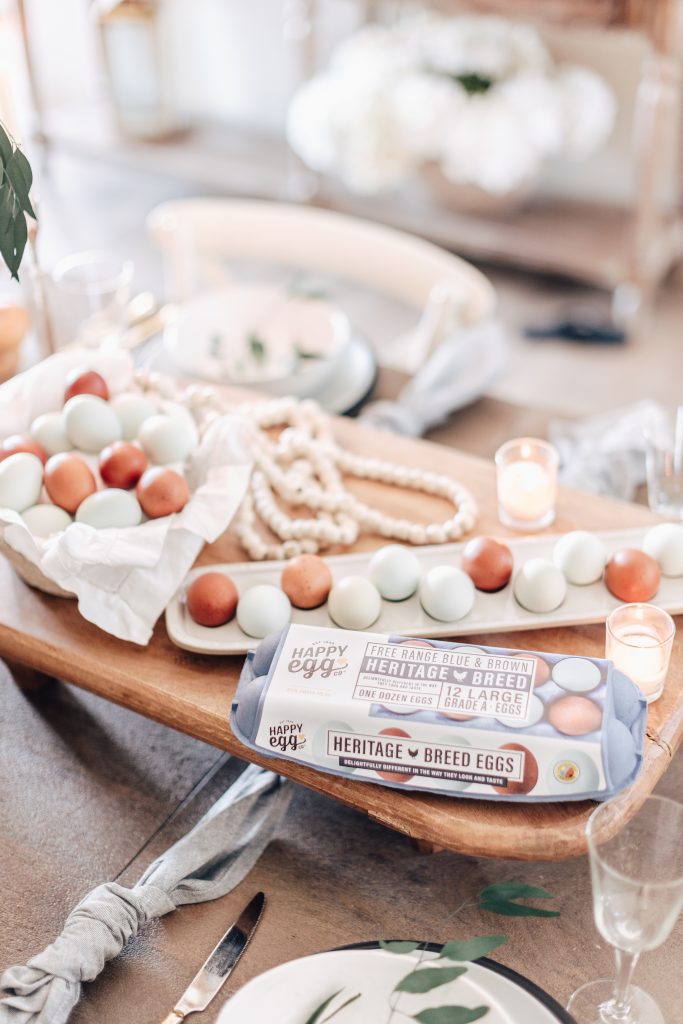 Add greenery to a casual table
Not only did I use greenery on each table setting, I also filled a white vase I had with leftover stem clippings! These are actually faux stems dipped in a green preserve so they look very real! Green gives any table a natural element that's hard not to notice!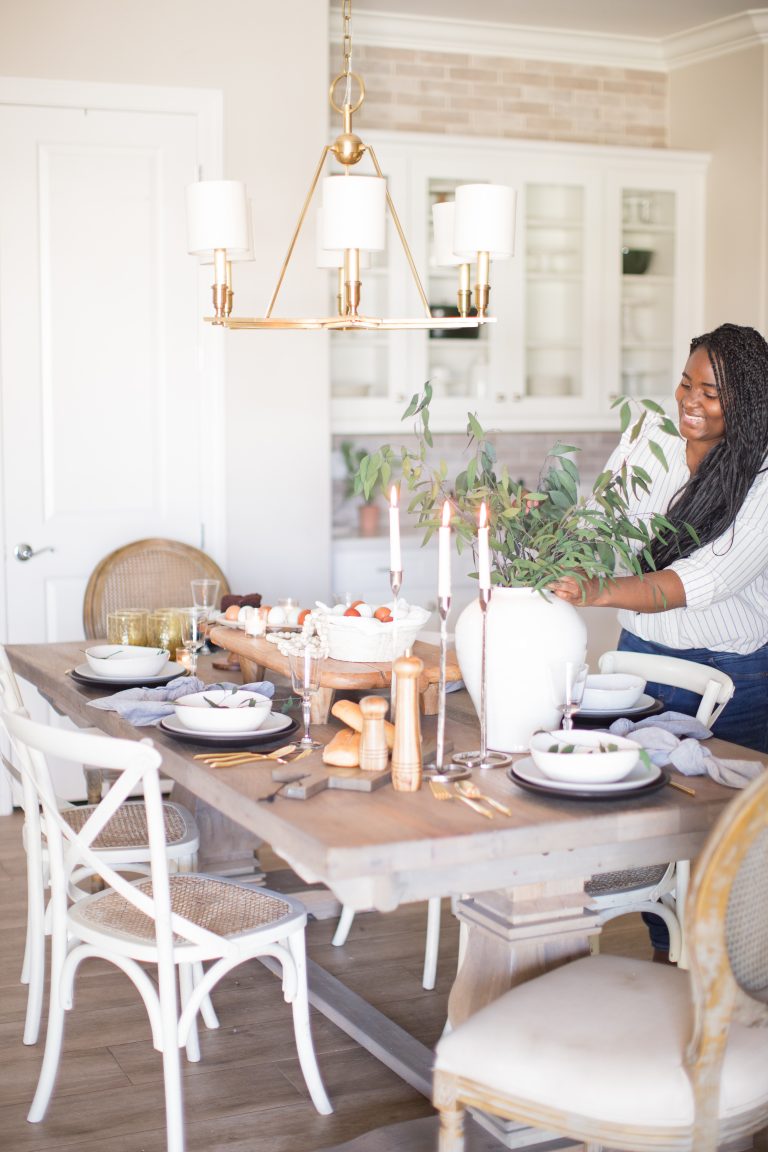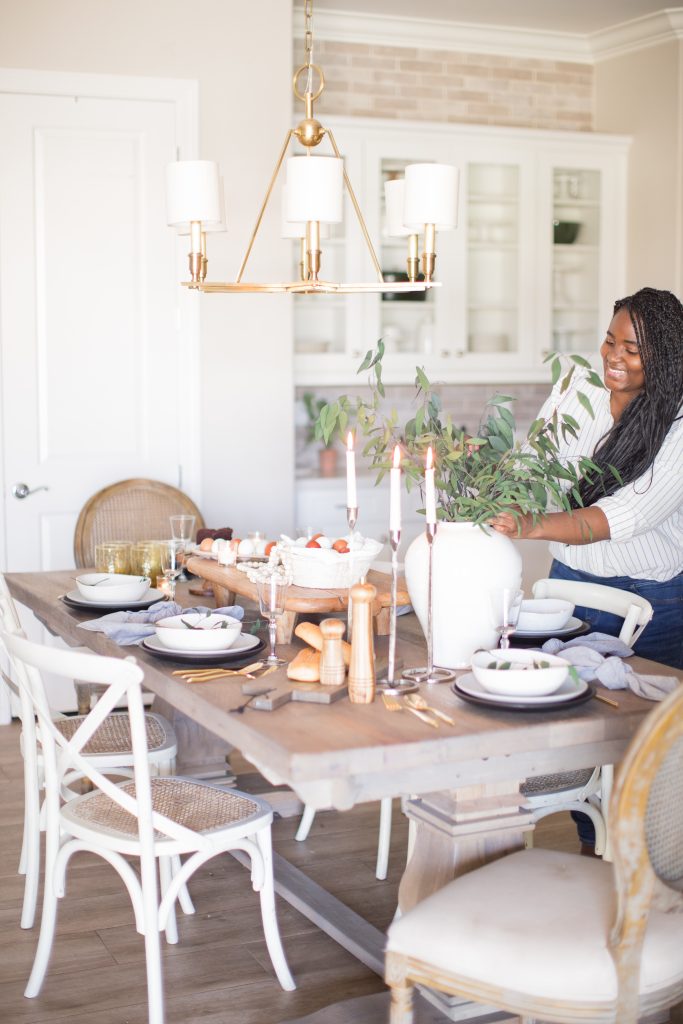 I also used a dozen eggs and displayed them on a 12 egg tray! You can easily serve these at a breakfast, brunch but they really look gorgeous on displayed on the table along with a centerpiece.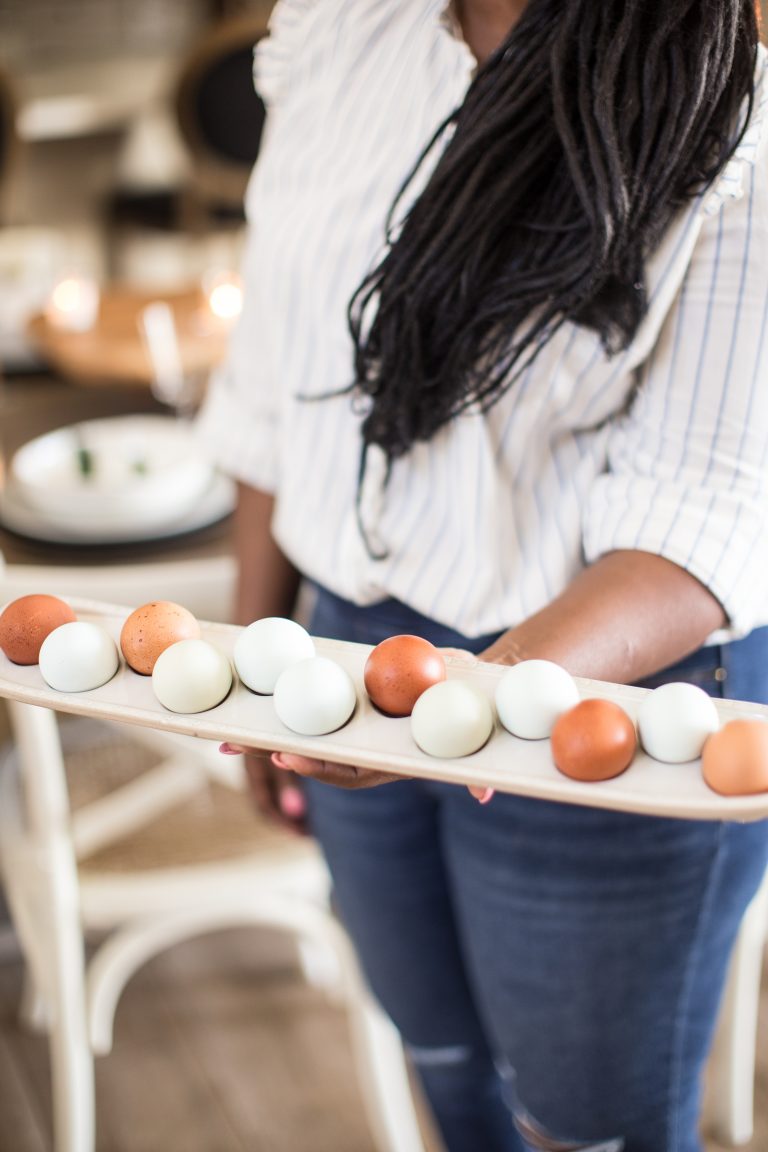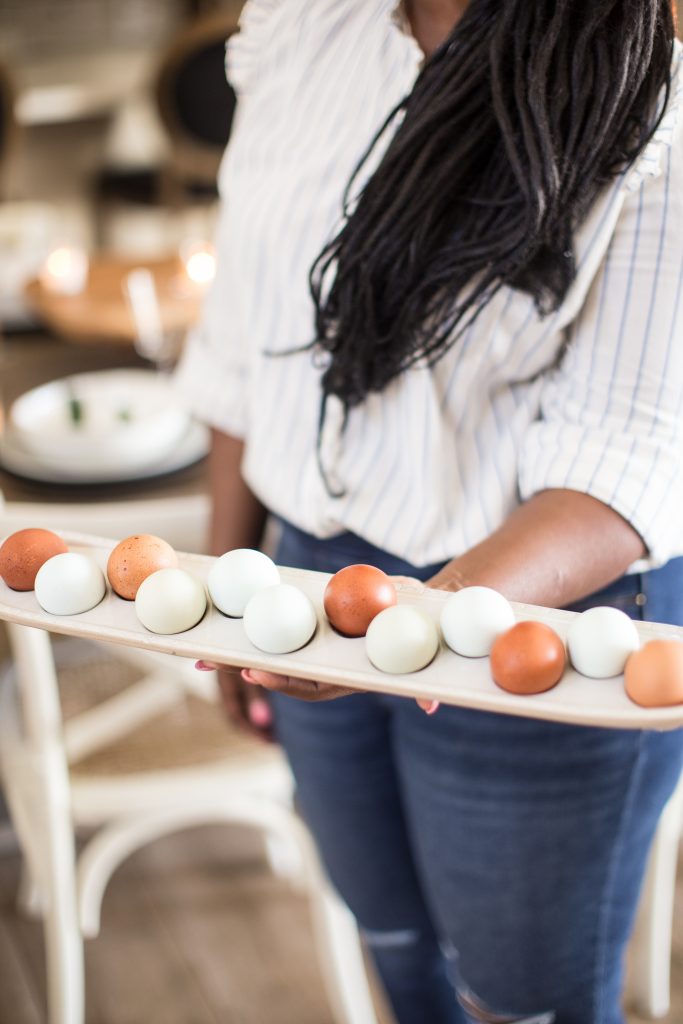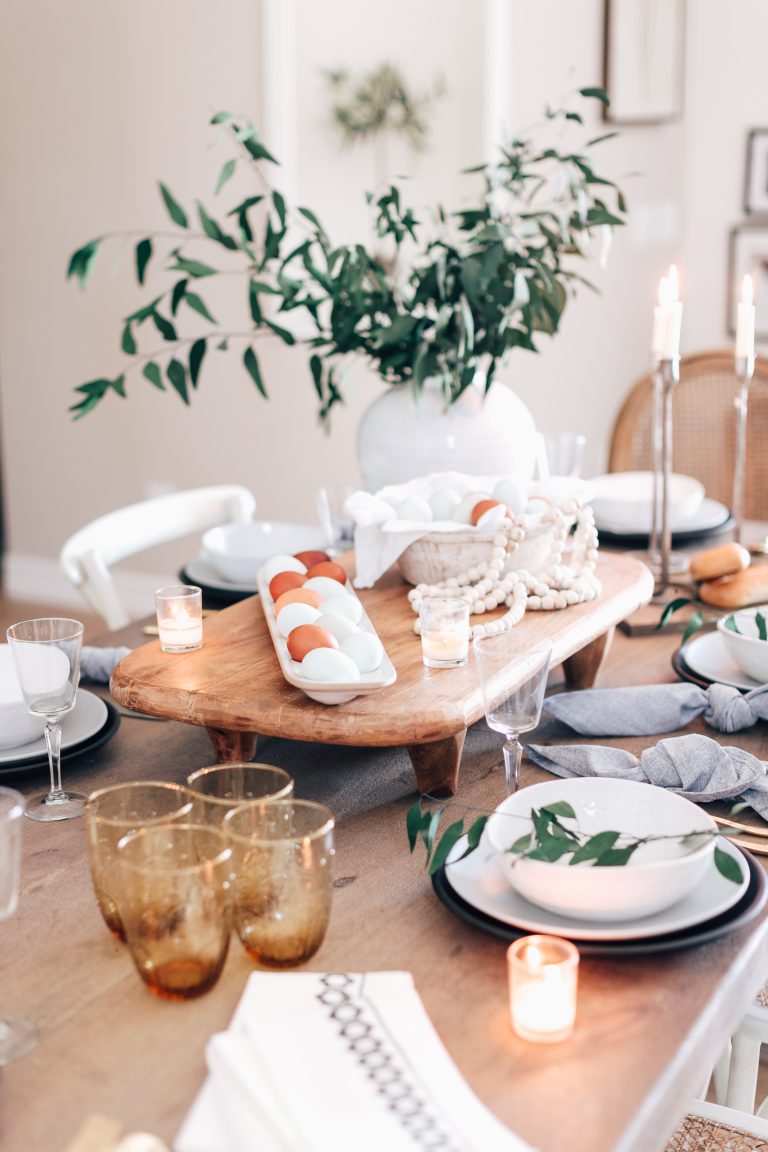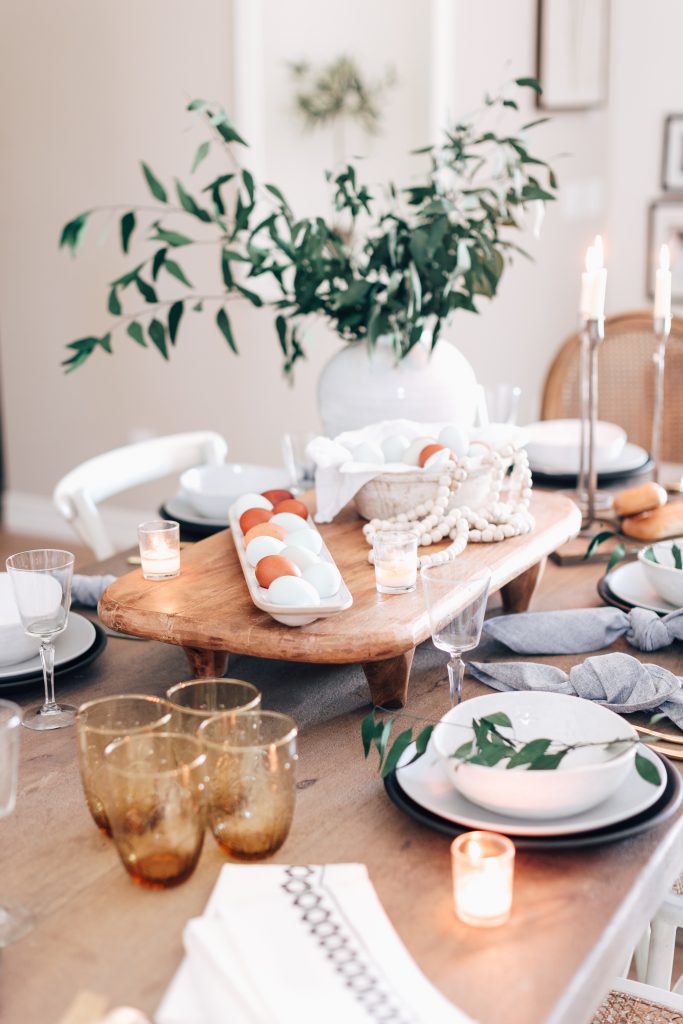 I hope this brings you some inspiration this spring as you set your own table!