Patriotic Fruit Pizza Recipe: Red White and Blue Dessert
This post is sponsored and may contain affiliate links, please read my disclosure policy.
If you're looking for a gorgeous, pretty and absolutely delicious dessert for your Memorial Day, Fourth of July or Red, White and Blue celebration then you are in the right spot! This patriotic fruit pizza is going to leave you and your guests completely satisfied.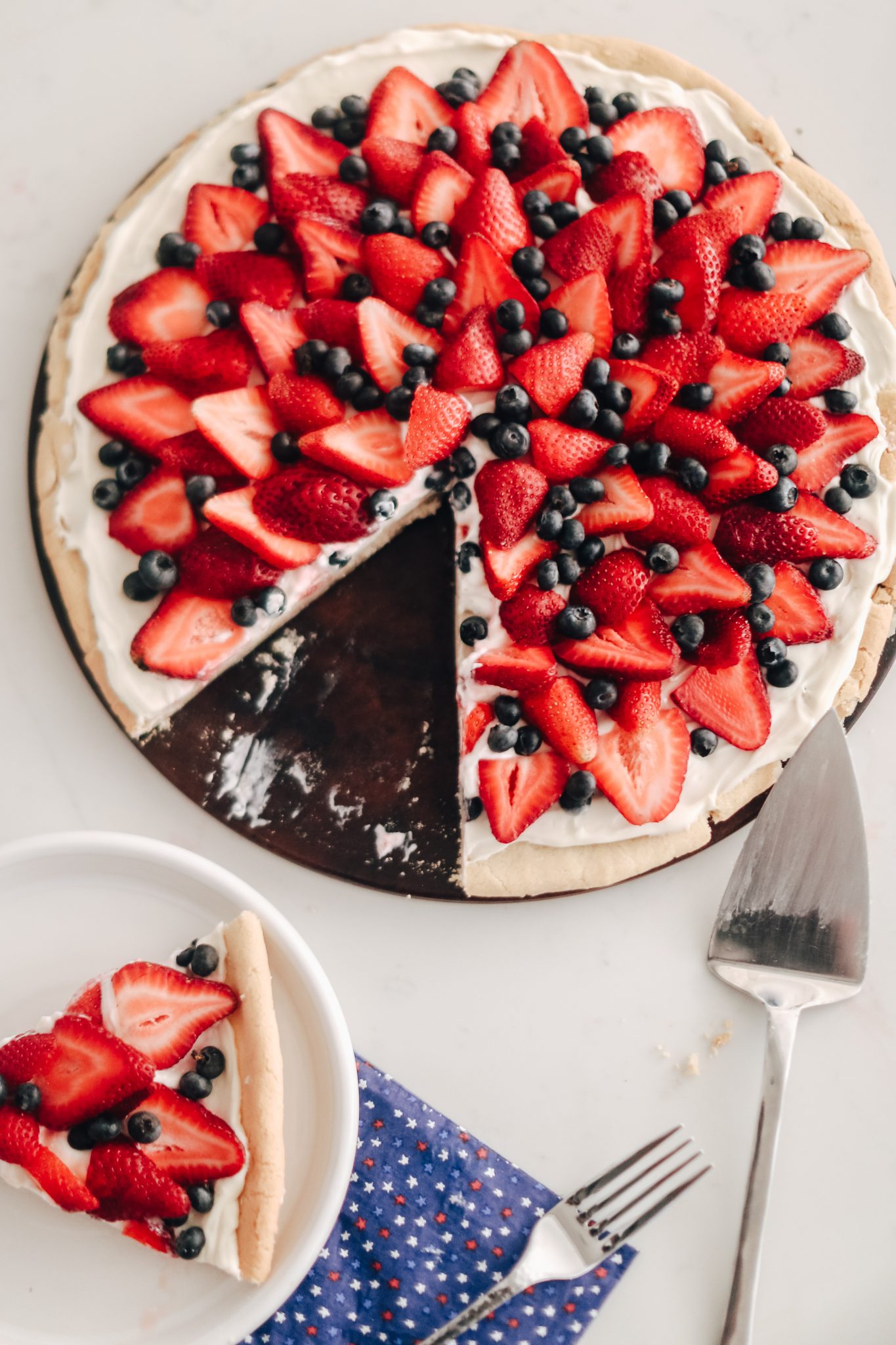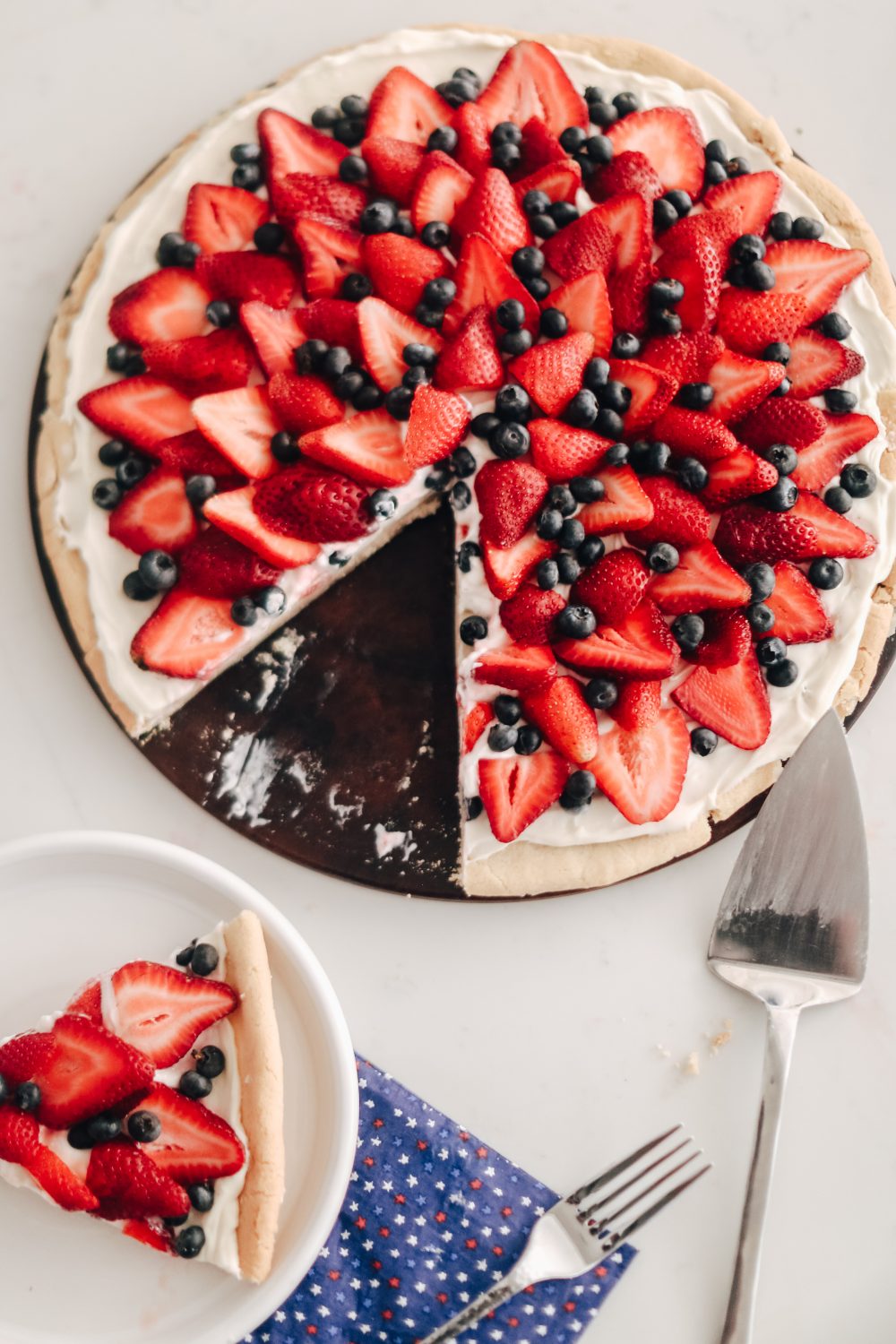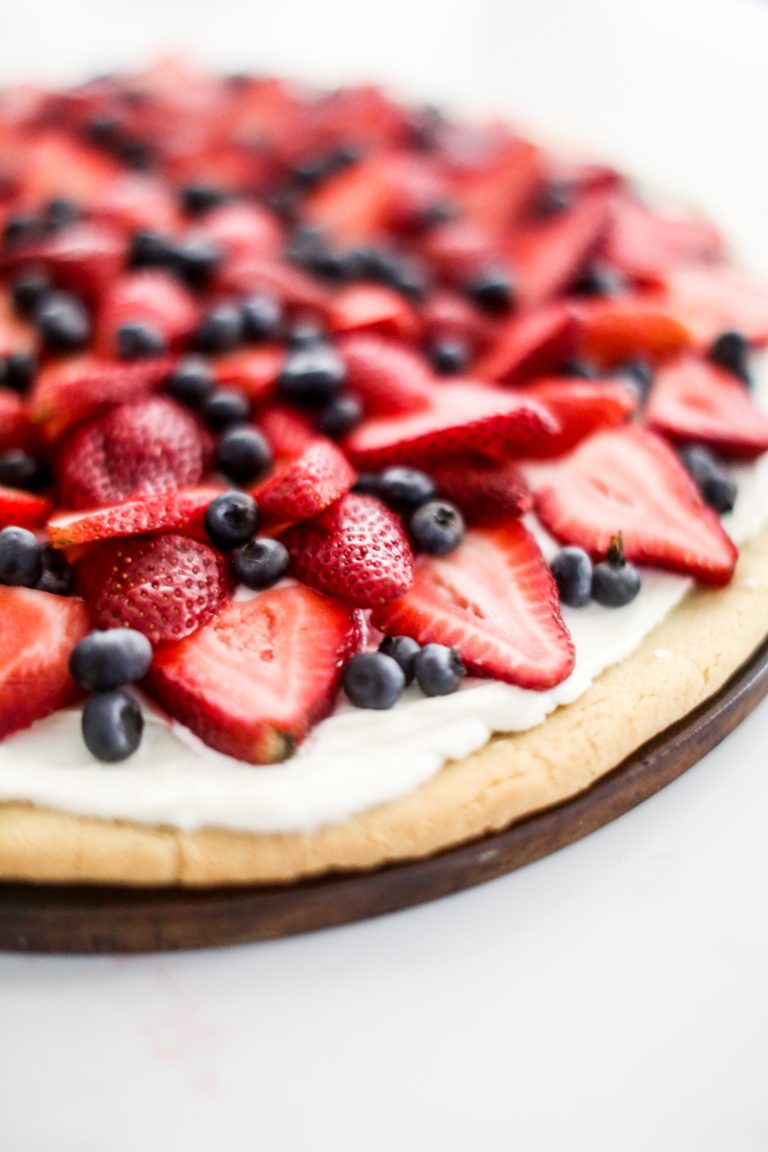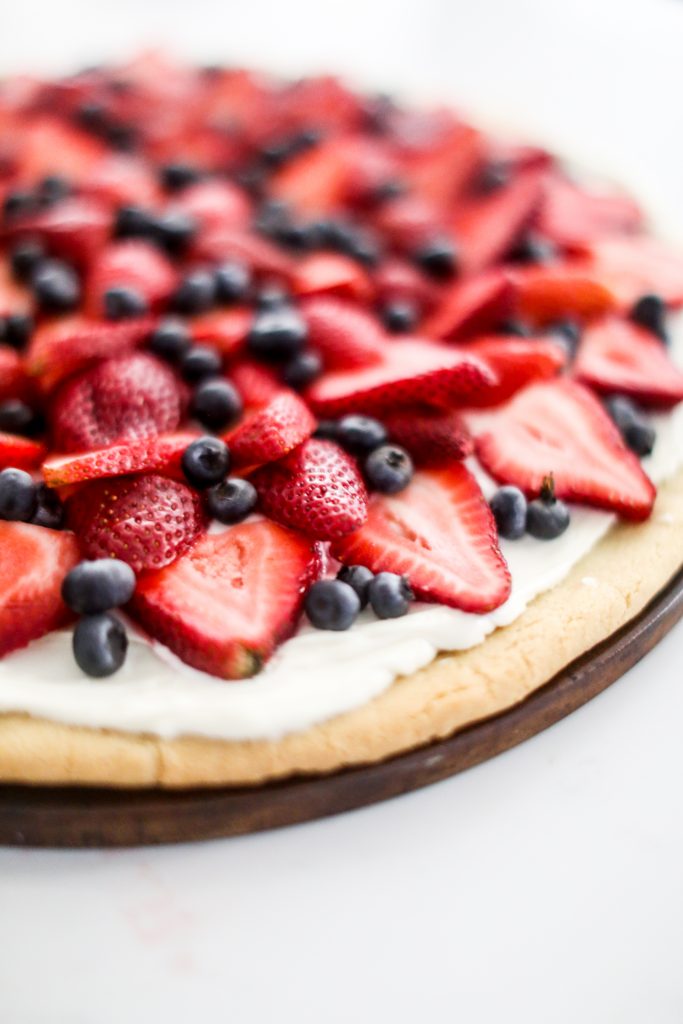 Whenever I enter a celebration, birthday party of even a backyard bbq my eyes are immediately drawn to the desserts. Yes, I LOVE a good dessert and I can spot one from a mile away.
I first had a fruit pizza at a backyard bbq at one of my friends house years ago. I draws people in with the beautiful fresh topping and wants them wanting more with each delicious bite.
How to Make and Assemble a Fruit Pizza
I love the idea of a sugar cookie crust. It gives the pie a base and also a sweet crunch! When making the crust leave a 1/2 inch base on a 12 inch pie pan to let the sugar cookie spread. I also like to stick it in the fridge before I bake it to mimizine the spread.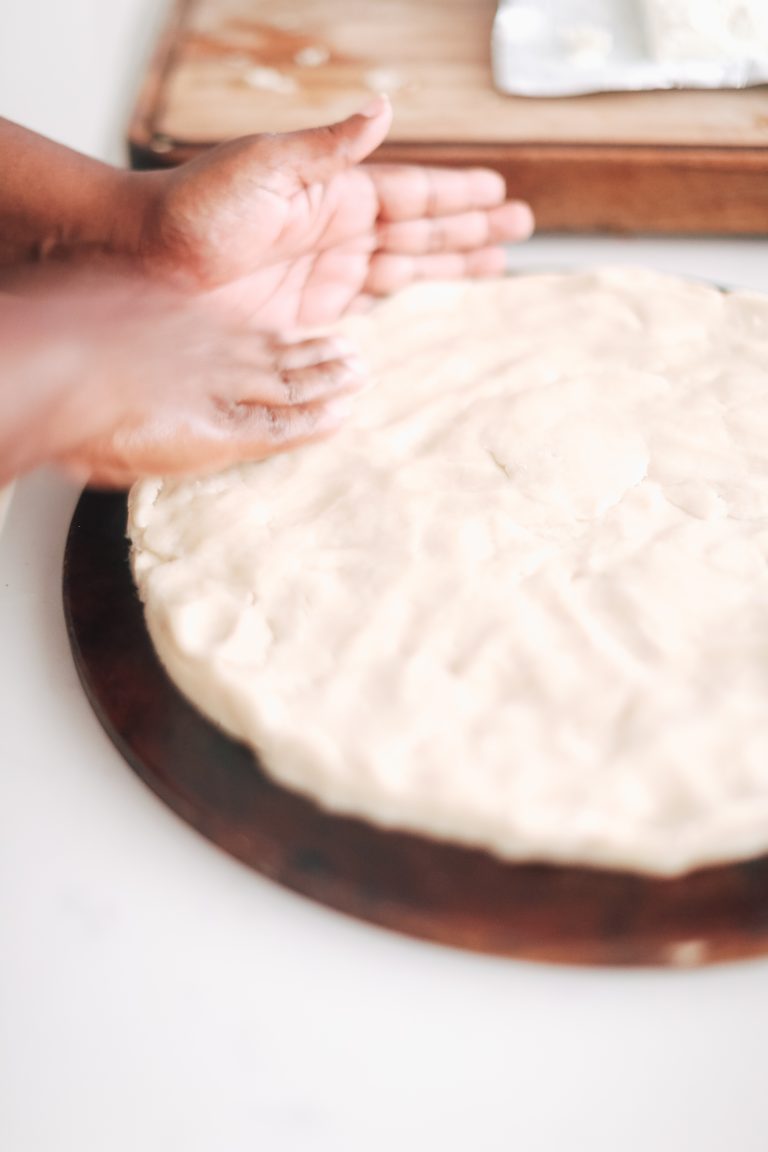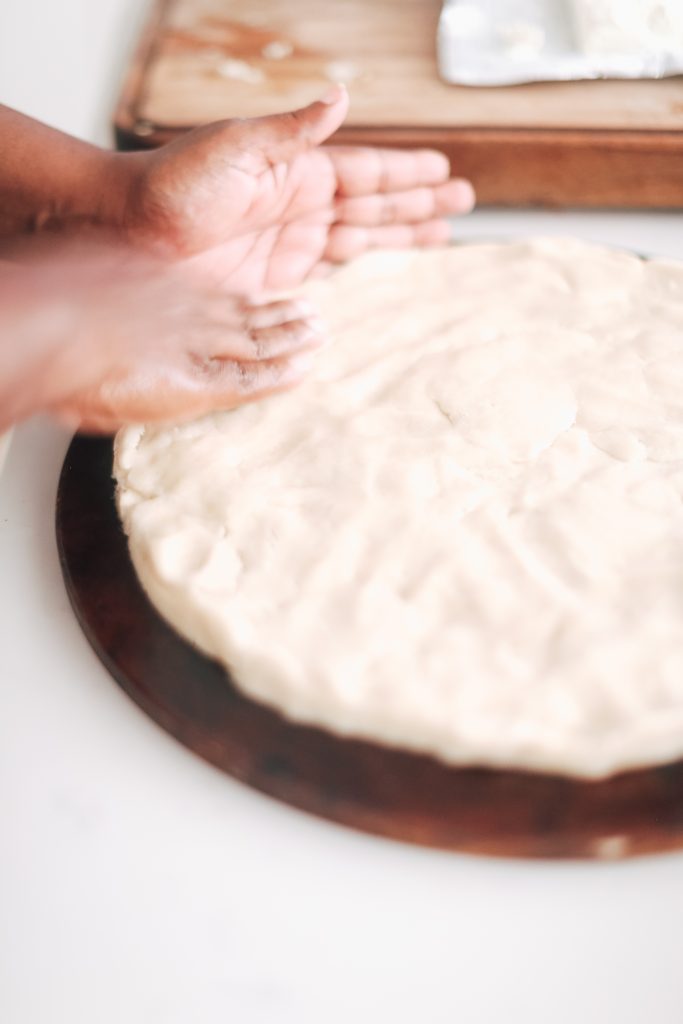 The "cheesecake" filling is the perfect way to bridge the crust and the fresh fruit. The little bit of lemon juice brings the flavors together too. So don't forget that small but might ingredient.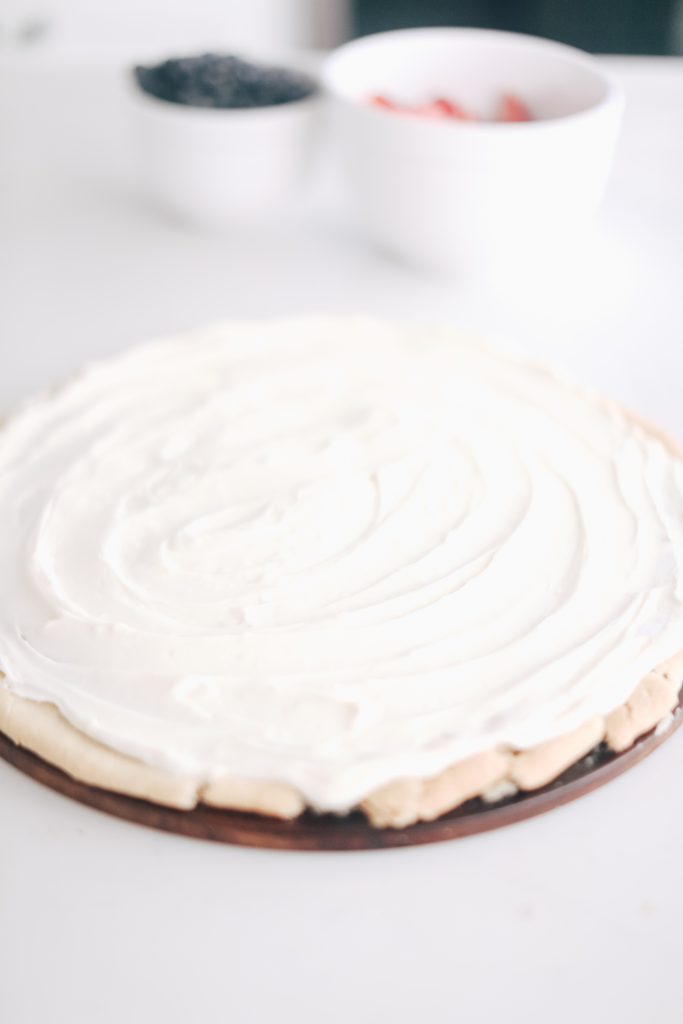 You can assemble the fruit anyway you like but I sliced the strawberries and decided to use then entire strawberry, besides the green top.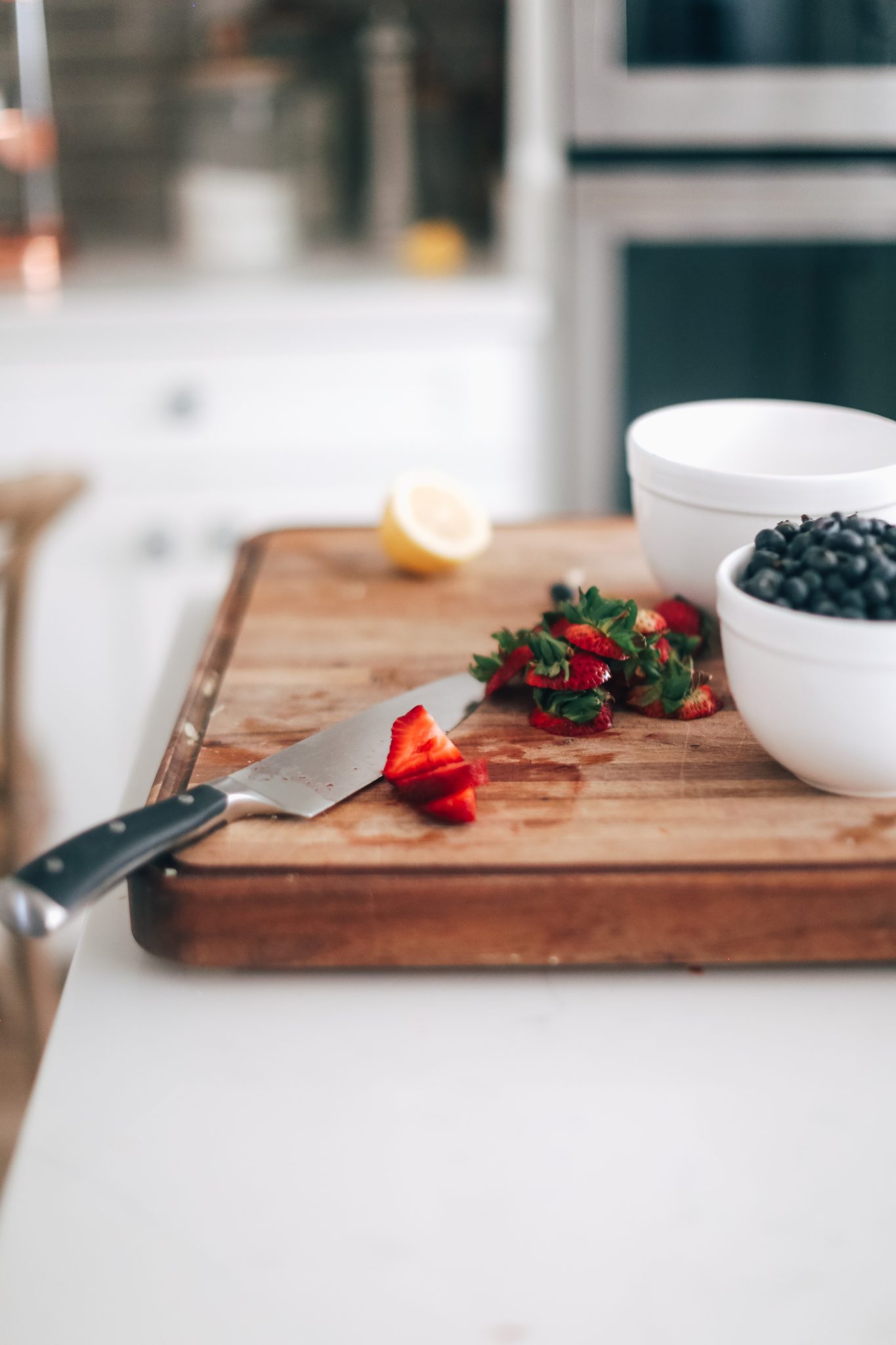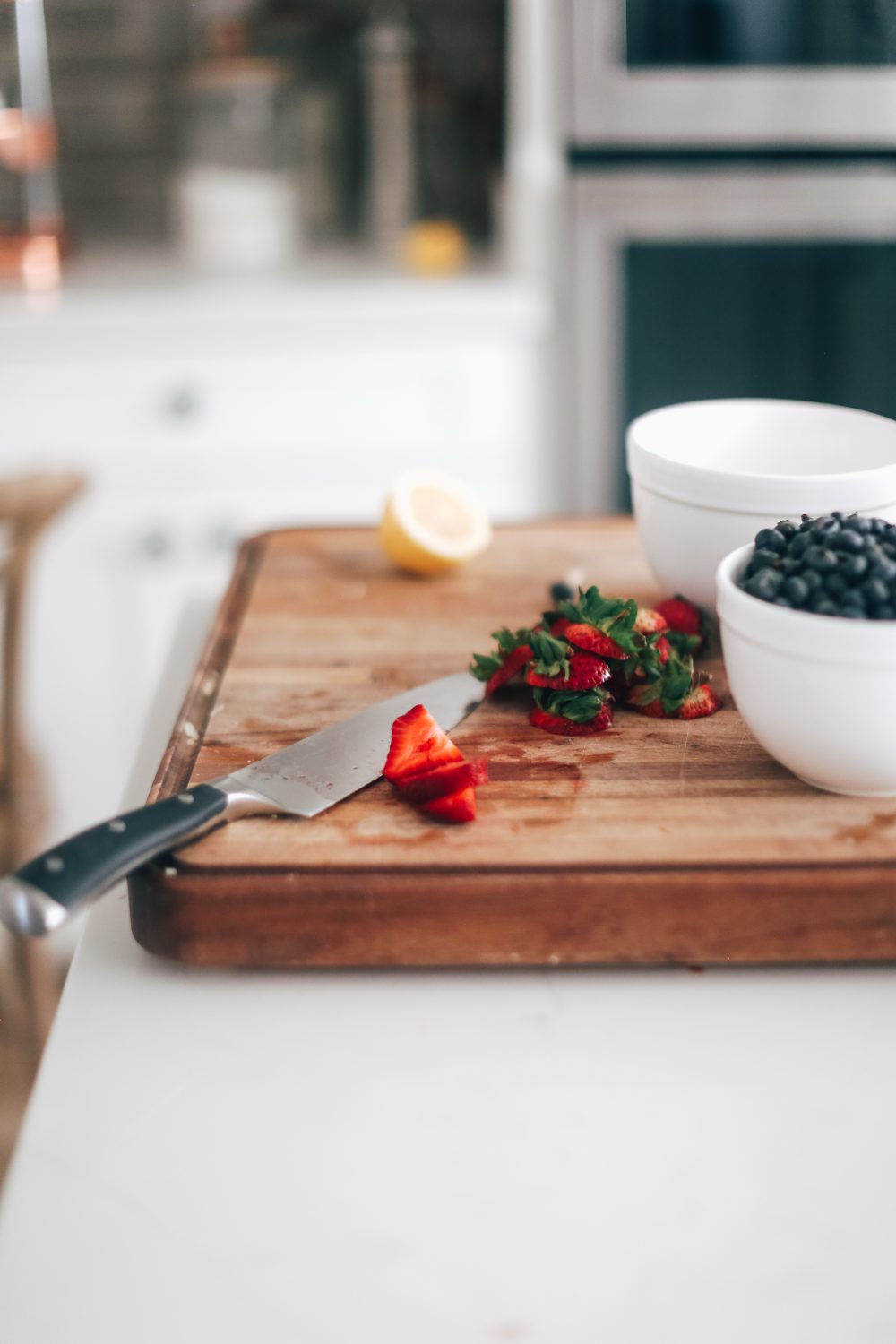 So I started off with the inner slices and made a big circle on the outside of the cookie.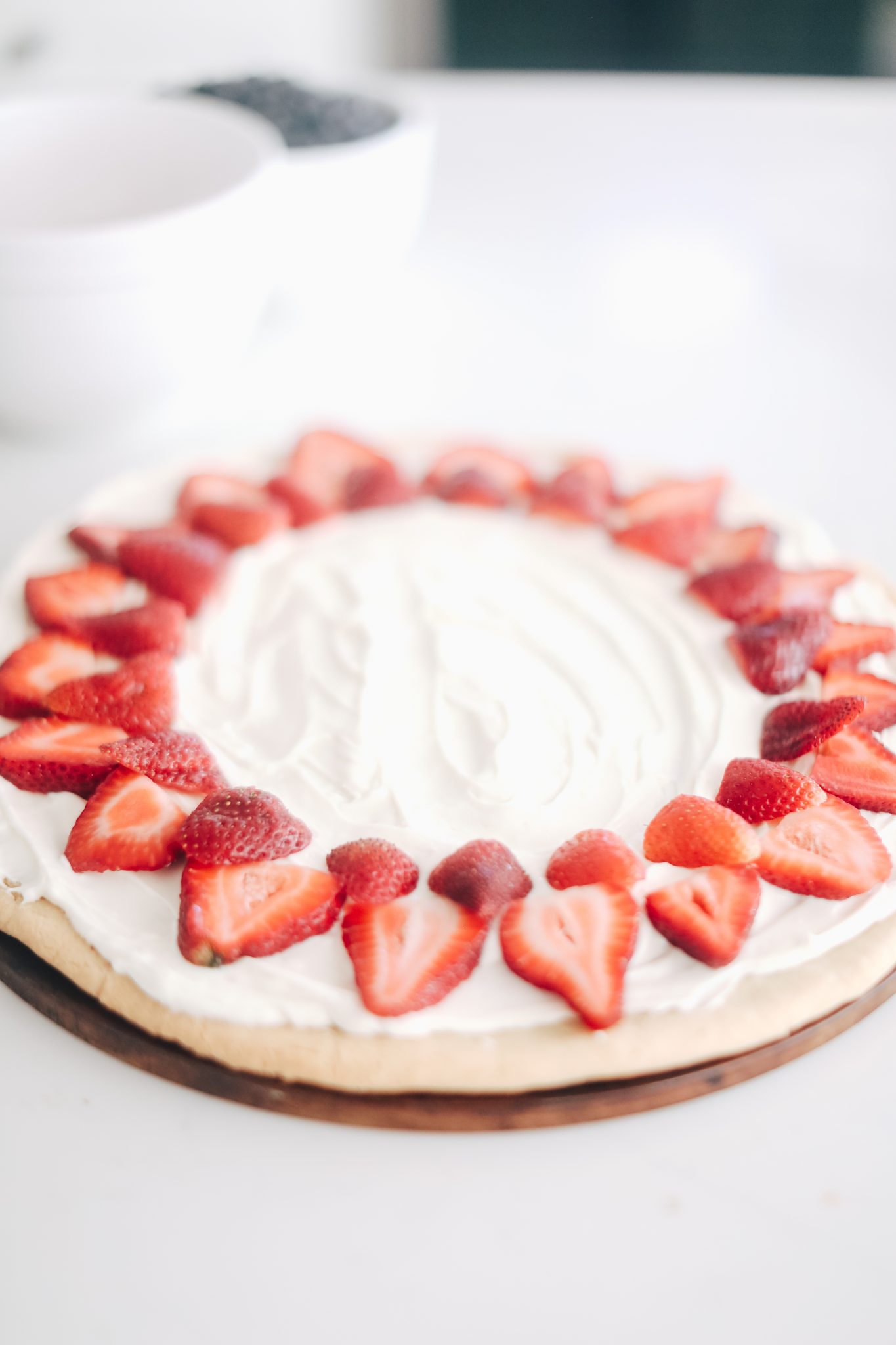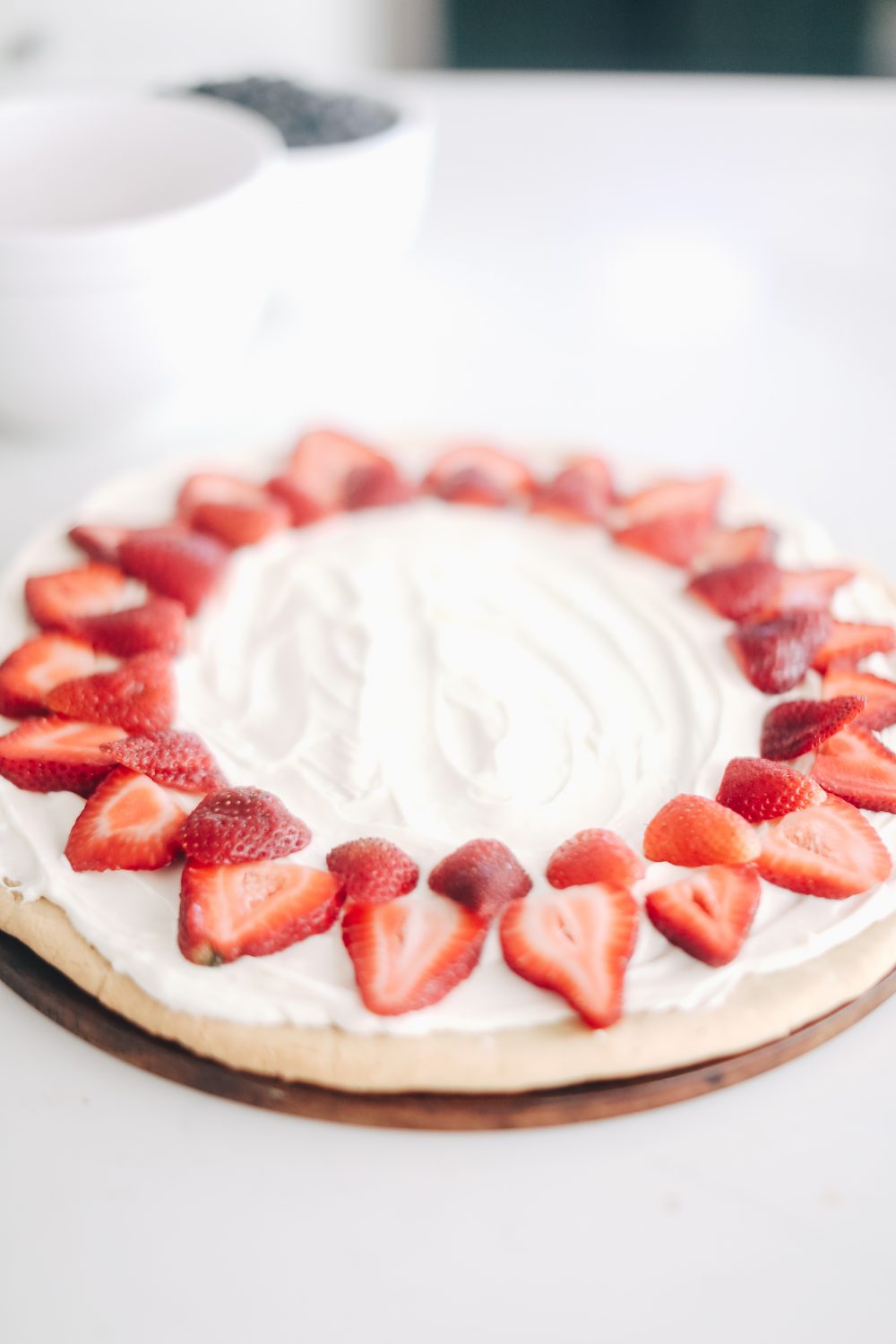 Then I used the ends of the strawberry on the inside of the first circle.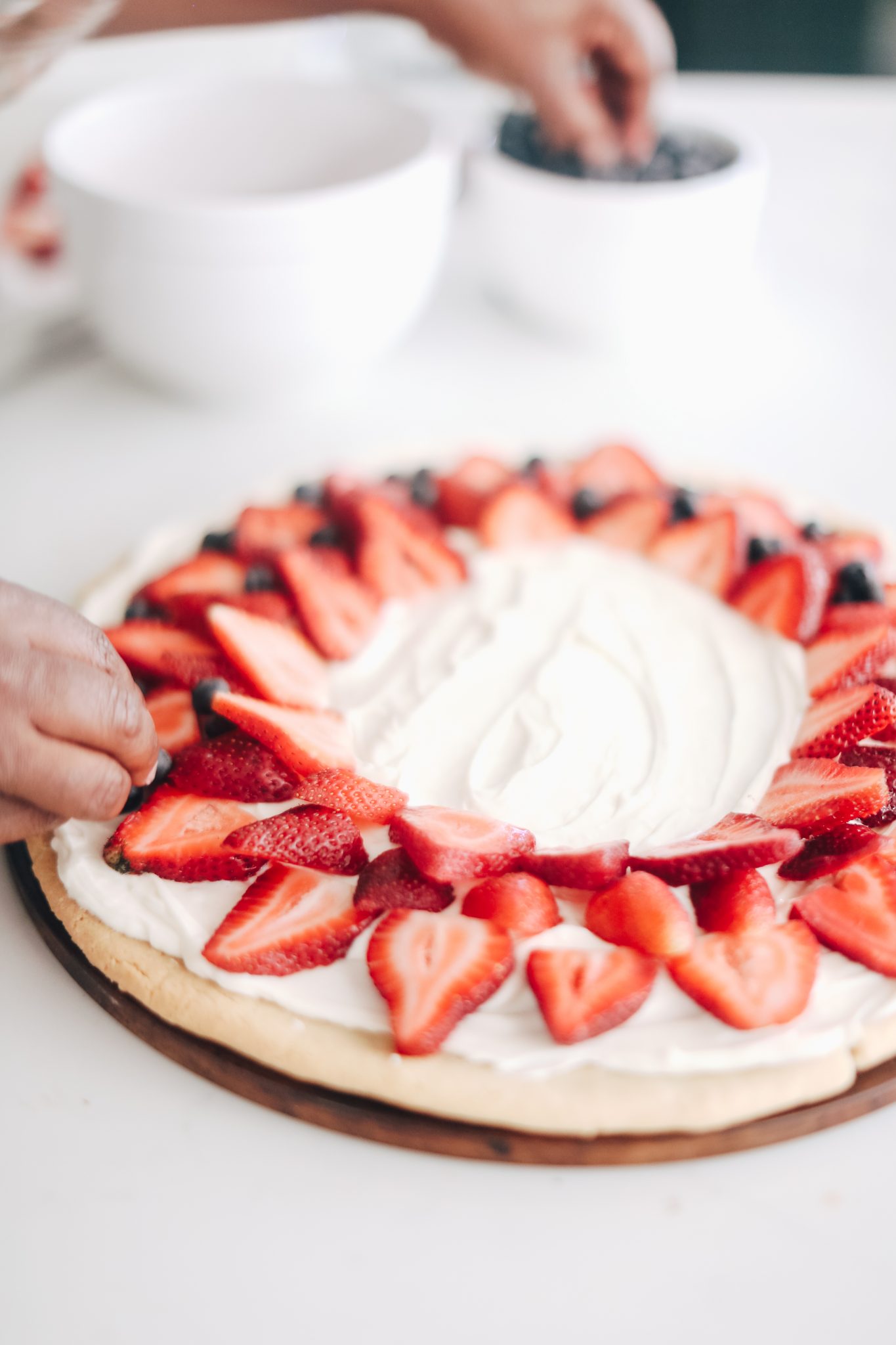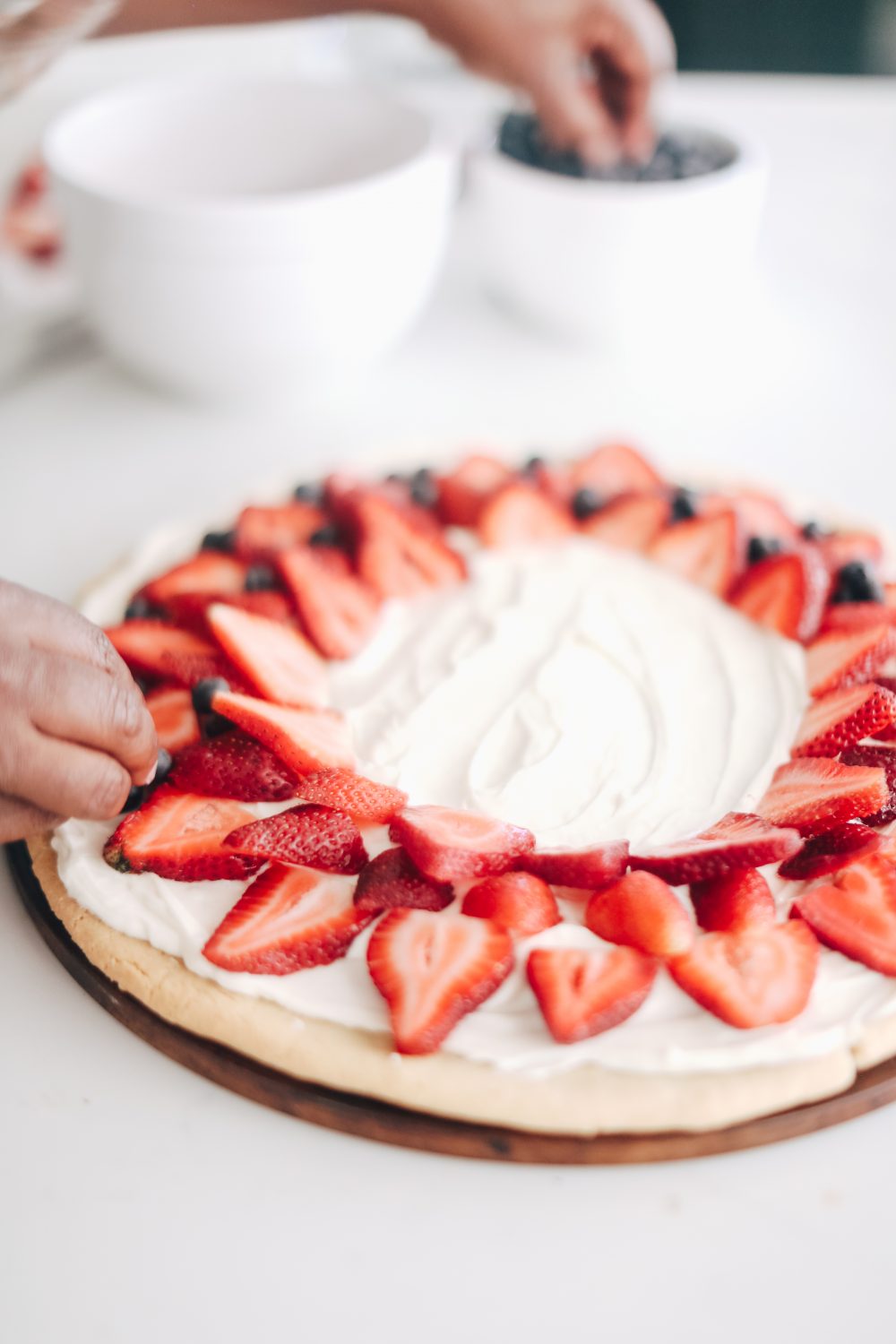 I repeated that pattern until I got to the middle.
In between the gaps I used fresh blueberries to give it that patriotic feeling. ( Side note, I don't like blueberries so I would for sure make this without blueberries and call it a Strawberry Pizza. Ha!)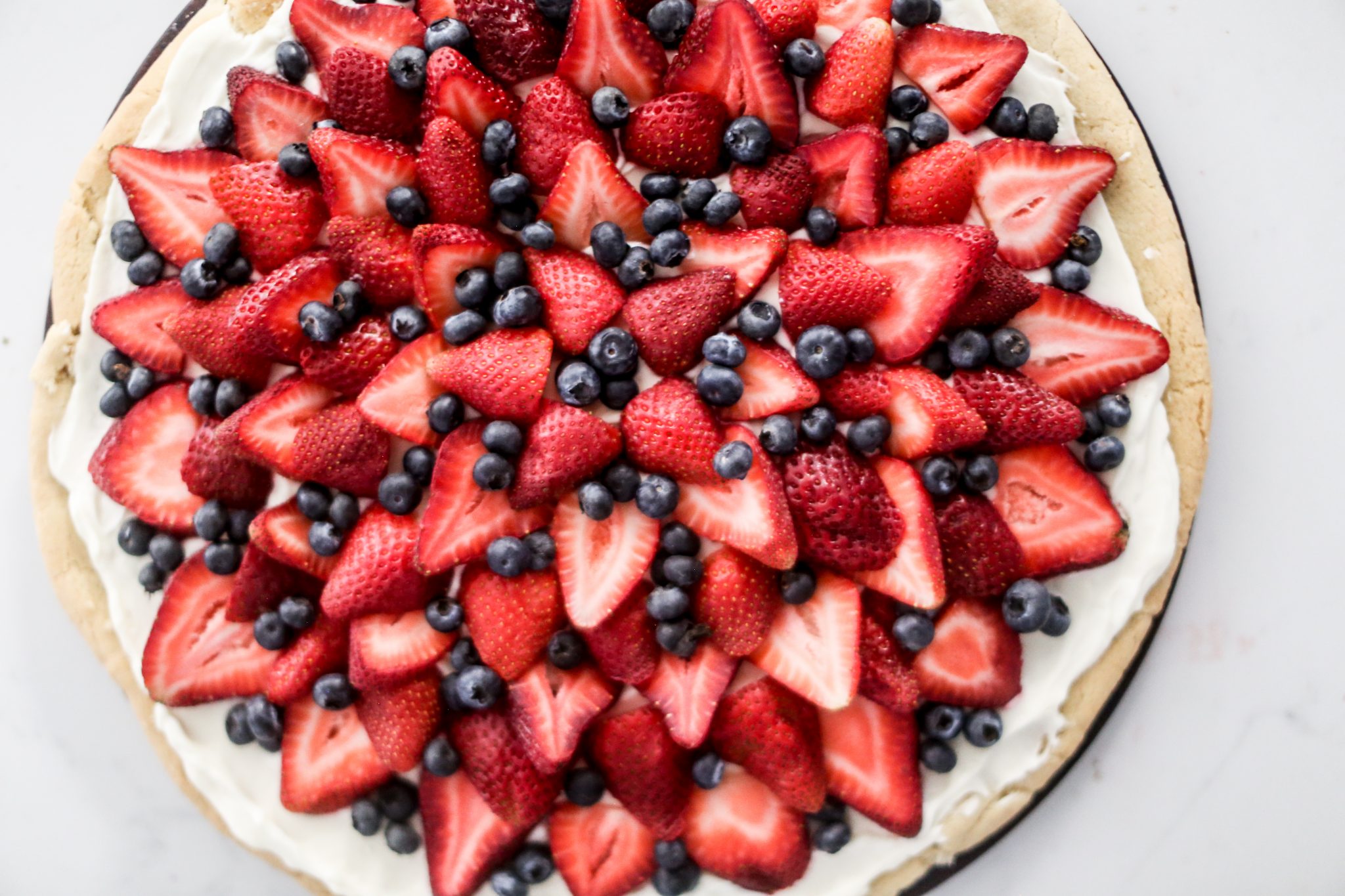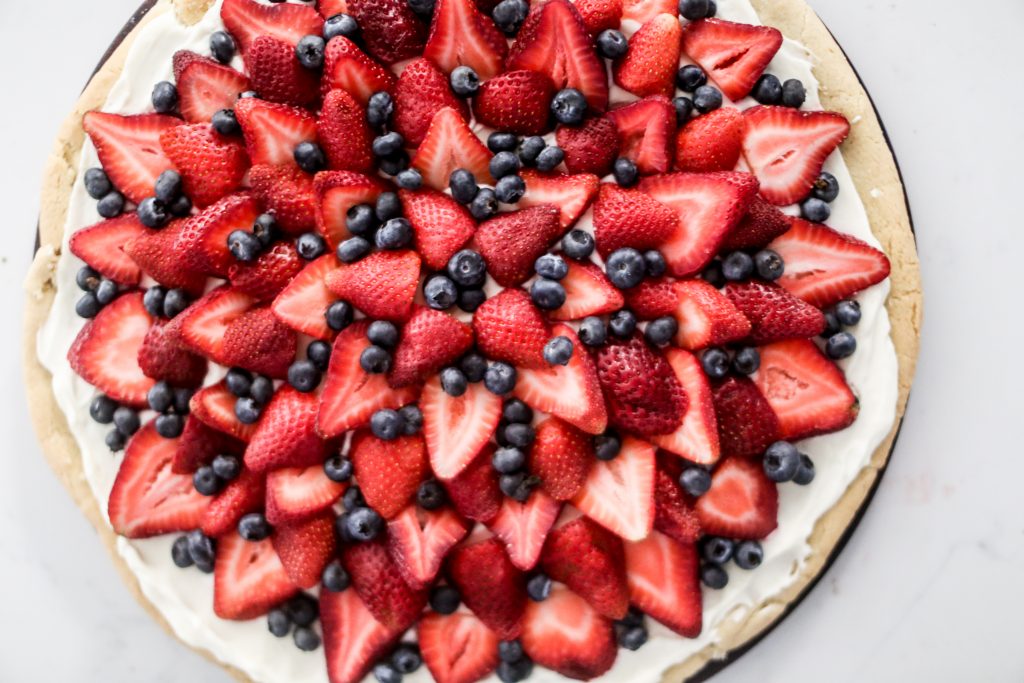 How Do I store a Fruit Pizza?
It's easy. In the refrigerator! You can keep in the fridge for up to 3 days after you serve it. Make sure you cover it up with foil or you can pre-slice it to make storing a bit easier. Either way it must be covered up.
More of my Favorite Strawberry Desserts
Easy Strawberry Shortcake
Strawberry Pretzel Salad
Homemade Strawberry Ice Cream
Strawberry Cream-Cheese Cake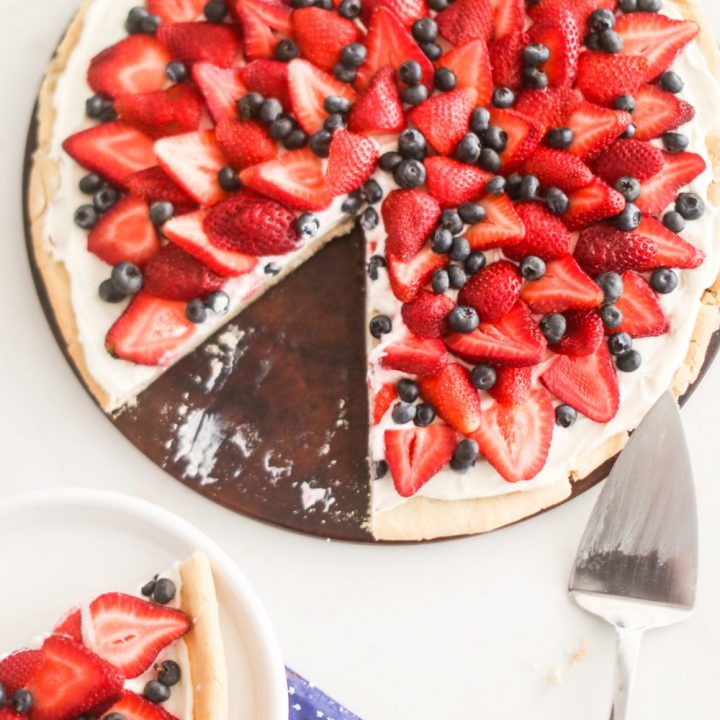 Red, White and Blue Fruit Pizza Recipe
Additional Time:
30 minutes
Total Time:
1 hour
20 minutes
A patriotic dessert perfect for Memorial Day and Fourth of July. This delicious Red, White and Blue Fruit Pizza Recipe is topped with fresh fruit on top of a yummy sugar cookie crust.
Ingredients
1 package of refrigerated sugar cookie dough
1 package (8 oz) cream cheese, softened
1/3 cup sugar
1 teaspoon vanilla
2 Tablespoons cream or milk
1/2 teaspoon of fresh lemon juice
Fresh Strawberries
Fresh Blueberries
Instructions
Preheat oven to 350°F
Grease a 12-inch pizza pan. Remove chilled cookie dough from the refrigerator and press onto the pizza pan in an even flat circle. Leave a 1/2 inch edge around to make room for spreading.
Put it back in the refrigerator for about 15 minutes. This prevents the cookie dough from spreading too much when it bakes.
Bake for 18-20 minutes or until the edges are very lightly browned. Overbaking will make a hard crust.
Allow crust to cool completely before decorating.
Mix the Cream Cheese Frosting: In a medium bowl using a handheld or stand mixer beat the cream cheese on medium speed until smooth, about 2 minutes. Add the sugar and 1 tbsp of cream. Beat for 2 minutes. Add the vanilla , lemon juice and the other 1 tbsp cream. Beat for 3 minutes. Spread in a thick layer over the cooled sugar cookie crust. Decorate with cut fruit.
Cut into slices and serve. Leftovers keep well in the refrigerator for up to 3 days.
Notes
Feel free to use different types of fruit on the top of the pizza. Raspberries, kiwi, orange slices and even mangos are all great alternatives.
Your favorite Homemade Sugar Cookie Recipe is also a great alternative for store bought sugar cookie mix.