Authentic Puerto Rican Beans Recipe: Habichuelas Guisadas
This post is sponsored and may contain affiliate links, please read my disclosure policy.
One of the things I love about Reggie is how rich his Puerto Rican culture is. The food, the music, the island…all of it has flavor. It's always been so important for me to have dishes on rotation that represent both Puerto Rico and my own black culture as we raise our family! So when the kids grow up they will love mamas bustin southern mac and cheese just as much as they love these beans and all the other mouth watering dishes from Puerto Rico.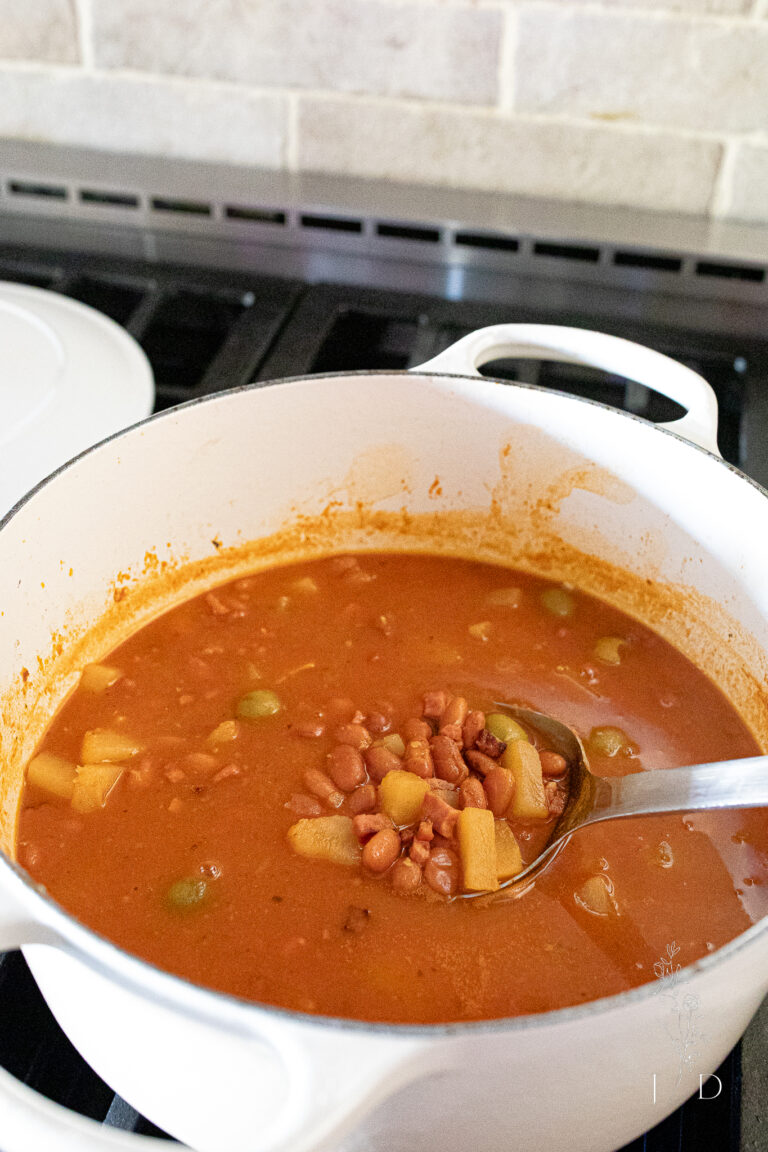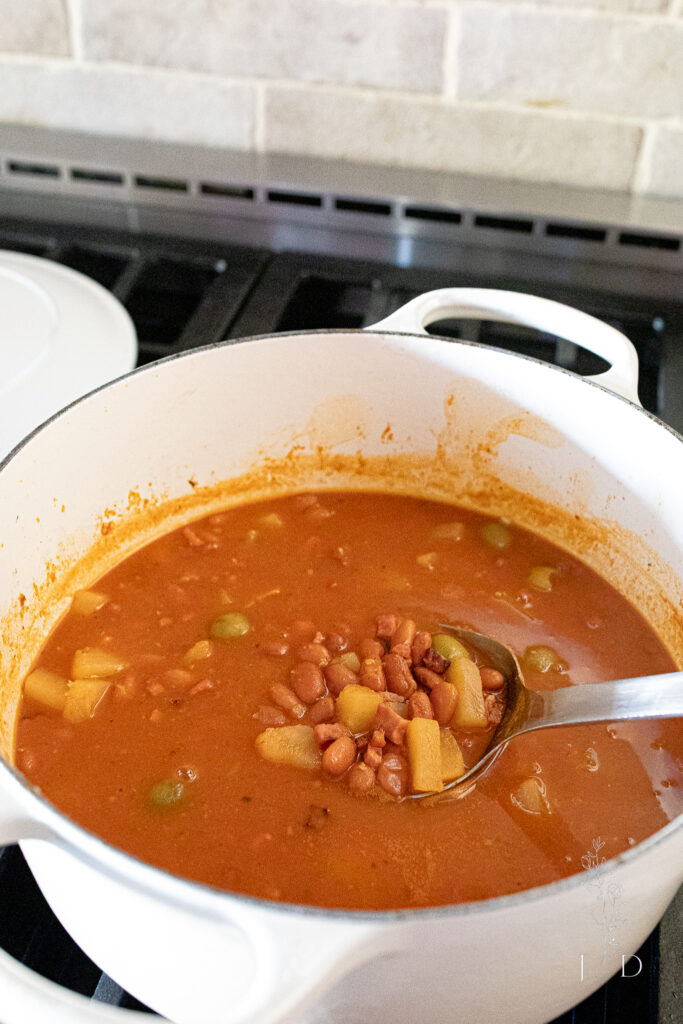 I'm lucky enough to have some great cooks to look up to on Reggie's side of the family. His mom and aunt are both from Puerto Rico but his mom makes the most authentic Puerto Rican food while his aunt makes more Cuban dishes. Reggie's grandfather was from Cuba and his grandmother was from Spain, she was also an amazing cook.
Either way, they both can COOK so I know how things should taste when it's all said and done.
This habichuelas guisadas recipe is a savory dish best served with rice. White rice, yellow rice, or of course any type of Puerto Rican rice. I used Pinto bean in this recipe and homemade sofrito that Reggie's aunt brings from Puerto Rico each time she visits us here in Arizona. It's AMAZING! I just keep it frozen until I need it. You can smell all the fresh herbs and spices when you open it up. SOOOOO good.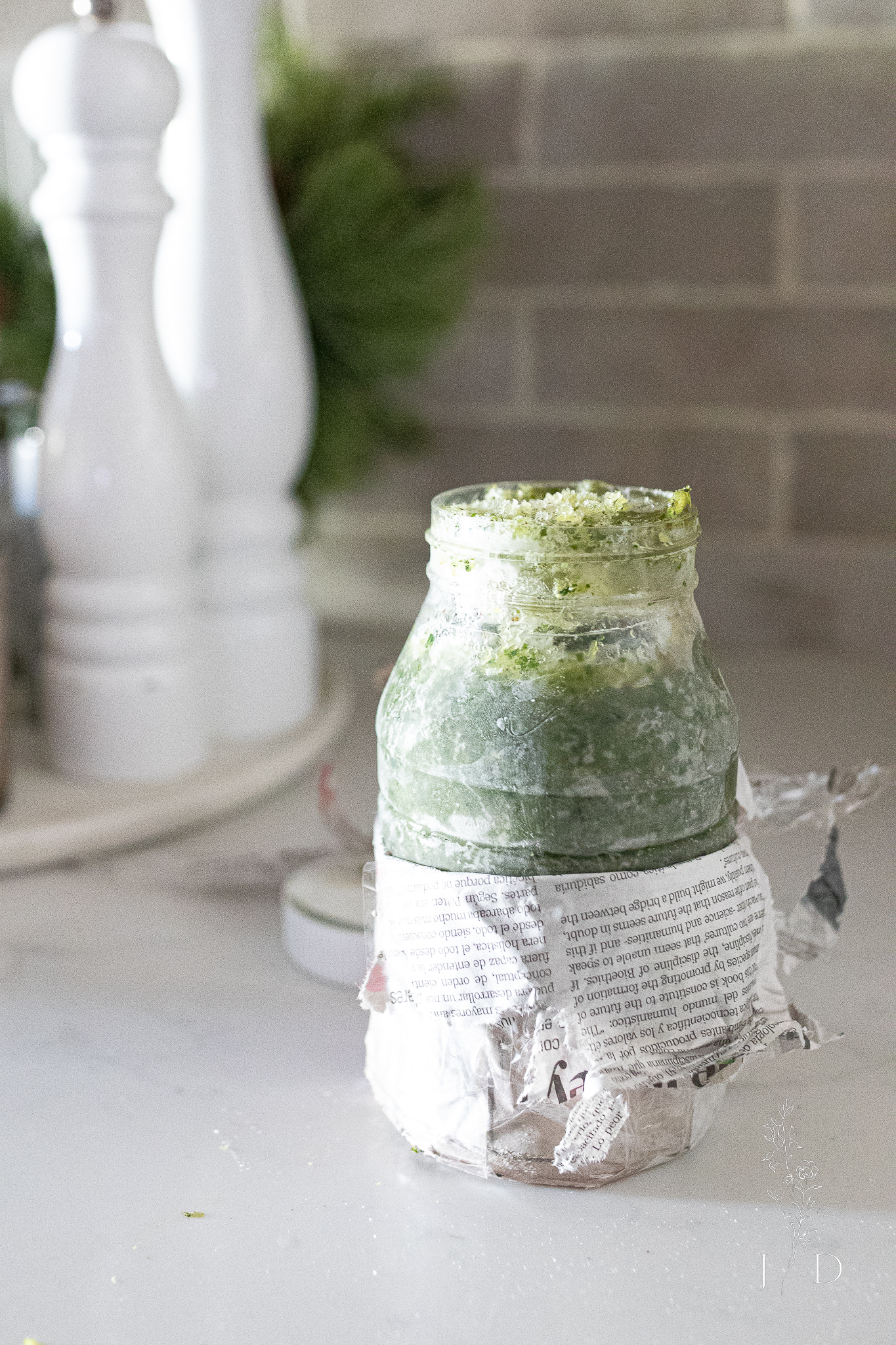 Puerto Rican Sofrito usually includes onions, fresh cilantro, garlic, red and green bell pepper, capers, black pepper, oregano, and other ingredients. It's the base for many Puerto Rican dishes.
You can also use pink beans, red kidney beans, black beans, pigeon peas instead of pinto beans.
You can purchase sofrito from the grocery store. Goya sells it under their brand.
I used a large dutch oven BUT don't tell his mom or aunt. I don't think I've ever seen them cook without using the essential caldero set hahaa! It's legit in every Puerto Rican household. I remember Reggie's aunt came to visit one time and she bought me a set to keep at my house for when she comes to cook lol.
I also love using the Goya brand whenever I can because that's what I see them use too. They have just about EVERYTHING you need even for this recipe if you can find it in the store.
What you'll need:
Olive Oil
Pinto Beans
Sofrito Homemade or Store Bought
Tomato Sauce
Sazon Season Seasoning
Diced potato
Olives

here
How to Make Puerto Rican Style Beans
Drizzle the olive oil one the bottom of a deep dutch oven or caldero.
Turn to medium heat and heat oil.
Add the diced ham and cook for about 5 minutes. Add the sofrito then saute until well combined. I know it's already smelling so great in your home right now!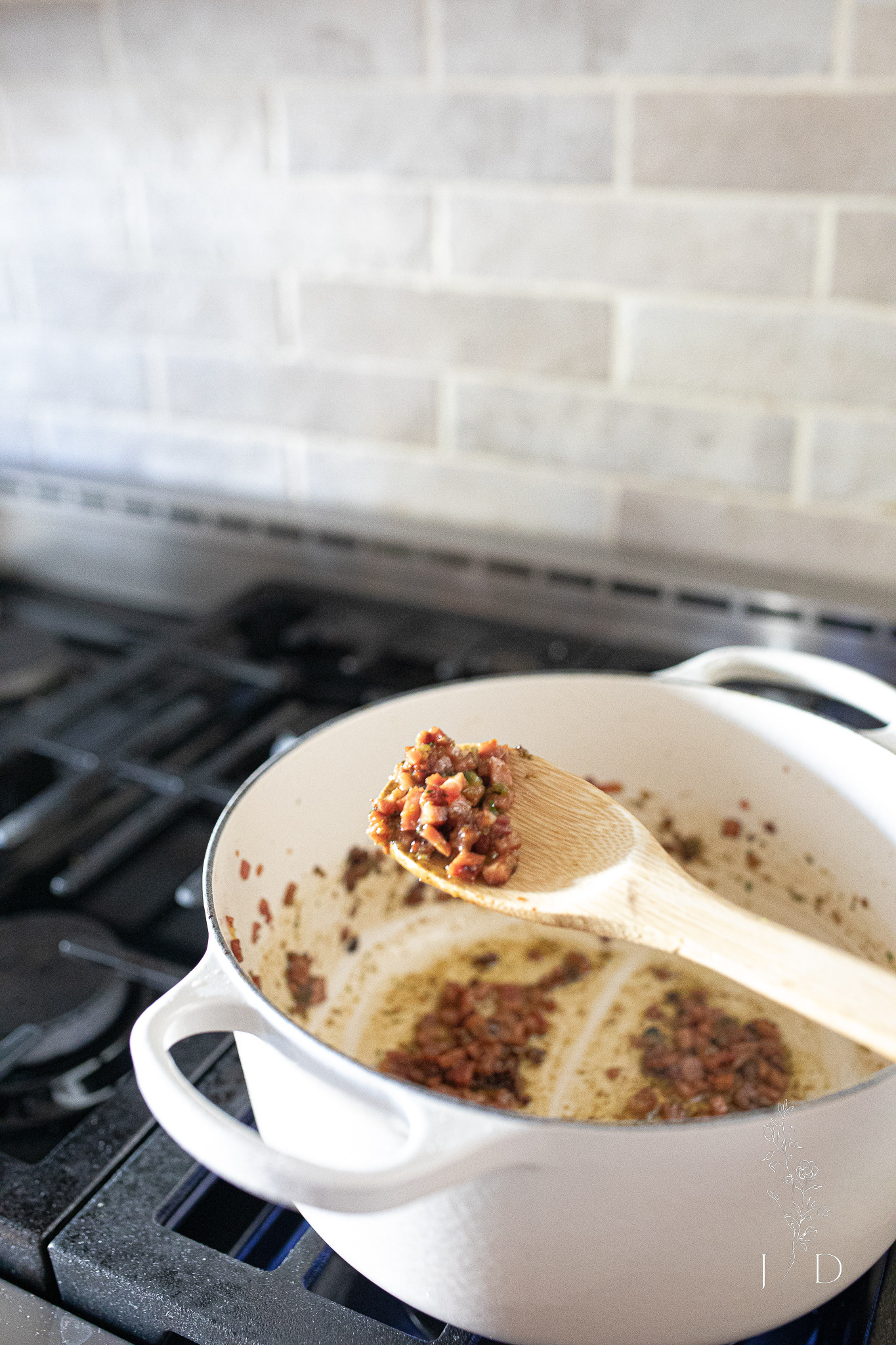 Next, add the tomato sauce, packets of sazon season and green olives. Stir for 2 minutes.
Add the beans, potatoes, beans, and water.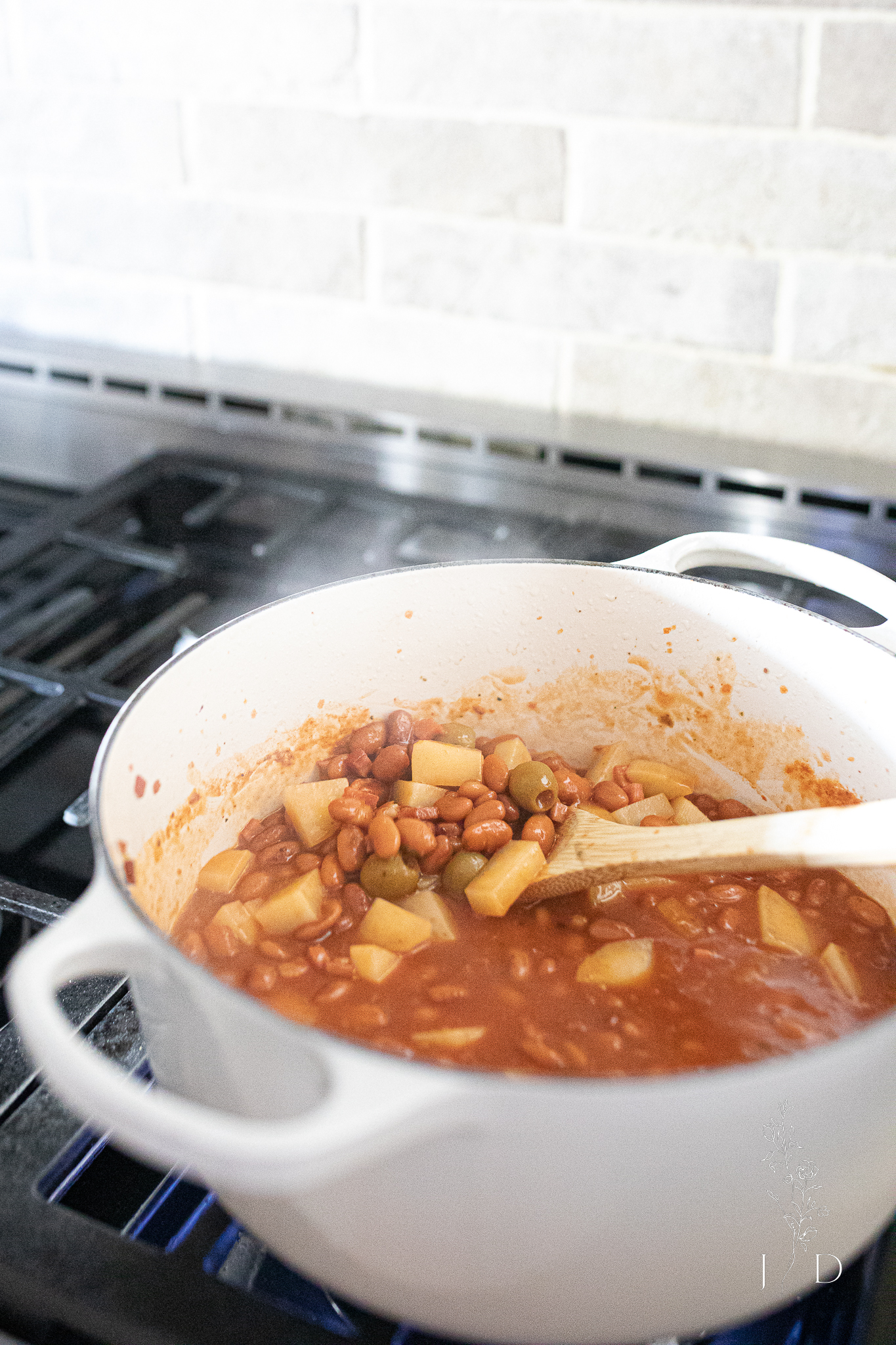 Turn heat to medium-high and heat until it comes to a boil. Cover with a lid and turn to low heat.
Cook for 20-30 minutes or until potatoes and beans are tender.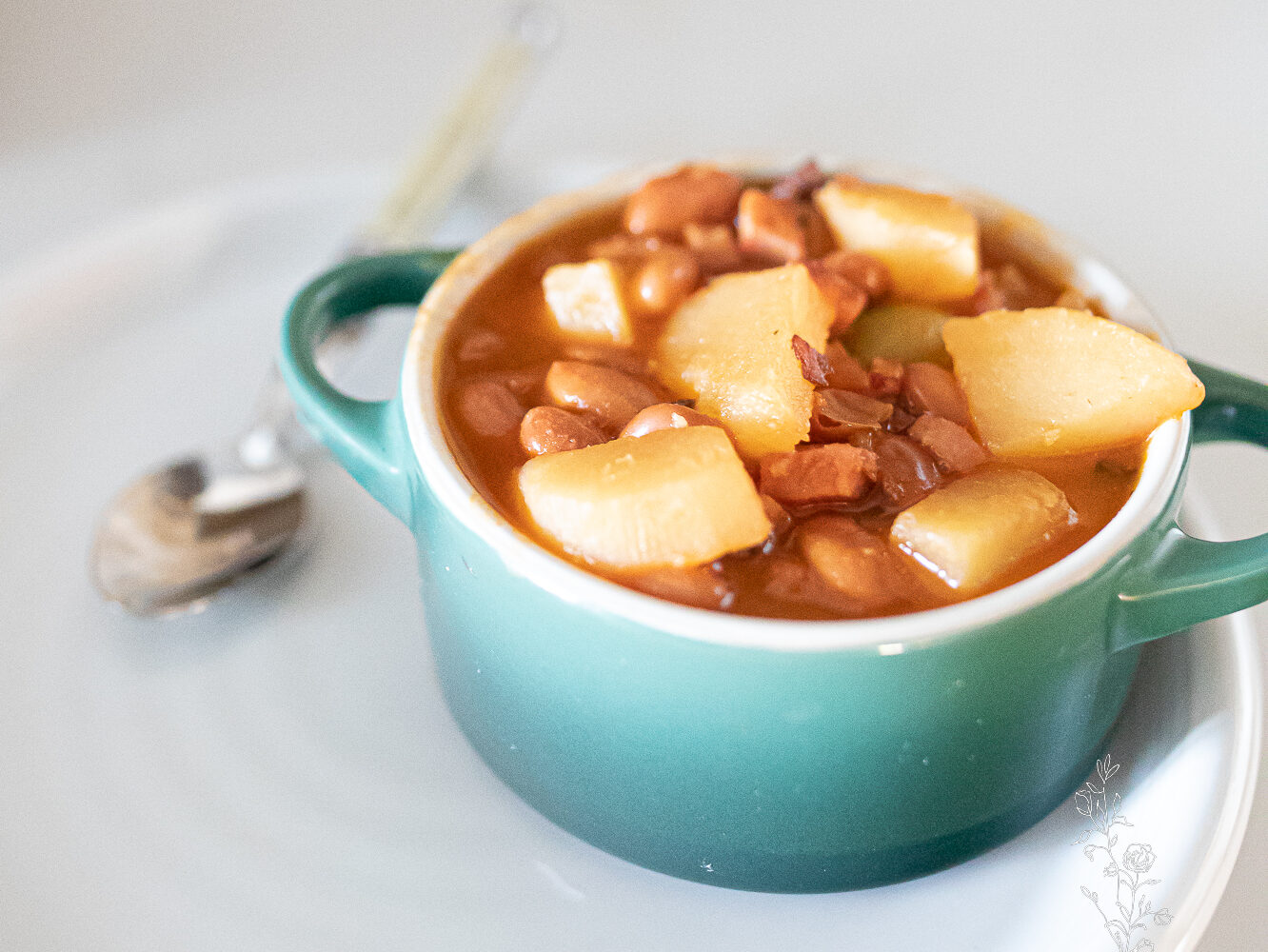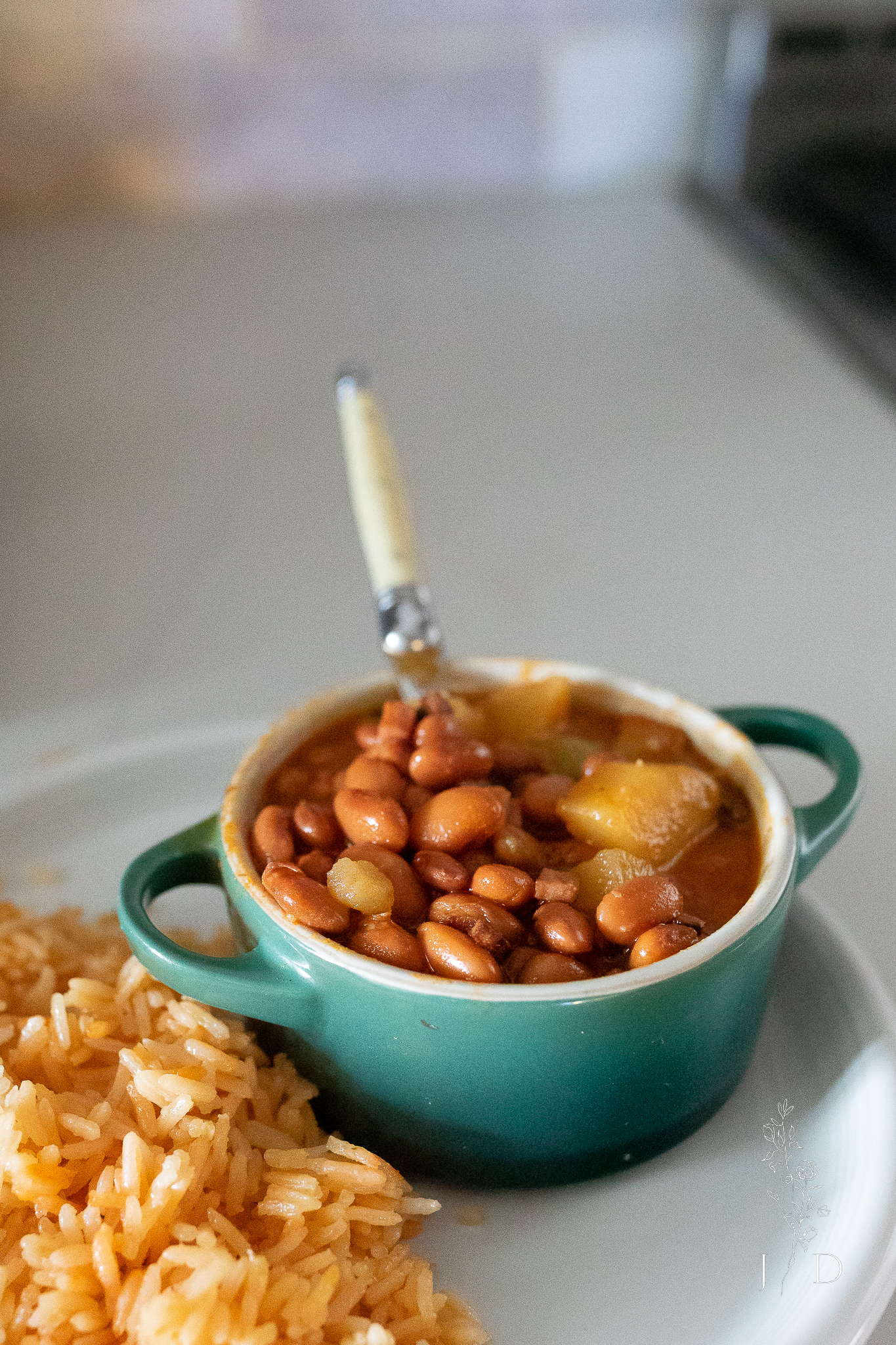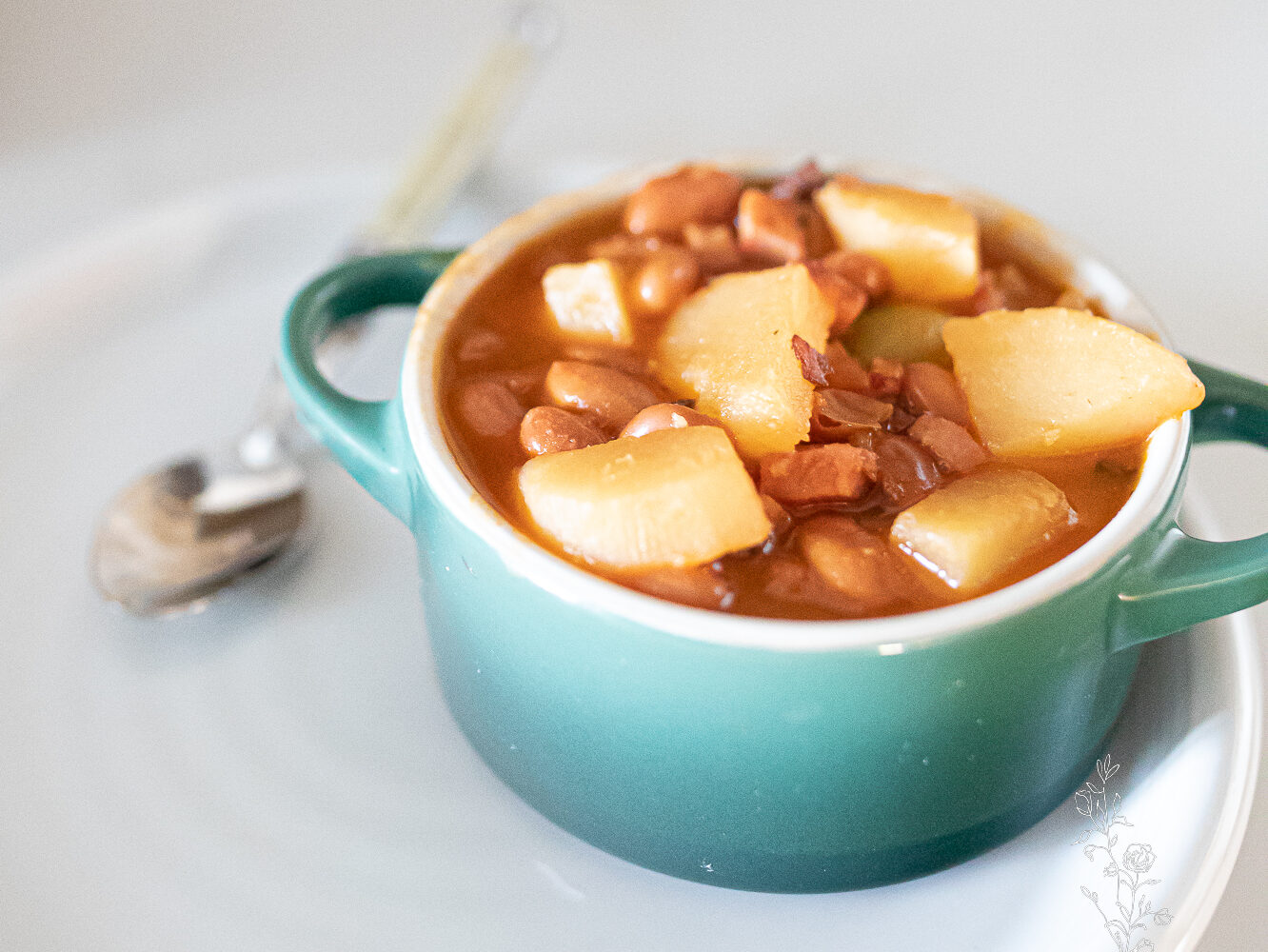 Authentic Puerto Rican Beans: Habichuelas Guisadas
Savory Puerto Rican beans that are full of flavor. Serve with rice and chicken to make a complete meal.
Ingredients
2 tablespoons olive oil
2 oz. of diced ham cubes
2 tablespoons of sofrito
1 can tomato sauce (8oz.)
2 packets sazón
8 olives (pimiento stuffed)
2 cans pinto beans (15 0z)
2 cubed russet potatoes
1 cup of water
Instructions
Drizzle the oil on the bottom of the dutch oven. Warm to medium heat. Add the diced ham. Cook for 5 minutes.
Add the sofrito and cook for an additional 5 minutes. Next add the tomato sauce, sazon and olives.
Stir well for 3-5 minutes.
Add the beans, potatoes, water. Stir until well combined.
Bring everything to a boil.
Cover with a lid and turn the beans to low.
Cook for 20-30 minutes or until beans and potatoes are tender.
Notes
You can purchase store-bought Sofrito from Goya.
Nutrition Information:
Yield:

10
Serving Size:

1
Amount Per Serving:
Calories:

119
Total Fat:

3g
Saturated Fat:

0g
Trans Fat:

0g
Unsaturated Fat:

1g
Cholesterol:

3mg
Sodium:

359mg
Carbohydrates:

19g
Fiber:

5g
Sugar:

2g
Protein:

6g