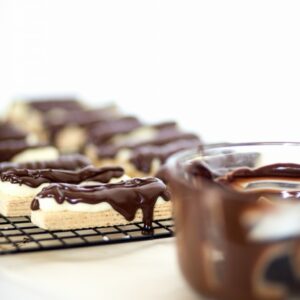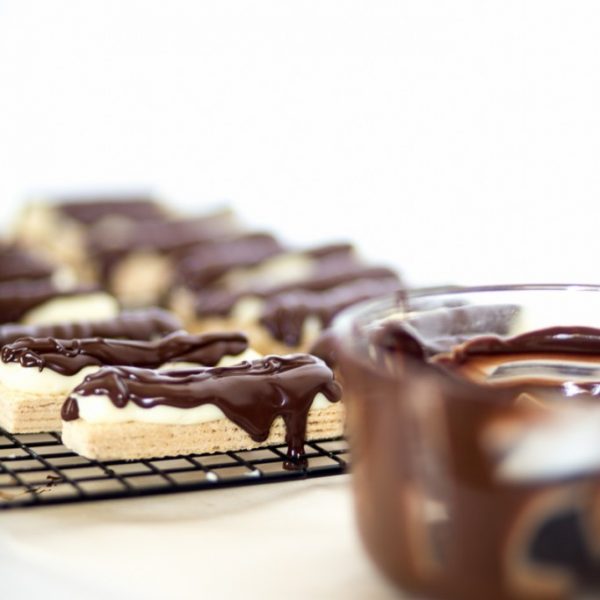 Print Recipe
No Bake Cheesecake Candy Bars
A delicious no bake treat with cheesecake, wafer and dark chocolate in every bite! perfect for those day when you don't want to turn on the oven!
Jello No Bake Cheesecake

Chilled and Prepared

2

20 count Vanilla wafers

2

Bags Nestle Toll House Dark Chocolate Chips

Melted

Tools: 2 Pastry Bags

Spatulas, Parchment Paper, Cooling Grid, Microwave Bowl
Take the prepared no bake cheesecake and chill it for one hour.

Place the wafers onto the cooling sheet.

Place the chilled and prepared cheese cake into a pastry bag and snip the bottom. It should be as wide as the width of the wafer.

Pipe a small amount of cheesecake onto each bar. ( See photo above)

Place the bars into the freezer for 15-20 minutes or until firm.

Melt the chocolate

Remove the bars from the freezer.

Place the melted chocolate into a pastry bag. Snip the bag to allow for flow onto the bars. BE PREPARED FOR FLOW RIGHT AWAY!

Flow the chocolate over each bar. Cover completely or partial.

Place in fridge or freezer until chocolate is harden.

Serve immediately
Melting the Chocolate
Place the chocolate chips in a microwave safe bowl.

Set the microwave to 50 percent power and melt the chocolate for 1 minute while checking on the chocolate every 10-15 seconds.

Remove the bowl from the microwave and stir the chocolate with a dry rubber spatula until melted.