This year I decided to choose a word of the year. It's a great alternative to a list of resolutions:0) The idea behind it is that you choose ONE word to focus on. Meaning that no matter what you do, your focus should come back to this one word.
Mine this year is….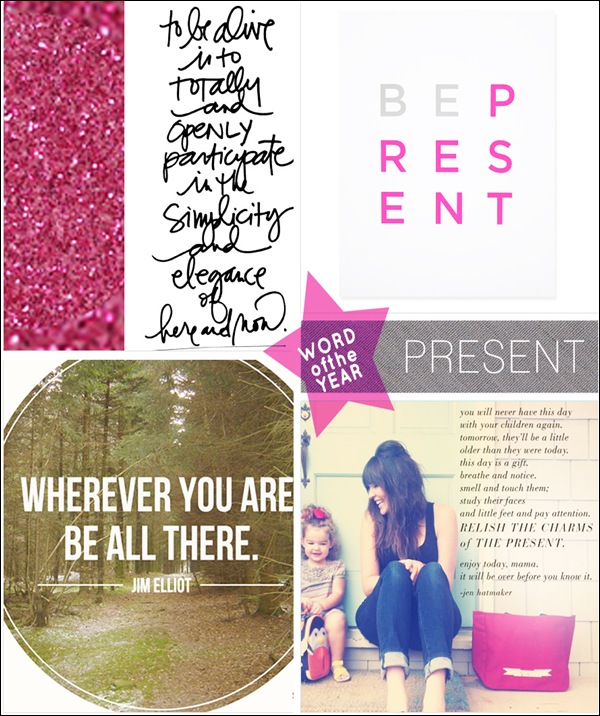 source: tobealive/bepresentprint/whereveryouare/relishthecharms
To be present in everything I'm doing.

Most women are masters at multi-tasking and for good reason. Holding a baby on your hip, while entering tax forms on the computer and keeping an eye on your water color painting kids, is something that we have grown accustom too. Without those mad skills, a lot of things around the house just would get done.
But with something's, actually most things, they need our full attention. Sitting in the family room watching a movie with your kids while, (insert other task here) is not the same as cuddling with your babies, laughing, and eating popcorn while watching Brave for the 13 time.
Even when it comes to this here blog, it hardly ever has my FULL attention. I'm usually holding a baby, or randomly decorating the space around it, while I'm busting out a post.
You see, slowing down, taking it in, stopping to smell the roses doesn't mean your defeated. It doesn't make you weak. It makes you smarter and more joyful. Why? Well because memories are the things that the human soul lives for. Those little moments of reference you need down the road that brings a smile to your face.
Will I remember all the laughs, smells, smirks, tears and joys of parenthood?

Will I remember the hard work, long hours, creative highs,pure passion and excitement of blogging?

Will I remember how it feels to walk around a grocery store and think of something romantic for my marriage, just because?

Will I remember how great it was to help a friend because I was actually present enough to know that they needed us?
I want to remember. So this year, I will be present. No matter what I'm doing or where I am. I will be there!
What's your word this year? Share with us!