A few weeks ago I had a chance to experience Scottsdale, AZ with my kids and hubby.  It was spring break so I decided to take them out for the day and head about 45 minutes north of us and have a fun day.
If you're a mother you know it's always exciting to get the kids out and do some new, FUN things. On this particular day it was 90 degrees so we decided to keep our activities inside. But as I was planning our little day trip I was SO surprised to find out exactly how many things there was to do in Scottsdale with the kids. I'm an AZ native and I guess as I transitioned into motherhood I never really took the time to explore other cities:0) But now that the kids are a little older, potty trained, and my luggage is lighter, it was a perfect time to explore.
Our first stop was an indoor play gym called The Play Factory at Desert Ridge Market Place. What and awesome concept, especially as the weather out here starts to warm up! An indoor air conditioned play gym can be a lifesaver. For 25.00 all three of the kids got to play for as long as the wanted. They even had a place to eat and enjoy snacks, with a full service snack bar. I also love the fact that there is free WIFI so if mama needs to get some work done she can!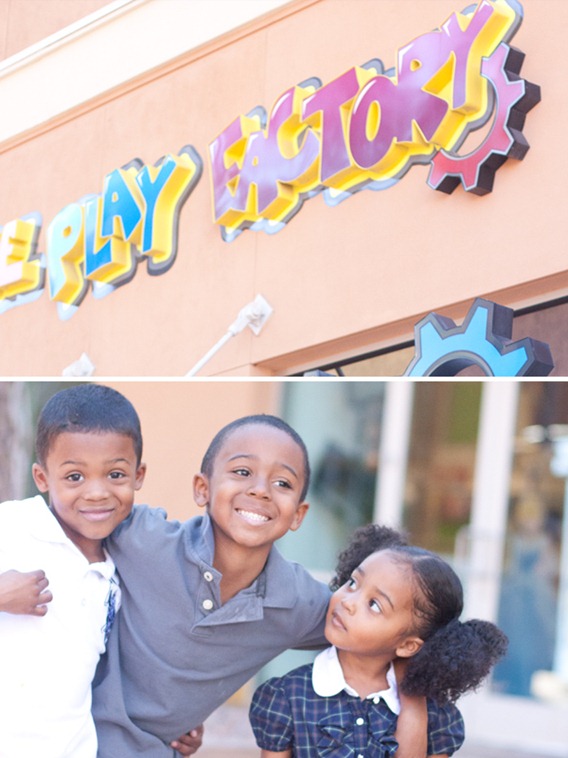 photo via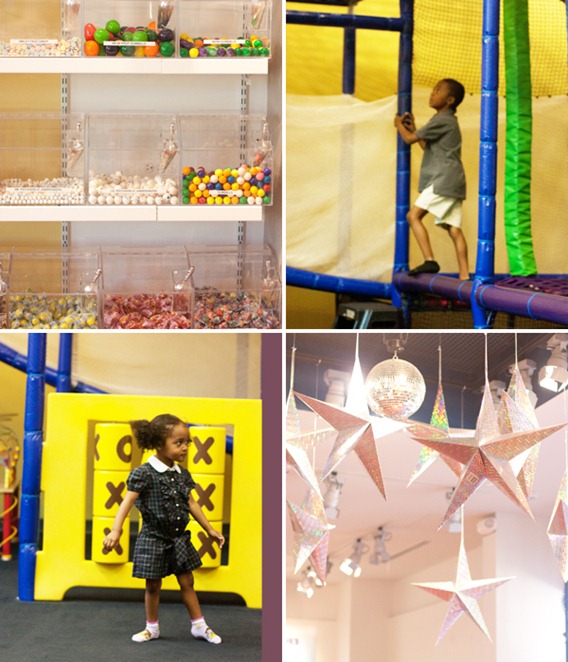 My kids even tried the rock climbing wall:0) Which I thought was AWESOME.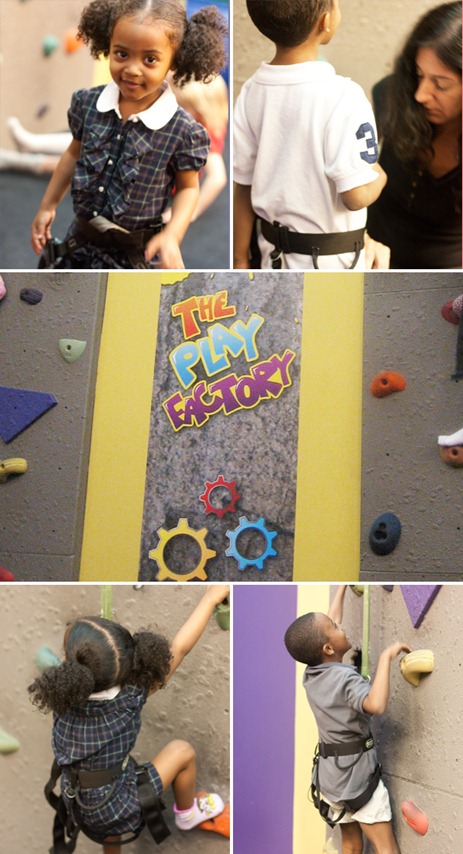 We also had a blast at As You Wish,a pottery place for kids and adult to paint their own pottery! My kids are 6,5 and 3 and they were the perfect ages to really do it themselves with a little guidance from me.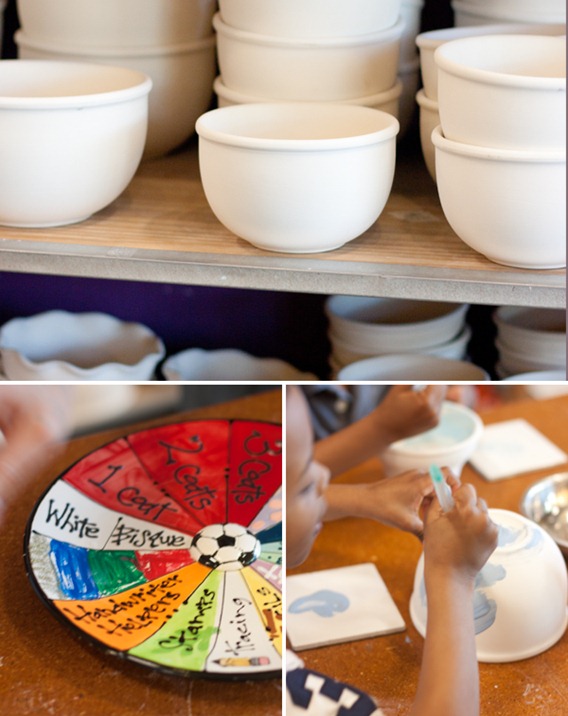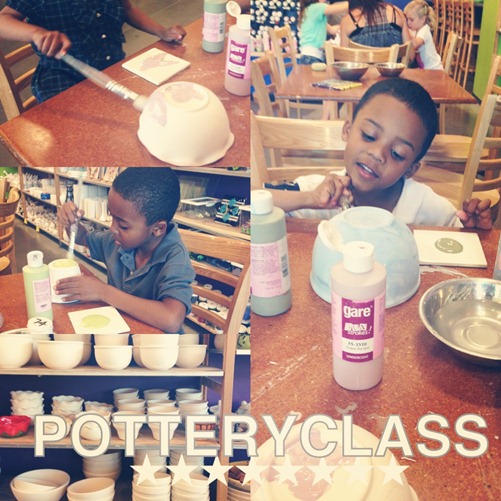 They had a really good time and the atmosphere was really laid back and creative. My oldest recreated an ice-cream bowl they had on display and did a great job! The only con is that the turn around is three days, so that means you have to come back and pick it up. But we happened to be in the neighborhood that day:0)
Before we made the trip back home, I promised the kids some ice cream, so we made our way to a delicious little shop, SWEET REPUBLIC. Voted best of Phoenix for it's use of "all-natural ingredients and distinctive recipes handcrafted by real people passionate about sharing the pleasure of extraordinary ice cream."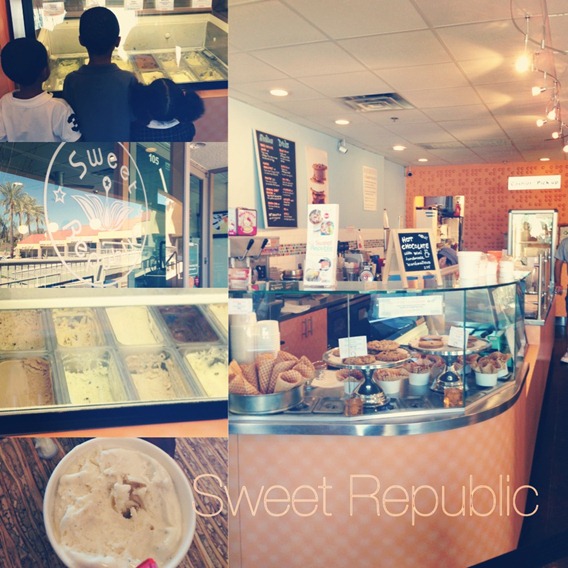 They have some yummy grown up flavors like Banana Foster, Early Grey Tea and Hot Chocolate. But plenty classics for the kids too! I stuck with the salted caramel while this kids indulged in madagascar vanilla.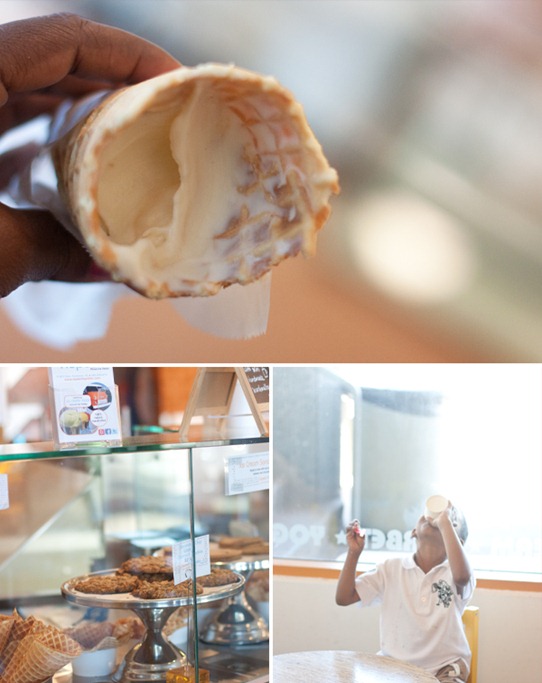 …………………………………………………………………………………………………..
My husband and I also got a chance to sneak away with some friends and visit a steakhouse called Mastro's. We are steak LOVERS and  big fans of Flemings. But one of my friends said this was the best steak she EVER had and since she has great taste, we decided to check it out.
Mastro's is actually a Scottsdale grown steakhouse that now has location in posh Beverly Hills and in  Las Vegas and I can definitely see why. Few things on earth taste like heaven and if you've ever bitten into a really good steak then you know what I'm talking about:0)
My husband is very serious about his and ordered a 33oz bone in rib-eye, grass feed, medium rare…….
I stuck with my go to which is always a petite filet, butterflied and well done:0) If you every get to try the complimentary béarnaise sauce, please do it! It's soooo good.
Oh, and even though I didn't try it, everyone was raving about the lobster mashed potatoes…..( forgive the iphone photos! It was super dark and I couldn't turn on the flash)
Oh, friends it was SO yummy. Have you ever been to Mastros?
I also had a chance to visit some of my favorite home décor stores, so look out for that post soon!
For more information about touring Scottsdale Arizona visit Experience Scottsdale. You can also visit Scottsdale Convention & Visitors Bureau's Website,Facebook, Twitter and YouTube pages!
Thank you to City of Scottsdale and Scottsdale Convention for providing me with a gift card to experience this wonderful city. All opinions are %100 mine,