Thank you to Yahoo! Mail for sponsoring this post about staying connected. I was selected for this sponsorship by the Clever Girls Collective, which endorses Blog With Integrity, as I do.
I love HIM. He Loves ME
and together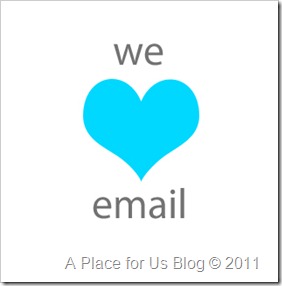 It's been that way since day one:0) Reggie and I had a pretty fun courtship. We were SO young 18 and 19.  For two years we fell HARD in love, kissed a lot and argued even more;0) During our hours apart during college we would write each other the cutest little love notes and most of those love notes were via email. I've kept and filed each one of those emails from him when were were dating. I love how just one sentence can immediately take me back in time. The scents and the feelings I had rush over me and it almost feels like I'm right back in that moment. It's like a dream, during the day:0) 
This one makes me think about how funny he was and STILL is:0)  and it answered that question every girl has…" does he love me?" I think he does…lol!

Or this one he wrote in response to one I wrote:0) Crazy how the things that were written actually happened and we are living it right now! Emails predict the future!! lol 
excuse the language…we were young:0)  We always laugh about how gangsta his writing was…lol!

Seven years later we still communicate weekly through email. Back and fourth with simple I love you's, your amazing, how are you so awesome, I found this for the kids or why didn't you take out the trash…AGAIN:0) It's been apart of our lives and  is just one of the ways we  LOVE to communicate. Dropping a line in the middle of the day speaks to both of our love languages!
I love this little video about a couple saying I'm sorry over an email. Oh, done that too:0)
So what about you? DO you HEART email too?