The Home Depot Peel and Stick Paint Samples
This post is sponsored and may contain affiliate links, please read my disclosure policy.
Every now and then you come up with a genius idea that you know will just change the world. Ok, maybe not the entire world but the world as you know it. My world is God, my family and friends, and well making my house a home and sharing with you all. So one day as I was finishing a project in which I was sampling over 15 types of gray I thought " Gosh this would be so much easier if I could just stick paint samples to the wall and peel them away" Just like so many of you, it was just and idea. I have plenty of them hahah! But guess what, some people actually take those ideas and turn them into reality!
So when The Home Depot told me that they had partnered with Pinterest on some new new peel and stick paint samples, I was ALL in! I was like YES!! Someone finally made it easy for us to sample paint! Great job friends!
If you've already heard of this then BRAVO! You are already as excited as I am! But if you have not then your DIY and home project life just got easier.
How do you use peel and stick paint samples?
Well it's pretty easy! All you do is select options from HomeDepot.com. The Home Depot has made it easy to start your paint project by making premade boxes with up to six peel and stick paint samples for you to choose from! These colors are all poplar and the most used colors by folks just like you and me!
My box is call Trendy Colors, so this included some colors that are trending in the home right now. So gorgeous!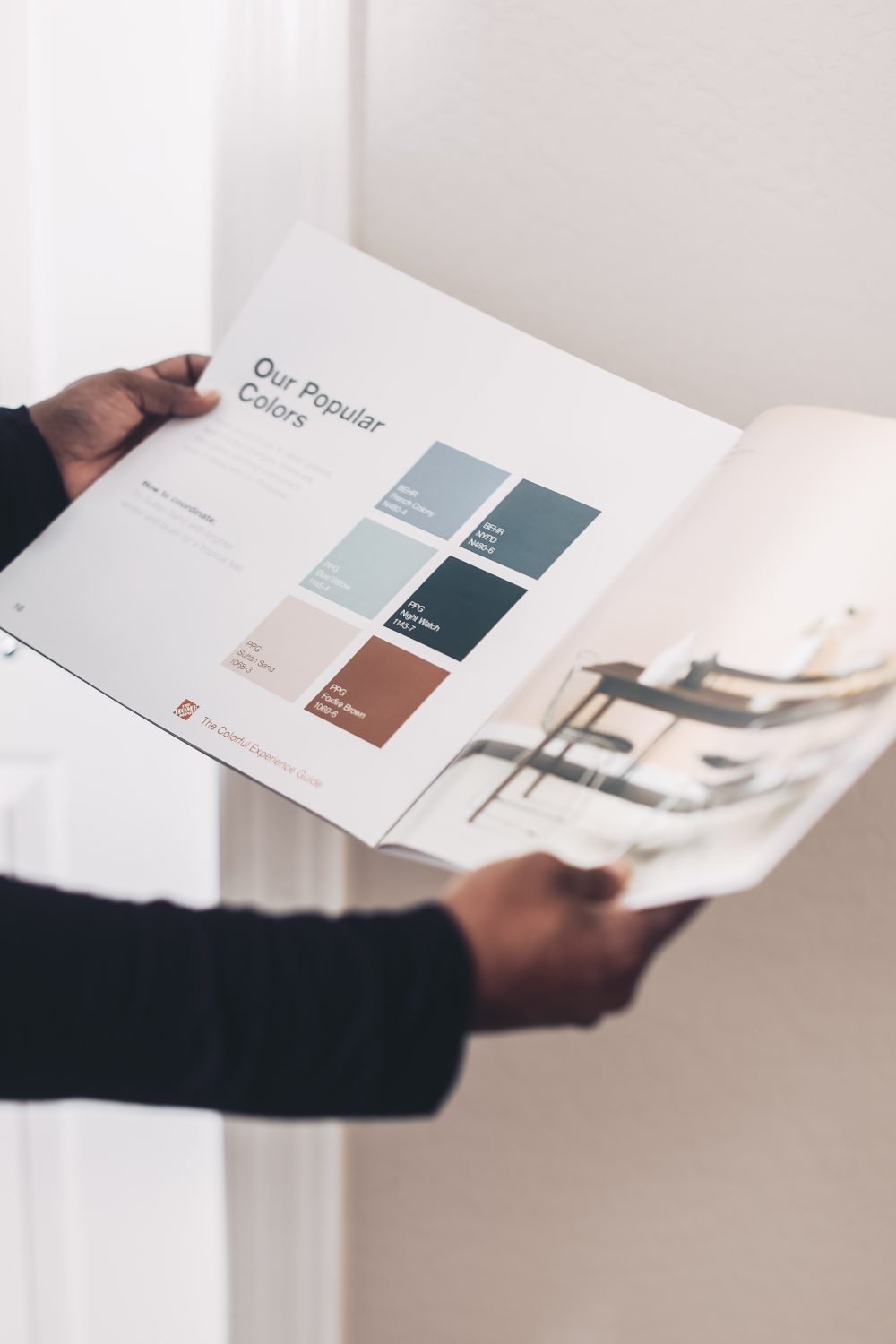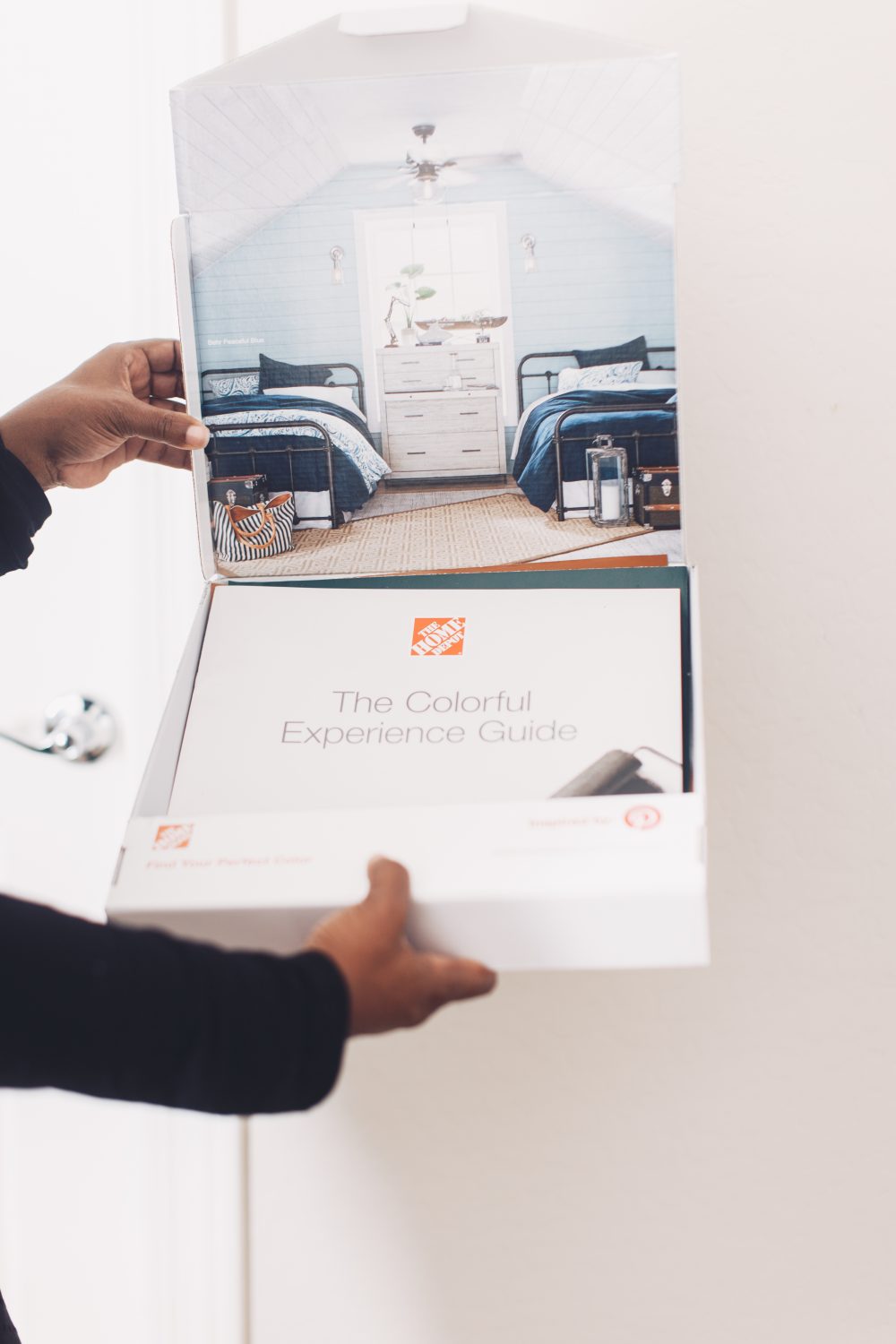 They also have samples boxes that include Whites, Neutrals, Blues, Greens, Cool Neutrals and more depending on your personal style or the mood you are looking to create in your room!
After that the box will arrive at your door and you'll be ready to sample!
First peel the sticker off the back of the lining.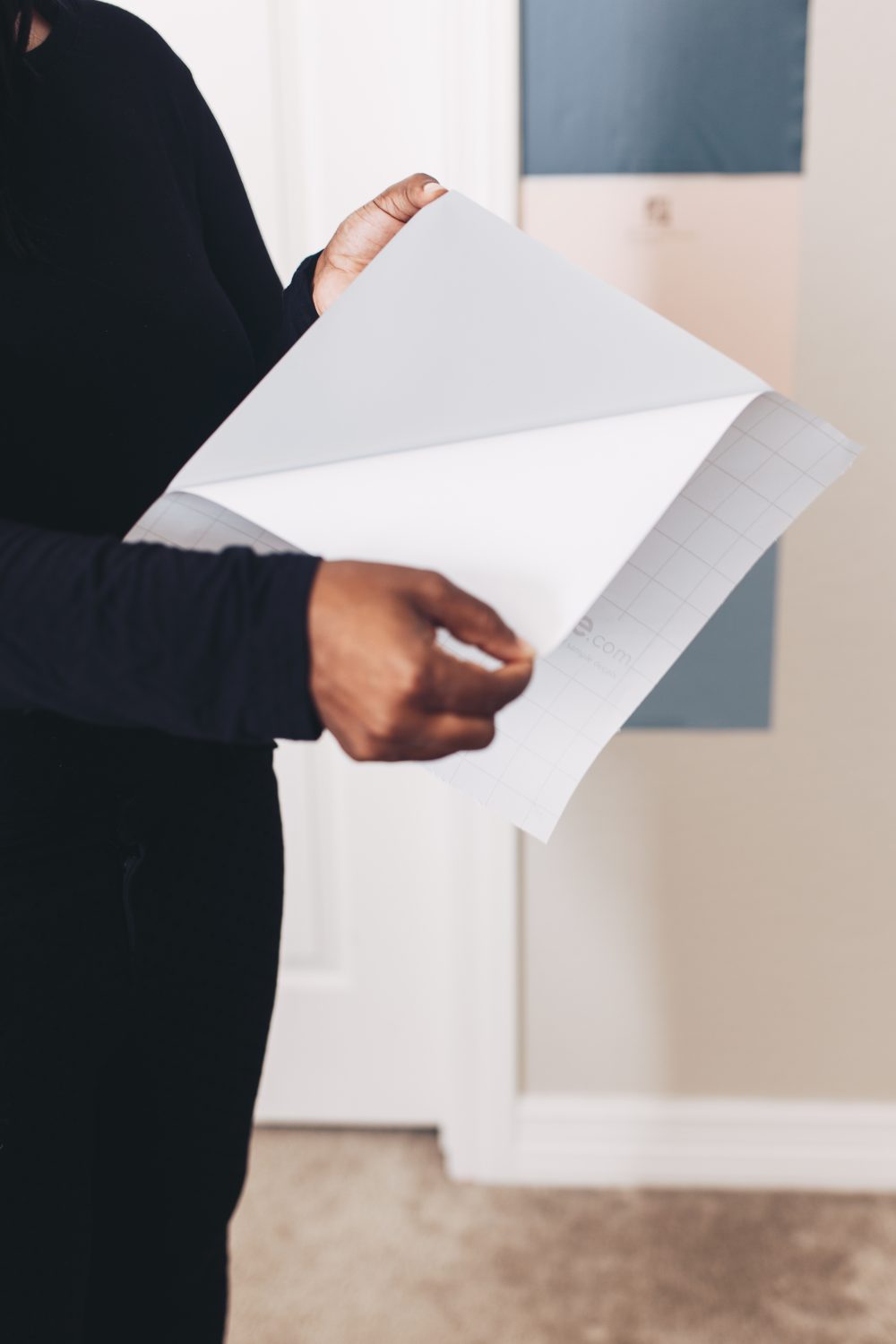 Save the back just in case the sample does not work out. You can reuse it again!
Then stick it to the wall! Use as many samples as you want! I love this because you can leave them up for days so you can see how the light might change the color. This helps you make a great choice when it comes to what color you want!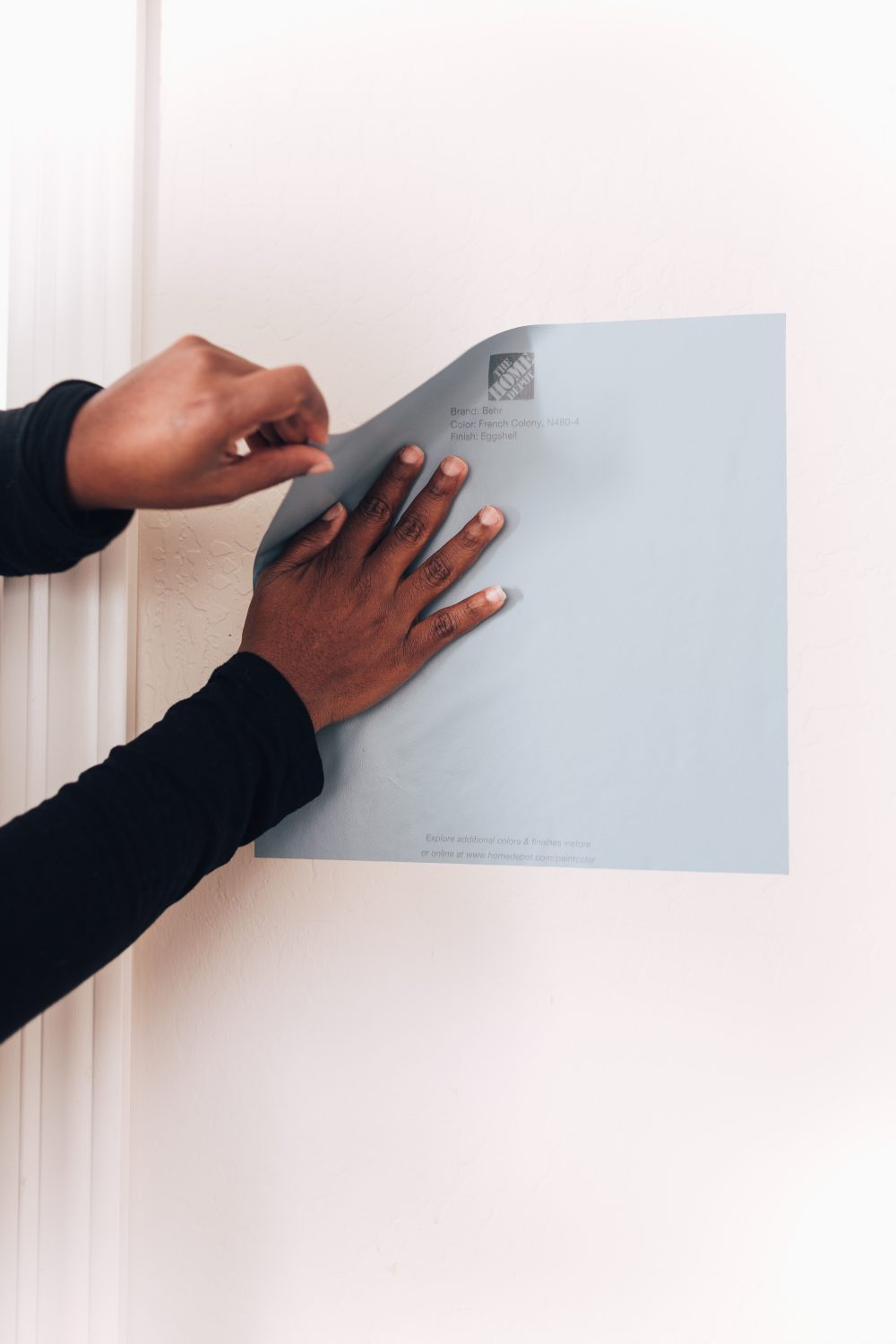 That's it! Ha! Quick and easy. Also there is NO MESS and NO CLEAN UP!!! These samples will not damage your walls. They simply peel right off.
Peel and Stick Paint Samples
We decided to use some of these samples to freshen up Livy's room! Our little one is about to be TEN years old this year! SO she is offically in her pre-teens. I know I know. For those who have been around for sometime, you have grown up with her! She was just a little baby when I first did her nursery!! But she is requesting somewhat of a more grown up room. Not to grown up, but just a bit more fun.
So we decide to try a new wall color. At first we were going to paint the entire room, but decided one accent wall would be good for now! If she still loves it a few months from now then we can do the entire room!
Of course we got out our trendy set of peel and stick paint colors from The Home Depot and started to narrow down some choices.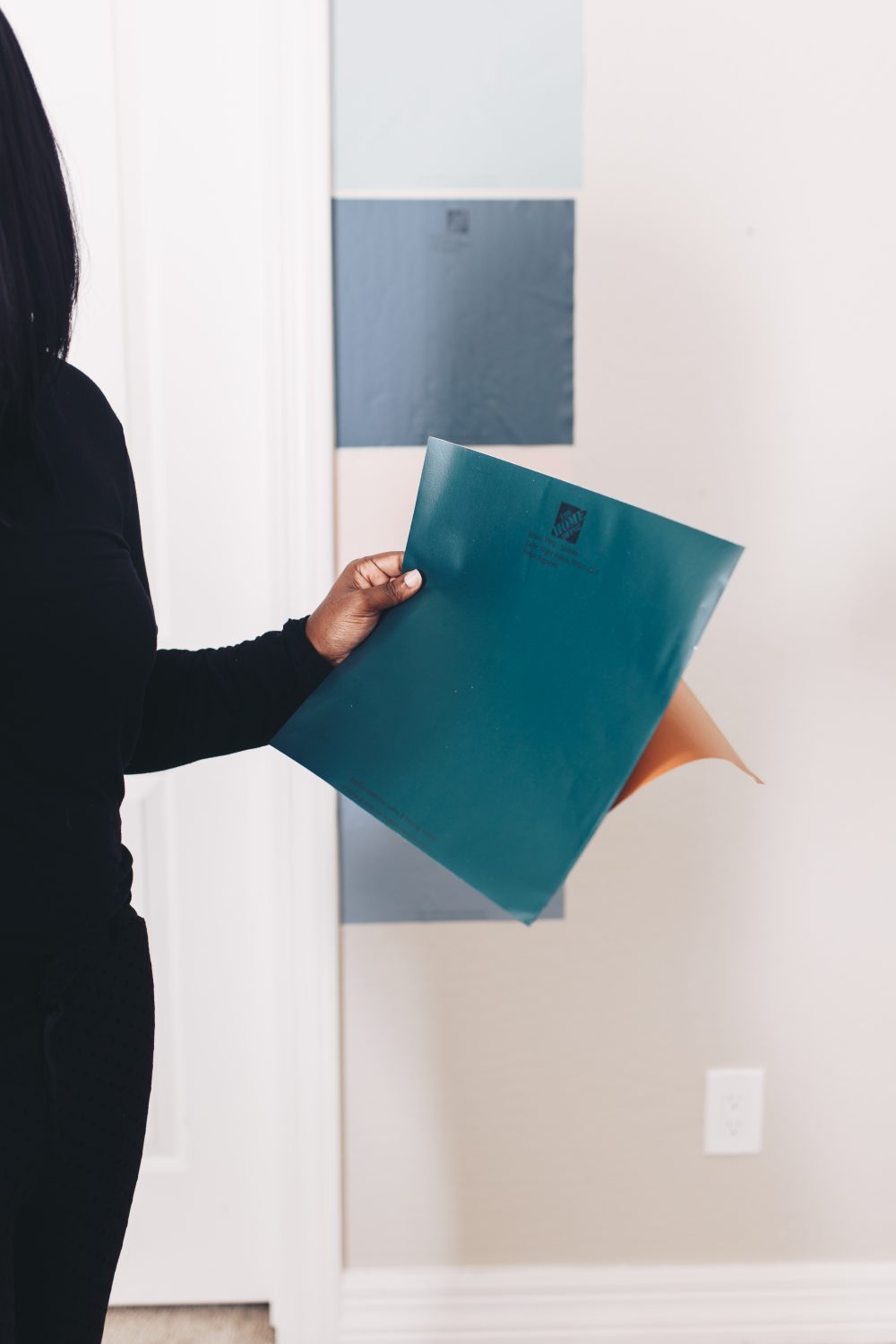 The trendy paint color sample kit includes French Colony, NYPD, Blue Willow, Night Watch, Sultan Sand, Foxfire Brown. Livy and I decided we still want to keep things bright and girly so we stuck with French Colony, Sultan Sand, Blue Willow and NYPD!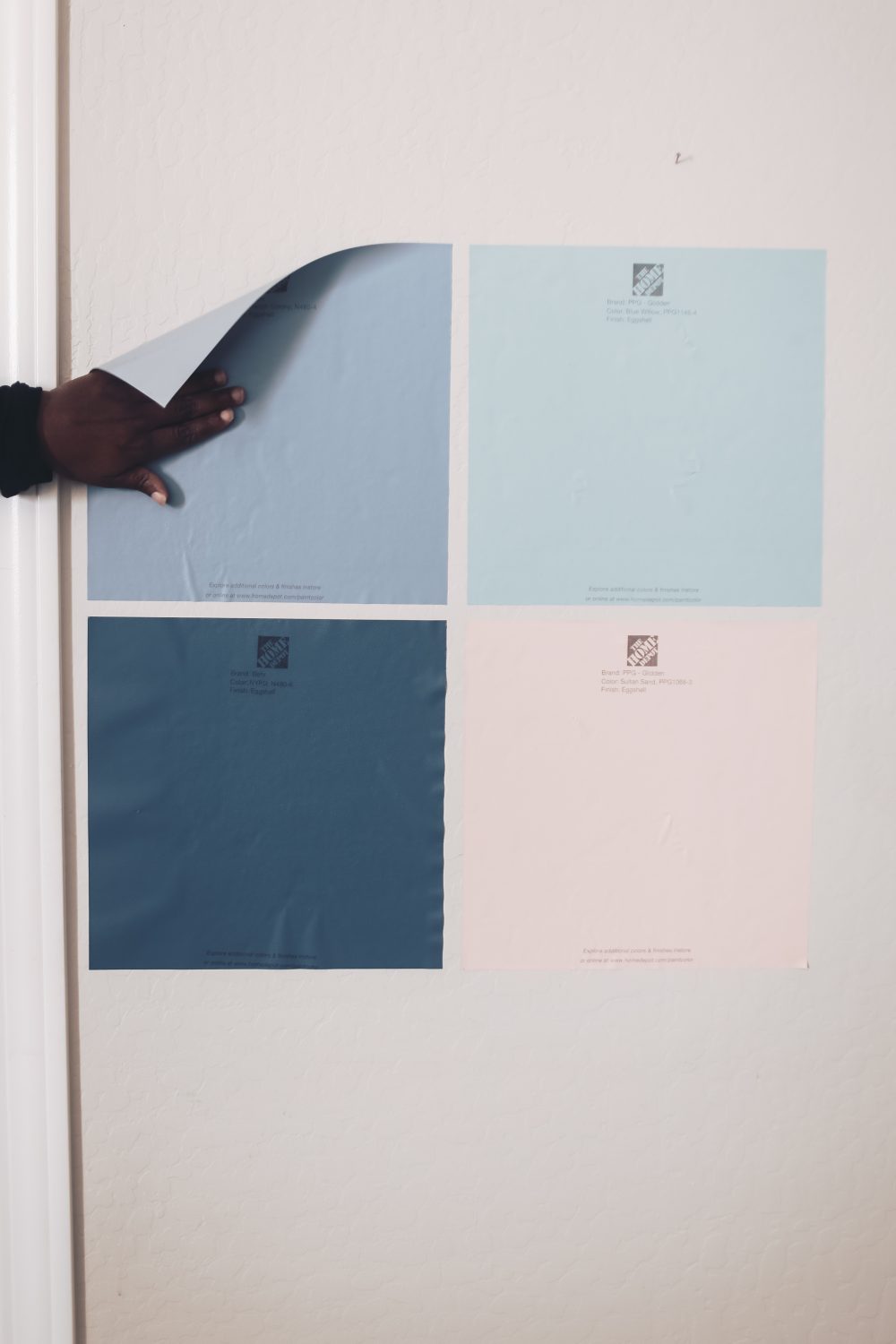 It's so nice to see all the colors together so you can visually see the differences! We loved bottom right, Sultan Sand for its pinkish undertones! We also loved the top right, Blue Willow for its playful blue color! Livy loves the color blue ( she likes all the colors actually haha)
Which one did we choose??!?!
BEFORE: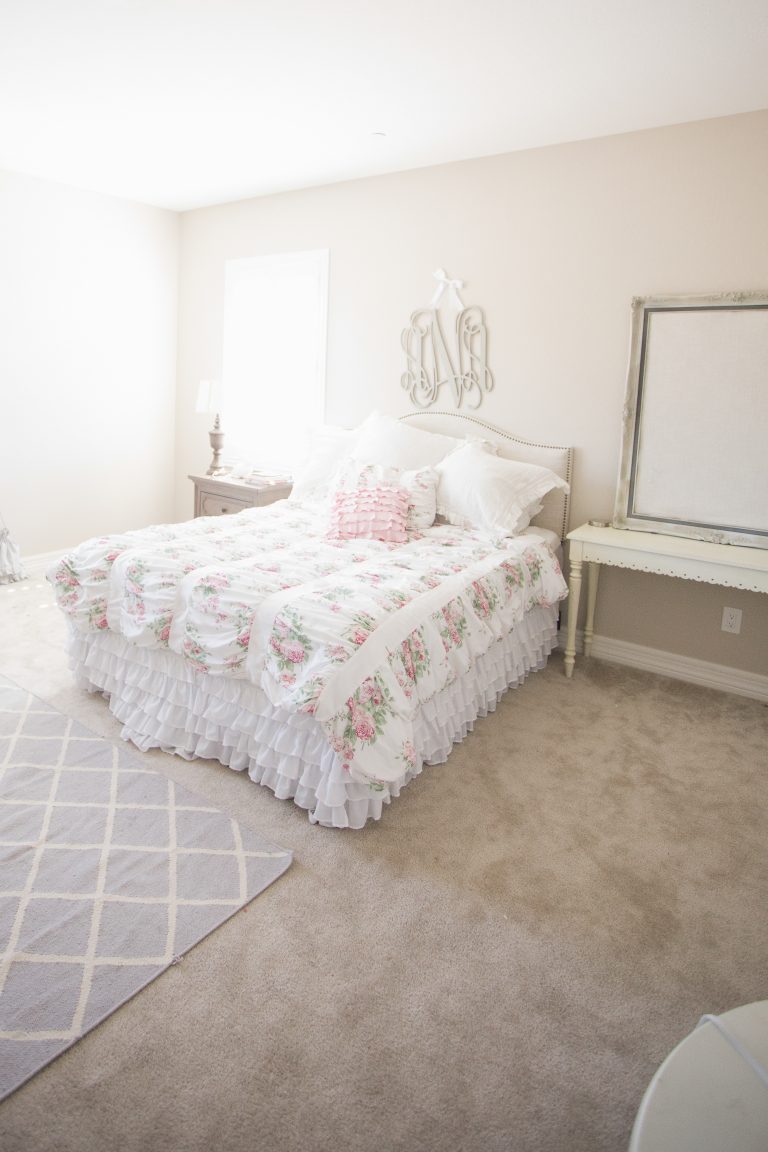 During: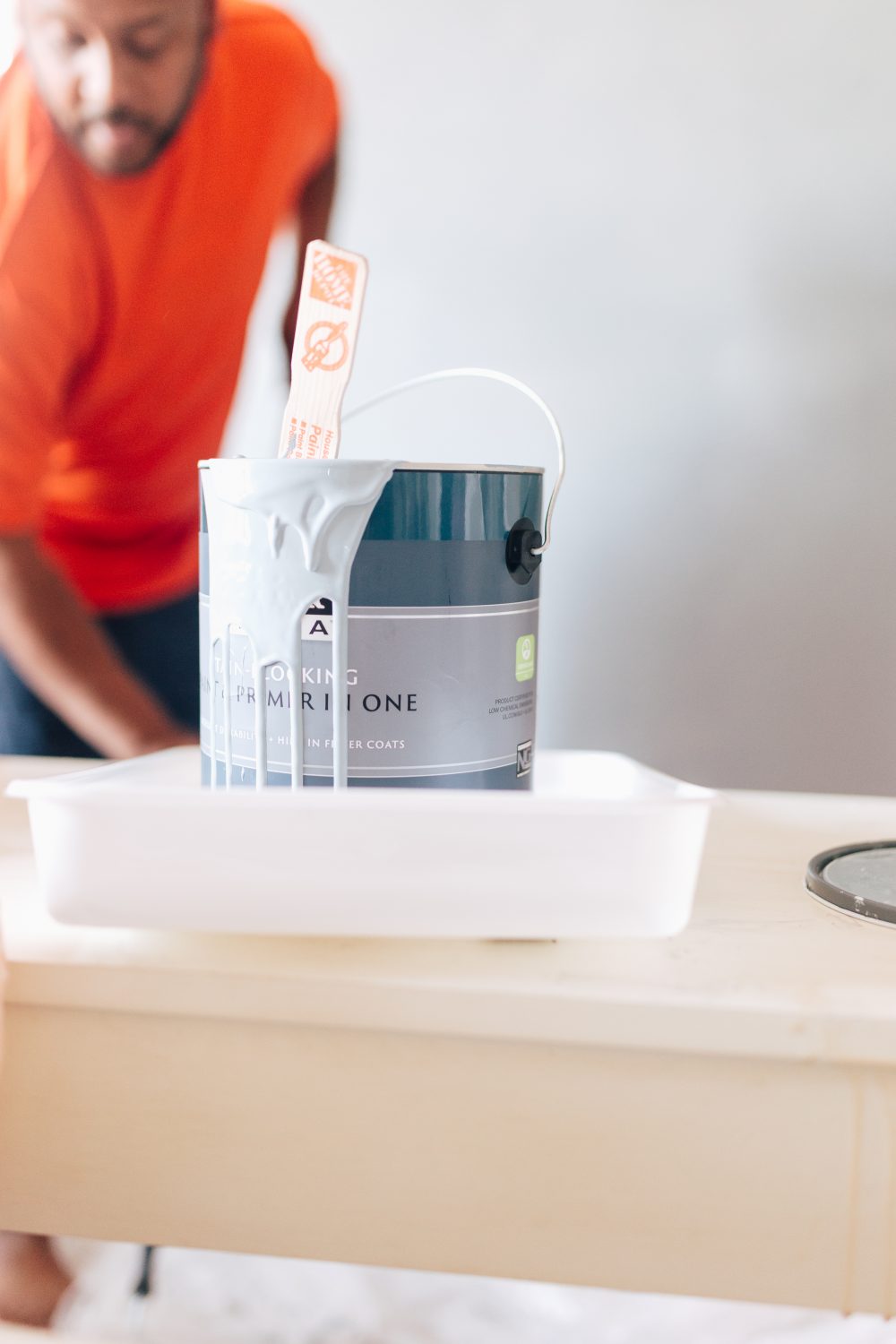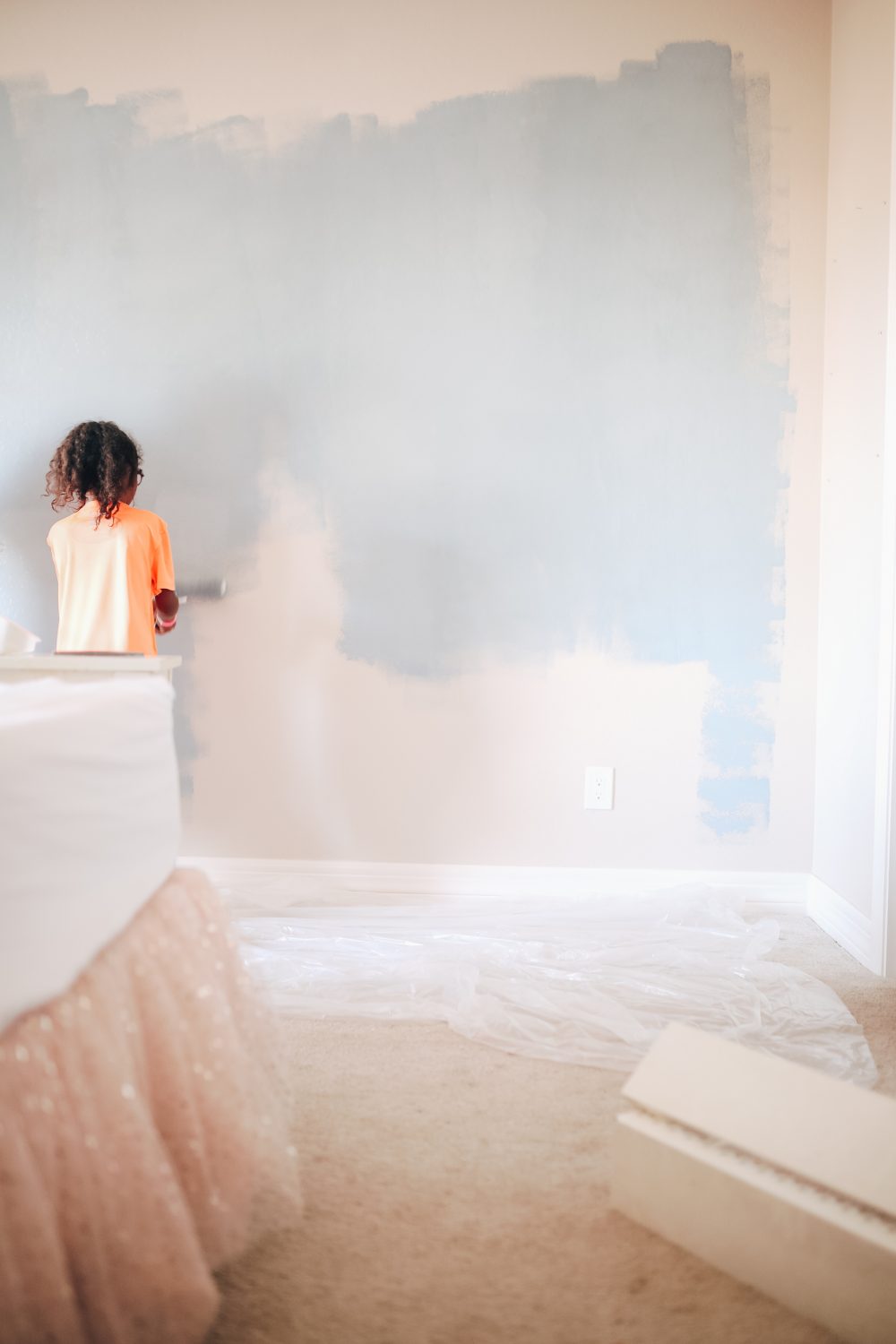 After: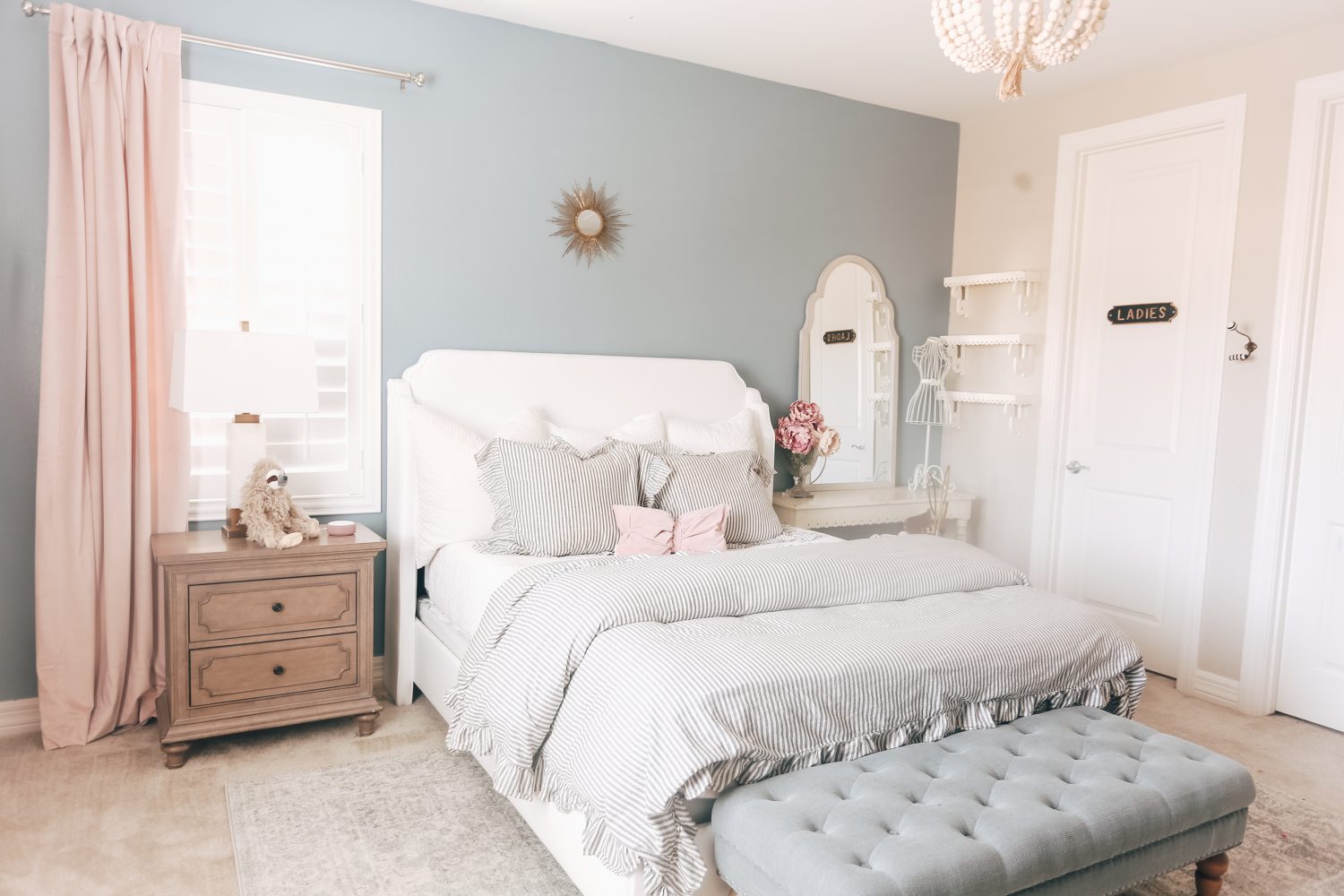 We chose French Colony by Behr! It was the perfect muted blue that her room needed.
We used blush, whites and golds around the wall to really bring the room together! We also found and amazing rug on HomeDepot.com with some blues and grays. It's soft the the touch and doesn't shed which is a bonus!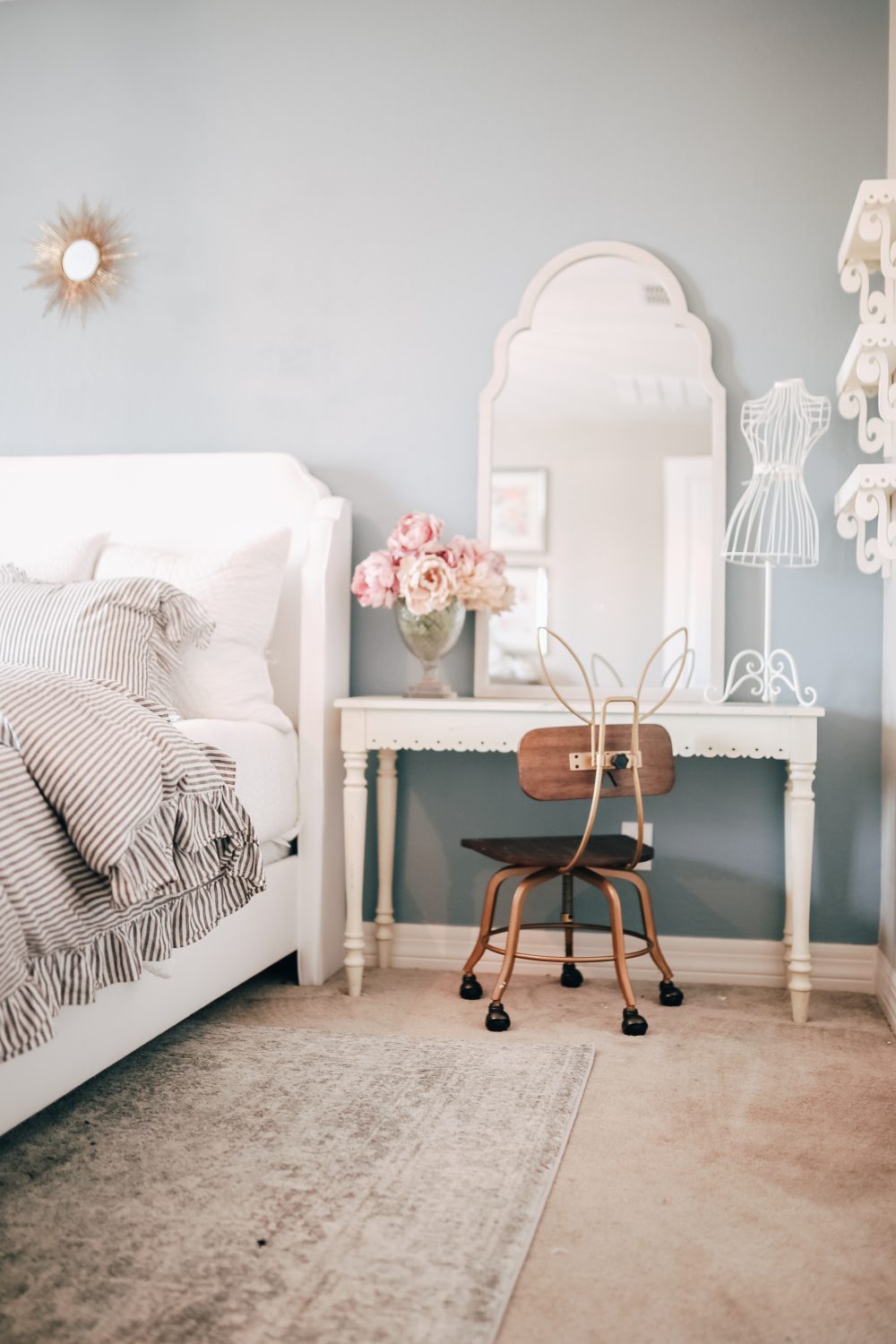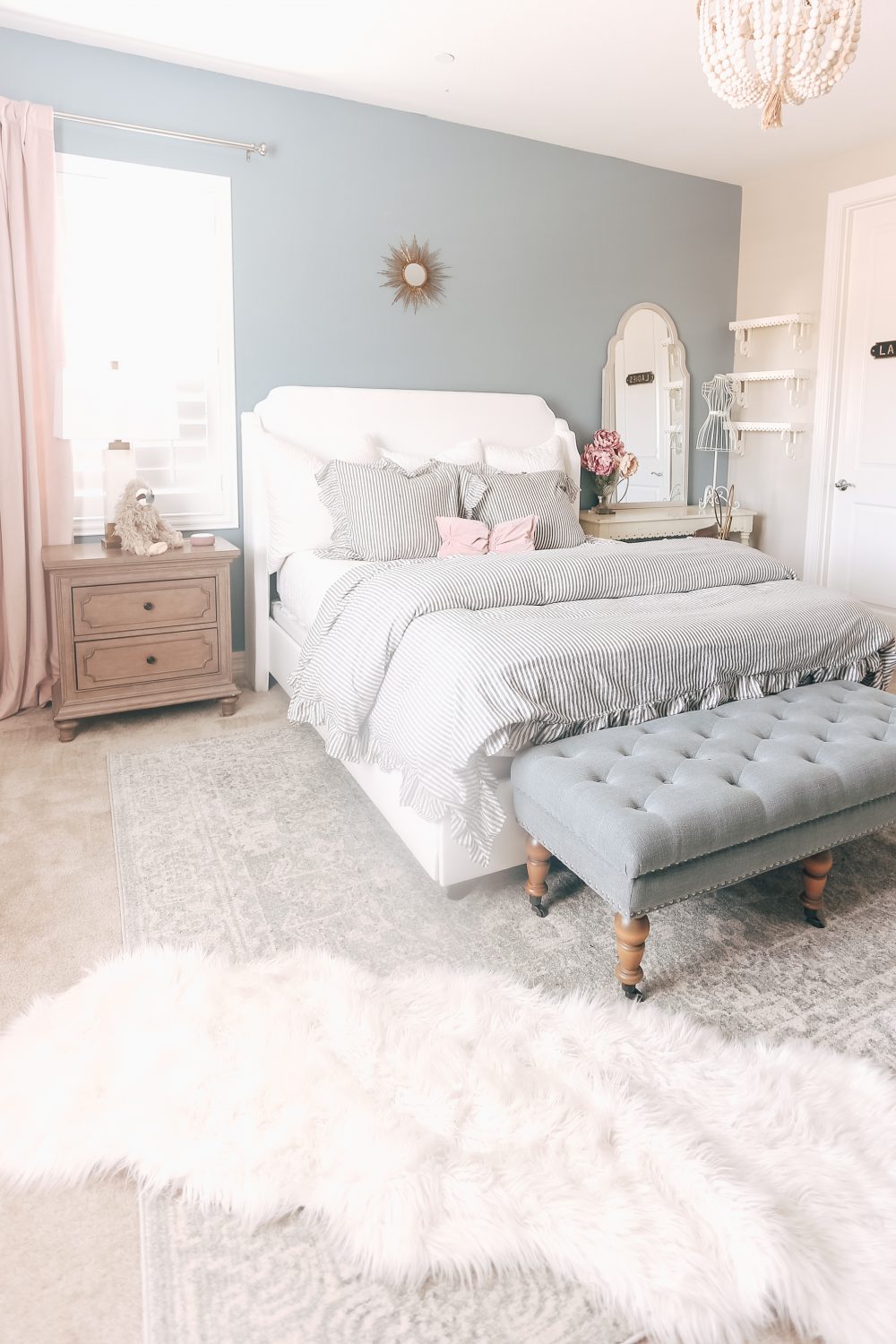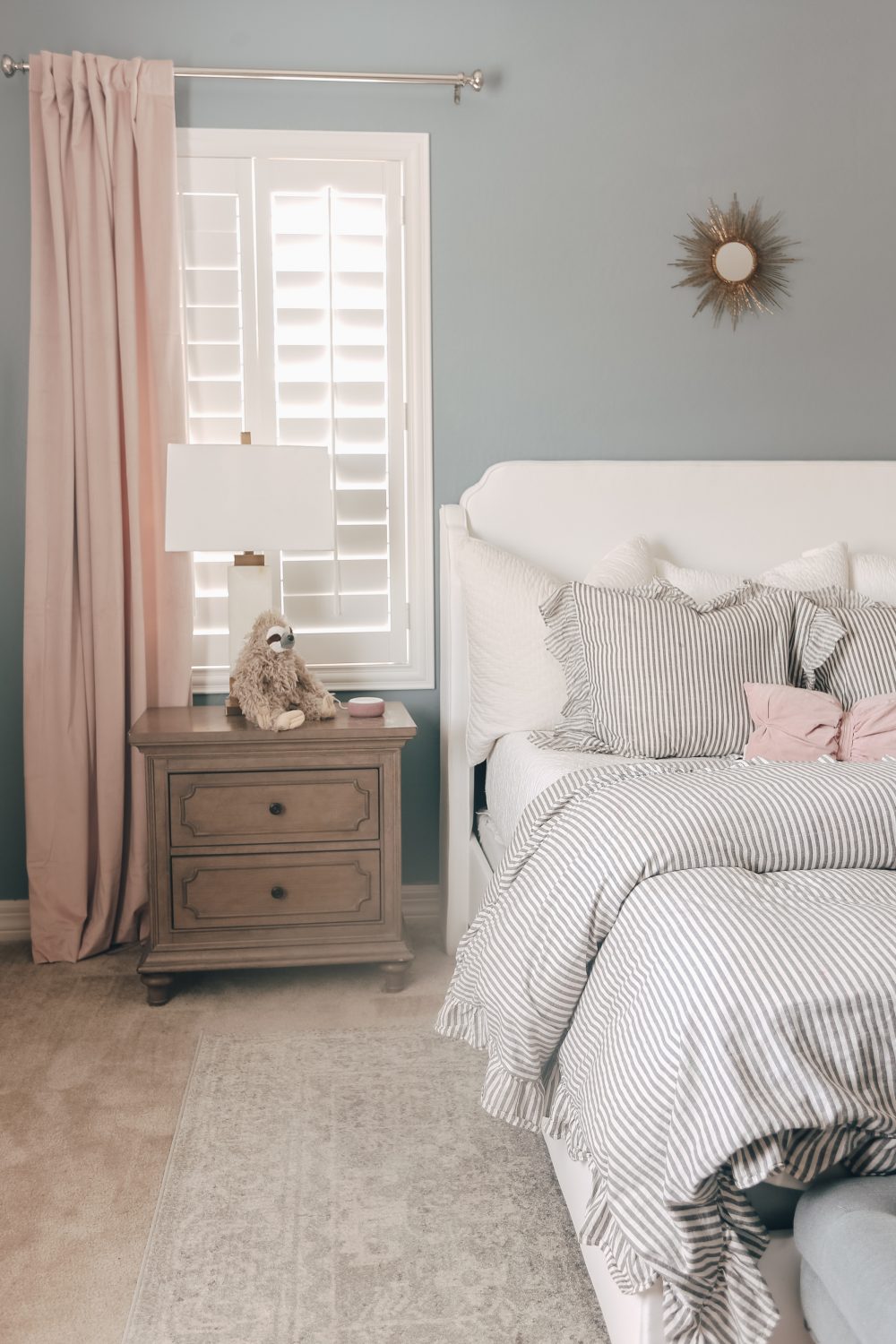 She loves the way it turned out! I hope you do too! Make sure you PIN THIS FOR LATER!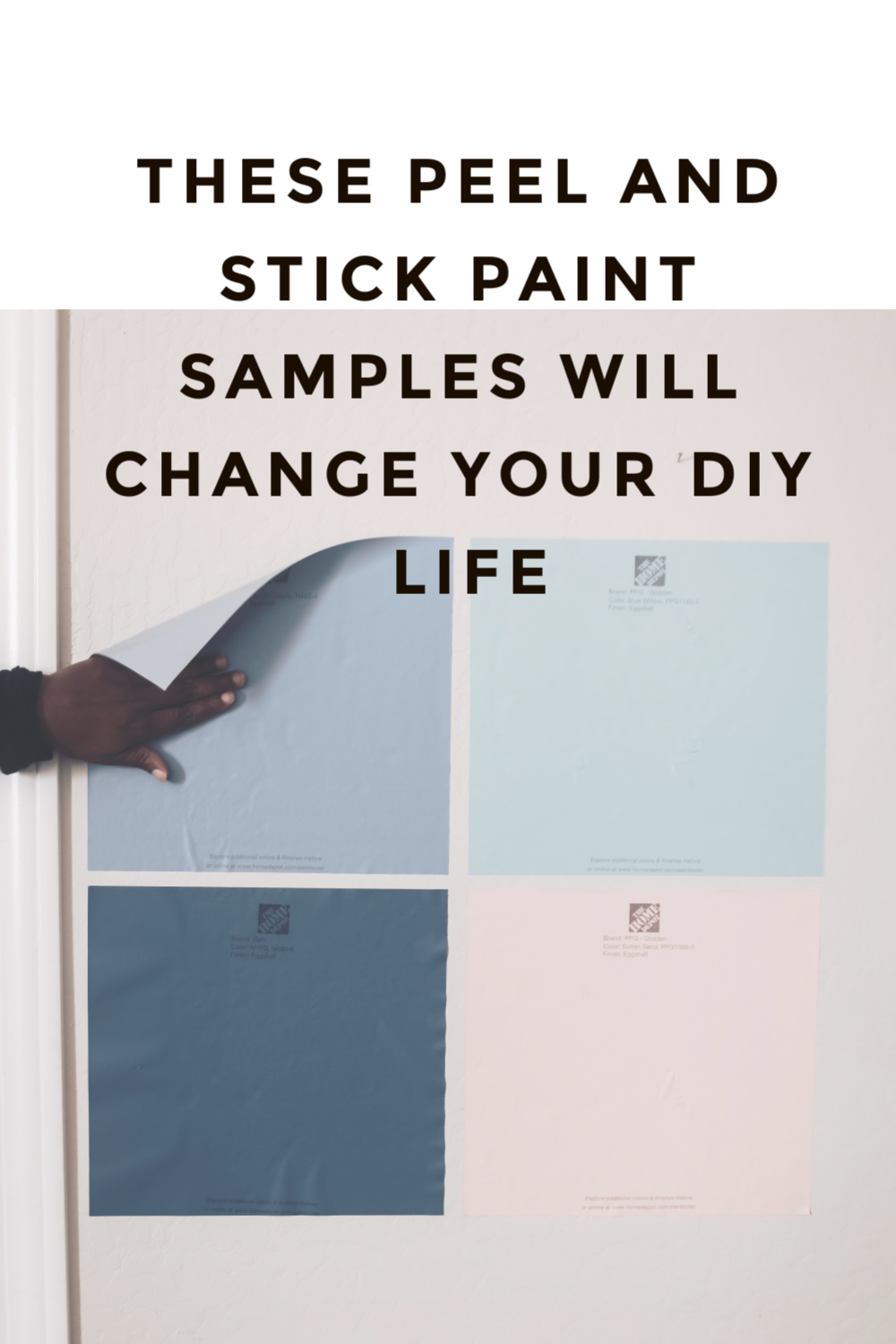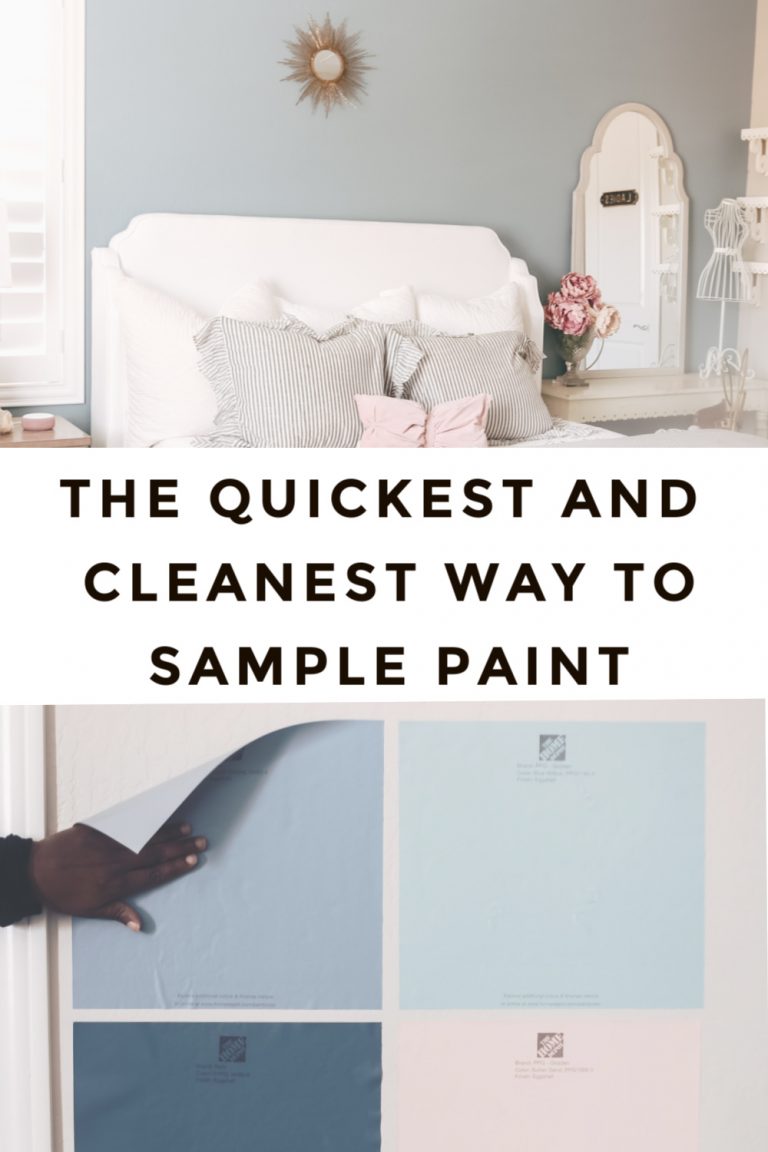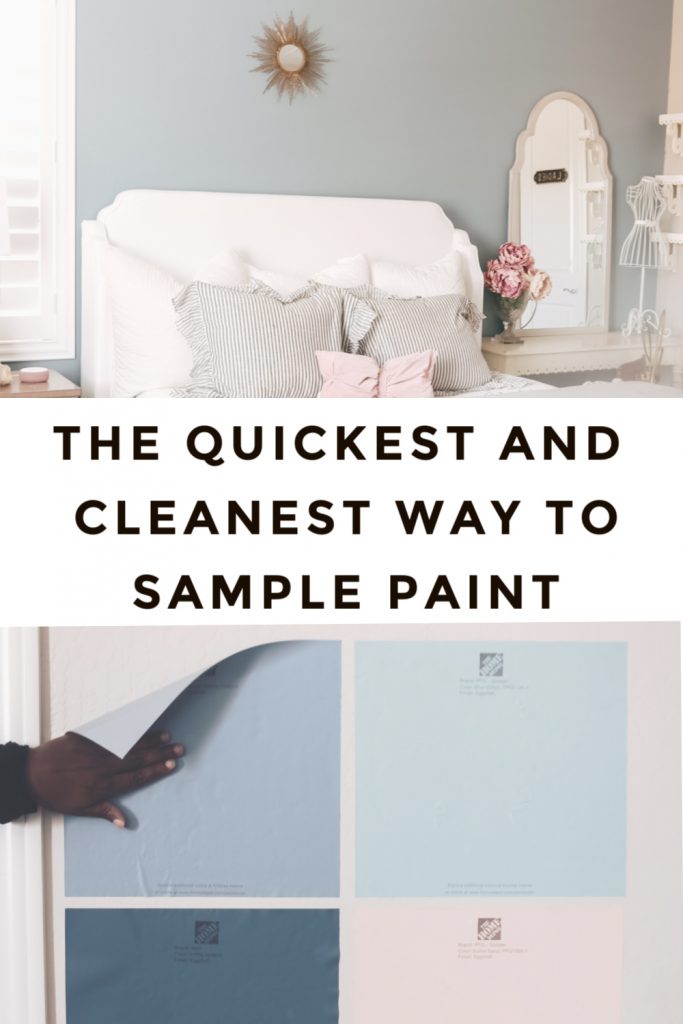 I'm so excited for you guys to start using these easy to use paint samples on your projects this year! Share with me on my Instagram! I want to see you using them this year!