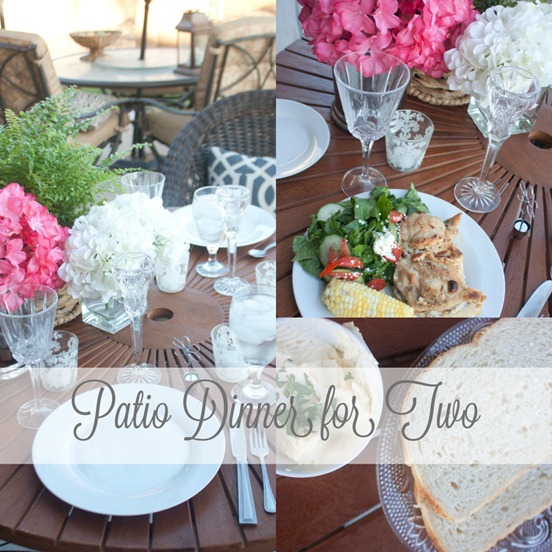 I can hardly believe that we are on the tail end of SUMMER! It seems like we just started. Of course around this time I'm ready for some cooler weather, but given AZ's history I won't be seeing "fall" until October. So even though I can extended my summer a bit longer, with school starting, vacations coming, I knew I still want to spend some summer nights outdoors!

My friends over at Homes.com sent over this fun grilling guide to check out. You can download yours for FREE online here! After flipping through tons of delicious recipes, grilling advice, table themes and cold desserts (from party girl, Courtney at Pizzazzerie), I was inspired to create my own simple patio dinner for me and my sweetheart.

My hubby and I haven't been on a date night in a while so I thought it would be fun to bust out my fancy dinner glasses and plates and set up a dinner for us on the patio. In my mind I have this dream life were I set the table every night with my beautiful everyday dishes and fresh flowers. We talk about our day, the kids are fully dressed…lol and we have a nice quiet family dinner. I know you do too, right..ha!  But life these days are super busy and without the proper fully staffed kitchen and maids:0), those dinners just stay in my head. But every now and then I like to get fancy:0) It didn't take too much effort or planning at all and it shouldn't for you either. Just collect some items from around the home, including that pretty little set that only comes out once or twice a year. Pick up some flowers or use the faux ones in your living room like I did:0) add some candles and go from there!
I came up with a pretty simple menu. It's my nod to Sandra Lee. Definitely SEMI HOMEADE:0)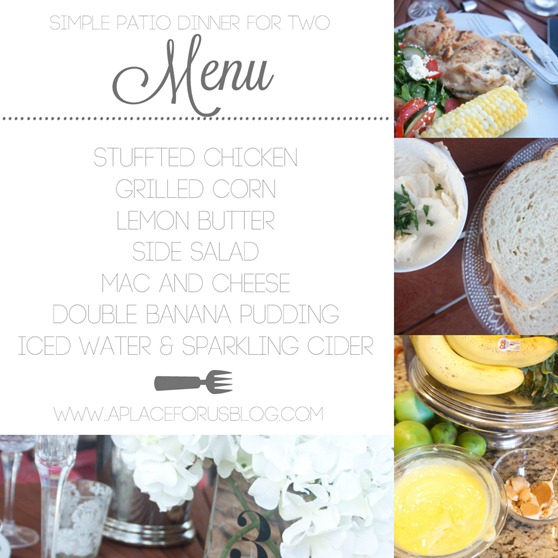 Here are a few of the recipes for your enjoyment!
Cheesy Stuffed Chicken
This is a similar recipe to the stuffed chicken from Ruth Chris! It was pretty close to the original. I used bone in, so for a better replica I would use the recommended boneless chicken.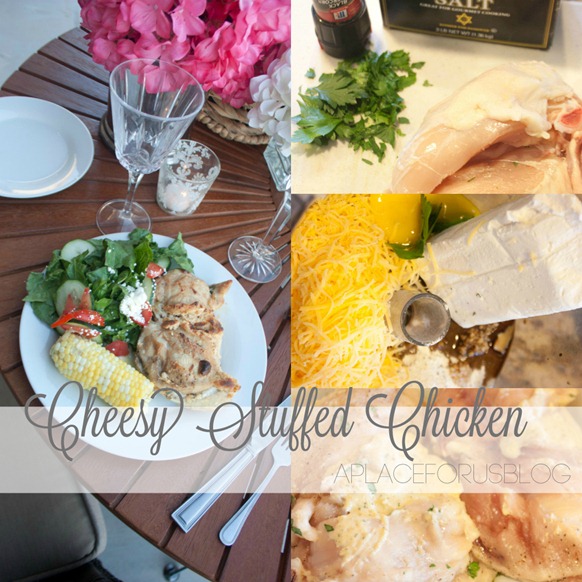 Stuffed Chicken Breast by Ruth's Chris-Source
Chicken Stuffing
1 Lb. Cream Cheese
1 oz Ranch Dressing
¼ tsp. Worcestershire Sauce
¼ tsp. Tabasco Sauce
1 Egg Yolk
2 oz. Shredded Cheddar Cheese
Mix all ingredients
To Cook Chicken
½ oz. Canola Oil
1 Chicken Breast
½ tsp. Shaken Salt
½ tsp. Shaken Black Pepper
1 tsp. Fresh Thyme Chopped
1 Tbsp. Lemon Butter
Sprinkle Fresh Parsley Chopped
Place 1/2 ounce of the oil into pie pan, spreading the oil evenly in the pan.
Season the stuffed chicken with salt and pepper and place into the hot oiled pie tin skin
side up.
Place in the oven. Cook for 30 minutes 450 degrees, internal temperature must
reach 165 degrees F.
Grilled Corn and Lemon Butter
I loved the Parmesan-Lime Grilled Corn  recipe they had in the guide. So I decided to make my own version using lemon butter and parsley instead! I'm not gonna lie, the lemon butter was pretty amazing!
Fresh corn is easy to find during the summer months! We love to steam ours on the stove, then add it to the grill for that "grill" taste.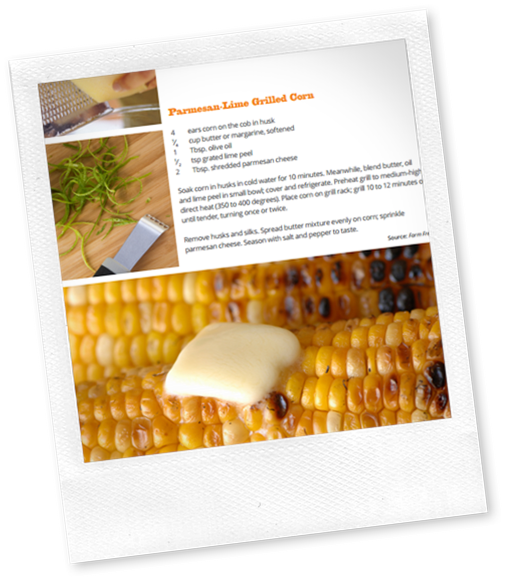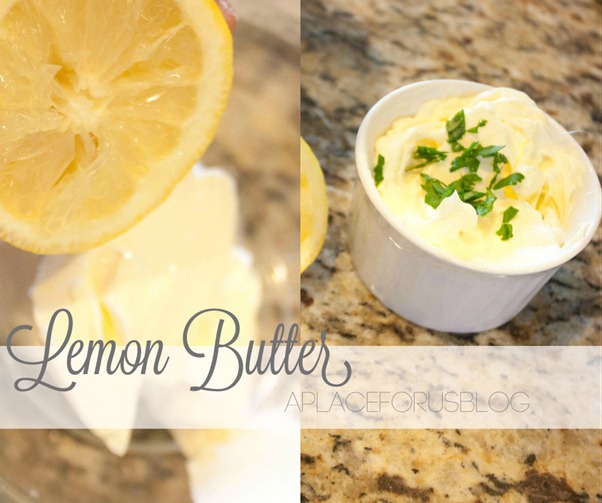 To make lemon butter your going to want to use soften salted butter. I used about 1/2 a cup. Then cut a lemon in half and squeeze them lemon into the bowl. Discard any seeds and mix until well combined. You can use your food processor or mini chopper to make it easier. After that put the butter into a dish and sprinkle with fresh parsley! Yummy!! (I used it on the kids waffles the next morning and they LOVED it!)
Double Banana Pudding
Nothing like a super cold dessert on a warm summer evening. I love banana pudding. This version is a little lighter than the orginal and has a double banana taste!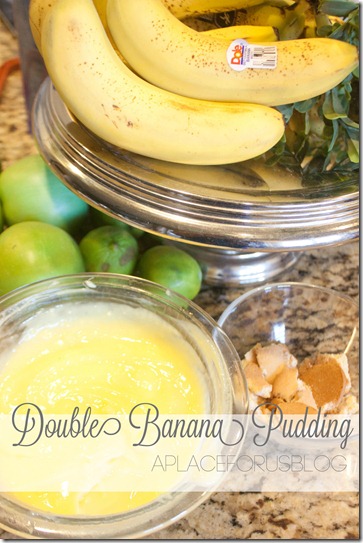 Double Banana Pudding
Bananas
Banana Cream Sugar Free Instant Pudding
Skim Milk
Vanilla Wafers Crushed
Cool Whip
First make the pudding as directed on the box. Then spoon in the pudding into a dessert bowl. Next cut up half of a banana. Then cover with pudding. After that add crushed wafers and cool whip on top! Easy peasy!
The mac and cheese was from the good ole Kraft box, deluxe of course! We don't drink, it's just a hobby we really haven't picked up on…lol! I've actually never had alcohol. Well one sip when I was 16…lol! Is that weird? So instead we opted for some sparkling cider for our bubbly:0)
…………………………………………………………………………………………………………………………………………………………………………………..
Patio Decor
Like I mentioned above, I collected some items from around the home to make a causal setting for our outdoor date. You know all those really elegant pieces you register for when your married? You know, the must have crystal candle sticks, the set of crystal goblets for fancy dinner affairs, or that set of china that you only touch twice a year around the holidays? They all made an appearance.

See, I knew they would come in handy:0)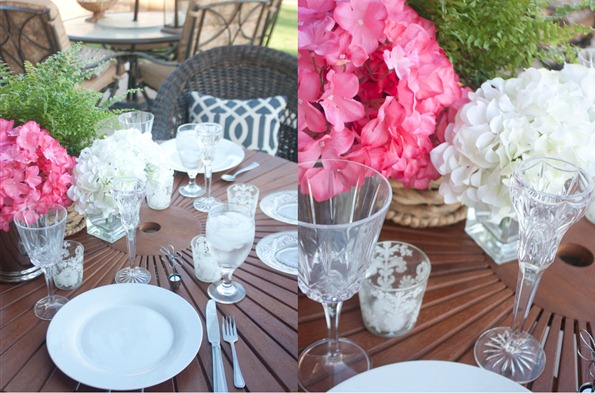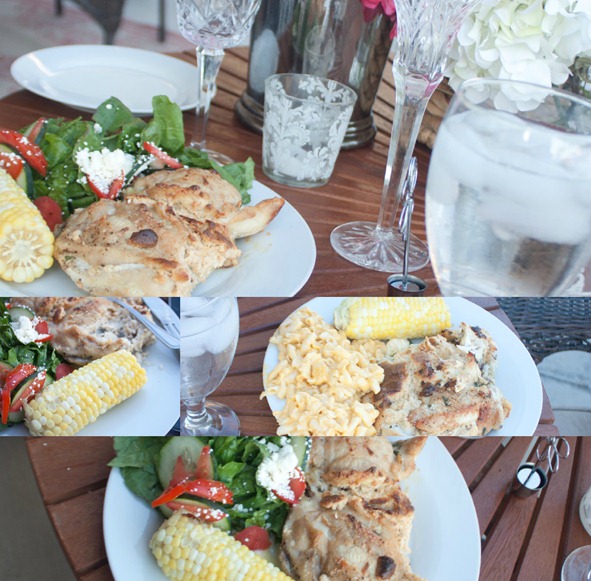 So how's the weather where you live? Do you have mild summers? Hot summers? Are you planning on spending some outdoor time with your family eating your favorite recipes?  If your planning on heading to the great outdoors this weekend, go ahead and snap a photo or two and upload it to your Instagram account and automatically be enter into the Homes.com Red White an BBQ Instagram Contest! Use #redwhiteandbbq on your picture comment to be entered into their weekly contest and if you win that you will be eligible for the grand prize…a $1500 dollar outdoor grilling package!! Awesome right?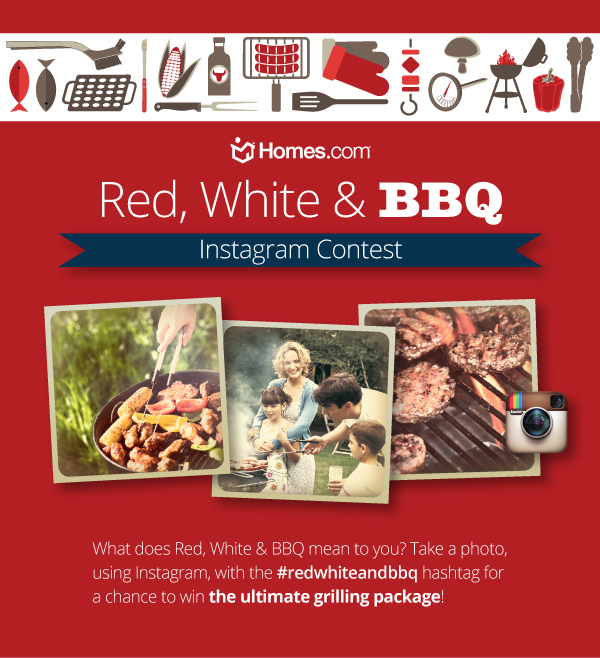 Sponsored Post: I'm apart of a network of online influencers who partners with companies like Homes.com. A Place for Us Blog may have received payment, trade and/or products in exchange for promoting.