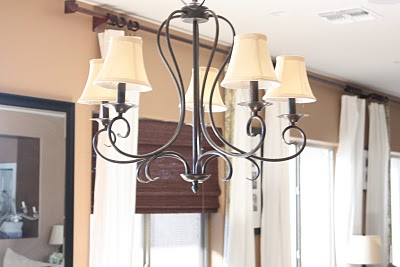 My chores aren't done but I decided to take a little break anyway:0) Besides I know its time to sit down when she starts kicking and I start contracting…so here I am. Two days in a row! WOW! I am on a roll! But anyway everyone knows a while back we moved into out second new home, which acutally kinda feels like our first because well, you know the housing market in Phoenix:0) So since the beginning I have been drawing up imaginary plans for each of the rooms. I have sooooo many ideas that if I let them sit in my head and don't get them down on paper, I WILL go crazy..not fun to see. But some how by the grace of GOD, an amazing hubby and some crazy deals the plans acutally come to realitly!!! lol!
Well I been wanting a chandelier over the breakfast nook since day one, but I really didn't know what I wanted it to look like. All I knew is that the builder special was just not doing it for me..lol. I went to Lowes and Home Depot and came back not wanting anything from there either. They have BEAUTIFUL lighting displays but everything was just a little to small or tooooooo fancy:0) So I went on the website OVERSTOCK.COM you know the place that ships anything and everthing for 2.95 or FREE! I started browsing and a real simple shaded chandiler caught my eye and I just knew I had to have it! The best thing it was very affordable and the right scale for my little nook! After going back and forth for about a month and a half between that one and another one…(you know I had to have SOMETHING to compare it to!) I finally put it on my Christmas list! That along with other housethings I needed, well wanted I guess:0)
Its funny how when you get older you start asking for neccessites instead of toys. I already had an Ipod ,cell phone,baking stuff and any other little gadget that was out:0) So I figured it would be fun to get house presents! Well Reggie did end up getting it for me for Christmas and I just can stop staring at it. It makes me so giddy. It's not fancy, but it makes the house just a little more special to me!!! Not only did he buy it but he also installed it for me!!! YEAH!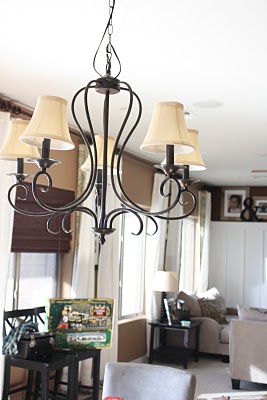 So here it is all hung! Like I said I love it…it makes me smile.
In the back you'll notice some other little projects I am working on.
Window Treatments….CAN'T decide between nautral shades like the ONE I have hung…lol. Or pretty shutters. One is way more expensive than the other! But I am in no rush. We have sun screen on all the window anyway!
Then you can see the curtains that me and my mom sewed up one day. I ran out of fabric so those aren't done either. The bad part is that I can't find the recipet that has the little numbers on it…I got the last of the fabric and they told me I could order more if I just brought it back in…YIKES..Lol
The last thing is my wall project that is JUST about done. Its called board and batten and I learned how to do it on the internet,of course! It goes just about 3/4s of the way up on my back wall and that to I ADORE! I so HEART any type of molding. You can't really find it in any Arizona home so once again making my house just a little different! I have a little shelf up thier to diplay frames and nicknacks…I got the big
&
sign at homegoods…. My mom is so confused by it. She was like why do you have that up there?
&
what?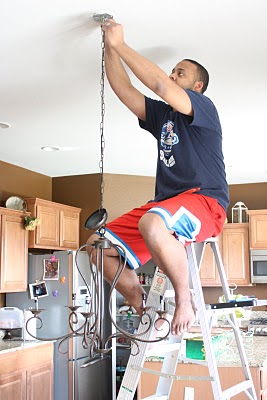 Here he is…installing:0) I used my new lens with this picture. I love it….during the day! At night not so much:0(