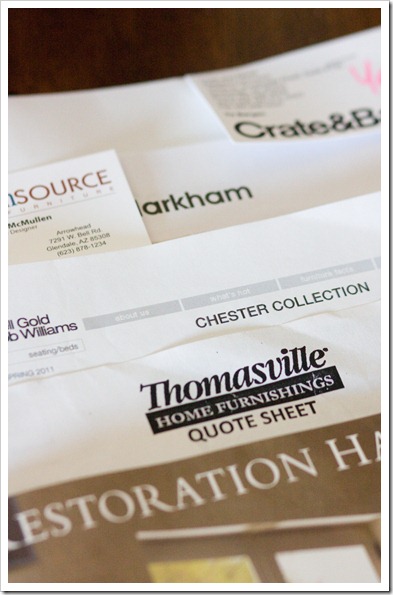 This weekend the hubs and I went hunting for a sofa all over town:0) Day one we dragged all three kids along with us. I'm sure they had tones of fun…:0) Day two we left them with my parents and took a couple of hours to do some final decision  making with no distractions!
So from the beginning I had my heart set on THIS amazing sofa from Layla Grace.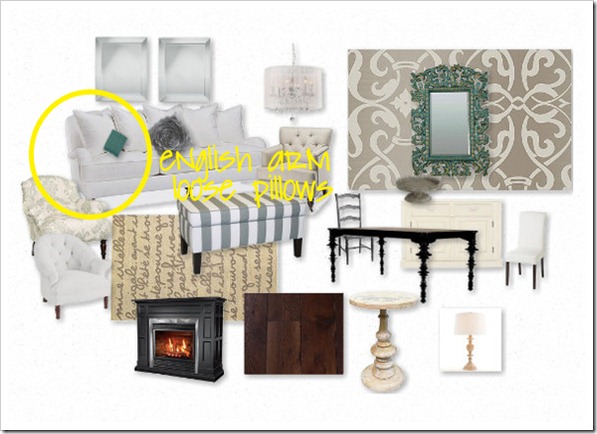 Perfectly Perfect. English rolled arms. Chocolate turned feet on casters. Layered feather down white pillows in the back and sitting pretty at 2600 dollars.
Well that baby was way out of our budget but it was a great starting point! I did some measurements and decided that the room could handle a sofa between 76-86 inches. Anything smaller would look unfilled and anything larger meant we would have no end tables. We also wanted something in the cream and white family. This is gonna be our investment sofa so we were willing to spend no more than 1500 for what we wanted. I know this seems like a lot of money and its ok if you are shocked or don't agree…lol..I feel the same way about people who spend 10,000 dollars on a sofa…lol:0)))  I'm a bargain shopper for REAL but after living with sofas for almost 6 years that look absolutely  hideous, we both are willing pay more and get something that is QUAILITY. Something that's gonna last us more than 5 years:0) I want the BEST stuff for CHEAP:0)
We hit up these stores and found all of these lovely options …here's what we thought….
These first two were from ZGallerie. We loved the tufted back on this one!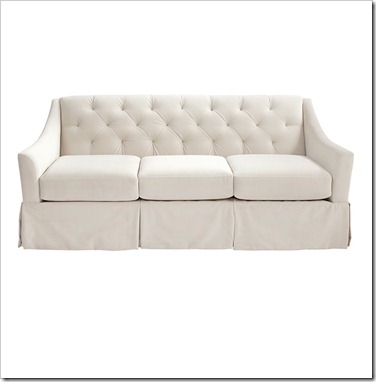 We did a little test drive and we decided that this one was just a on the small side 79 inches….Reggie's is a little over 6ft so when he sat on it, it just looked weird…like he was sittin on half the sofa…lol. No rolled arms and it had a skirt which I wasn't to fond of.
This one was also from Z gallerie. We loved the tuffs on the seat and it was a pretty deep sofa which made it very comfortable. The arms did roll out but not english style. It had the loose pillows like the Layla Grace one…and the turned feet!:0) It was a beauty.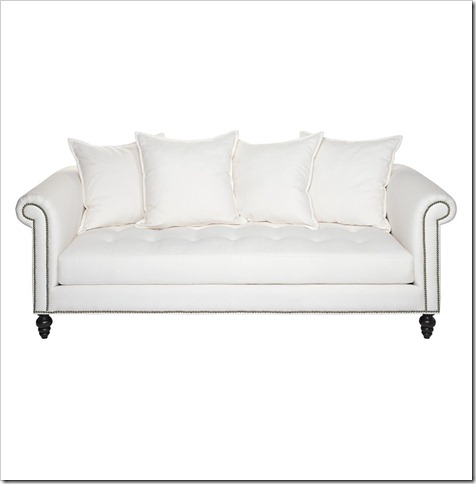 Restoration Hardware was having an amazing sale on some of their floor models!!! BUT none were the size we were looking for. They had this one for 1200!!!!!! 112inches of loveliness… omgoodness if I had the room:0)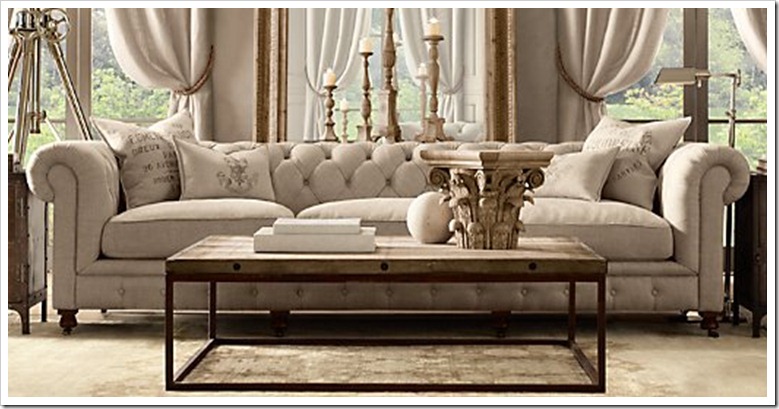 We looked at the English arm collection they had, but with out that amazing sale it was out of our price range as well.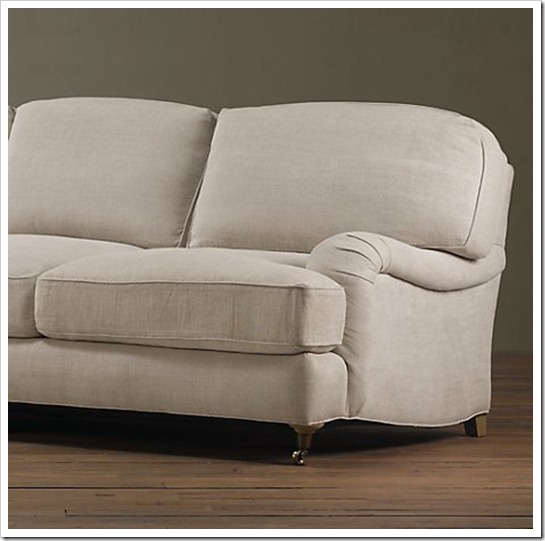 Next we went in a place called
Bungalow
. I heard they sold Lee Industries and
Mitchell and Gold
sofa collections so I was excited to see what they had on sight and any floor models for sale. This store is SOOO amazing I love the styling of it! I was in design heaven…it made me dream about having my own store someday:0) We found this amazing little number for 1400 by Mitchell and Gold…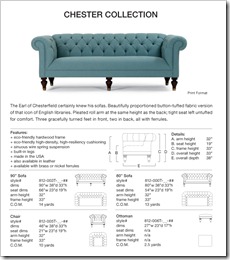 It was a pretty white. Tufted back. Rolled arms…not English and was the right size and in our price range. It was the floor model so it was a bit dirty and showed dirt easily so we said no….even though it was a great deal,it wasn't PERFECT:0) But man it was hard to walk away from that one.
Next we went to a Rowe Dealer in Tempe. A girlfriend of mind recommended that we go there because Rowe provides sofas for companies like Zgallerie and Pottery Barn. When you buy directly from them you can get it about half off! So we went! The sales lady Michelle was super nice and let us flip through a gazillion samples and help us narrow it down. She quoted us on a down filled, English arm sofa, turned feet at 1299..great price! We picked out these samples for the sofa……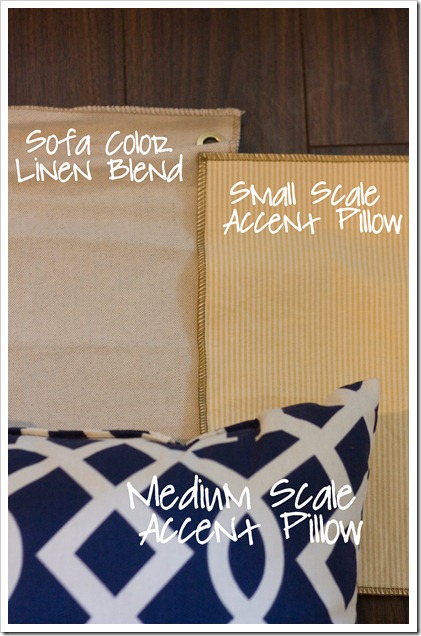 We also contacted Model Home Marketplace in Chandler who I found on craigslist about this amazing sofa….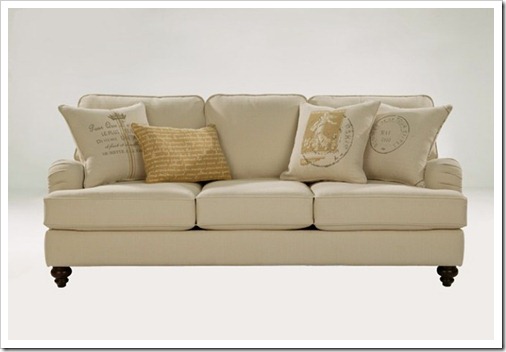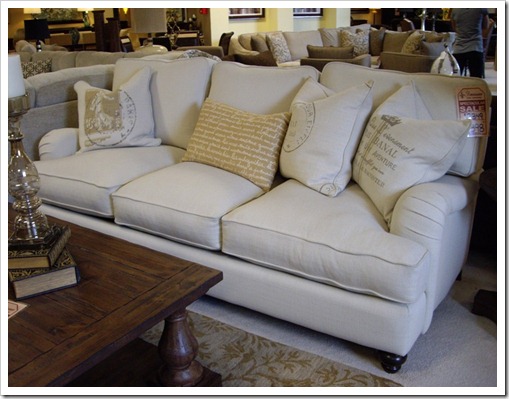 ….english rolled arms…turned feet…cream/white family!!! and only 845…..:0) You know I'm a happy girl! It would be extra for a down fill but only 100.00 more. It comes with these yellow feather down pillows that would go great with the color scheme I picked out!
So which one did we go with!?!!! You'll see in about 2-4 weeks:0)..lol!
To keep myself busy, I picked up these hanging baskets from Tuesday Morning the other day and hung by the front door. I also picked up this large frame at a garage sale for 5.oo:0) I hung it in the entryway and I'm visualizing our next family pictures in this pretty frame!
What are your thoughts on sofas? Do you love your sofas? Did you get it for a bargain? Whats your dream sofa and do you let your hubby decide with you or do you go solo?