Yesterday my guy and I:0)celebrated 6 years of marriage! I know every single girl thinks they are so lucky to have found their own prince charming, and I am no different. He's SO amazing and has been since the day I met him!. I mean, he's just a testimony to how great GOD is and how he blesses your marriage when you put him first!!! Thank you Jesus for such a beautiful gift! I just pray that I am able to be a humble keeper of your many blessings.
We started out our day pretty early and just spent the entire day together…kissy face and holding hands…and kissy face…lots of kissy face…lol. We started off with a good ole simple southern breakfast…OUR favorite. During breakfast he TOLD me that I needed a NEW camera and even NAMED the one I should get…lol! What? Usually I drop little subtle hints if I need something or am wanting something new…lol. This was totally out of the blue!!!! I LOVE LOVE my camera….and to get an upgrade would be amazing. But to tell you the truth…I don't even care if I get one! Just the fact that he brought it up makes my heart melt!:0)
We also went to go hit some golf balls( he was so impressed with how well I did!!!) HIS favorite! The one thing I learned is to keep your head DOWN!!!! We hit about 100 balls between the both of us. We're both super competitive but I'm happy to say I WON….hehehe. But he would tell you something different I'm sure.
We did some shopping …MY favorite…
and ended the night at Flemings Steakhouse…who has the BEST mouth watering  steaks ever!!! If you ever go there on one of your fancy nights out….ladies make sure you get a petite filet mignon butterflied…well done… with the THREE dipping sauces. You will not be sorry. Reggie swears by the bone in ribeye cooked  medium!!!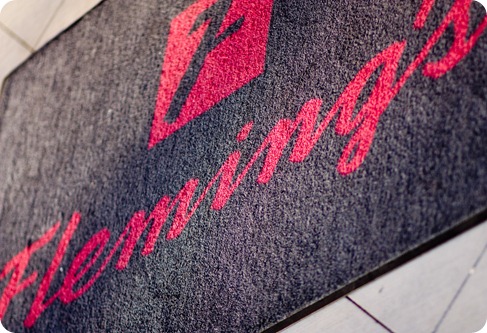 Anniversary night time outfit was pretty casual…skinny jean(Old Navy Diva), white lace cam(Forever 21), Jessica Simpson Anne Boots that I got for Christmas from him (Amazon or Macy's), and a yellow ruffled cardigan(Old Navy)!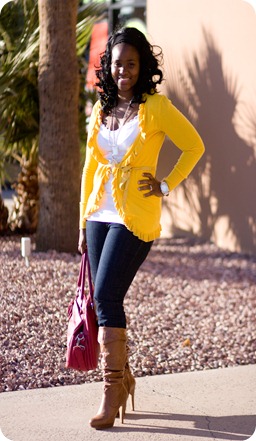 I feel so weird posing by myself…lol. I'm  so use to my main accessories….babies! One on the hips and two on my thighs:0) lol!!!
The perfume of choice for this night was Fancy Nights by JS of course!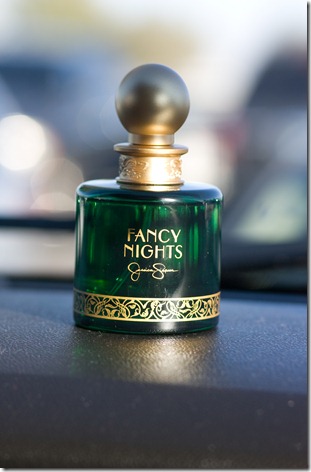 Any anniversary celebrations this month? What's your date night perfume and outfit choice?