This post brought to you by Leviton. All opinions are 100% mine.
​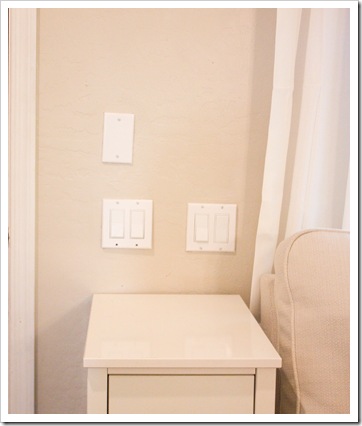 See… what is that!! I think someone might have been a little tipsy on the job…lol! I try my best to just cover them up with pretty accessories!
That's were an amazing product like Renu comes in. It a SCREWLESS…(thank the LAWRD) , mutlit colored switch system that includes,
-Combination switches
-Wallplates
-Dimmers/Remotes
-Tamper Resistant Outlets
-Tamper Resistant GFCI Outlets
-QuickPort Connectors
ALL of which have faces you can update yourself whenever you're ready for a new look. Its available in 20 popular paint colors and Renu® products can blend in or contrast with a room's walls or trim. Renu turns that not so hot electrical device into a decorative, easy to change accessory. YESSSSS:0)  
Navjo Sand, Pebble Gray, SeaSpray, Woodsmoke…pack up cause your coming home with me! I can just imagine how well these plates would look around our house AND I can switch them whenever I want! It's like a fun pair of shoes or earrings…for your walls? ha! Can't wait to show you guys!
You could blend them in with your wall color or have them coordinate with the room colors.
You gotta see what NATE had to say about them!!!
Want to learn more about LEVINTON and Renu? There a couple things you can do…
Participate in some of  their twitter party like the one coming up TOMMORROW!, Wednesday, May 2nd 9pm EST and possible win some Home Depot gift cards! All you need to do is follow @leviton and #Renu! 
Check out Leviton on Facebook!
I'm really excited to try out this product, what about you guys? Do you see yourself using this in your home. I'm still stuck on the fact that I don't have to screw anything in…fabulous I tell ya!
This is a sponsored post. All opinions are 100% mine. I'm always to bring my readers awesome products that they would find useful and that I would use in my own home! Enjoy!