It's been quiet on the blog lately! We have 3 family birthdays within 4 weeks of each other and  I've been nursing mi familia back to health these past few weeks! You know how that goes:0)So here are a couple of updates for you guys!!
Is your living room and dining room DONE!?
Yes it is! That post is coming soon! ( I'm unable to look at you in the eyes) but yes it's coming soon:0)
How is your kitchen update coming along?
Slow. I do this all the time! Get really excited about a project, go at it full force and slowly inch by inch put it on the back burner. I've moved past the priming stage now so that's a victory..ha!!  But I will get my booty in gear here soon and get it DONE! But I love the way it's looking so far…
Here is the before..
and during…(complete with dirty dishes…true Destiny fashion )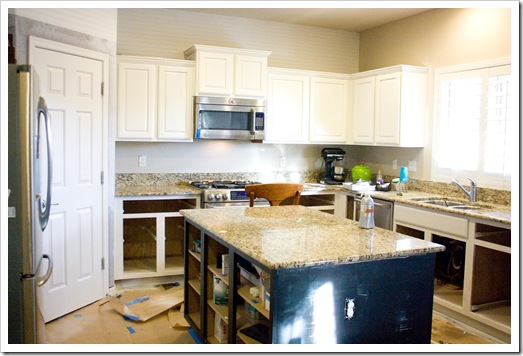 cant wait to see it when its COMPLETE!!
When is your Nate Show air date?
TOMMROW!!! Friday Feb.10th Check your local listings to see what time it will air in your state! You all have been SO kind to me and so supportive! You're the best readers ever! So glad to have a community like this! When ever someone asks me about the whole TV thing I get so SHY!! I totally understand that I should be so proud but like I've always said, God has given me such an incredible opportunity and it's something I never anticipated or even sought after. SO all I can do it give the glory to him!! But what I can say is that everything home is my passion and his plan is SO different than my own:0)))
Where is your Google friends?
I decided to X out the Google friends feature on my blog, not because I don't love my Google friends BUT because I've had some issues with it lately! Plus I heard it through the grapevine that Google might be doing away with it sooner than later. I know my WordPress friends have already begun to say goodbye! So if you want to follow my blogging adventures or if your just nosey like me and want to take a peek at what I'm doing once or twice a day;0) you can sign up to follow my blog via feedburner by clicking the feedburner button below my picture OR
catch up with me behind the scenes via Facebook OR twitter @aplaceforusblog
OR if you have a iPhone or ipad you can see my life in pictures via Instagram
ORRRRRR
you can add me to your blog circle via….GOOGLE +
Whuuu, so glad we are all connected!
Are you ever going to make a template for your paper flowers?
Sure. I think I get at least 3 emails a day asking me to make one! So I will give the people what they want! A leaf template! Now, let me go and see how to make one! ha!
Talk to you soon friends! I have a fun review coming up for FISH FOAM..aka the best window cleaner ever and some other fun stuff!!