A few weeks ago we got our new dining room table from Paula Deen. My original Oliboard showed something very similar to the one I ended up going with except,less expensive:0)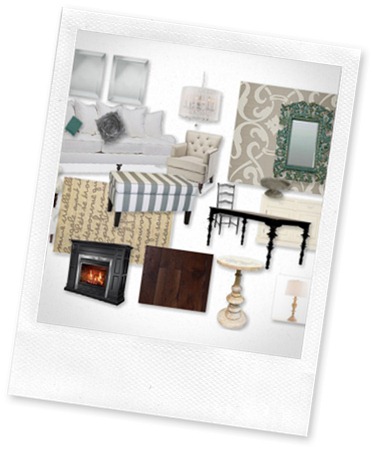 I first saw this table when I was googling Pottery Barn tables! From the beginning of time, I have always said I was going to get the square Montego table from Pottery Barn. That was THE table I wanted! But it didn't want me…lol! The price was so far out of our budget there was just no way I was going to convince the Mr. that we needed a 4500 dollar table…lol! NOPE!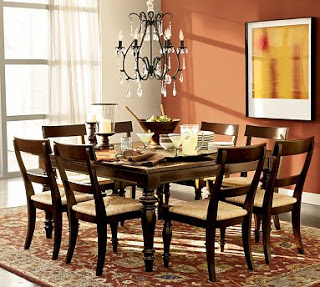 The funny thing about it is that as soon as I ordered this table, I was Craiglisting and I spotted THE square table for only 600 dollars brand new AND another Montego in rectangle with 6 wood chairs for only 1200!!! Of course right?? ahhh! But, I was already in love with the other one!!
Anyway, while I was googling I came upon this furniture place called Jordan's Furniture and I started looking around and immediately saw these beautiful turned chocolate table legs and I had to have it!  To my surprise it was a Paula Deen set made by Universal Furniture! I seriously had NO idea she sold furniture…lol!  So I did some research, meaning I hunted around to see if I could get a better price, and I ended up ordering it from an online furniture company called THE PLACE. Let me tell you, this was THE scariest purchase of my life!!! OMGoodness. I looked at reviews before I purchased and everything I read was horrible..like really bad, HORRIBLE!! For two days straight I read review after review about how bad this company was!!! Any normal human would hit the door running. BUT this particular company was selling the table way under our budget and with FREEEEEEE SHIPPING!!! To good to be true?
So I thought about it long and hard…called THE PLACE before I purchased…REGGIE talked to the online manager…and we felt good about it. We paid through paypal…just in case and purchased one LARGE gorgeous table and 6 beautiful chairs over the internet..from  a store all the way in NewYork!…SCARY!
BUT everything came here ON TIME and in PERFECT condition!!!! No mess ups or mistakes, nothing at all!!! THE PLACE did a great job with our order and made sure everything arrived! Totally would do business with them again! They answered all my panicky questions and returned our phone calls!
Here is a close up!
Curvy legs and parts of the table are distressed so it looks a little banged up! Love that!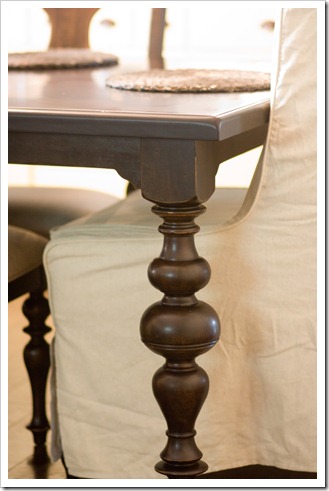 The table came with TWO leafs for extra setting up to 10. This is going to be perfect for Thanksgiving!! Last year I used folded tables and a two Ikea curtains;0) yes I did.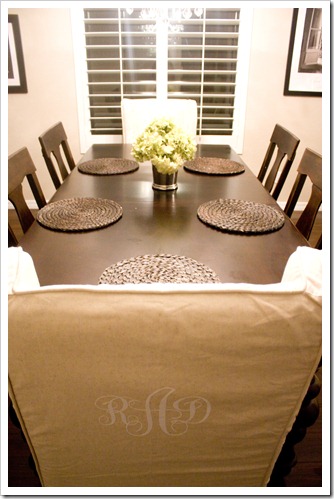 I wanted the host and hostess chairs to be in this linen slipcover which I can take off and wash as needed.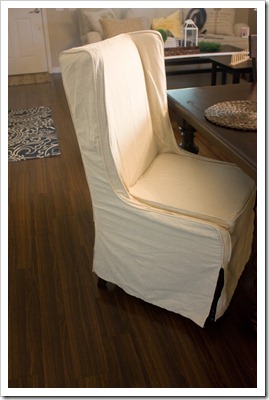 The back has the traditional pattern and the seats are super easy to clean and durable!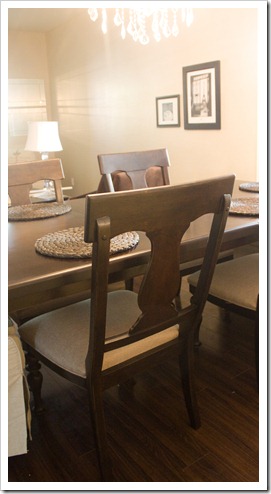 This is our first piece of GROWN UP piece of dining furniture…no china cabinet though;0)  Could have snagged my moms 19 piece set she was trying to "keep in the family" lol! But I just wasn't us! So glad we held out and saved up! Now its ours!! We LOVE it and are so happy that we have a place to sit our friends when we have them over for a BIG feast or intimate dinners!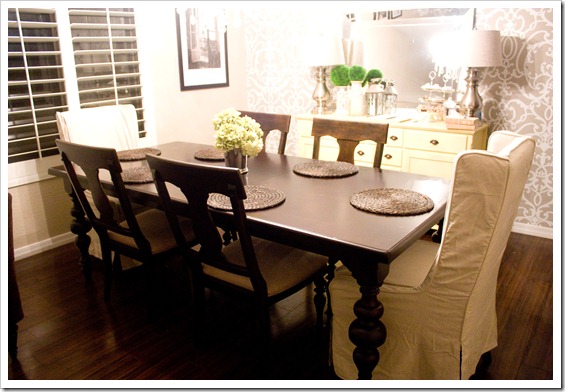 OHH and of course a dining room table wouldn't look complete if it didn't have something pretty hanging above it!
Meet my new friend Crystal Chandy;0)
My hubby hung it a few days ago and I think it is THE perfect addition to the room…..so Candice Olson right? I hope!;0)
The room is coming along! Looking at rugs and curtains AND PILLOWS! Still need to find some chairs and other lovely things to go in our new rooms….can you believe it looked like this before!!!