Outdoor Space with Pops of Color
This post is sponsored and may contain affiliate links, please read my disclosure policy.
This post is brought to you by World Market.
There is so much that goes into planning a space.On Instagram the other day I talked a little bit about my style. I guess I never really shouted it out loud before (that actually might be a good post for me to do:0) but after thinking about it I figured out that I'm mostly attracted to textured neutrals and love to add small doses of color.
I just made over my front courtyard a few weeks ago and for the MOST part followed my own advice. If you count all the greenery a color…haha. When it comes to my backyard I'm still deciding on the direction I want to go but I'm totally loving this fushia color that I spotted in World Markets new Paradise Fuji outdoor line. I used a lot of it in my Block Party guide too! It reminds me of my moms hot pink lipstick that I begged her to change in the 90's :0) There is just something so fun about this color. Plus with my hubby being from Puerto Rico, I just can't get a way with a monochromatic home.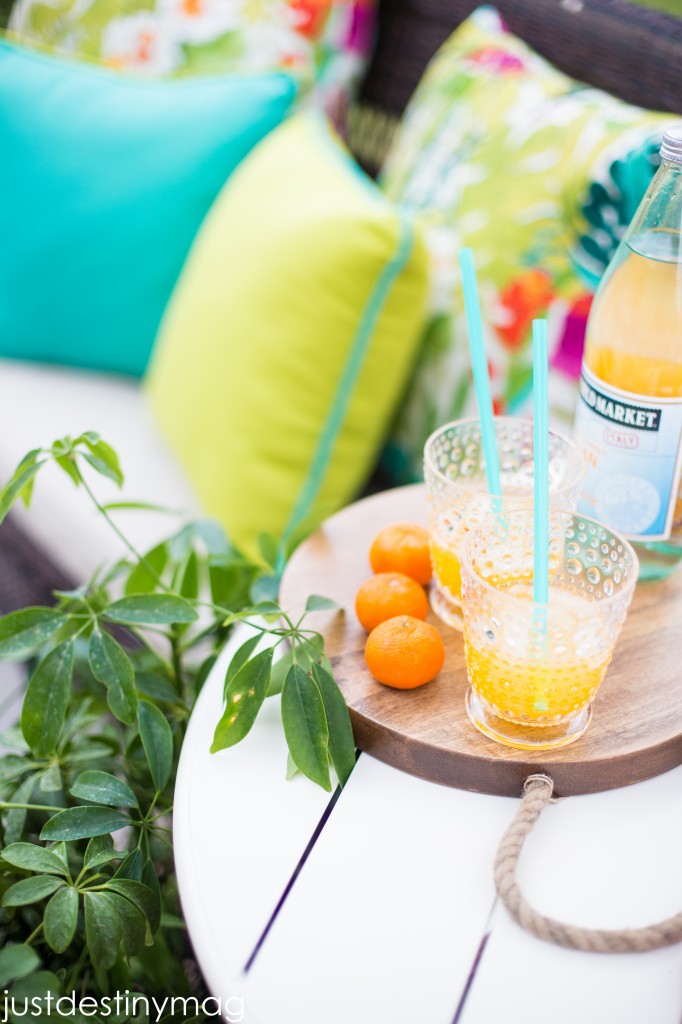 I have a patio set I got a few years ago that is perfect to try out this new/old color that I've fallen in love with.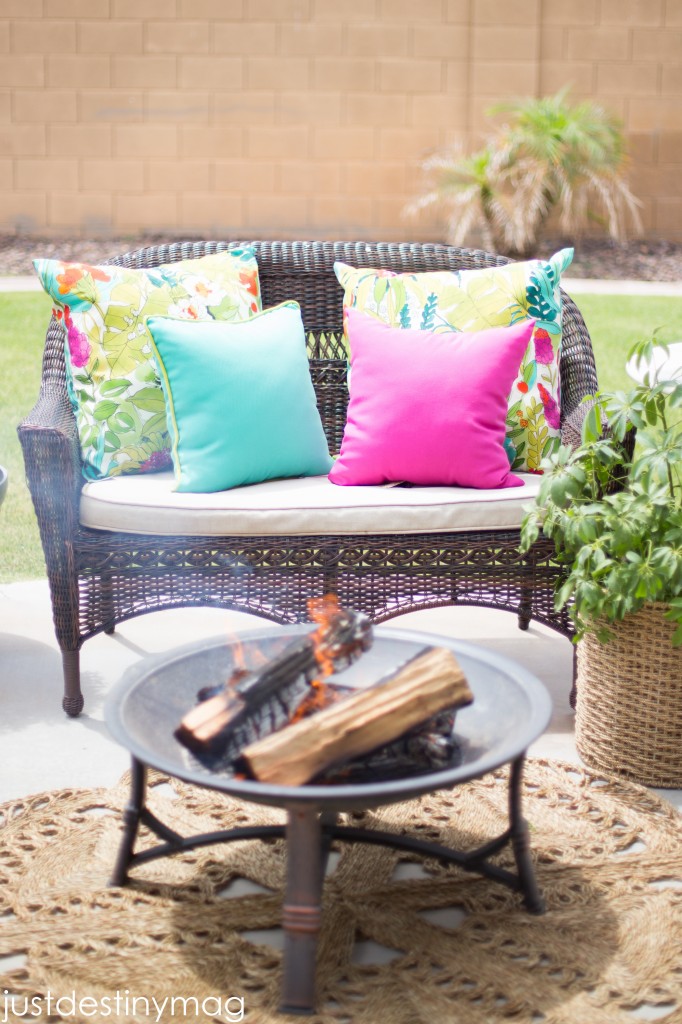 The first thing I did was I picked up a few pillows. You all know I love pillows and they aren't a big commitment like paint, so I feel super comfortable purchasing way to many of them for added color. Bring on the pillows! I love the advice Justina Blakeney gives on using outdoor decor pillows. I couldn't agree more!
[su_box title="Mix & Match Tips from Justina Blakeney" box_color="#FF0080" radius="2″]
1. Pick a dominant color and one or two accent colors. The colors tie the patterns together and make the space look cohesive.
2. Mix graphic pillows (like the dragonfly) with patterns (like the botanical prints).
3.Toss in some solids to balance everything out.[/su_box]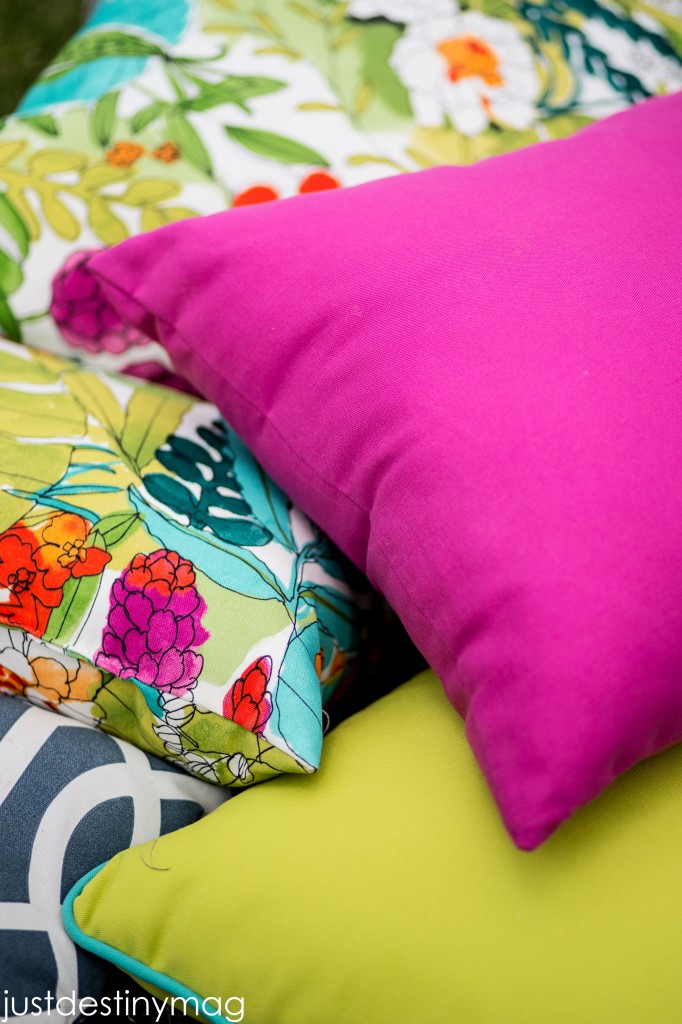 I also picked up a few tables. This one is light weight and fits perfect between few chairs.
I love this one for the height it gives. I can always pull in a few extra chairs to make it a cute bistro set. You can also stick an umbrella in the middle for some extra shade. How cute would a patio with a few of these scattered throughout look?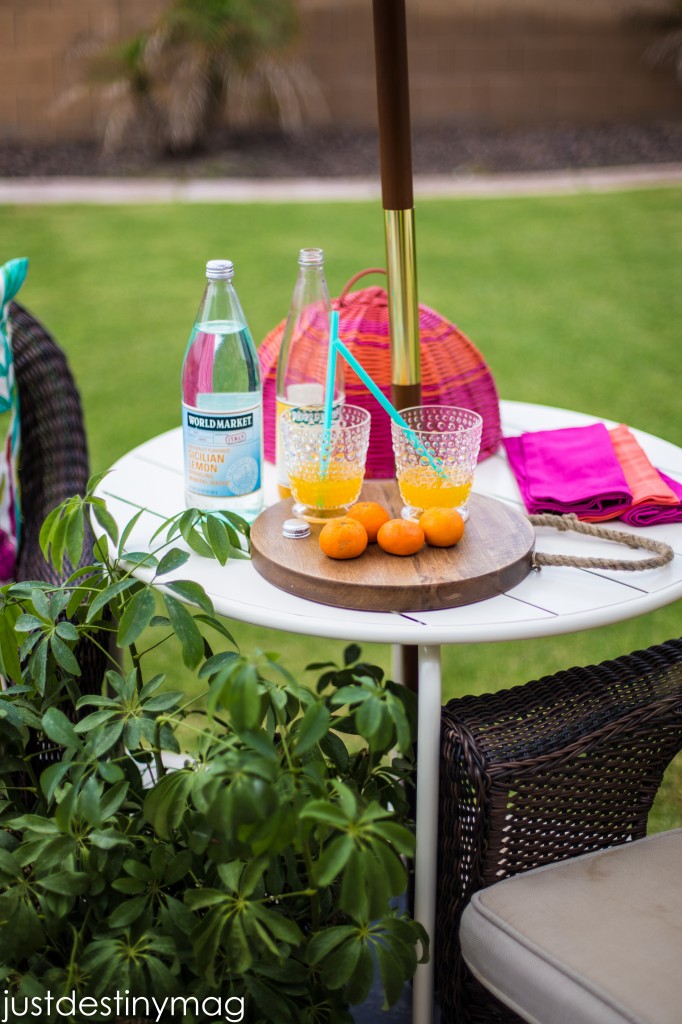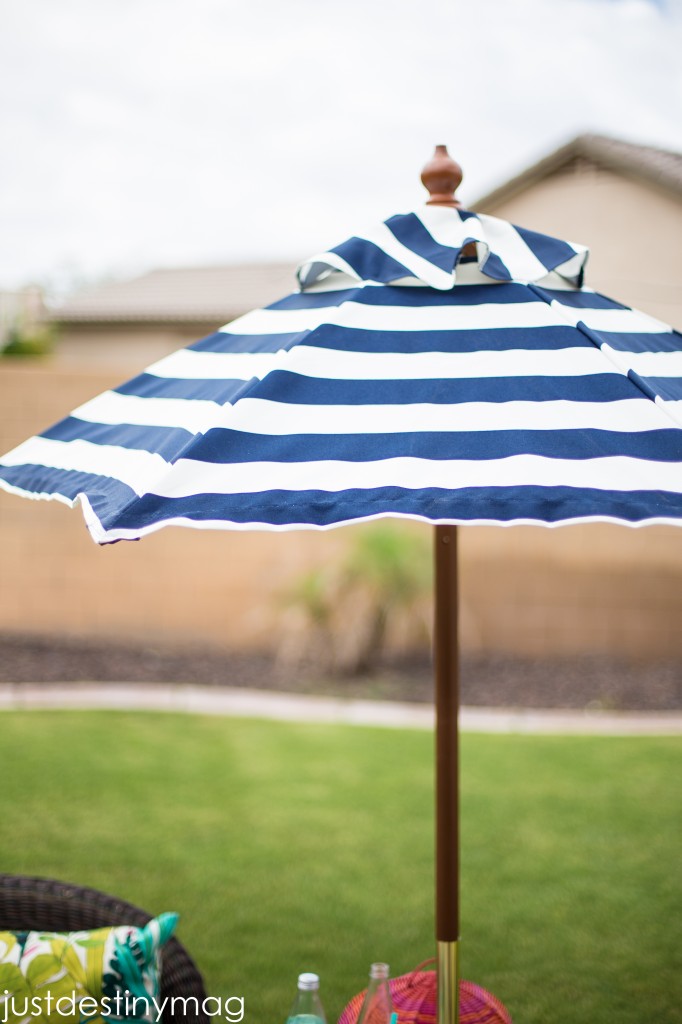 The pop of color is just what this space needs. It's far from done and I will probably move things around again and again but I'm loving the summer feel it has right now! It's going to be super comfortable for backyard parties this year!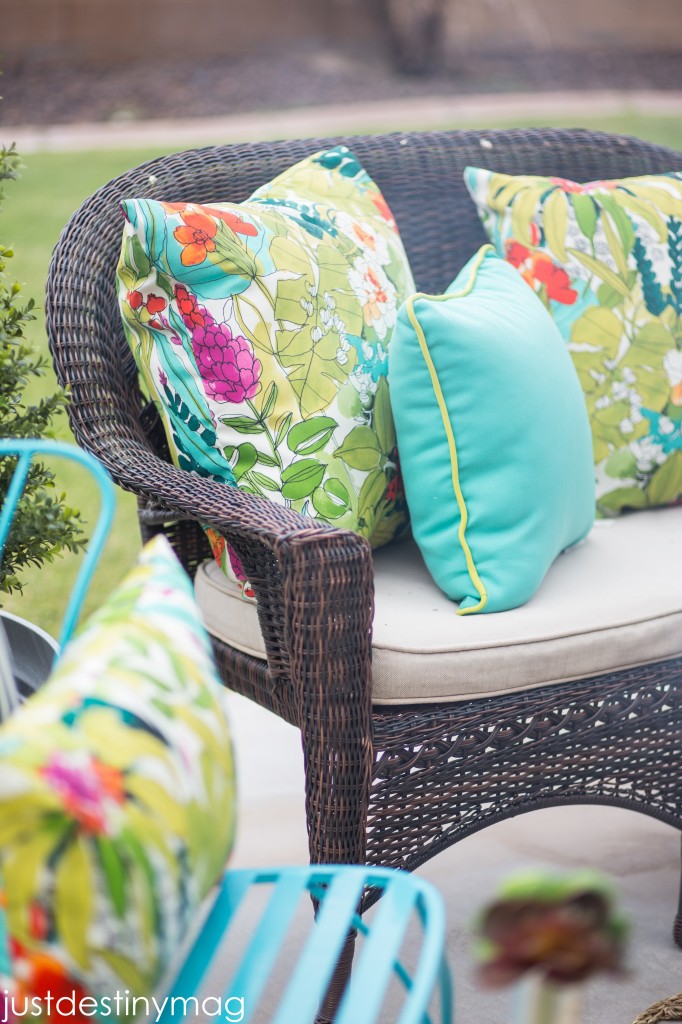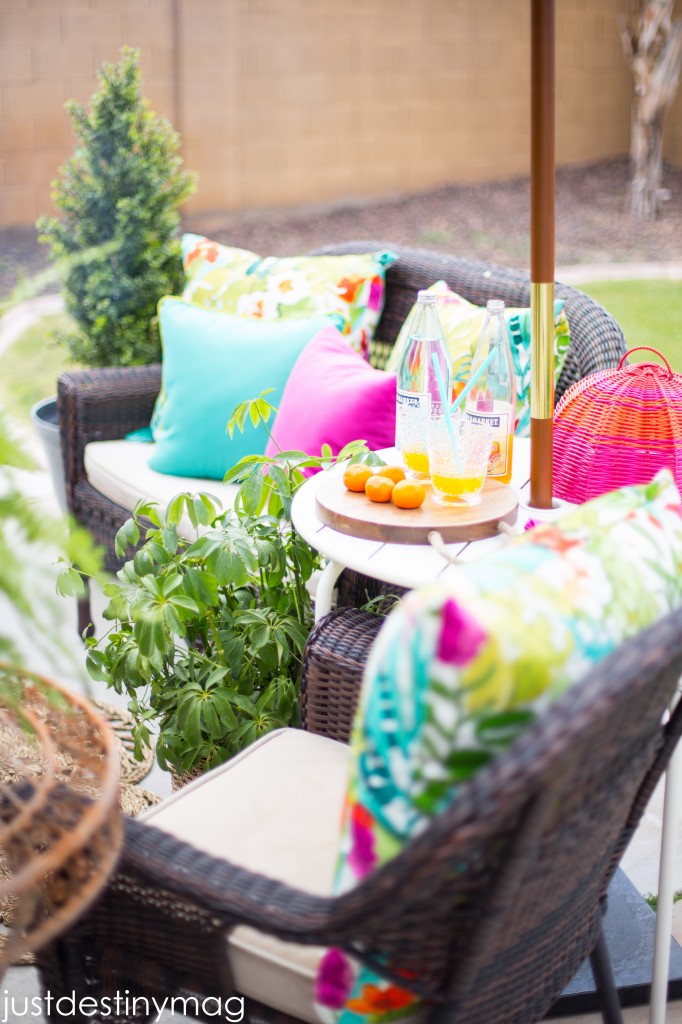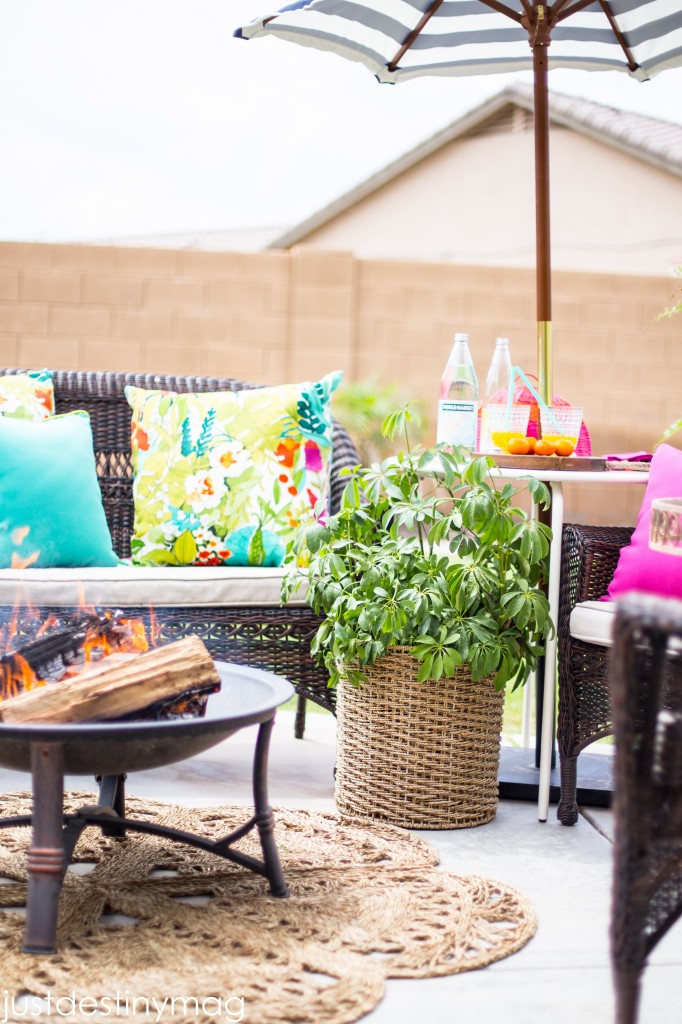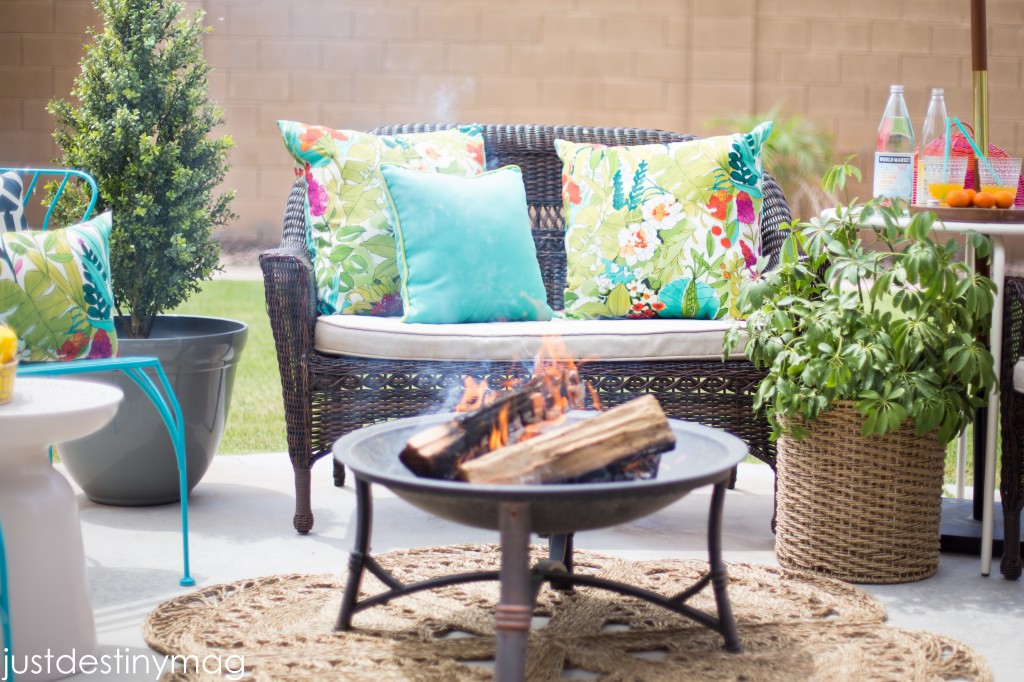 As always World Market has some WONDERFUL prizes you can enter to win this Summer! Start the summer out with a trip for two with Delta Vacations!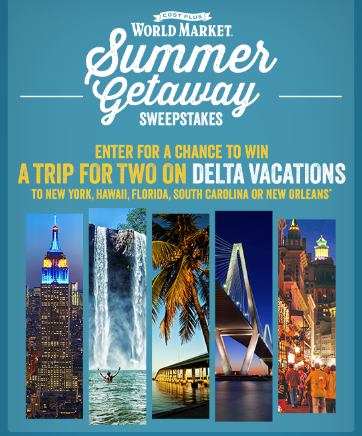 Enter to win one of 4 Grand Prize packages:
o Trip for 2 on Delta Vacations
o Hotel Accommodations
o $500 CPWM gift card
· (4) Grand Prize Packages available. Winners can choose to travel to one of the following locations: Florida, Hawaii, South Carolina, New Orleans and New York
· Enter the Sweepstakes here>>>> worldmarketsweepstakes.com
Good luck friends! To see all the fun patio updates make sure you follow the hashtag #WorldMarketLove4Outdoors on twitter, facebook and instagram!