Homelovers!
How are you guys doing today! Ready for a great weekend! We have a packed weekend full of basketball games, Cinco de Mayo, mexican food, church and hopefully sleeeeep:0)  I hope you had a chance to visit me over at The Handmade Home the other day, guest posting from my friend Ashley!! She's so awesome, you don't want to miss her blog!
Today I'm sharing a project that I've been wanting to do for about a YEAR now, but finally decided to DO it a few days ago! Does that happen to you guys? You think and think and think about a project until it just has no more room in your project collecting brain and you finally have to GET IT OUT by GETTING IT DONE! This project only took me one day to complete. Naptime, kids, dinner and life included, so I know you will be able to knock this out in one weekend:0)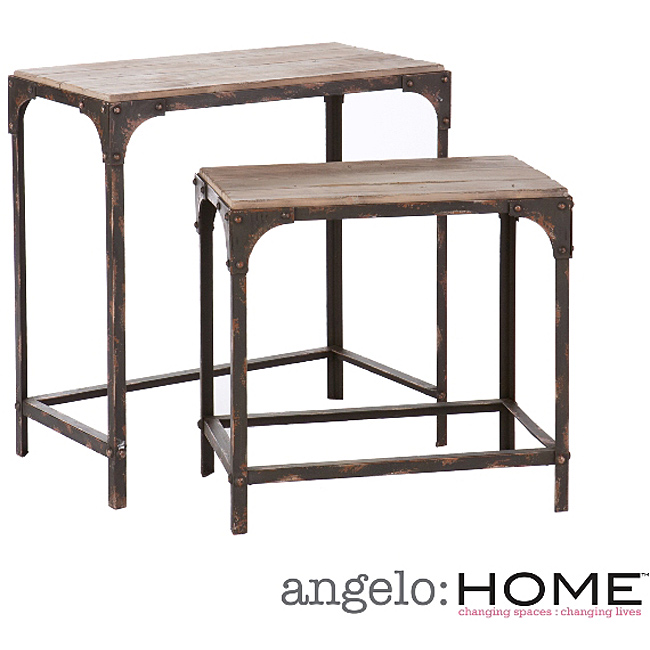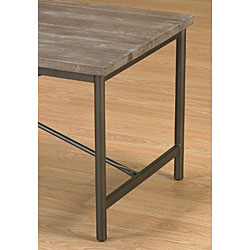 I guess you can call them reclaimed wood tables, wood top tables, or what ever you like but all I know is that I love them! Here's how I made mine…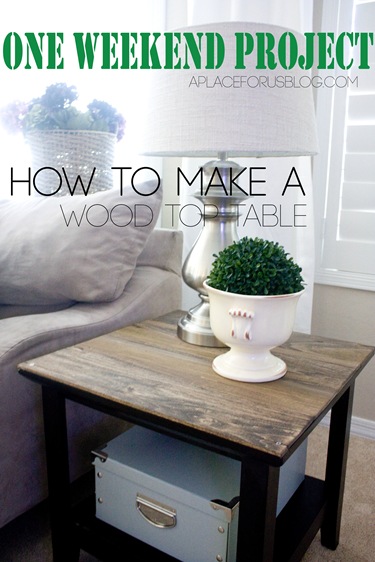 I had a couple of these plain jane end tables in my family room already. They were apart of a group set that we purchased when we were first married. So I bought some poplar wood stripes in various sizes from HomeDepot (take your measurements with you to the store) , cut them to fit the top (I used a borrowed compound miter saw!!), liquid nail them to the table and let it all dry.

I placed some heavy paint cans on top so that they wouldn't curve up or buckle with the liquid nail. I totally should have grabbed some clamps while I was at Home Depot but I forgot! After a few hours or so I removed the cans and gave the tables a light sanding with my mouse sander. It's important to have a smooth finish before staining anything so that your stain will soak in nice and evenly. After that I cleaned the tables off with a tack cloth.
Next I pulled out my oh so yummy, MinWax stain in walnut and began to stain the tops. I covered them about two times to get the finish you see below.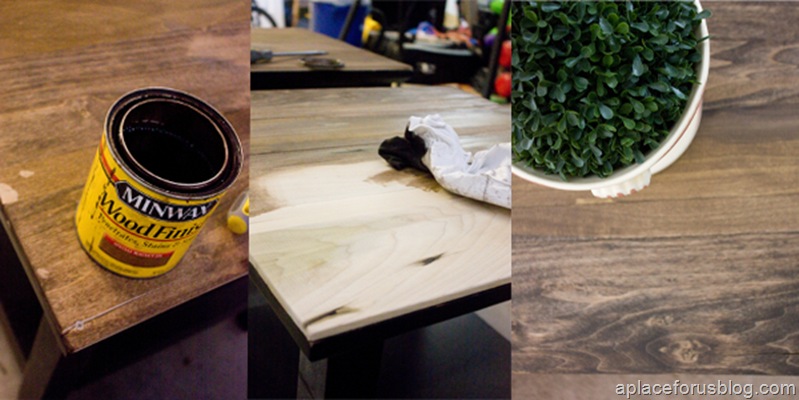 For some character I added wood nails and spilt the wood. Awesome right? Just kidding, I wanted to screw down the corners that didn't get the full affect of my paint can holding technique. But that didn't really work out because I ended up splitting the wood almost in two. But I didn't want to start all over! So now it's apart of the tables "character" haha! Sometimes ya just gotta roll with it. It can't be perfect all the time right? Yes, you agree:0)
So here they are in my family room. I love them! The two tones are a great way to break up some the finishes in the room and it was SO easy you guys. Like slap some glue on a stick easy:0)
Can you guys knock out this One Weekend Project? If you do let me know!
PS…I know you guys pretty well so… my lamps came from Homegoods, my real life fern came from Home Depot and my pillows; the gray and houndstooth are homemade, floral from Etsy and the solid green is from World Market! Booyah!
Linking Up to….