I love to talk newlyweds around here. I'm not sure if it's because my hubby makes me feel like a new bride, even after 7 years or because I might just love the idea of two people falling in LOVE and leaping to say I do.  But after the wedding and all the fluff is gone, new brides have questions and lots of them. I know for me it was questions like how do I set up my home, what dishes do I need, how do I throw a dinner party..I can hardly COOK!? But even if your not a fresh bride these questions can still haunt you. So today in order to settle some anxieties and help everyone out I'm going to be giving you some tips on how to take what's his and what's yours and mix your styles.
First let me start off by saying, every marriage is different . But for the most part if you're having this issue one, your husband actually cares about décor and won't let you conquer your home without his input or two, you really DO want to make him feel like it's his space even if he doesn't really voice his opinion. I know with my hubs he was all in my decorating business when we first got married. It all stared with that darn registry gun. I now know that him wanting to take control when we registered had little to do with blue vs.red dishes and more to do with shooting the little red light onto random, unrelated wedding items like an Xbox….geesh. Today I do all of the decorating round here:0) and occasionally I ask him for his input, even when I have NO intent to use his ideas…haha. It's all about making HIM feel like he's apart of it gals! It's all in love!
Sidenote: Remember to BE confident when your talking design and décor with your hubby! Come up with a plan and tell him about it! My suggestion for you if doing the living room or family room is NOT an option is to start in a small area like a closet or laundry room. Put together a design (ask a girlfriend if you really have NO clue), get a bucket of paint and try out your talent. You will be SO proud of yourself and so will he. Once he's seen how wonderful you are he will start to trust you!
Here's a few steps you can take to marry your styles together…
Play Fair
Come up with a number of items that are non negotiable. Chose which ones will go best in each room, store the rest or give them away. What you don't want to do is throw something out without the other persons content. This makes for a pretty nasty fight and you don't wanna do THAT right? Those first couple of years are hard enough so don't let something as little as furniture choices set you over the edge. Be patient with him! This is really the key!
Lets look at an example of what styles you both might bring into the marriage…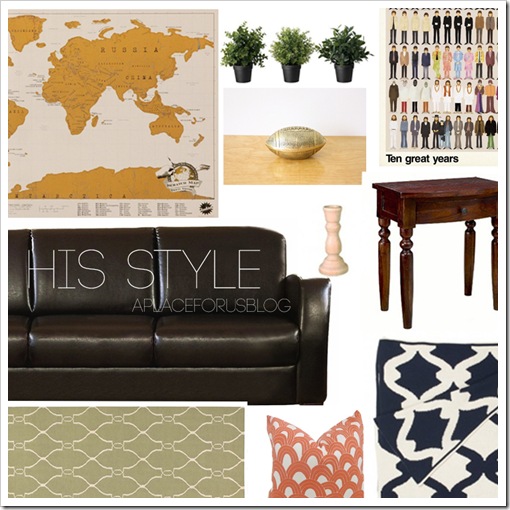 His style is pretty traditional, dark and masculine. He has a traditional taste and loves geometric textiles. After years of traveling the world for business he has collected some treasured items like a brass football he won in an auction overseas, a vintage Beatles poster and world maps.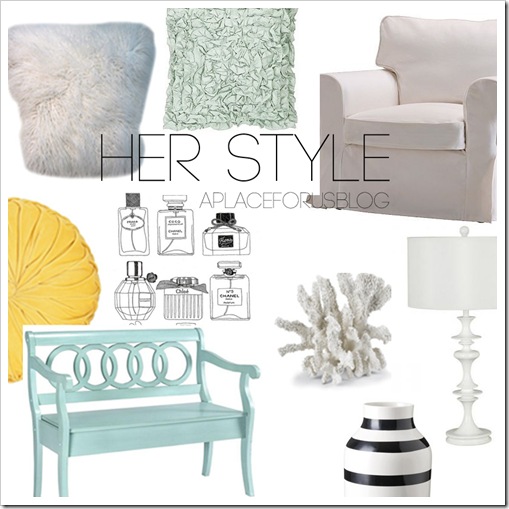 Her style is sweet. Her décor baggage includes, white accessories with pops of yellow and soft pastels. She has spent years in a small apartment in NYC working as a buyer for Gap. She loves curves, the Hamptons and anything with ruffles.
What do you have in Common?
You really have to focus on what you both have in common for this to really work! Although she likes pops of yellow and he prefers an orange hue, those two colors go great together and could make a fun color pallet.
Find a color you both LOVE!
In the plan above she's bringing in mostly whites, pops of yellow and shades of blue. He is bringing over browns, navy and greens. Look for colors that you BOTH have already and then maybe a few that you both could agree on. The point here is not to go out and buy everything new. You want to use what you already have and then fill in the spots as needed! I suggest looking on pinterest to find color pallets, it's a wonderful resource. I have entire board dedicated just to color!
Don't use every item you have in one room.
That brass football and Beatles poster are his LOVES! There is no reason to throw them out. Acknowledge them and suggest that he puts them in his man cave, his office at work or any space he has dedicated to himself. You LOVE your blue bench but it doesn't seem possible to put it the entryway liked you plan. Find a spot for it in the laundry room or give it a clear coat of protective enamel and sit it under your covered patio. Just remember not every item you have will be front and center. Be willing to compromise by moving it into another room or storing it until you find a place for it! Work together, be a team and be NICE!
Trial and Error
Now depending on how you look at it this could be the fun part:0) I suggest you start pulling the main pieces of furniture out and start playing with different layouts. After your main pieces are decided on and you have a color pallet start pulling your room together. Take pieces in and out as you both see fit! Once you've got a pretty good idea of what will work, start to make a list of your "missing" items. This might be a rug, drapes, or even a sofa! Whatever it is make sure it fits within your budget and plan to build up your décor as you go. I know for me, in our first house I had a pretty Ikea hutch with no other décor items it. Each week I would buy a few frames and after about a month I had myself an nice gallery wall. After I was done with that I added curtains. Make this a process that is FUN! If you guys are stressed out about it then it won't be worth it! 
Let's take a look at what their family room could look like if we took items from both of their boards and put them together. Notice I didn't use every single item. I stared with my common color and worked from there!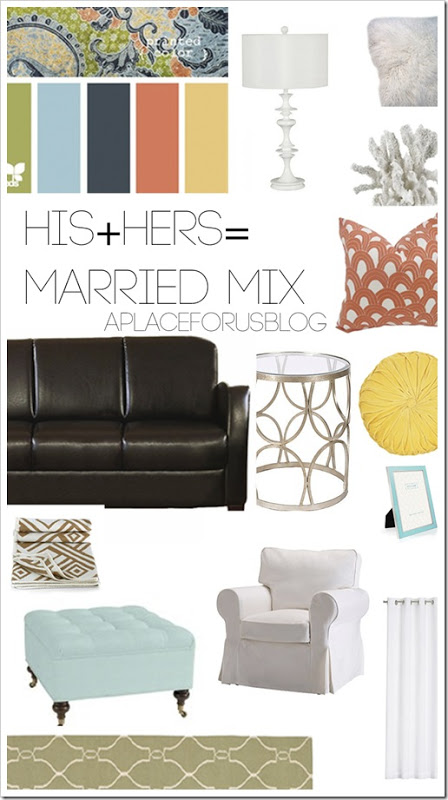 Together their newlywed style mixes perfectly! NICE, right?!
For a neutral base they kept his leather sofa, her white chair and added white drapes. This setting will allow them to build layers of texture and textiles with out over committing to a certain color. They also kept his orange pillow, her yellow velvet pillow( I want that!!),coral beach piece, fur pillow and white lamp for accessories. All of these items together give the room some masculine interest and still keeps the room feeling light! Blue is the one color that they BOTH agreed they loved. Although she had a ruffled blue pillow, he was NOT havin it! By leaving the furniture neutral, it allowed them to use that blue in accessories and in small pieces of furniture. He wanted to proudly display his brass football (heavy eye roll) but instead they decided on a brass table with a curvy base to please them both! They also used a geometric throw blanket and blue picture frame they received as wedding gifts! Now they have a room that is perfectly THEM!
So what do you think newlyweds and Homelovers alike? Do you think you can do it! No matter what your décor obstacle might be, remember to show each other love and respect. Because it's really not about the furniture friends! It's about building a relationship that's going to last a life time!