A few weekends ago my mom and I, she's my shopping partner in crime:0) went out to a few of the Goodwills and Savers around town. I found a few items but my favorite was this 7.oo table I picked up from Savers.
It had beautiful lines and great details! I knew all it needed was a fresh coat of paint. SO I brought it home and doll it up for our family room:0) It looked like it was a mix of veneers and real wood so I decided not to sand it. I just cleaned up the dust and primed it with a coat of gray.
You can see in this the dark gray primer(Krylon) under the lighter gray paint that I had left over from the boys room. I used a cheap sponge brush to apply it. I love using those thing:0)  SO much easier on small projects like this! To get the more detailed areas, I used a light gray spray paint from Krylon, again.
So that would be THREE different grays I used:0)
The result it a pretty grayed little table that sits next to one of our sofas in the family room. When I paint furniture I don't try to get it perfect. I dab, stroke, sand and chip away at it. I leave some parts "unfinished" to get that it's been here forever look.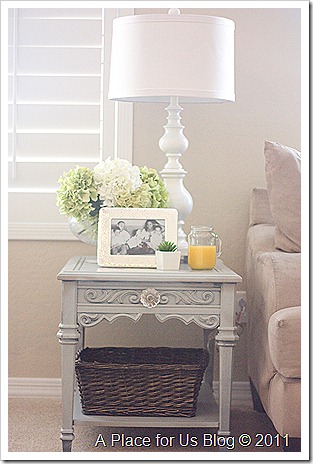 I fell in LOVE with the pictured white lamps from Homegoods. I picked up two of them and sat one of them on my new table:0) Thanks to a loaded gift card from my mom and dad and sister…they were free to me! yes!
I lightly sanded some areas so that the darker color could be seen. I also added a crystal knob that I had from an extra curtain tie back. I added these baskets that my MOM got for me. I think they were 2.00 for a set of 6.
Another peak of the lamp. So curvy!!! I really REALLY adore these lamps. Anytime I walk in to Homegoods I'm drawn to that section:0)
So fun! I also have a table that I'm SANDING(seems like I never sand anymore:0) that has been in my office for a while!