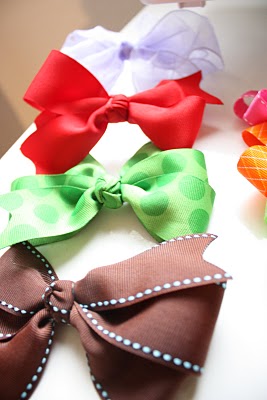 SO about 9 more weeks to go until our little girl makes her arrival! I've been in a complete nesting mind set for the last couple of weeks. I am list girl, so right now I have about 6 list going, including Baby Room, Gameroom,Living Room,Baby Shower, Hospital Bag, etc. I am trying to do one at a time but it seems like my mind just cant stay focused on just ONE project! I have to say this is actually very normal for me! Cant blame pregnancy for that one! Well my mind drifted off again back to making bows. I am a BIG fan a BIG BABY BOWS! lol! I just think they are sweet as can be and it makes it know that the baby your strolling around is actually a girl and not a boy dressed in pink…I say that because Bear gets mistaken as a girl ALL the time because of his beautiful curls! Even when he is wearing the same outfit as his brother! lol!!!
Anyway last weekend I went on over to my favorite, well not my FAVORITE but my convenient craft store Micheal's to start my ribbon project. I used my handy dandy EXTRA 25% of ribbon coupon and bought some clearance ribbon. Just about everything that has a yellow tag I grabbed! lol I got about 12 rolls of ribbon for 7.00 pretty cool!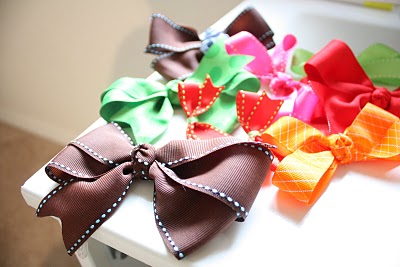 I refrenced this helpful website to help me make them!
GIRLYTHINGS
. Seriously girls you can learn and do just about anything your little heart desires on the internet. That mixed with your very own creativity equals a product that YOU want and some saved money in your purse!!!
To use the bows I'm making right now I am going to attach an alligator clip onto the back of them and order some NYLON headbands from etsy.com. That way they are interchangable! I am not a big fan of the crochet ones. They ARE cute, but I just like the nylon look a little better!
I am also in the process of making some flower attachments TOO! Now talk about sweet! Nothing prettier than a girl with a flower in her hair! I will post some pictures later on that!!