Have you guys seen Cindy Crawford's line at JcPenny? It's so pre tee:0) It seems to me like its a mixture of traditional,elegance and modern pieces mixed up and updated by beautiful colors. I think some of her pieces would fit perfectly in our home….check it out…..
Ice Tea Glasses *ice tea and pretty glasses? sign me up and Nail Trim Trunks
Oversized Velvet Pillows…I saw these and I'm in LOVE:0) and a Luggage Rack..hmm interesting
So every now and then my friends, yes anyone who sends me "money" to spend at their stores I call friends:0) sent Reggie and I our $10.00 certificate they send out if your on their mailing list. ( I totally signed him up to get one, can't lie:0) So last Saturday I picked up two of these Cindy Crawford cream colored sofa throws that were on clearance for $9.95 . So they were FREE…well I threw in a piece of Godiva to even things out:0)
I threw one on the sofa downstairs and the other one on the sectional upstairs.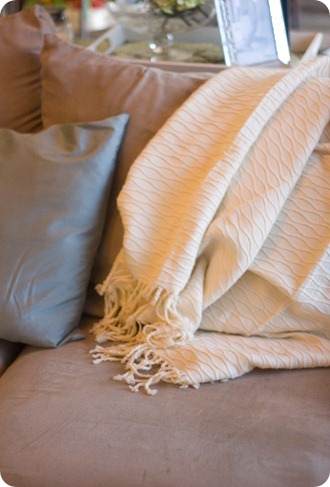 Just my style…:0)
I will try my very best to do something like this every Monday…but I can't promise it won't be Mustard on my shirt Monday, Maniac Mommy Monday or Messed up Dinner and it's more than I can take Monday:0)