" I can see clearly now the rain it gone….."
So I've basically missed the entire month of December here due to all of us getting the FLU, one case of strep and two stomach bugs! Thanks so some of my friends over on A Place for Us Facebook page I was able to get some of your flu regimens and secrets so that I could get back on my feet. Gosh, you never now how precious your regular health is until ya don't have it! All I wanted to do was get out of bed and…clean. You know I was sick. ha!
But I'm back and ready to start the new year with you guys. It seems like every year around the time the hubby and I want to throw a fabulous party with our closet friend and family to ring in that new year. But each year for the past 7 years Reggie and I just end up with a house full of sleeping children, comfy sofa and each other. I know we aren't the only ones who fall asleep before the stroke of midnight and wake up just in time;0) Here's a few things that we do to keep it simple and intimate and still sweet, with just the two of us.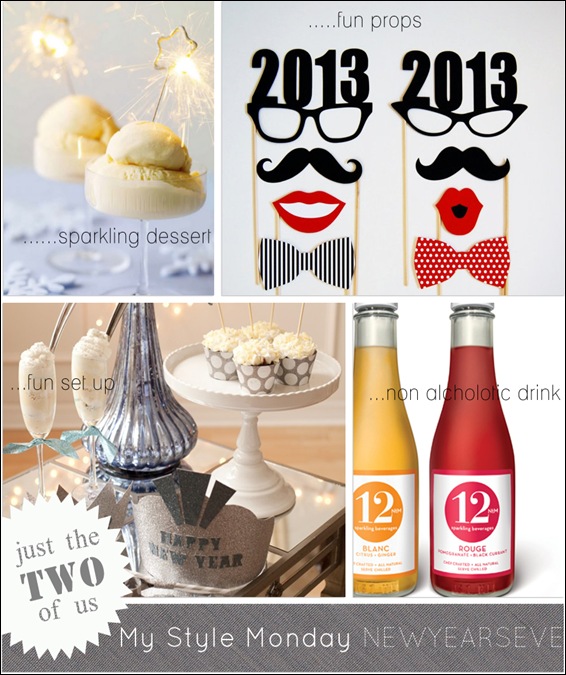 When it's just us two,  I usually end up making us a simple dessert. This one features yummy vanilla ice cream. I usually do something that involves a brownie:0) I love the sparkling candles on them. It makes it super festive.
Another fun idea is to pull out your iphone and snap some pictures of yourself with some fun props! You can purchase these over at Piccadilly.
We're not drinkers but that doesn't mean we don't like a fancy drink! 12NtM® Sparkling Beverages are a all natural, gluten free drink for the festive non drinker. It comes in two different flavor, blanc and rouge and can be mixed with other drinks to make a custom drink just for you!
Just for fun you can set everything up all cute like just to make it that much more special.
So how will you be spending your new years eve?