Welcome Back to My Style Monday!
 I'll just skip over the fact that it's been about 6 months since I've done my last MSM:0) No need to talk about that.No need.
I'm talking about curvy furniture today! I love it. I need it. I want it! It was one of the first things that attracted me to my dining room table. Curvy like a rollercoaster ride!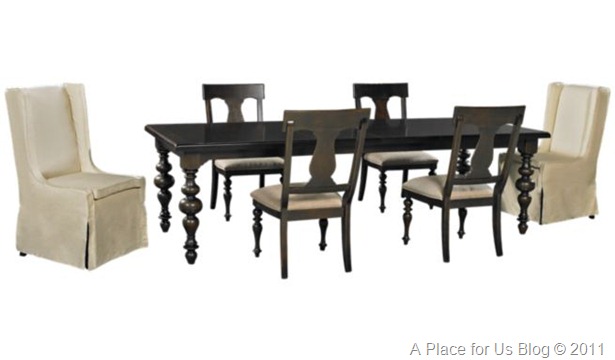 Check out this bed from Ethan Allen. Can you spot the curves? Perfect for someone's guest room. Hi there:0)
WHOA. This ones got curves and color. Looks like a swirly ice cream cone. No wonder it's so attractive:0) Weeeeeee!
Look at this one. I wouldn't even want to put anything on it!! ha!
"Come on in. Look at my beautiful blue shelf. Don't touch please"
I'm looking for an extra long console table for my extra long living room wall. This one would be PERFECT:0) Check out those legs! Simple? Yes. Ugly? NOPE!
Although this one MAY compete too much with my current table, I just can't take my eyes off of it. I L.O.V.E it because it adds a different finish to the room.  At this point, a big piece of furniture can take the room two different ways… Serious and NOT so serious:0)
So how do you feel about your furniture? Are you more attracted to clean straight lines or do like your furniture a bit curvy?