Today I'm so excited to have Susi, a writer for Arcadian Lighting guest posting for A Place For Us today. Founded in 2002, Arcadian Lighting started selling decorative home lighting fixtures and lamps online, and has become one of the top Internet retailers for home lighting products. Visit their website and cool blog for more information.
Hi, I'm Susi and this week on My Style Monday, we're writing about colorful lighting. Lighting is an easy way to add pops of color to your décor. From hanging fixtures to lampshades, colorful lighting can create new focal points in your room. We've pulled together eight of our favorite ways to use this design element in your own home.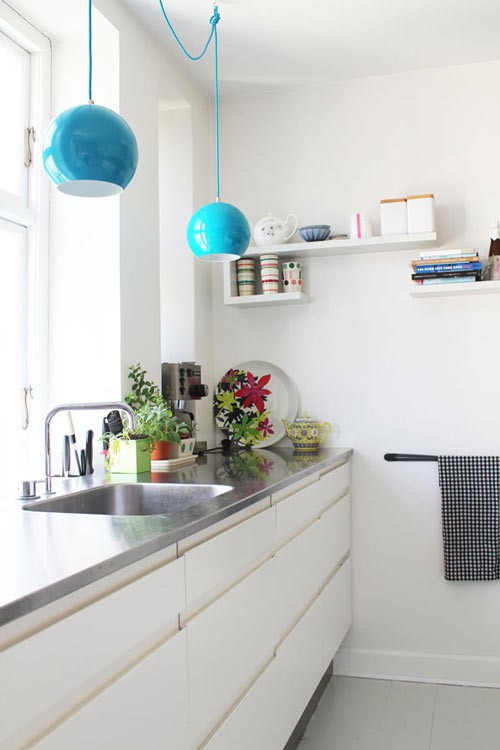 Pinterest via
Colorful lighting, like these blue globes, is an easy way to bring a room to life. Colorful hanging lights draw the eye up to color in an unexpected place.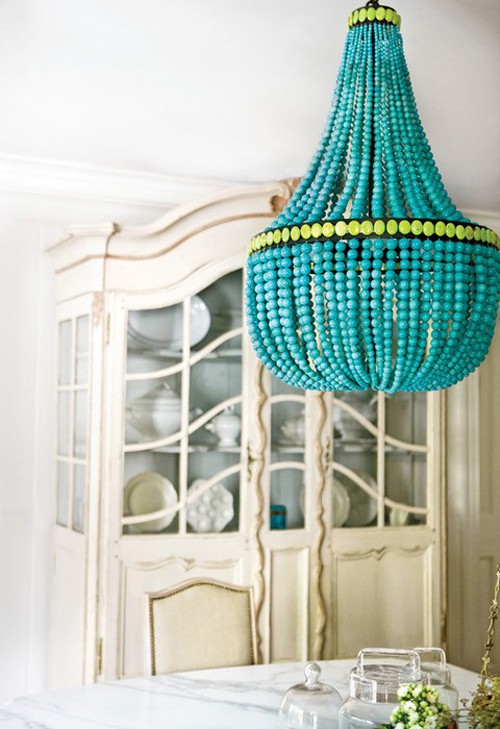 Style Files via
This gorgeous turquoise bead chandelier makes a big impact in a white dining room. It creates a focal point that draws the eye to the dining table.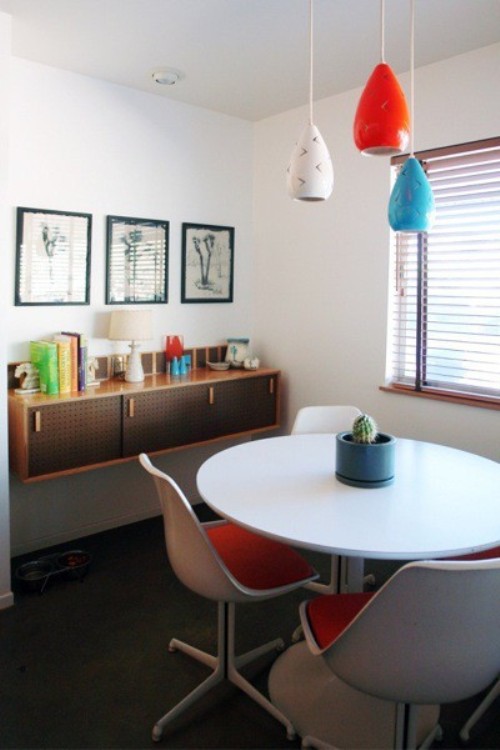 Alice in Designland via
A group of colorful glass pendant lights adds a cool retro feeling to this dining area. Choosing three different colors adds more interest than using all the same color.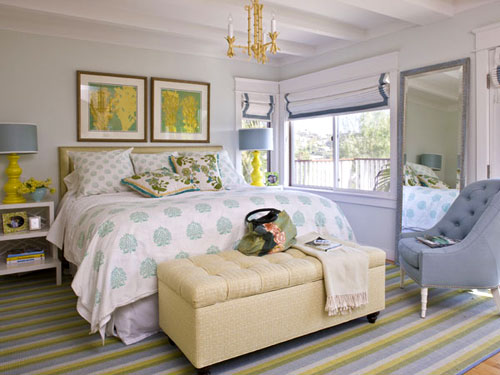 Young House Love via
Pick up colors from your existing décor and add them to your lighting. Love how the yellow of the lamps relates to the artwork on the wall.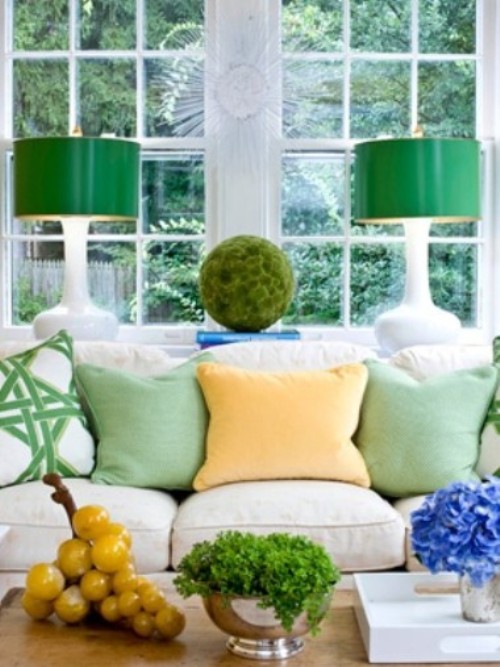 Danielle Oakey via
A white or black lamp can easily be turned into colorful lighting with a colorful lampshade. Choose a coordinating color or contrasting color depending on how much you want the lighting to stand out.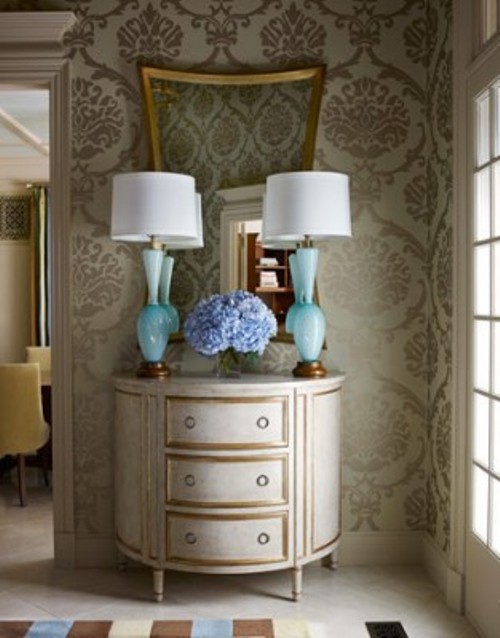 Julie Couch Interiors via
Colored glass, like these vintage Murano table lamps, adds sparkle as well as color to a room. If you have a neutral colored space, colorful lighting will pop against beiges and whites.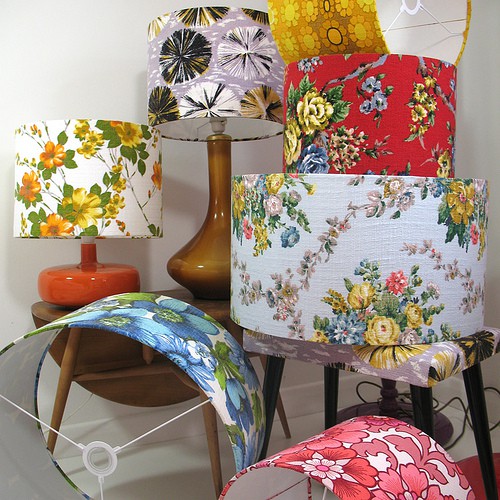 Blue Bird via
Not all color in lighting comes from the light fixtures themselves. Recovering existing lampshades in colorful fabrics is a smart way to create a colorful lamp with what you already have. Use vintage or new fabrics, and look online for a DIY tutorial.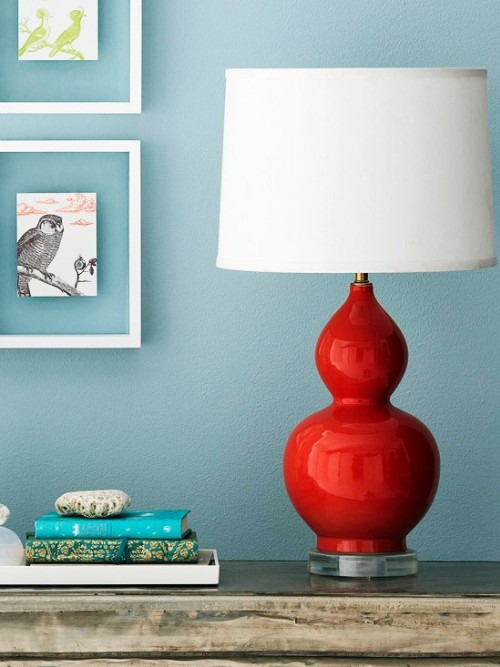 Better Homes & Gardens via
Another option for adding colorful lighting to your décor is to rehab your existing lighting. Painting a lamp can give you the perfect shade to complement your décor. Go straight to Arcadian Lighting's website to discover even more beautiful and brilliant design ideas and a vast array of lighting fixture products to choose from!
Thank you so much Susi for guest posting today!  Loving those lampshades and that red lamp looks like candy!!
You can also follow Arcadian Lighting on Facebook and Twitter for updates and special promotions!