My 5 Minute Morning Make up and Morning Routine
This post is sponsored and may contain affiliate links, please read my disclosure policy.
This post is brought to you by Walmart, EcoTools and BurtBees. Companies who believe in 100% natural & moisture rich products you're looking for at an everyday low price
So we headed back to school! This means all of our abandoned routines are back in full effect. I always have the kids start the week before by putting them to bed at their normal bedtime, which is about 8 o'clock for everyone these days. Then I get them up early in the morning at around 6:30 so we can eat breakfast, get dress, brush their teeth, etc. That way when the first day comes they won't be so shocked. Along with the kids getting back into their normal school year routine, I also have to adjust.
So I thought it would be cool to share my mommy morning routine. I am NOT a morning person so it's never been easy for me to wake up refreshed. But since I've been taking my iron and b12 pill religiously, I'm not as fatigue. I'm still unable to speak for about 1-2 hours but at least I smile…lol! Plus having a routine in the morning helps me accomplish more. I've been a stay at home mom for about 8 years now and let me tell you I've tried the hole go with the flow kind of routine and it's not fun. Maybe for holiday but not for everyday. You never really get your day going like that. Plus routines keeps your day productive so you can accomplish more of your goals and tasks each day.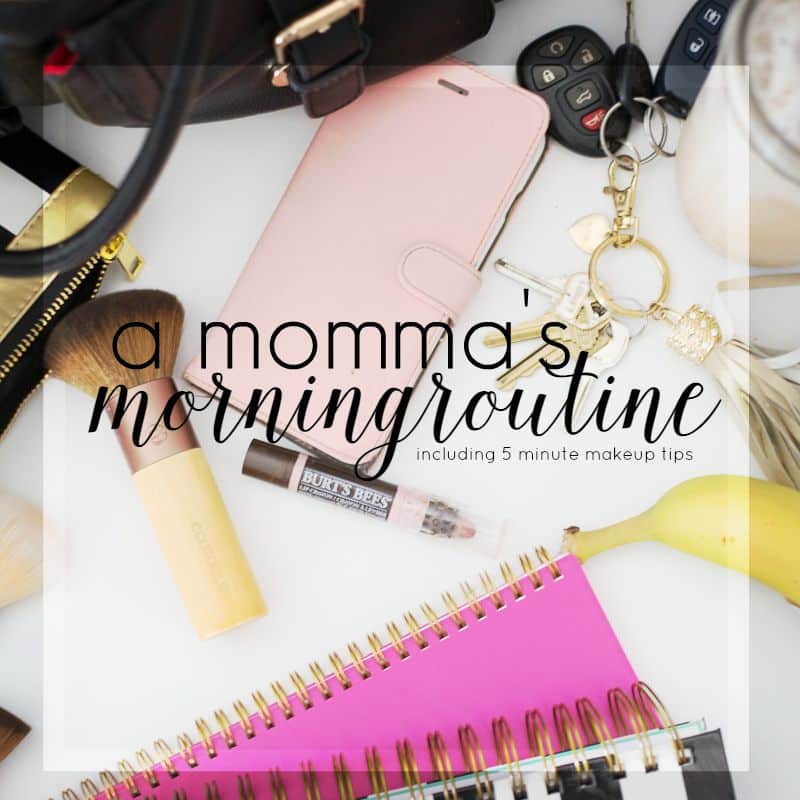 [line]My Morning Routine[line]
No alarm ( I'm a natural. Grumpy, but I'm up. ) haha. I usually need to have the kids up by 6:30 during the school year, so I will wake up about 30-45 minutes before them. It's not easy but I think it's so much better to start my day before them.
Wake up go to the bathroom and head downstairs with a load of laundry. Usually from my room.
Put the load in the laundry room and start to wash it.
Drink a large cup of ice water ( with lemon or apple cider) . It's the only thing I crave in the morning. Then I make my favorite ice coffee and take my vitamins. I just recently became a coffee drink this year. But I only like cold iced coffee.It's the BEST! Plus I can make it at home.
Get my phone ( I leave it downstairs so I don't look at it in bed for 15 minutes haha)
Check email, check my to do list, do my devotional, and open up all the windows. I love natural light! It's a must for me in the morning. Probably explains why I have a hard time getting going on cloudy days.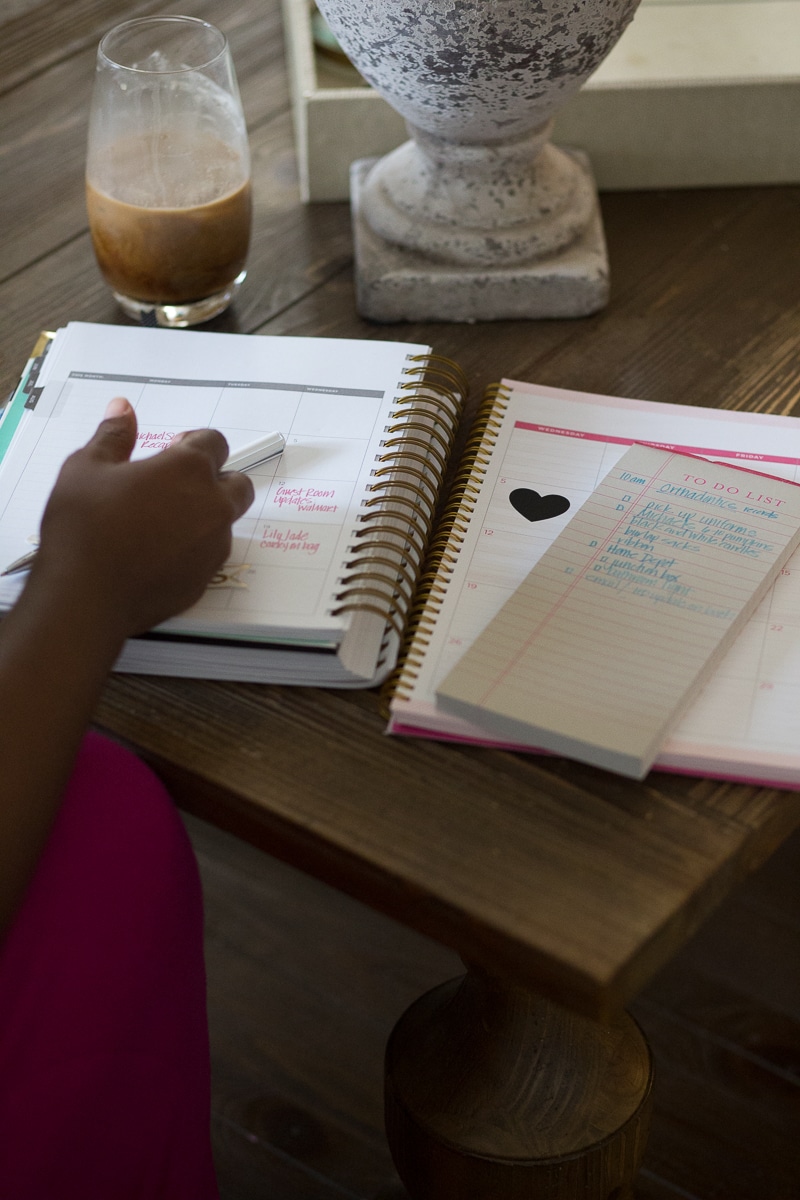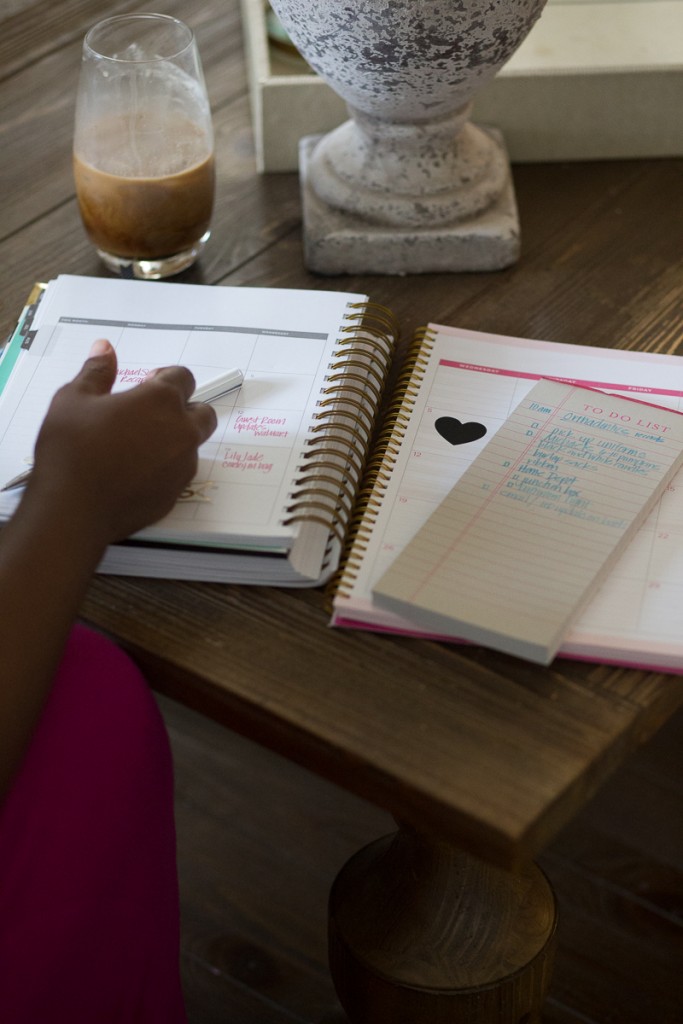 Get breakfast going
Wake up kids. They get dressed. Come downstairs and eat breakfast. ( We rotate between waffles, eggs, oatmeal and cereal.) They are really easy kids to feed.
While the kids are eating I go upstairs brush my teeth, and put makeup on if I'm going somewhere that morning. My make up routine is about 5 minutes long ladies. Most days I don't even where make up. I have super sensitive skin so I try to keep it allllll naural most days haha. But on the days I'm meeting with a girlfriend, going to the Dr. or even days I know I will be out shopping I put on my 5 minute face. Even if I'm dressed in gym clothes and not going to the gym :0)
[line] Five Minute Make Up Routine[line]
I don't have my makeup set up on my counter all pretty looking, but I do keep all my brushes nice and tidy in my little EcoTools Brush Roller and all make up in cute bags. If you're ever in the market for some new brushes EcoTools might be your best pick! You can find them in the makeup section at Walmart. What I love most is that they are sensitive skin friendly. I'm not joking when I say I have sensitive skin friends! It doesn't take to everything very well. So when I see that EcoTools looks beautiful, performs beautifully, and acts responsibly I'm all in! Plus all EcoTools cosmetic brushes are hand-crafted and precisely cut cruelty-free bristles and comes in packaging that is 100% recyclable and made from 80% recycled paper.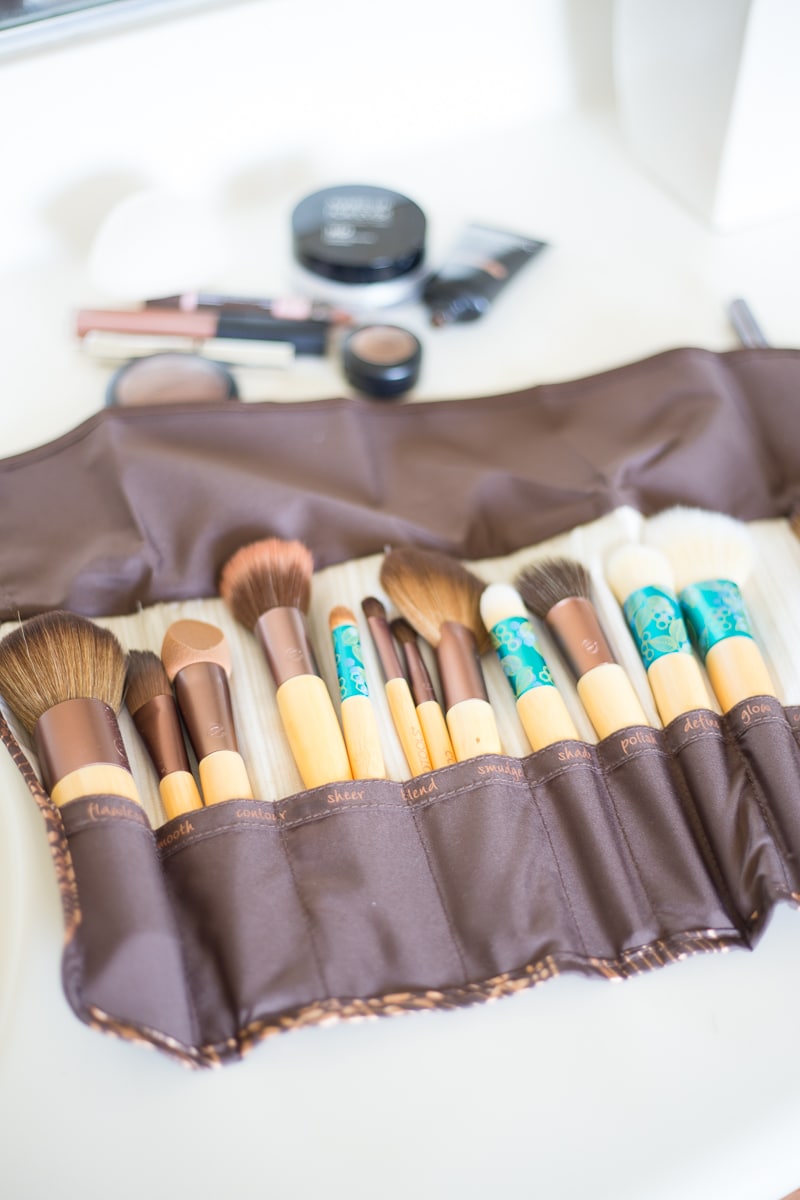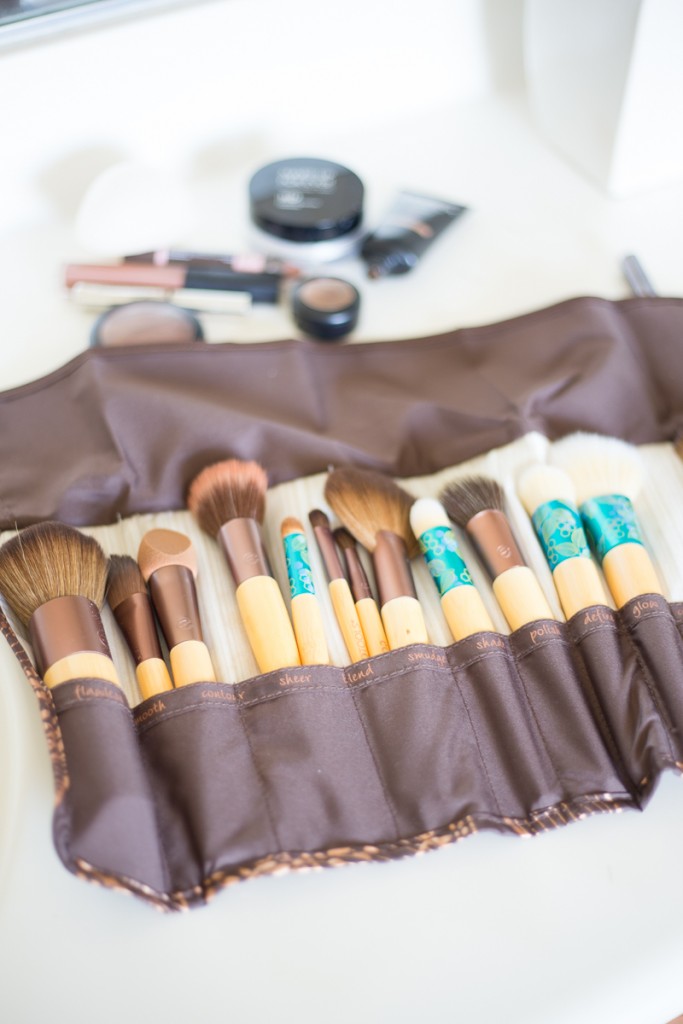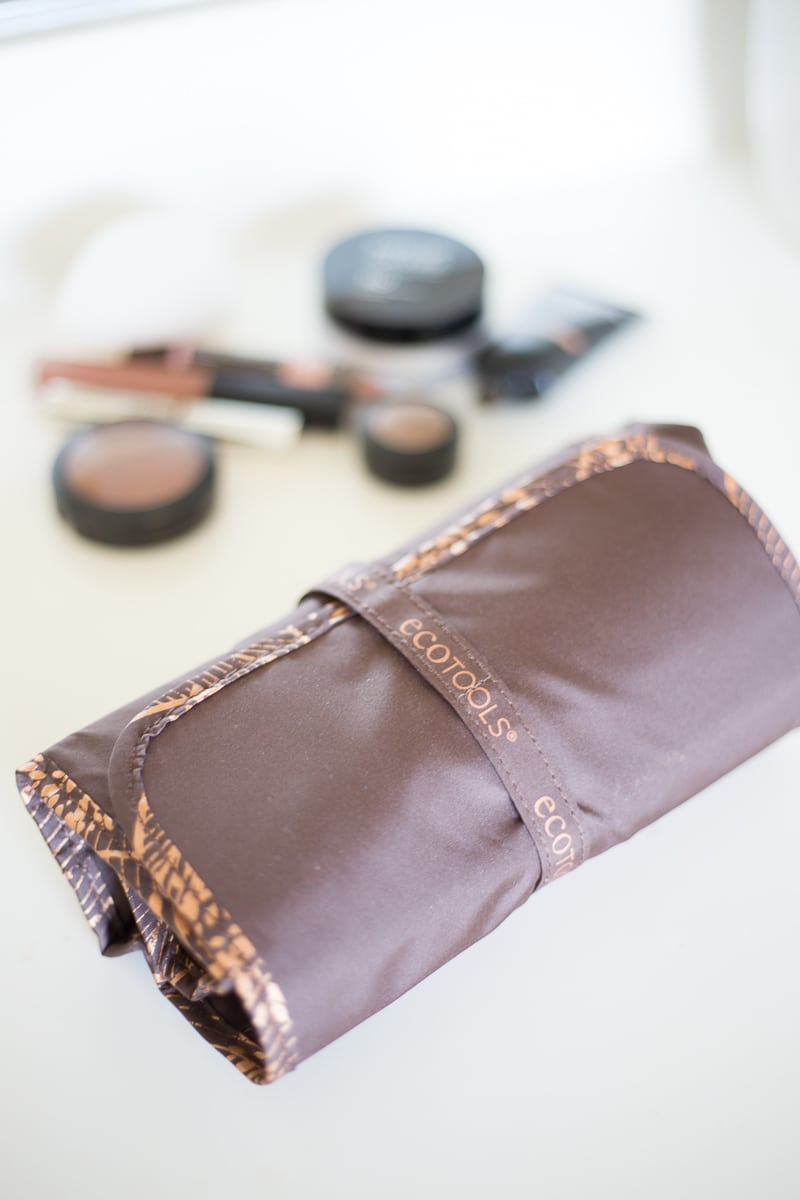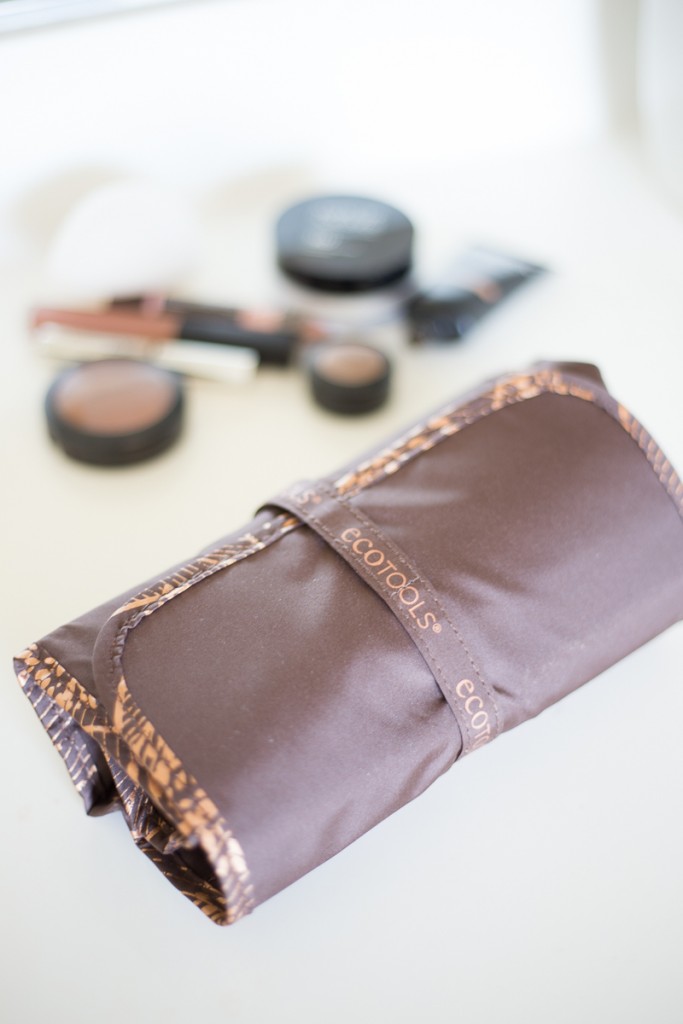 Ok so here we go. I did this tutorial in the morning so I boosted the light as much as I could so you could actually see me..haha.
I usually put my hair up in a ponytail. It's to hot to wear it down. Plus I'll be running errands on this particular day. I first scrub my face with this konjac face sponge by EcoTools. I thought is was foam at first but once you get it and run it under water it turns into a fantastic scrubbing machine and a gentle exfoliator that's perfect for sensitive skin like mine. I'm a very firm believer in exfoliating! I do it at least every two days.
For some light coverage I use a BB cream. I put it on all over my face using a foam applicator and it goes on amazing. EcoTools also has a brush specifically for bb cream in their Complexion Collection that I love to , but this one just feel so right I can't stop using it! I've tried it with my fingers before but this brush works so much better for me. I love using BB cream because it's nice and light and it gives my some much needed sunblock when I'm out all day!
Next I throw on a little mascara and then brush my brows using a clear gel. My eyebrows are always a hot mess! I seriously think they grow about an inch every week. haha! Plus they are super curly so the gel helps me keep them under control until I can go get them waxed.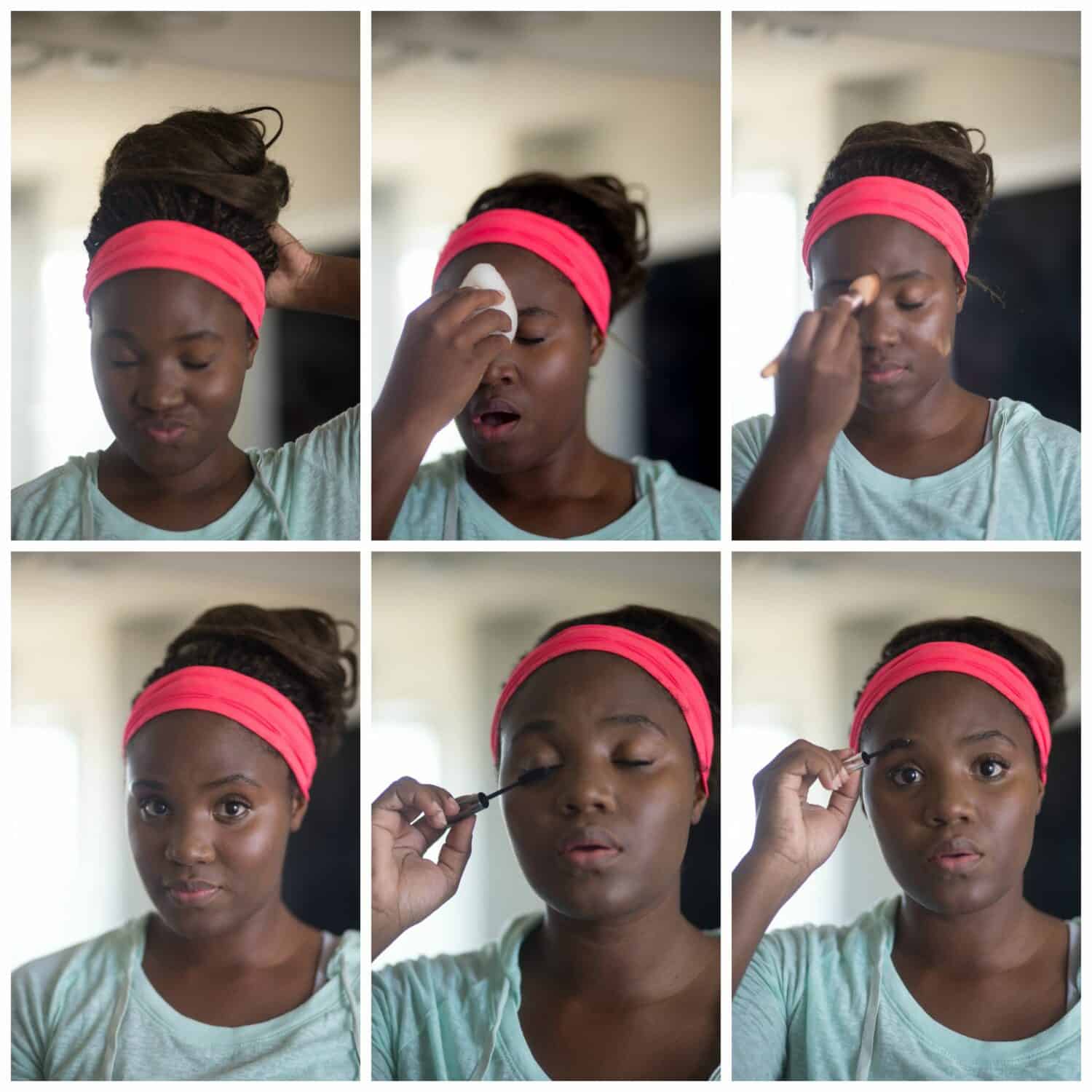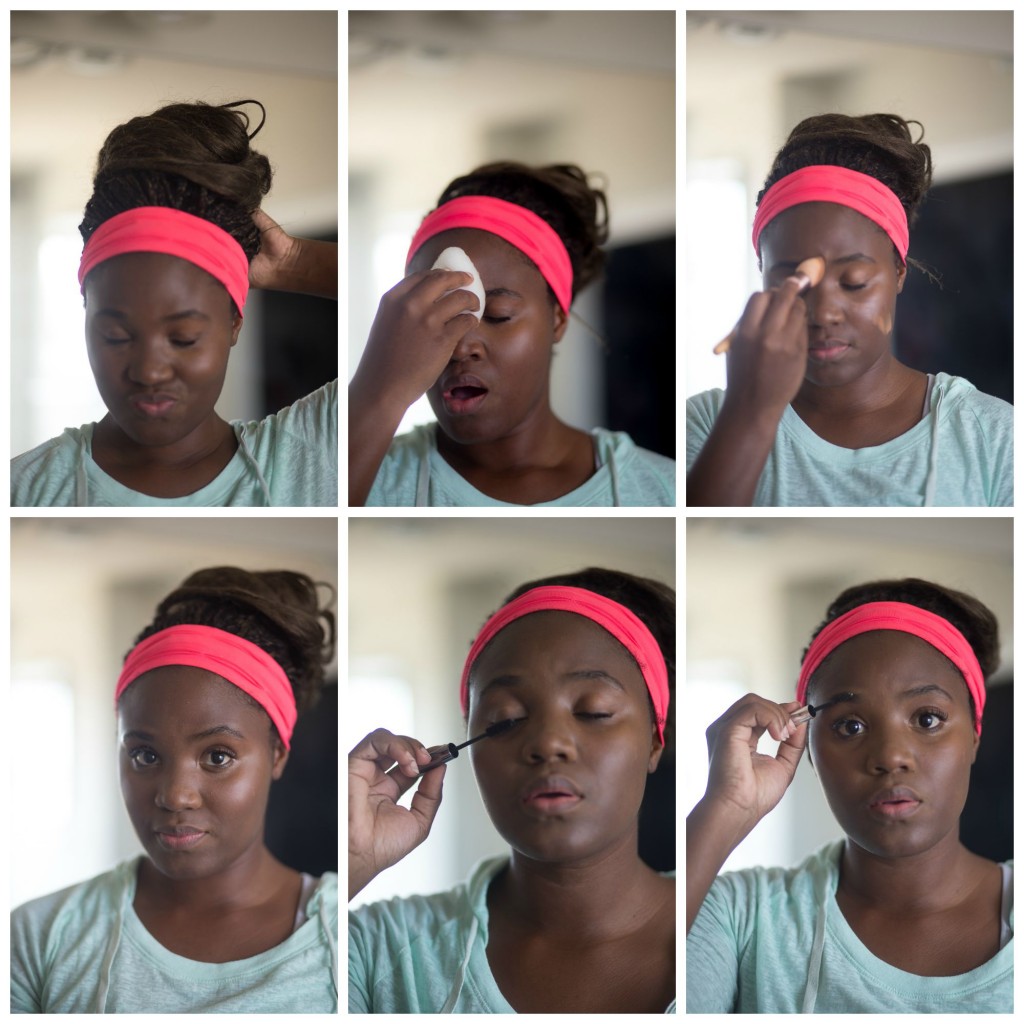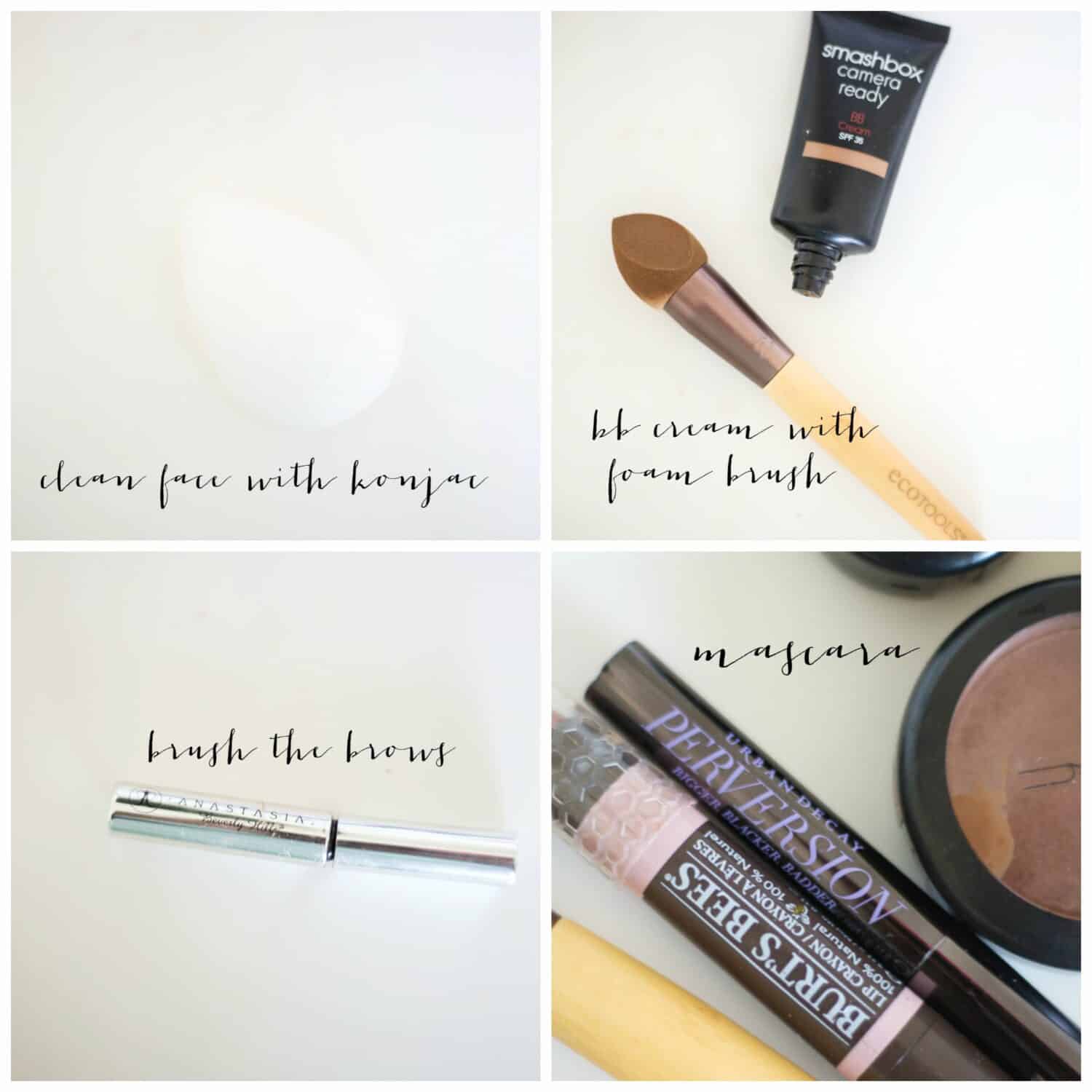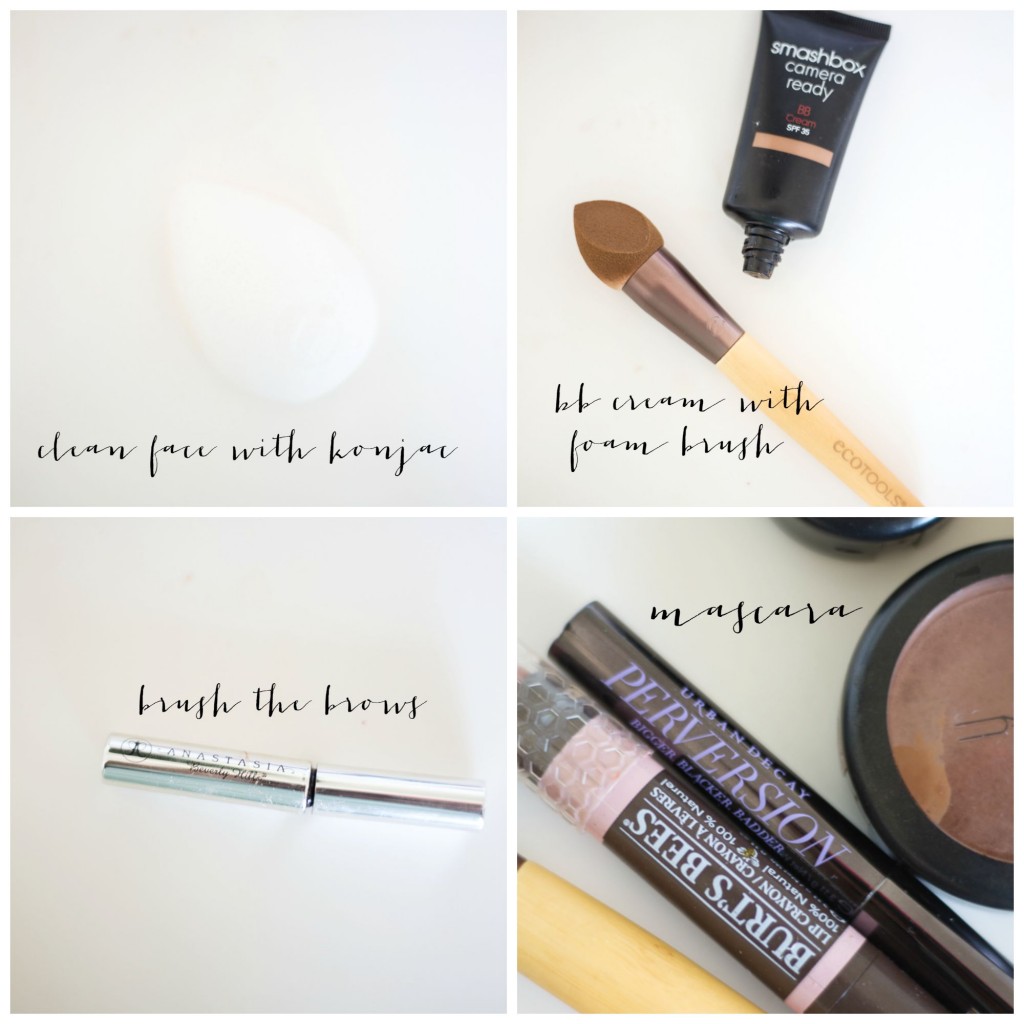 Now, sometimes I do concealer and sometimes I don't. Some days I really needed it under my eyes. Especially when I've stayed up all night :0) Also every now and then I have a little blemish I need to cover up! I dab it on with a concealer brush and then use my fingers to blend it in.
My lips are also pretty simple. I put on a colored lip balm like the one pictures below. ( Burt Bees Crayon Niagra Overlook) Love this because it gives you full coverage if you need it and at the same time it's light weight and has all types of yummy oils to keep your lips nice and moist all day.Then I top it of with a lip gloss with some additional color. The combination keeps my lips nice an moist for hours. Again, it's super hot out right now so I need all the help I can get!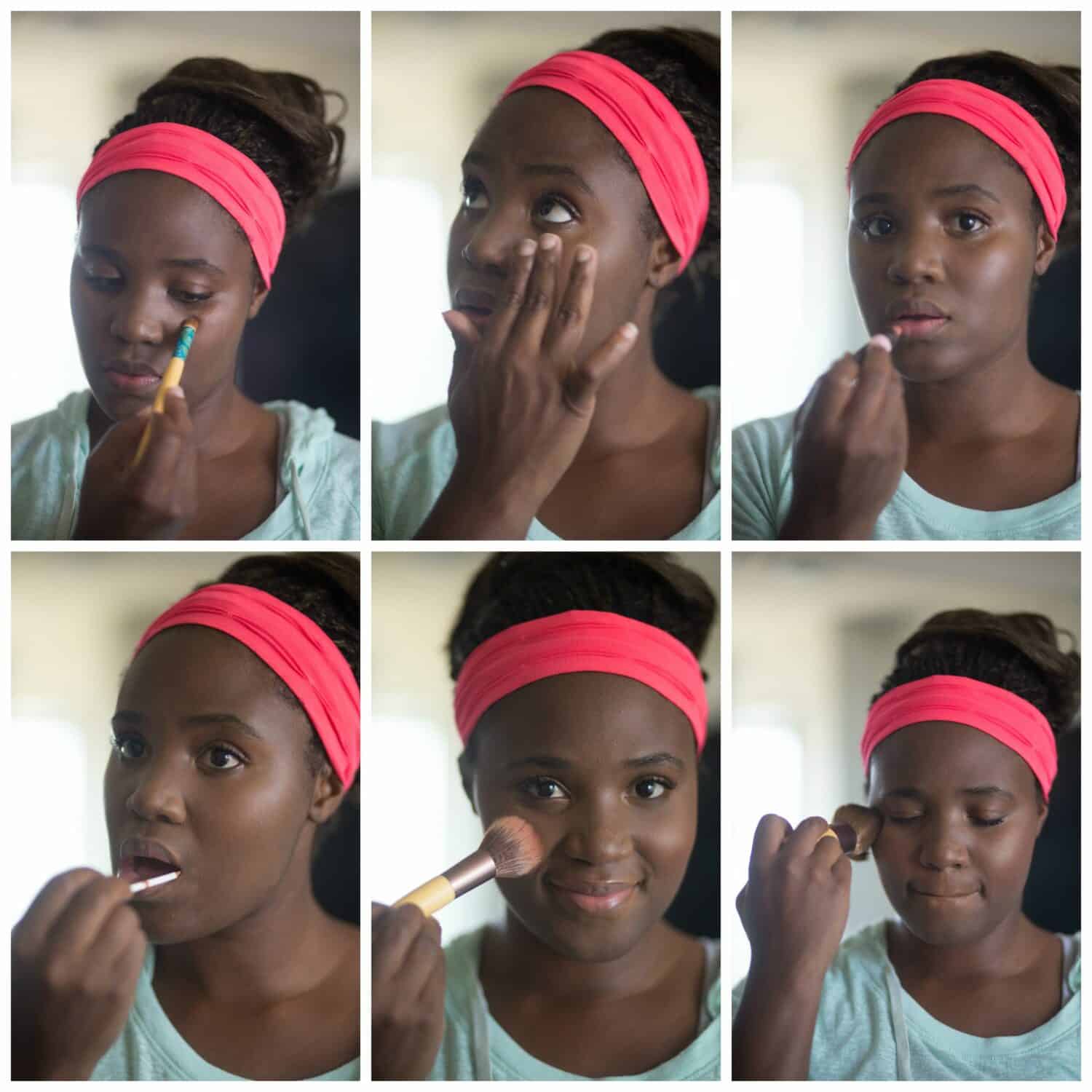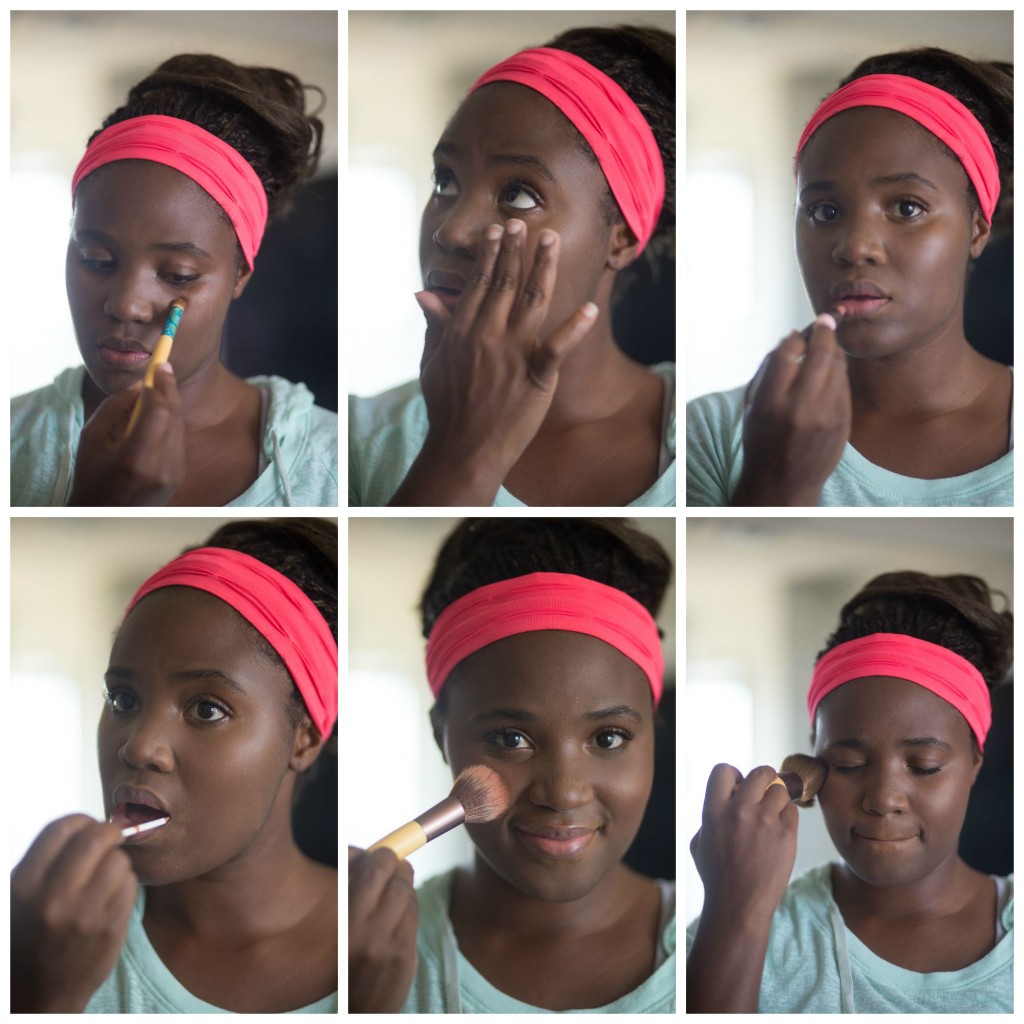 .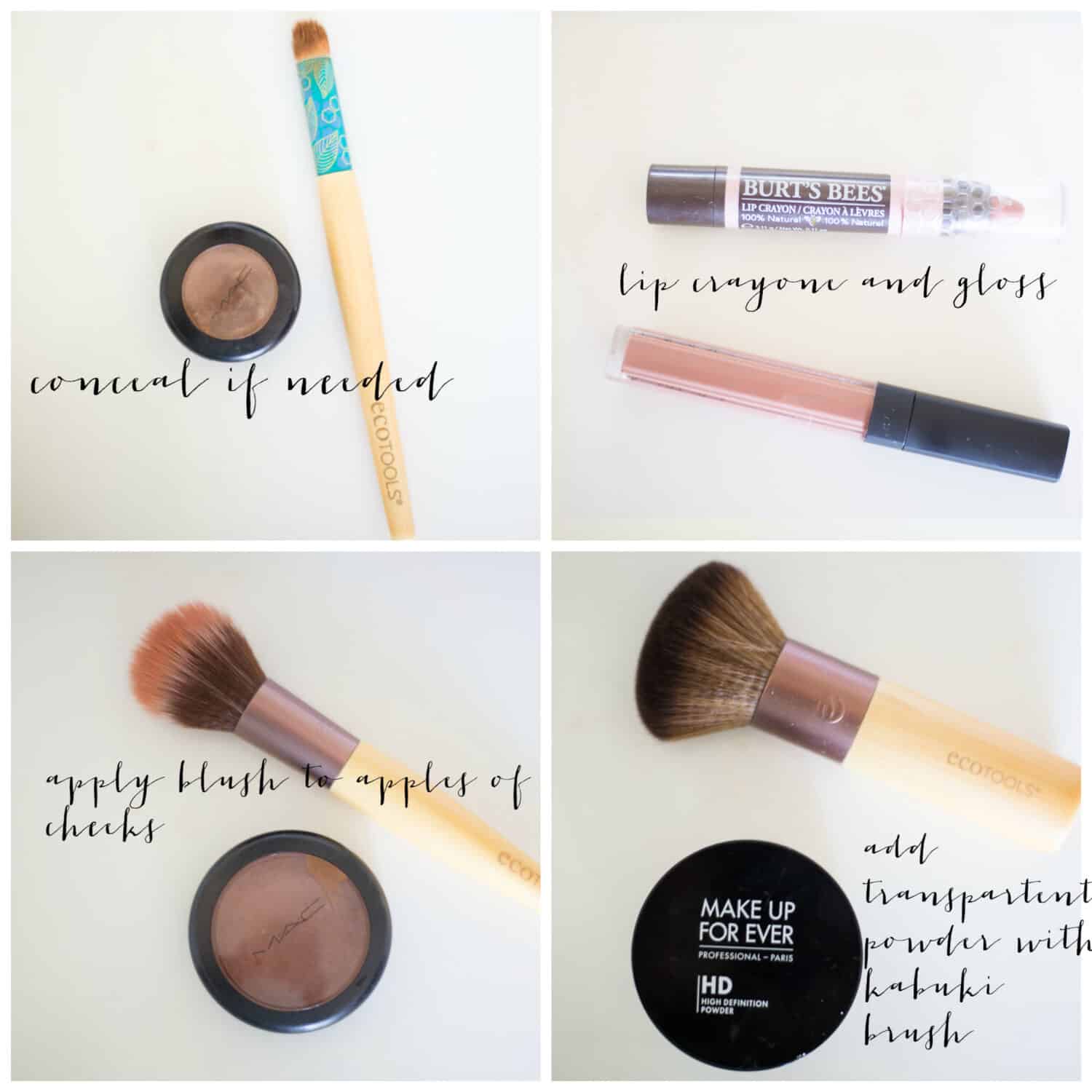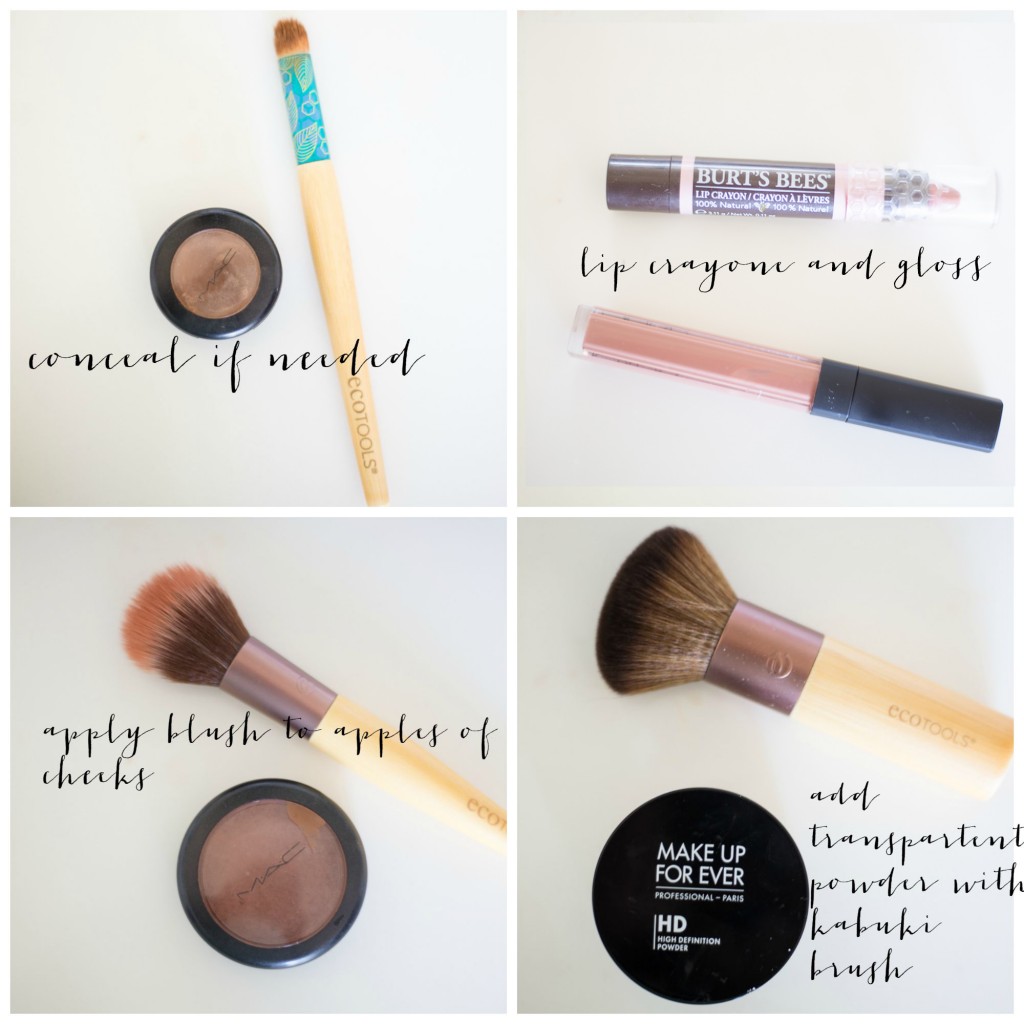 Then I apply a little blush to the apples of my cheeks for good measure and I use my bronzer brush or kabuki brush to apply some loose powder for oil control!
It's not glamours but it makes me feel so much more put together before I meet the world.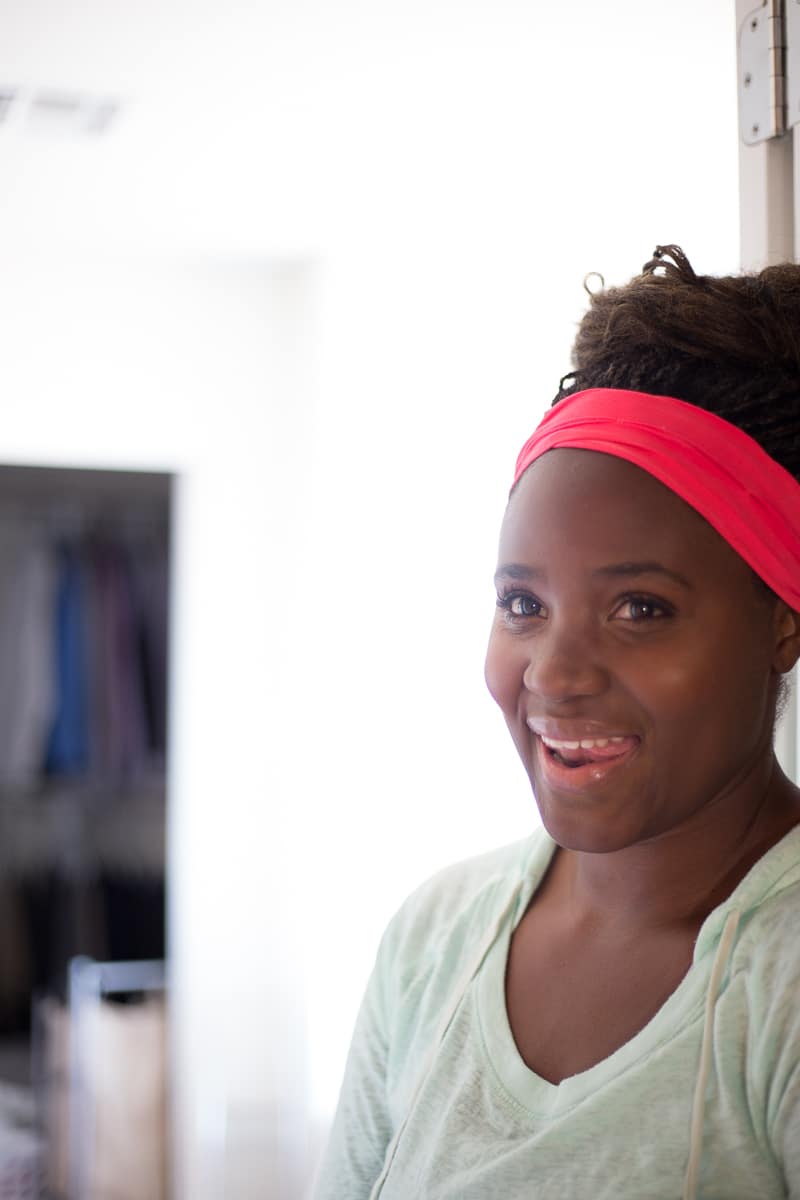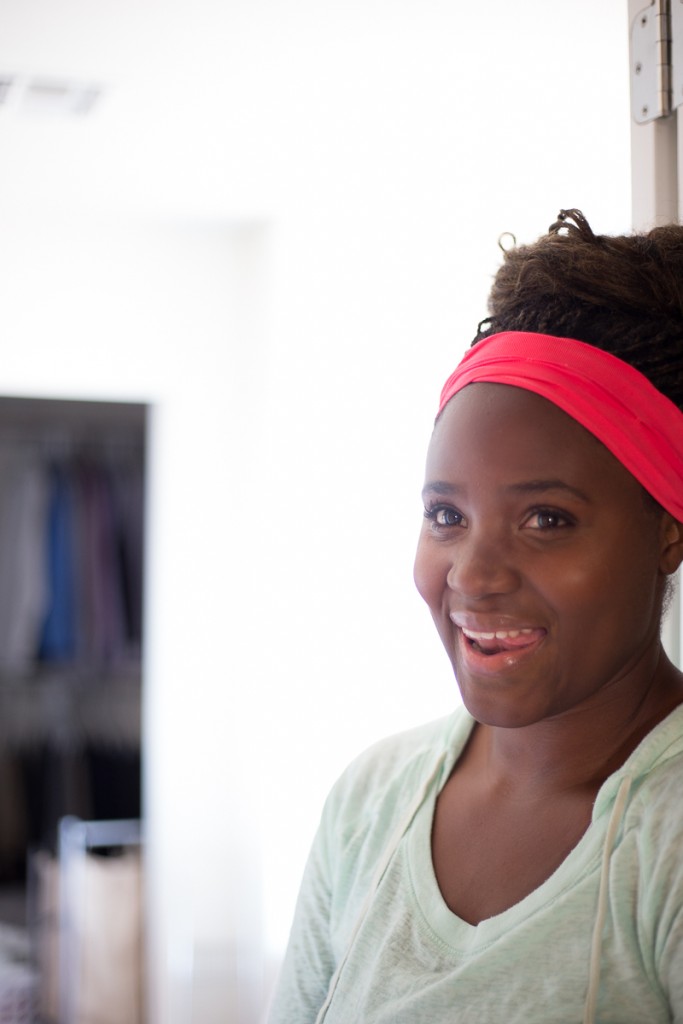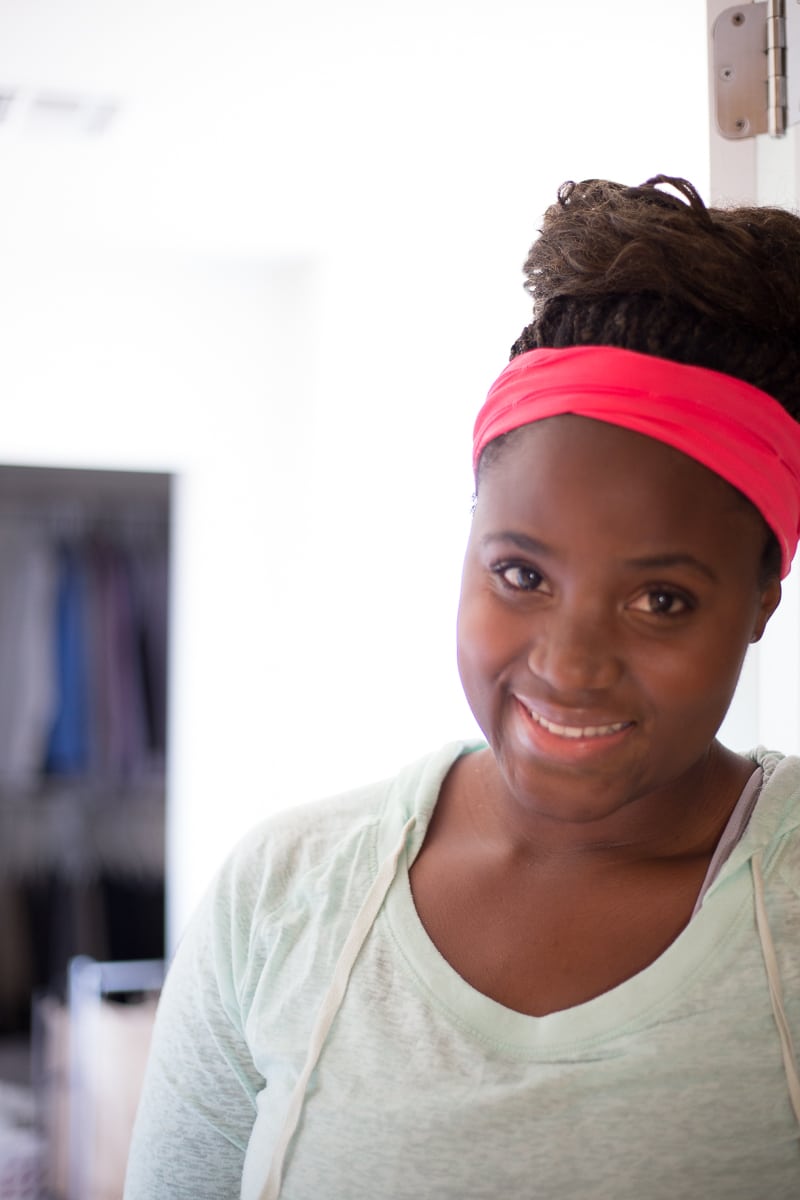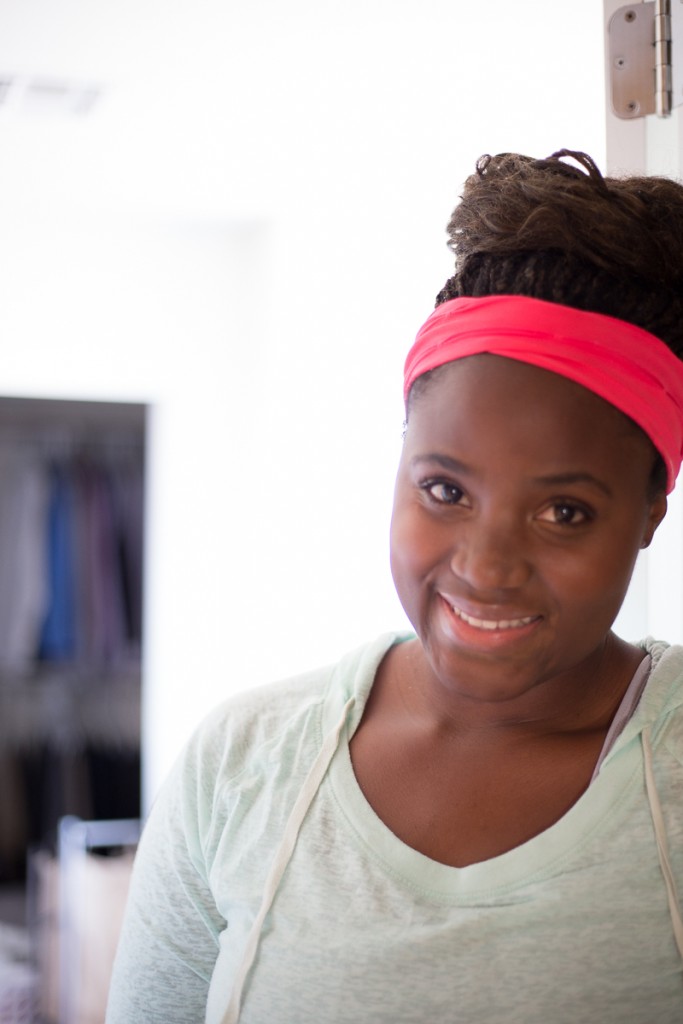 After my make up is finished I head downstairs make sure the kids are on track, then I have them go upstairs and brush their teeth and wash their faces. They always have a little breakfast stuck on the face ;0)
While their doing that, I load the dishwasher if there are any dishes from the previous night and breakfast dishes.
Kids come downstairs, load up their bags, put on their shoes and we are off to the carpool lane by 7:15
There you have it! My morning routine! I love seeing other peoples morning routines.What does yours look like these days?
[line]
Here's a link to all the products used in my makeup tutorial for reference!
[line]
This post was sponsored by Burt's Bees and EcoTools. All opinions are 100% my own