So from the beginning, Alivya's Nursery has been ultra sweet and feminine..using the softer side of the color pallete…soft lavender, garden greens and whites were the jumping off points. I added  roses and hydrangeas( my all time favorite combo)  to add to the softness of the room and anything shabby and sweet I found that would fit her little room. Well when I saw this and this….go ahead take a look, I'll wait….
(yup I know RIGHT!  SAAAWEEET!!!!! ) I knew I wanted some in her room as well:0)
I just ordered some monogram dresses with miss things initials because it just sooo classy:0)
( Restoration Hardware Baby and Child has a small clothing line and the quality is AMAZING!!!! Nice thick cotton:0)
I love using initials while decorating so I decided to fuse the two ideas and make a rose monogram a for her door….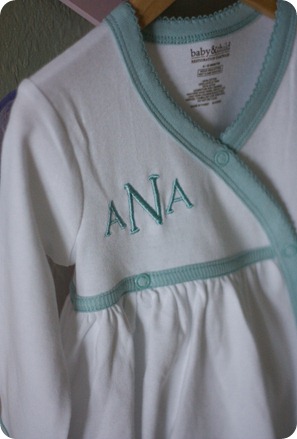 To start I picked up a piece of 12×12 Styrofoam from Joann's for half off thanks to a coupon. Then, with the plastic still on I free handed a lowercase a and then took  a pen and poked along the lines until it formed an a on the foam piece. After that I took a kitchen knife and cut out the a:0) It did crack in one place, but I blame that on my super speed….lol…but nothing a little glue didn't fix.
Then I started on the roses…which were really easy! I just sat and watched a movie with the Mr. and whipped up about 50 of them in no time! You can find the tutorial HERE!!!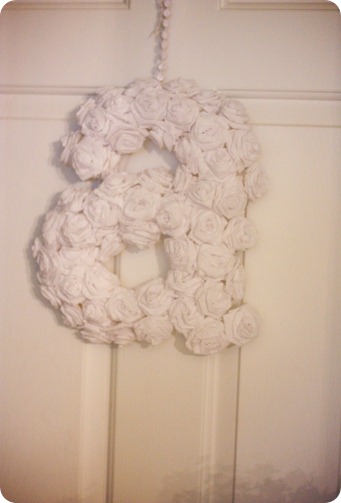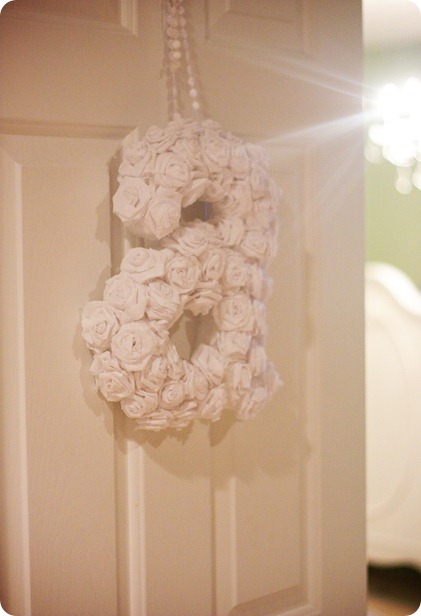 and guess what …you can totally spray paint these….hmmmmmmmm:0)
have you seen her lately??? she's comin up on 6 months….here are some shots I took of her in her one year pettiskirt….