I think I fell in love with the mirrored nightstand back in 05' when I first got married…I knew that one day I would have a couple of them in my home:0) I got pretty close when I bought some furniture for my master bedroom in my old home. Not quite a nightstand but I sure made it act like one….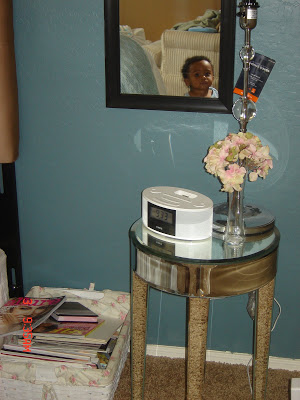 Then I moved it into Alivyas nursery…It gave the room and elegant look.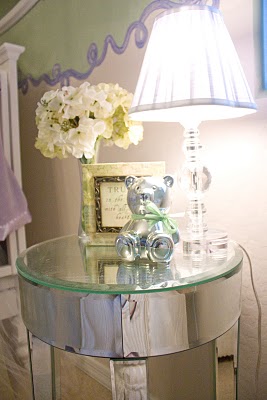 This little guy only cost me 20 bucks at Target the year I got it and it's still an amazing piece of accent furniture. I could put it in just about any room in my home and it would go with everything and add that little bit of SPARKLE the room needs.
I loved it so much that I started looking online for some nice "FOR REAL"  mirrored nightstands….but little did I know they were….sorta out of reach.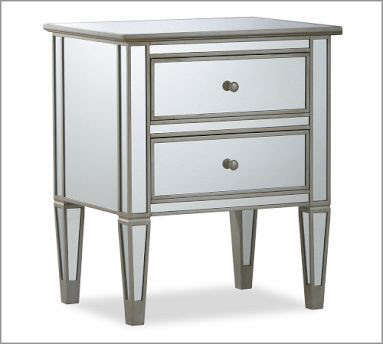 For 399 I think it's a great choice. The scale is great for a guest bedroom…but I think I might need something a little taller in my master bedroom.
This one is from
Pier One
…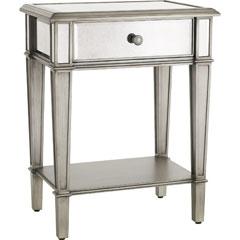 better price but I need the storage of the drawers.
This mirrored nightstand can  be found at
Anthropologie
I love the aged look of it. To bad I can't get it anymore…this one looks like a winner…but I'm sure it was A LOT OF MONEY:0)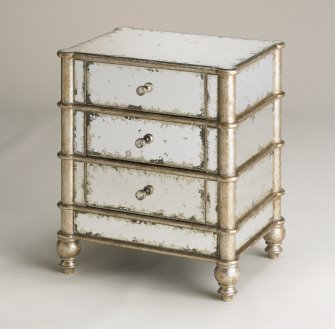 JcPenny
's….another favorite store of mind has this one for 299.00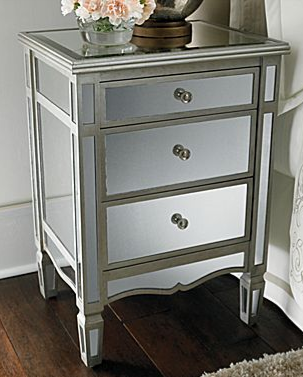 NICE!
So that's gonna be 600 dollars for nightstands??? hmmm how do I explain this to the MR?? lol
About a month ago I went to my new favorite thrifty store…sorta reminds me of TjMaxx/HomeGoods…Tuesday Morning. Not to big but has a very big selection of name brand stuff I LIKE:0)
I walked in and spotted two mirrored nightstands….I knew they would be pretty pricey because of the size and the research I had already done. BUT to my surprise they were only 150 EACH!!!! I was in love:0)))) I checked them out…lifted them,opened them up..ran my fingers across the top…lol. They were the perfect size and in perfect condition. SO….. I didn't get them.
LOL! I know! I know! I just needed sometime to think about it:0)
Fast-forward to today… I went back in and said to myself…If they're still there I will  THINK about getting them.
In the back of my mind I just new they would be gone because it was such a great deal.
But I made my way to the back of the store and there they were  waiting for me:0) After a 15 minute negotiation phone call with the boss and because I had made some extra money doing a design consultation for a friend of mine….I took them home…to my empty master bedroom:0)
I also have a few lamps that need a makeover that I stole from my mom's house…that is like the best place to shop;0) They will look great in here. Not completely set on a color scheme yet….but that will come to me soon. Trying to make the room Super ROOOOOOMANTIC for the two of us:0))))) I have an entire vision in my head…..and it's getting there slowly:0)
So there you have it…my thrifty find of the week!
What was yours?