Spaaaaa Ringaaa!( in my lovely opera voice) It's coming! I can smell it. I can see it. I can feel it! What about you? Are you ready for Spring! The great thing about living in warm weather climates is that you get to see those signs sooner than later!
Our grass is a pretty green right now! So plush and full! I could stand barefoot on this stuff for hours. The the kiddies are really enjoying it:0)
So naturally when  I see such wonderful surroundings I want to prep my nest for Spring:0) I've recently seen some inspiring photos of indoor gardens so I decided to try my hand at some.
So I headed out to my local Walmart to see what I could find.
My first stop was the air freshener isle to try out Renuzit new Fresh Accents freshener. That section is HUGE! So many different types to choose from. I may have spent a few minutes or longer comparing and contrasting:0) What I like about the Renuzit new Fresh Accents freshener is that it's easy and um, AFORDABLE!.
I'm a candle lover, warmer girl myself but sometimes I need something that works immediately, doesn't take to much time and gives me that instant smell good smell! Right?
Plus with a dollar off coupon, you can't beat the price! The directions looked super easy,so I tossed in my cart and was on my way to pick up some indoor gardening supplies on the other side of the store. I love being able to get multiple items at one stop!:0)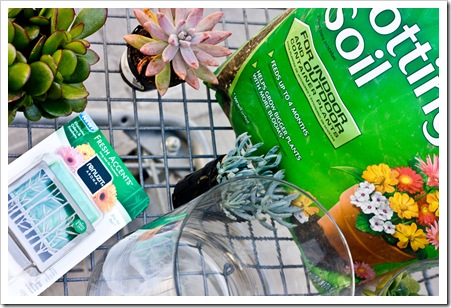 This little lady and I headed home and were off to give our living room a little pick me up.I wanted to add something to this section of the room. So I filled up my glass containers with soil and easily planted the succulents.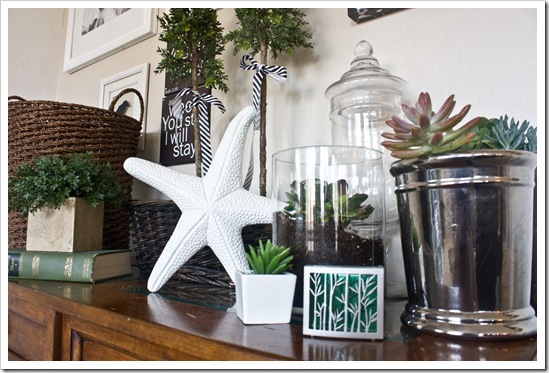 What a nice spring pick me up! With just a little indoor gardening and nice WONDERFUL whiff of after the rain I'm ready to get things started! The air accent fits right into my nature seen

I love how it adds some much need life to the space. Can't wait to add more Spring to the rest of the house.You can easily do the same by switching out a lamp shade, adding some pillows, fresh plants AND fresh scents!
Do you always freshen up for spring? If so, HOW!? I would love to know:0)
For your own Renuzit Fresh Accents coupon head on over to their Facebook page and send a GORGEOUS( wink wink) E-Card! You can also visit Renuzits web site to learn more about this budget-friendly air freshener. For more some more tips and spring ideas search the hashtag #Fresh Accents via Twitter and also see more of my shopping experience on my Google + album!
*This shop has been compensated as part of a social shopper insights study for Collective Bias. #CBias. All opinions are 100% my own of course!