If you follow me on Instagram then you saw that my hubby and I purchased a new bedroom set. I've been so anti SET for along time, but it was time for something new to replace our broken down stuff! We ended up mixing a few pieces which is more my style and also incorporated some input from my hubby wanted. Funny thing is that he usually doesn't care what I do as far as decorating, just because he knows it's my thing. But he feared that I would take our bedroom into a pretty direction…lol so he made sure to let me know he REALLY didn't feel comfortable on a pretty bed. ha! I get that.
Our new bedroom set is from a new store here in the valley called Living Spaces. Oh, by the way the amazing Jeff Lewis is the creative director for Living Spaces, so I'm kinda of obsessed with it. Usually furniture stores bore me because they simple are not up to date on the latest trends. Not everyone loves an over-sized pillow back sofa, with 4 reclining chairs and cup holders. I like pieces with squared off arms and lush cushions. Color choices are important too and Living Spaces did not disappoint. It seamed like they had furniture for EVERYONE and I liked that. Oh and the pillows. You guys know how LOOOOOOVE pillows. They had walls of pillows so you know I will be a frequent buyer for sure!
Here's our new bed that is actually manufactured and made by Ashley's..ha! GO figure.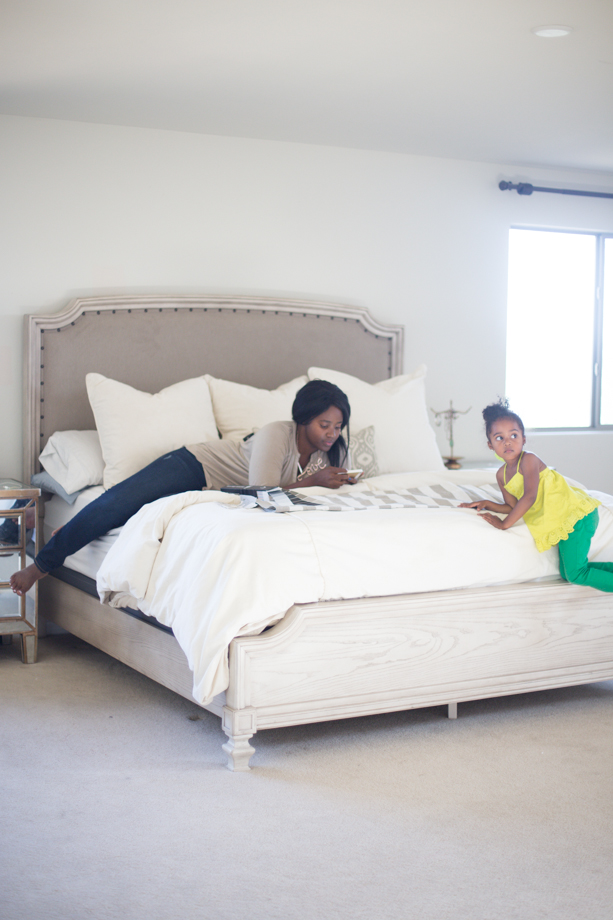 I was actually in love with this bed from One Kings Lane and I feel I got the same look for a lot less!
I love the curves, the wood and upholstered back. I also like the fact that I wont have to worry about a bed skirt:0)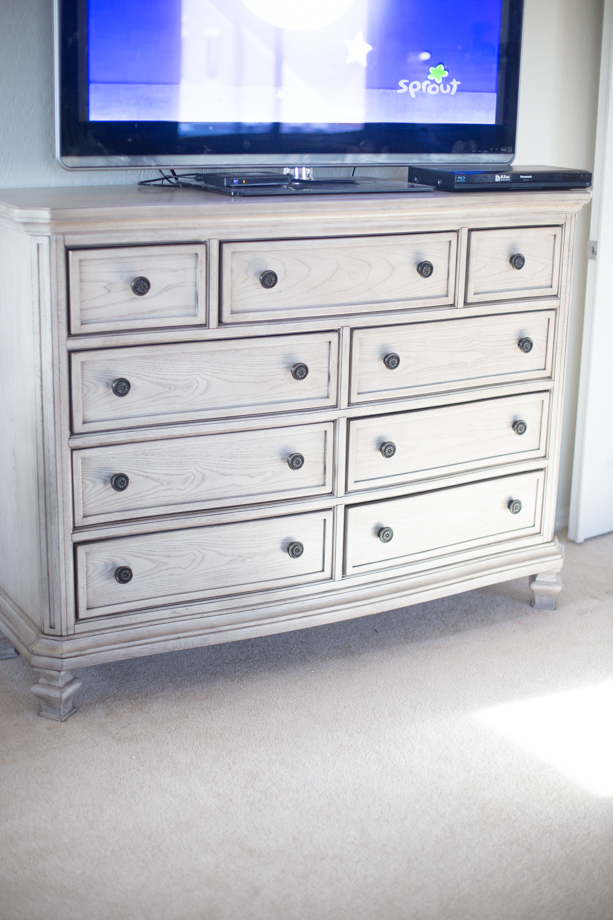 This is my dresser. The TV is on it. HATE TVs in the bedroom. BUT I'm married…..lol! Oh the compromises we make. I'm sure I'll find a way to make it blend in a little more.
This is his dresser. A nice tall dresser with plenty of room for all of his things! The top drawers on mine and his are lined with velvet for our jewelry and watches!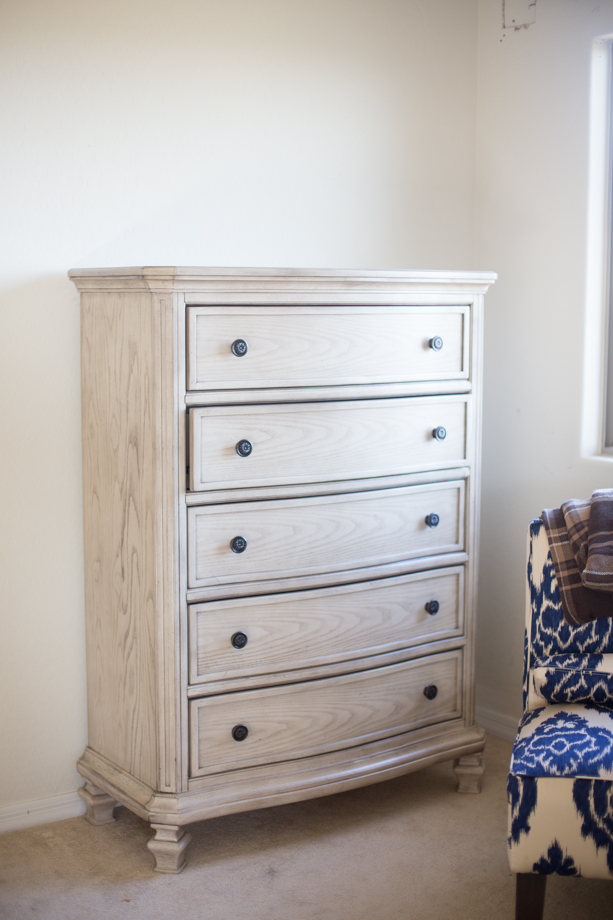 We also ended up going with a sectional that will go in a big empty space that we have on the right side of our bed.
We chose a linen blend fabric in a gray tone. I wanted to go white but lets be honest. That ain't gonna work for us! ha!
Plus I finally got to hang my mirror from Homegoods that I got years ago. I was waiting to see what type of furniture we were going to get before I hung it. Right off the bathroom door seems like a great place!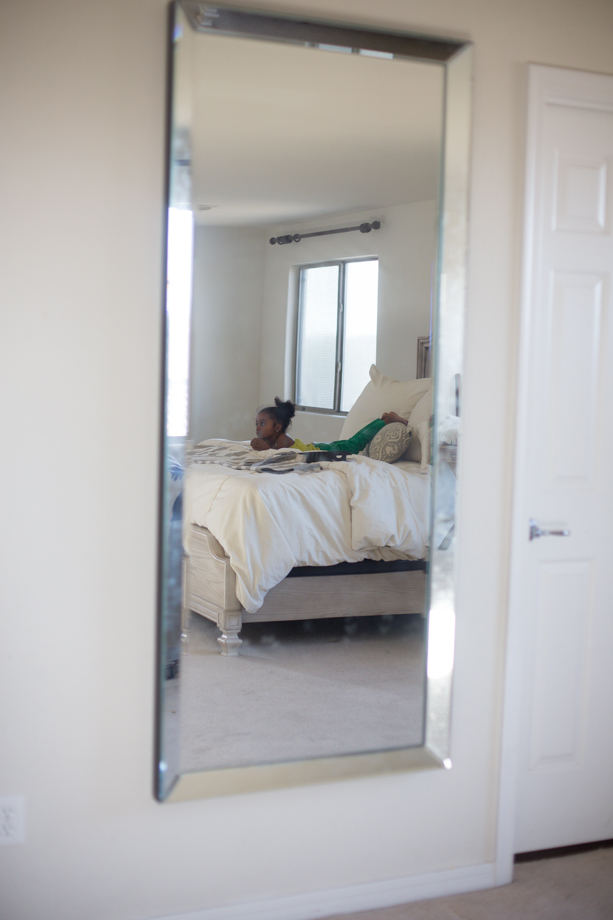 As far as the overall vision of our master bedroom I've always loved monochromatic bedrooms. Lots of texture with minimal contrast. I think Candice Olson does this best! I adore this room because of the restful feeling it exudes. There is a lot going on but your eye is not super distracted because everything is one color.I could totally lay my head down here each night.
Here are some starter fabrics that I'm thinking about using from Online Fabric Store and a lovely deck of paint colors from Sherwin Williams! I think paint will be our next step!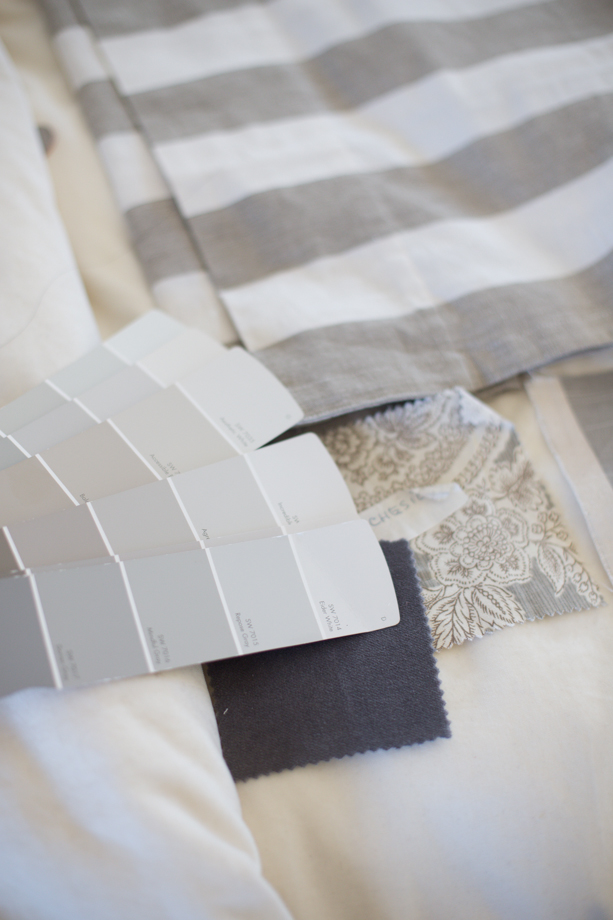 I can' wait to get this room done! Are you guys ready for a fun makeover!!! I know I am!