Happy Friday friends!
Raise your hand if your kids are already back in school? Raise your hand if your still trying to figure out summer activities! (hand RAISED) As much as I love summer, we enjoy the steadiness of our school year schedule. With it being so hot outside, the kids are getting anxious to get back to school to play with their friends.
I'm also getting ready by doing some school shopping, repairing uniforms and planning my calendar for the upcoming school year. I also prepared some EASY, SIMPLE back to school gifts for our teachers. You guys know that I love easy crafts. Things that you all can make, or at least mimic:0) Mason jars have been hot for a couple of years now, so if you've never used one for a gift, now it the time to! I just finished up these jars for Michaels #Create2Educate sweepstakes ( more on that below) and they are SO cute. Just imagine them on your desk or your favorite teachers desk.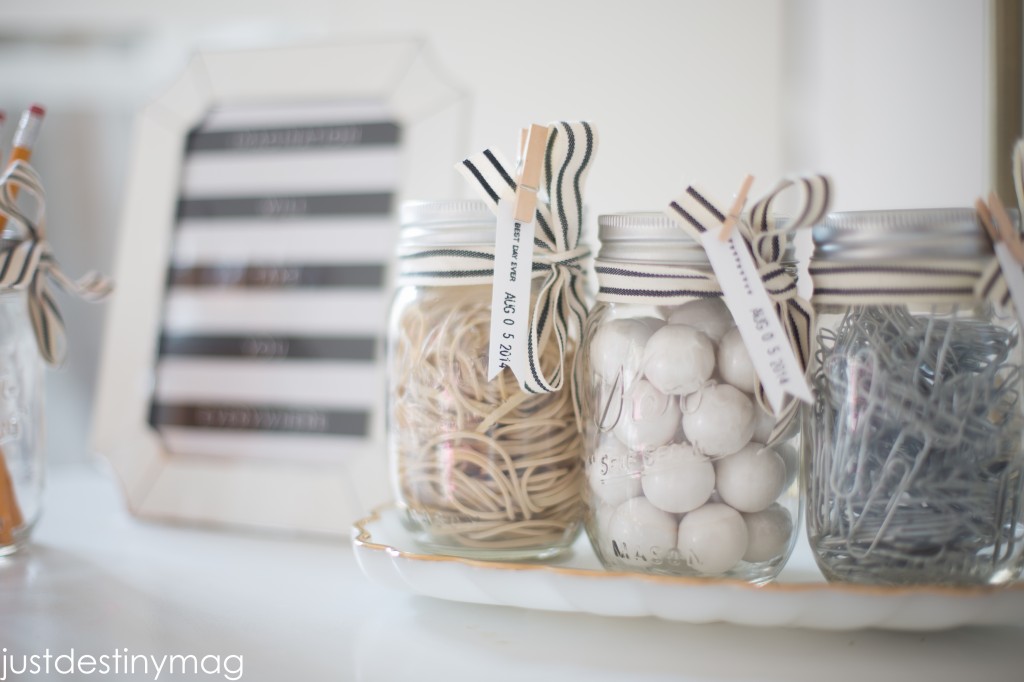 [line]
Simple Mason Jar School Supply Gifts
[line]
You can get all most all of these supplies at your local Michaels if you dont have them already! One stop shop! Plus an extra 20% off until Saturday! I love those coupons.
Cardstock white, patterned and colored
To get started remove the top of the jar.
Next get your patterned card stock and trace the inner circle of the jar. Then cut out the circle and adhere it to the top of the circle insert.
Next fill up the jar with various desk supplies like rubber bands, paper clips, or even candy!
Wrap a cordiinatting piece of ribbon around it for an extra special touch!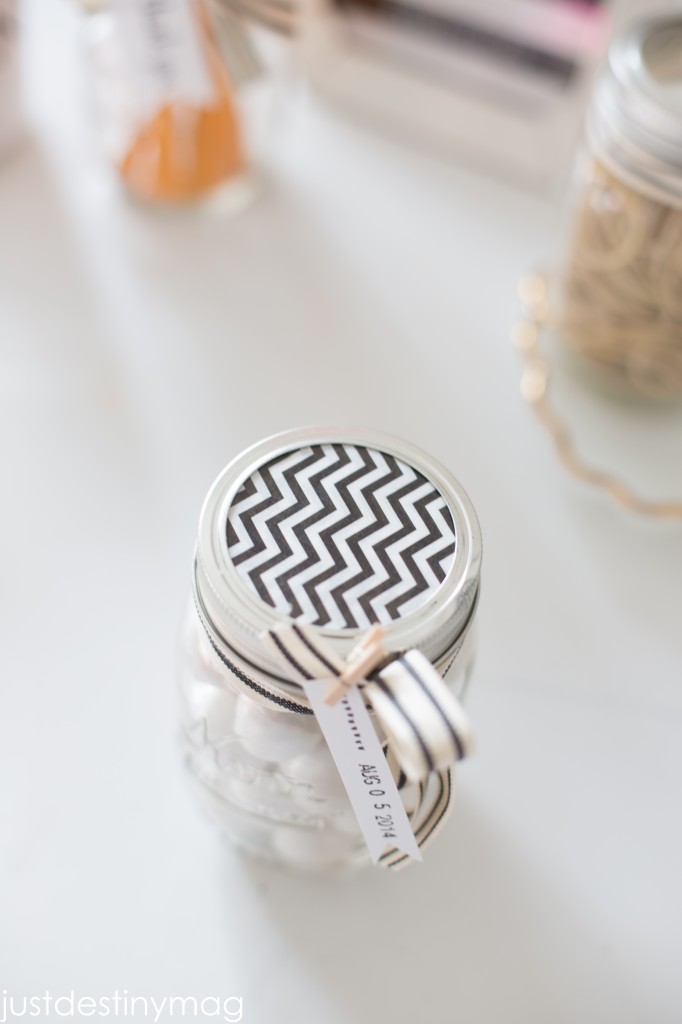 For a simple label, take your card stock and cut out 1/2in x 3in piece of paper. Then use your date stamp for a simple message!
Next take your clothes pin and attach the label!
You could also leave the insert out completely and use it for pencils and other desk supplies.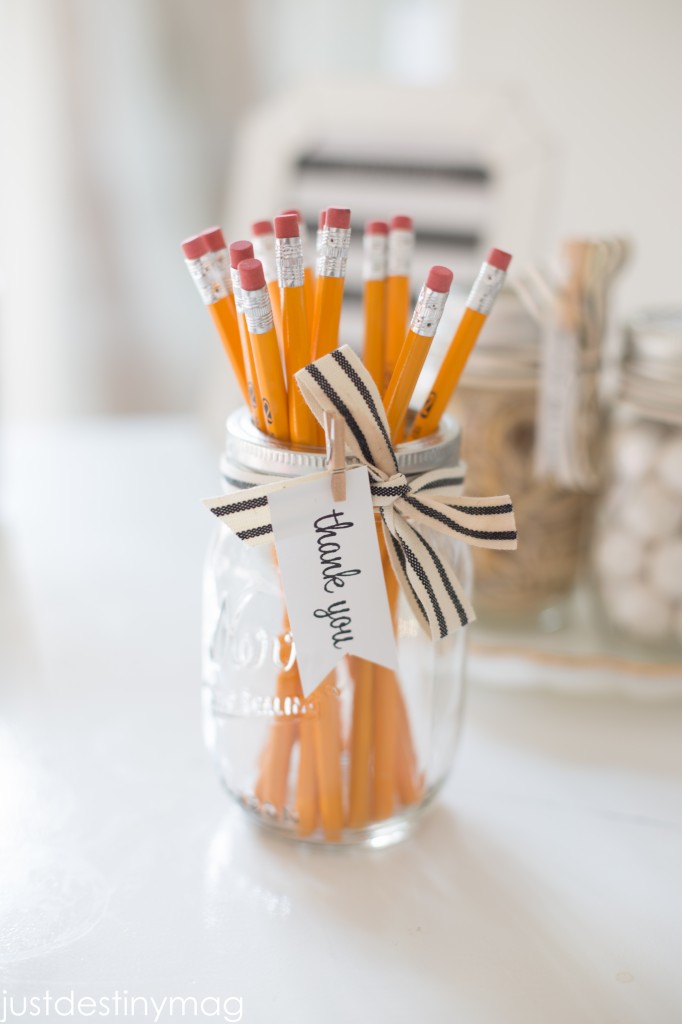 Another amazing gift would be this print that I picked up from Michaels last week. You can get a set of 30 prints like this for $14.99 and it comes in various sizes up to 11×14! SUCH A DEAL!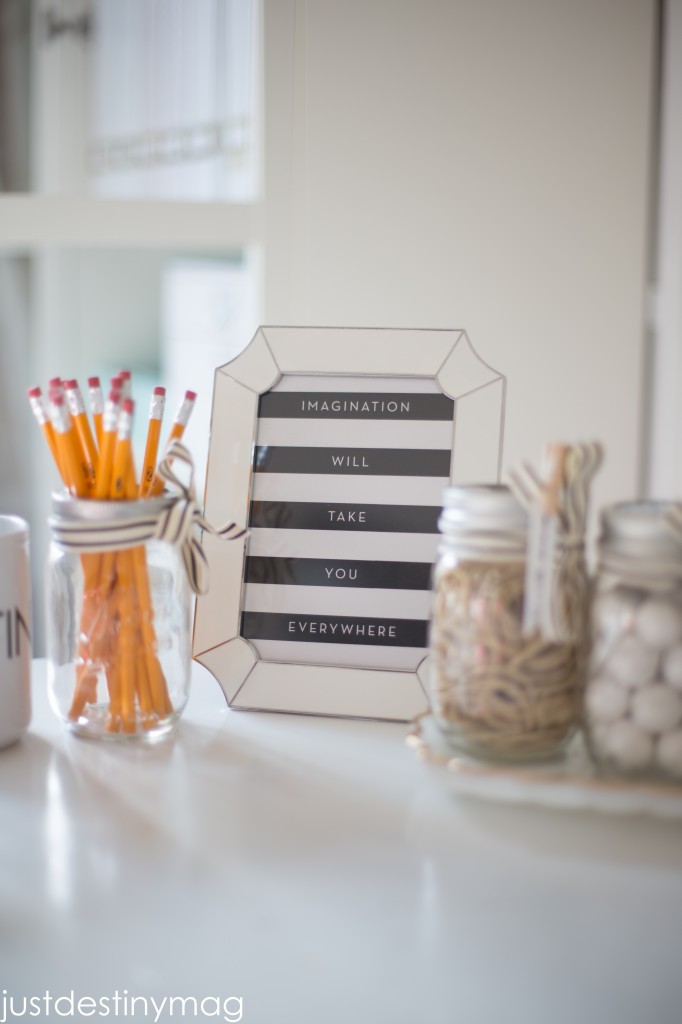 So are ready to create your own back to school project and win a gift card!!!
[line][line]
Well right now you could win $50 dollars a day by entering YOUR project into Michaels #Create2Educate Sweepstakes.
#Create2Educate is a sweepstakes to keep you inspired all year long! Create an original
back-to-school project and upload a picture of it to Instagram, using #Create2Educate
and #sweepstakes. While you're there, tag @MichaelsStores too. The contest runs
Friday, August 1 through Friday, August 15. A random winner will be selected daily and
will receive a $50 gift card to Michaels. All entries will be shared on
Michaels.com/Create2Educate.If you don't have an Instagram,
upload the photo of your creation to Michaels.com/Create2Educate.
How will Michaels choose a winner?
Each day's entries (4 p.m. to 4 p.m.) are gathered and a winner is selected randomly.
When does the contest begin and end?
The contest begins on Friday, August 1 and runs through Friday, August 15. Entries
beyond this date will not be eligible to win.
I'm not a teacher, can I still enter?
Absolutely! Teachers aren't just in the classroom, anyone can be an educator.
Do I need to give permission for Michaels to share my project?
Yes! A link is provided in Michaels Instagram account bio. You must follow the link and
complete the steps in order for Michaels to share your photo on
Michaels.com/create2educate and/or social channels.
Do I have to use only supplies from Michaels?
Where else would you find such a wide variety of supplies? :0)
If you have other questions regarding the #Create2Educate sweepstakes please visit
Michaels.com/Create2Educate for terms and conditions.
GOOD LUCK!!