Did you guys get your new Martha Stewart Magazine yet? I have a years subscription, so I have been receiving mine via the ipad (which is super interactive by the way) and in the good ole mail. I just can't let go of that paper copy, no matter how far technology has come:0)
I'm still putting the finishing touches on my kitchen so when I browsed through the section I was inspired all over again! Martha Stewart and One Kings Lane has teamed up to bring us at pretty inspiring sale,
"I love the idea of creating a very casual dining experience as a beautiful,
relaxed end to the summer. The produce and ingredients are so incredible
at this time they really do the work for you."
—Pilar Guzman, Editor-in-chief,  MARTHA STEWART LIVING 

Love her or hate her, Martha and her team knows how to do it right!
One Kings Lane is featuring some of the items from the magazine and it's dreamy. I'm talking straight out of France dreamy. It's ok to dream right? :0) Scrolling through the Provence sale had me pretty much glued to the screen. Now I really can't put a finger on what my style is most of the time. But I know what I like and I always try to find away to add what I love to my space! Are you that way? It can be a bit confusing. But when you have a chance to look at similar pieces all grouped together, you start to get a since of what really grabs your attention and what doesn't.   
Check out some of my favs….
All beauties right? Goblets, fresh topiaries, wooden bowls, wood table, settee, and buffet all would go perfect in my nook. I feel like I torcher myself sometimes by looking at this stuff!! I mentioned before how I like browsing through sites like this to get some inspiration. All though off the bat the prices seem to be a bit steep and scary..haha, I have purchased a few items from One Kings Lane for my kitchen at some great prices. The two cake plates were under each 15.00! I think they would go right along with some of my favorites from above. The rug is a favorite of mine and it really ties in all the colors of my open space, which combines my kitchen, breakfast nook and family room together. These pretty little things make me so happy!!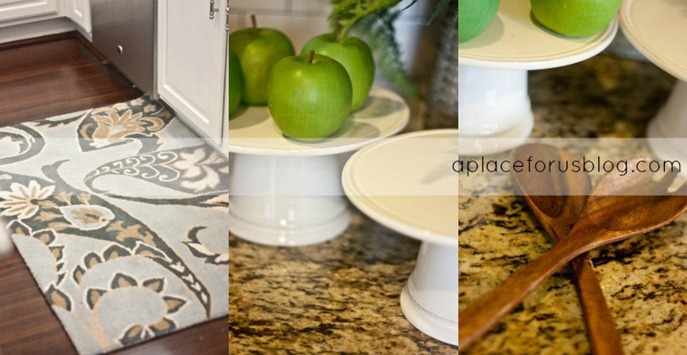 Remember you can earn $15.00 when you invite your friends to join (for free) One Kings Lane and make a purchase! Now that's some friendly shopping!
Thanks to One Kings Lane for sponsoring today's post.