Now that the economy is doing better these days, we are seeing a lot more stores and business move here to Phoenix. Last week we drove by a HUGE warehouse and store combo, American Furniture. Another one that has caught our attention and where we bought our bedroom set, is Living Spaces.
It's based out of Southern California and now has two locations here in Arizona. The first thing that attracted me to the store was Jeff Lewis. I'm such a big fan of all his work so I knew anything he would put his name on would be worth a look and it didn't disappoint!
Just recently I won a $1,000 gift card to the store by using the #mylivingspaces on Instagram so I decided to put together a few of my favorite items from Living Spaces right now. In my mind I want it all!!! But $1,000 can only get us a few good items.
At first I wanted to get a sofa for the playroom and start designing that space. But then I thought about replacing our breakfast nook table and chairs with a round one. I also thought about buying $1,000 worth of pillows, but I thought that might be extreme:0 We also thought about purchasing two of these beautiful chairs to replace our slipper chairs in the family room.
Here are some of my favorites.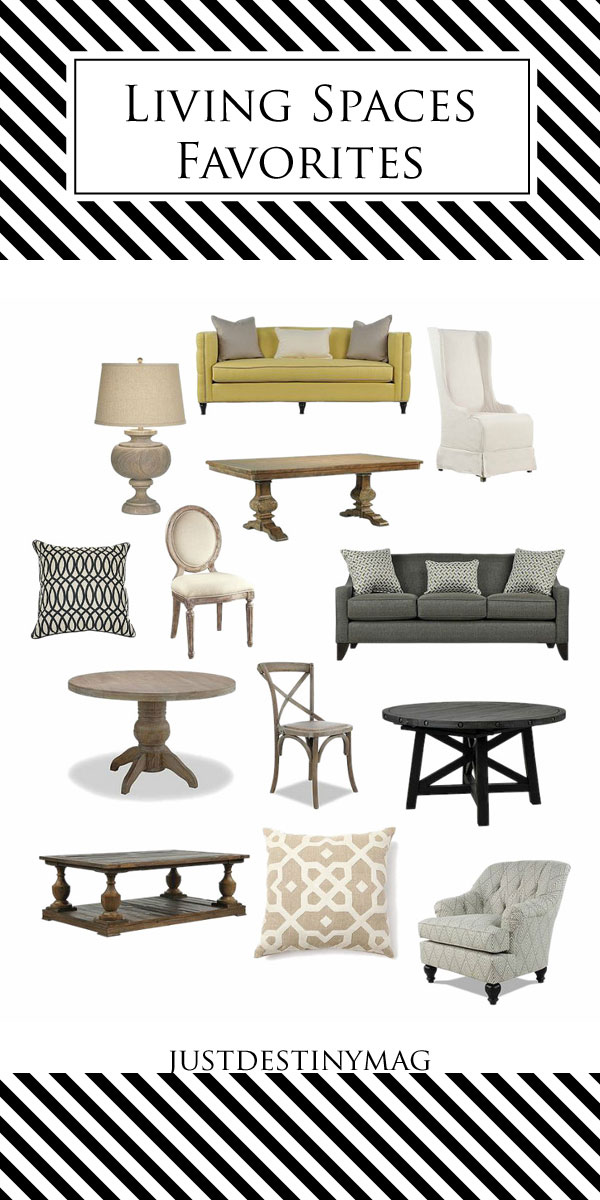 [line]Top Five Favorites[line]
This sofa is so adorable. The tufted sides would amazing in the playroom. But then again it might be to fancy. My kids and fancy don't mix well:0 They have a million fabric selections so if I find one that's easy to clean, it might work.
LOVE these chairs and the fabric selection. It's a perfect gray. They are totally winning the race right now.
These lamps are so beautiful. Very large scale in person and the color is just gorgeous. I love the rustic feel of them They would look beautiful in our living room.
This table would be great in the nook along with those classic french x back chairs.
We also would love to replace our coffee table. This baluster style table is a steal compared to its sister at Restoration Hardware.
So what do you think? What should I get for the house!? Don't you love when you get to go shopping for free? :0)