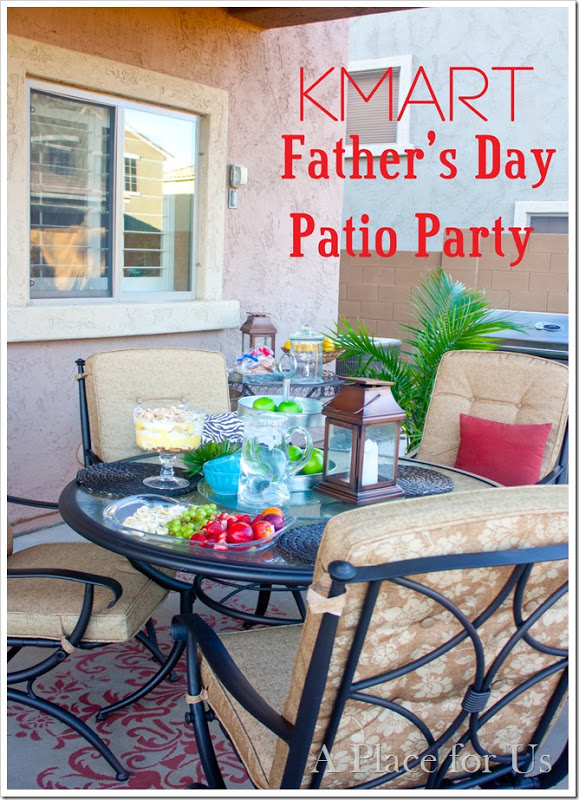 Hi Homelovers!
Happy Monday to you! Did you guys enjoy your weekend? It's getting so hot here! Like 105 degrees worth of hotness! The worst part is…that's not even bad! Try 115-120 which I know will becoming SOON! All though it's super hot during the day the evenings are nice and cool so my family and I spent this weekend enjoying some steaks, yummy food, laughs and some new comfy seating!
Even though Father's Day isn't until next week I got some of my family together this weekend to enjoy a little pre Fathers Day get together. Every year for fathers day we do just about the same thing… some grilling, watch whatever game is on and just relax! Why? Cause that's what the boys like to do. My dad and my hubby are really big basketball fans so the fact that the Heat and the Celtics were playing in game 7 was a reason to get together period! It's so nice to see how well they get along! I mean isn't that every girls worse fear, that YOUR dad won't like your hubby? But they pretty much hit off from day one, and even though my dad about killed him one time when we were dating (funniest story ever) they seem to get along like father and son. I'm so lucky to have these two in my life! Even more thankful for the type of father he his and the type of grandfather my dad is! So I was more than happy to host a party for these two and show off some a pretty little patio set from my friends from Kmart!
I was excited to check out Kmart's Outdoor Living section #KmartOutdoor (which was HUGE)  and I spotted a few lovely pieces from County Living, Jaclyn Smith and Lazy Boy! Check out the rest of my shop experience on Google +!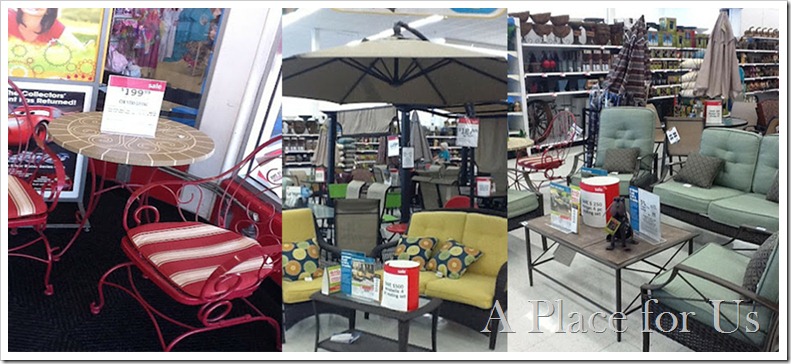 We decided that we needed a dining set because we wanted to enjoy those cooler evenings dining al fresco. The loveseat and chair combos were great but they would be a bit hard to eat on! We ended up choosing this Jaclyn Smith 6 piece set to host our dinner on! It was super comfy and the glass top lazy Susan was a plus! I love the curvy detailing on the backs of the chairs along with it's chocolate base. This set is rust free and the cushions are two toned which gives you more of a decorative option! I like options!
I totally would have grilled if HE would have let me…men and their grills:0)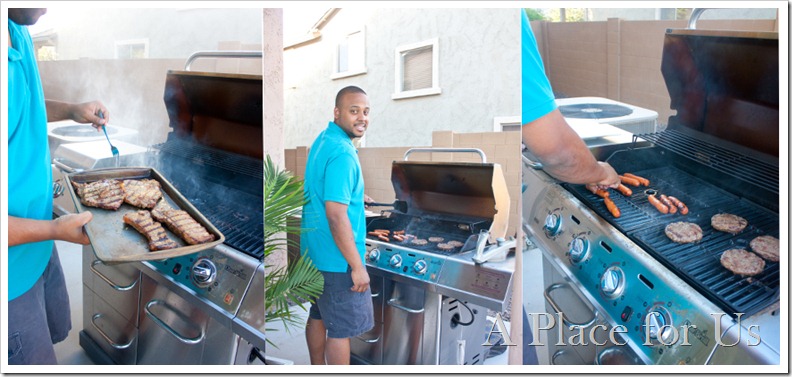 We had fruit and dessert served up in Kmart's own clear serving tray and truffle dessert pedestal!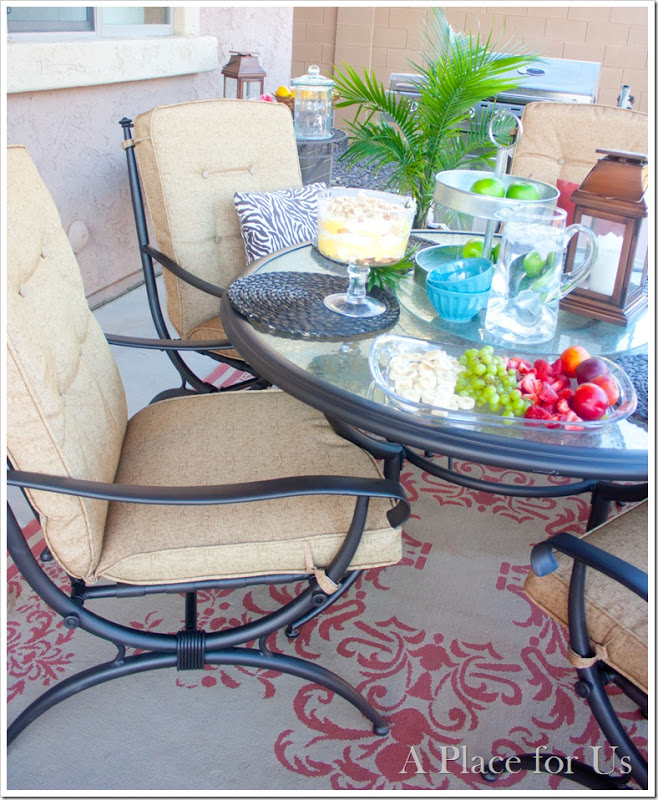 We loved our quiet COOL evening celebrating my dad and hubby this weekend thanks to Kmart! We will definitely be using our covered patio and new comfy seating ALL summer long!! What are you guys doing this weekend to celebrate your special guy or guys! I would love to know!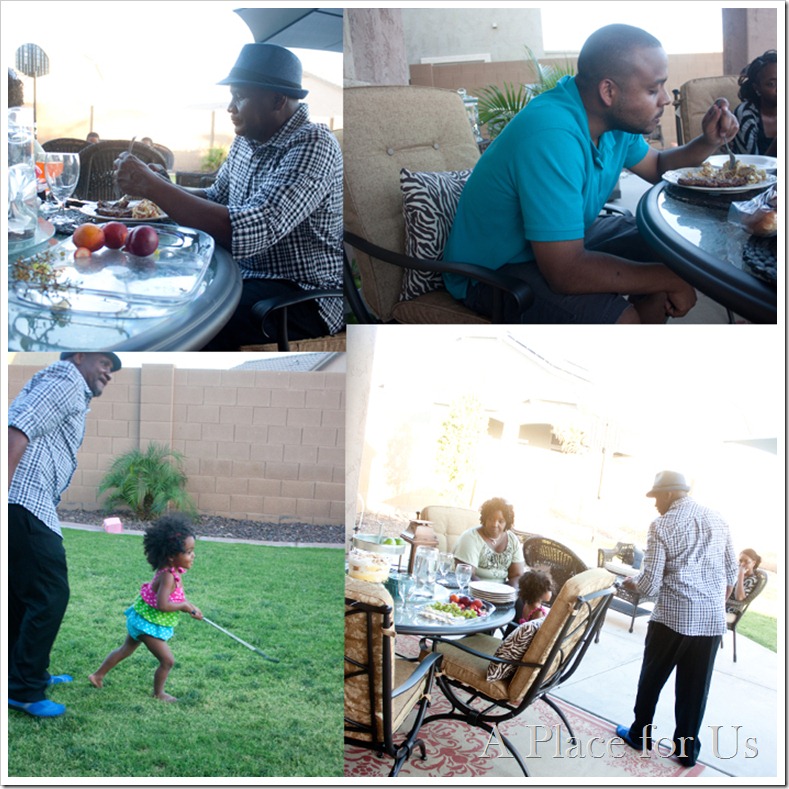 For more ideas and savings, visit Kmart on Facebook, Twitter ,Kmart Weekly Deals and Shop Your Reward on Twitter! I was able to earn about 3,900 points towards my next purchase! Plus I got a 5.00 gift card towards my next purchase as well! It pays to be a Reward Shopper and it's FREE!! Click on the catalog below to check out the Summer outdoor collection and be inspired to create and comfy outdoor space too!
PLUS:
Coming up 6/10 $50 off the garden Oasis leisure lounger @kmart! #kmartoutdoor
HUGE savings on the Jaclyn Smith 7 pc Dawson dining set this week @kmart #kmartoutoor
Great deal in the @kmart circular 6/10 $100 off a char-broil 6 burner gas grill #kmartoutdoor
I am a member of the Collective Bias™ Social Fabric® Community.  This shop has been compensated as part of a social shopper insights study for Collective Bias™ #CBias #SocialFabric However, all opinions are truly my own!