Hi Homelovers!
I'm super happy to be back today sharing some inspirational photos and show you how I'm using food photography to decorate my kitchen.
There's just something about a goooood food photo. The light, the ZOOM, the extreme details. I'm always in awe of how an ordinary piece of cake can be mouth watering when you zoom in. Or how a piece of fruit can become a fine piece of art. Not to mention it make my tummy growl. Pinterest might be the worst for a hungry girl. All those yummy food photos…diet killer for sure! Food photography is just SO comforting, familiar,and inspiring, right?  I mean asparagus is great with butter and some yum yum seasoning. But this photo from B. Linton via Esty makes me want to grow my own and bundle it for sale at my own farmers market. Not to mention those colors! I love how naturally the green flows in to the purple!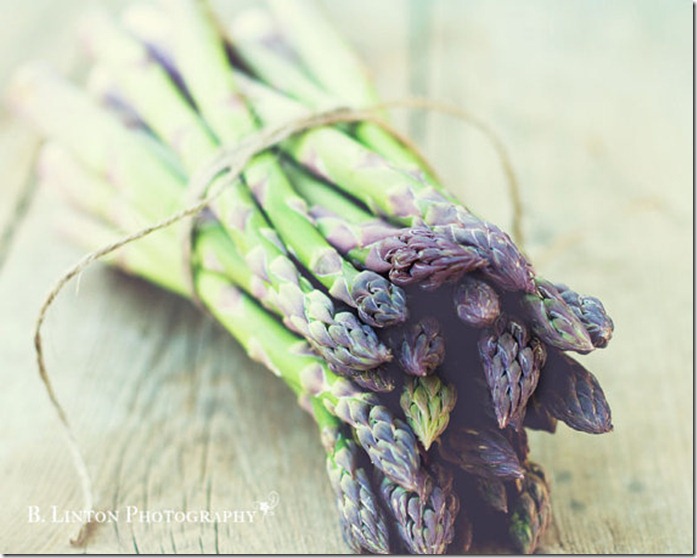 Then there's fruit. Oh delicious, juicy, sweet fruit. The colors, textures, and did I mention the color? Perfect in both a neutral kitchen or a more lively culinary cusina.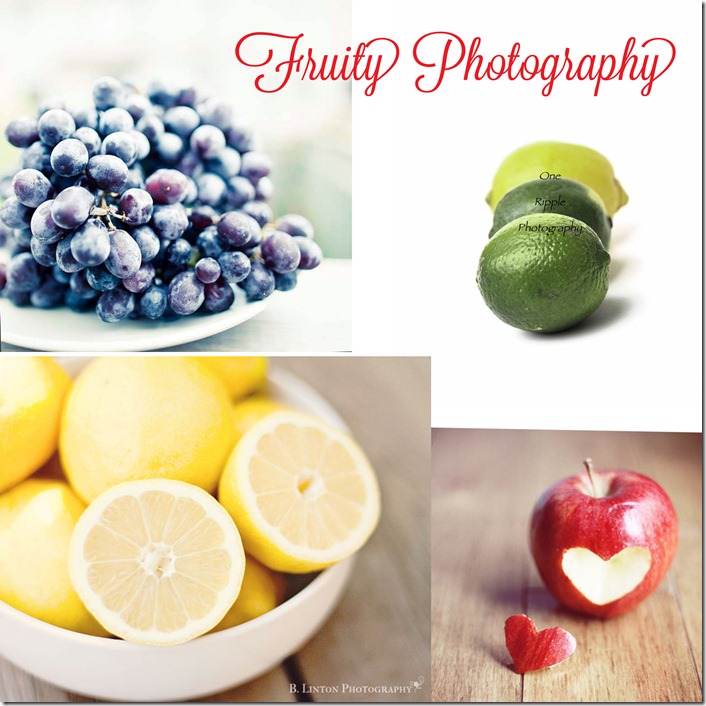 sources: Grapes,Lemons, Apple, Limes
But I think my favorite type of food photography is SWEETS. Cakes, candies, pies? Yummy! I know for sure I could decorate an entire room or studio around this neapolitan  macaroon combo.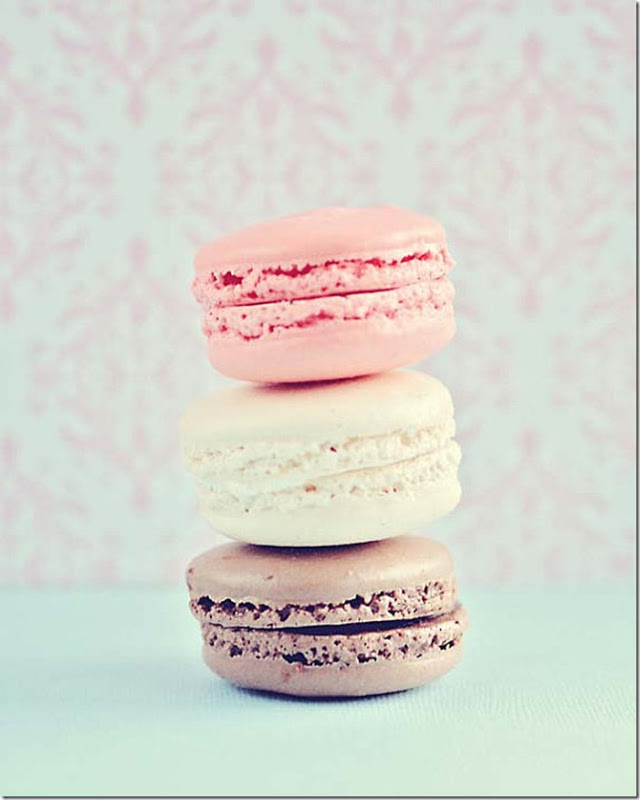 I knew when I was redoing my kitchen that I wanted to add some food photography. I surfed the internet and Etsy for the perfect photos, and all though I came across some pretty fabulous ones, none of them seemed to be what I was looking for. So I set up my sweet little Canon and tried my hand at some food photography. I took some items from my birthday shopping spree that coordinated with my kitchen colors and set them up on my wood table. It was really fun to experiment with!
I even baked a cake for the occasion! White Duncan Hines friends…nothing special:0)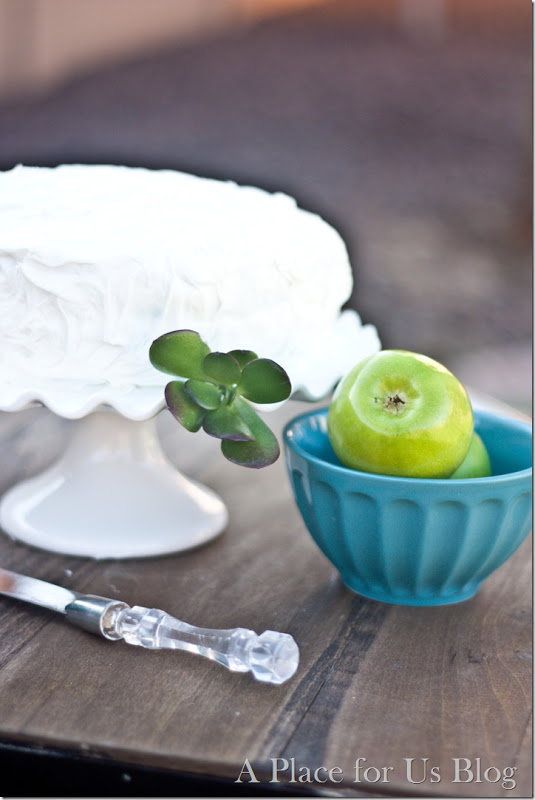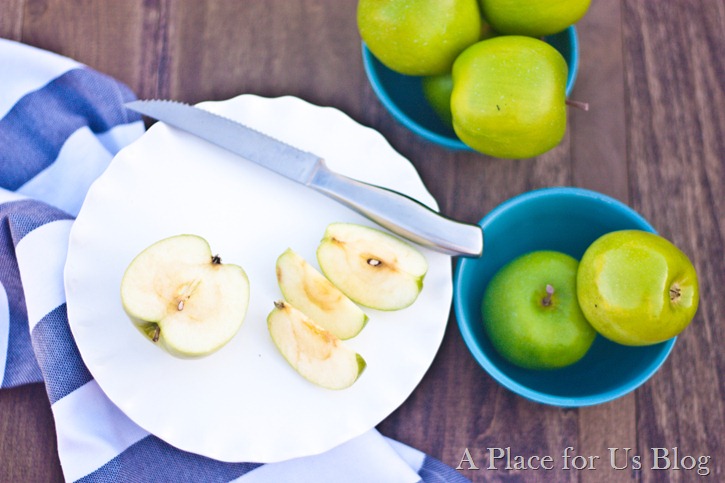 Striped Towel: West Elm  Ruffled Cake Plate: Pier One. Apples: Pottery Barn. Bowls: Target.
They turned out great, so I decided on a couple and had them blown up within an hour thanks to Walgreens. Did you know you can get poster size photos in one hour now! Best thing ever:0)
I got one photo up and matted above the pantry….
The other one I had blown up to a 20×30. I even added some words to it…Cake Love:0) That's right.
I plan on matting it also. Hobby Lobby will do it for you for 24 dollars (for my size) and you can use a coupon! Pretty good deal! It will look something like this but MUCH better of course…lol. I adore those barn wood frames. I think I own about five now…lol!  You can pick those up at Hobby Lobby as well:0)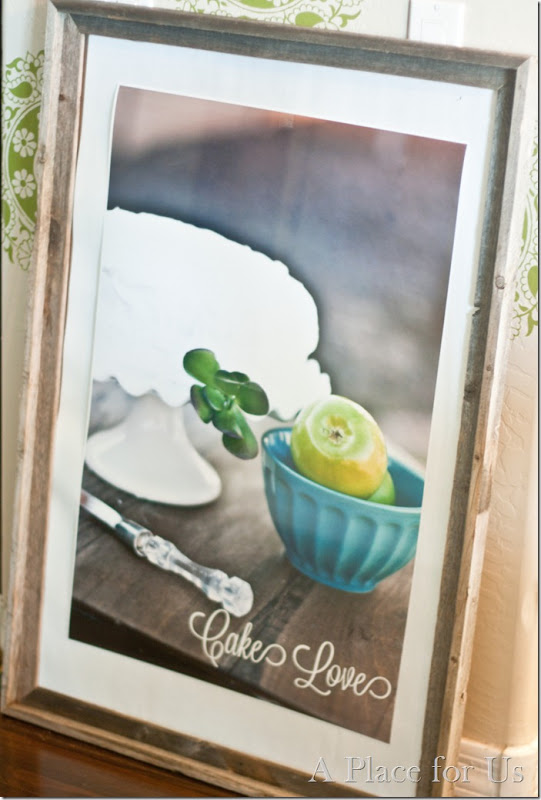 How do you guys feel about food photography in the kitchen? Have you tried it yet? Can't wait to show you a few more kitchen updates soon! New light, painted pantry door, new rug, cake plates and more! Check back soon!