So while I'm waiting for everything to come in for the front room… 8-10 weeks worth waiting for sofas and shutters( FINALLY some window coverings!) and THAT table…. I decided to go bold in the downstairs half bath and put up some stripes….7inch chocolate and vanilla stripes to be exact:0) I LOVE THEM! They are totally costal AND DA totally chic….COSTAL CHIC… or warm sweater chic:0).It  seems like  the dark accents are being dissed these days, but my heart just wont let them go! Definitely converting to a lighter color scheme overall but these bold accents keep the drama going and I'm all about drama.
Wait….Not that "oh no you didn't kinda drama", just décor drama:0)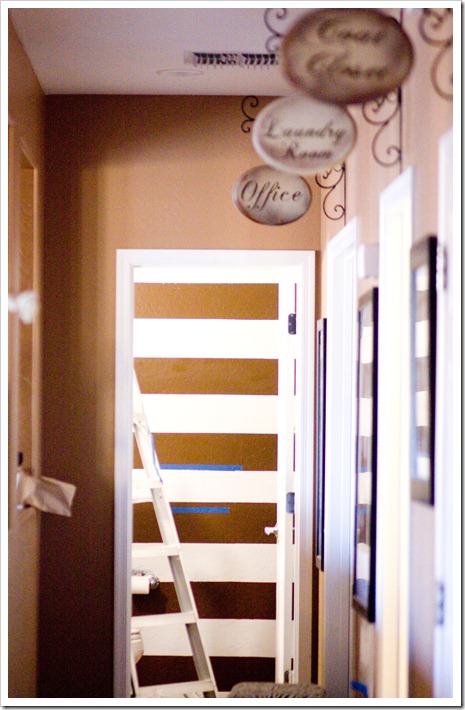 Thanks to the NESTER..we know it DON'T have to be perfect to be beautiful…I told my stripes what was up. Otherwise they get a little insecure.
We also want to wrap this color around the corner and down the hallway! Sweet!
This should be fun to dress up…
New mirror? I think so
Shelves??? umm YES
Paint jobs take me so long now a days…like SEVEN plus days and I am STILL not done long….But  while I was painting, I had a little talk with Jesus…told him about my troubles:0) and my joys. I love our talks when I am creating…don't you?
PS>>>>>> I'm on twitter now..YES!  Big TWEET moment for me when I tweeted ANN VOSKAMP…from the blog The Holy Experience, you know her, but go ahead and click. But anyway  she tweeted me BACK!!!! and she follows me now!!!! AWESOME! Totally made my tweety day:0) Anyway find me and we can tweet away like two little tweeting birds!!