Last weekend my hubby took me away to the beautiful Phoenician Resort here in AZ for my birthday! It's one of the most beautiful resorts I have ever seen!
It totally inspired me to put some style in my own front patio…
This is our patio space before….It's a super cute shaded place to be. We have a nice covered patio and a small open courtyard area too:0)We have two sections…the courtyard (dirt and rocks) and the patio which is covered.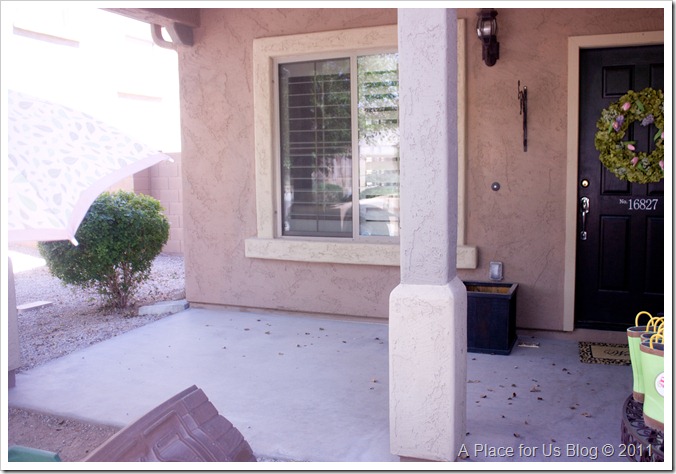 We plan to do our courtyard in stages but I often muscle through spaces until I can do something COOL to them. You can call me the stubborn decorator…Nothing is better than something ugly. lol! But since this is the first place our friends see when they come to our casa I thought I would give it some TLC. So I started working on the patio part.
I mentioned on my facebook page  a few weeks ago that I wanted to spruce up my patio for about 50.00. Well I went over that a little. I used items I had around the house and outside of the house, take a look at what I did and spent about 65.00 on the rug,plants and paint:0)
I ordered this 5X8 all over paisley rug from Ballard for the main area.  I chose chocolate because it coordinated well with the outside of the house. I also kept this fun leopard boarded welcome mat that I picked up at Target last year for the front door. I love what animal print does to a space!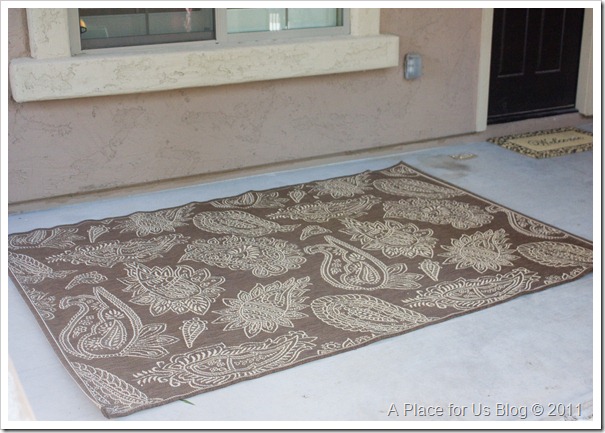 After that I added this table that I got from HomeGoods!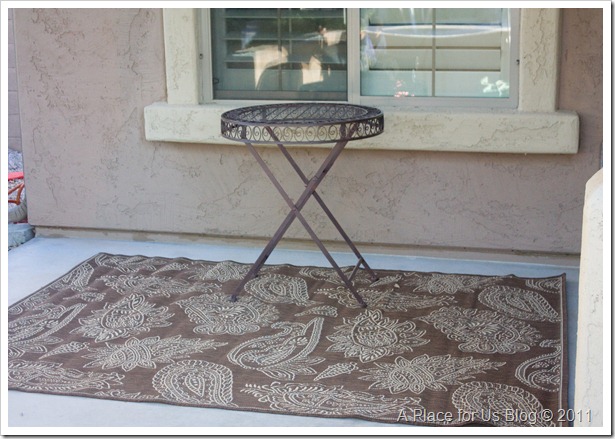 Then I added these two chairs I had from the backyard. They've seen better days. But I really didn't want to spend a ton of money. Originally I wanted to spray paint them but then I got to lazy but I like how it tied in with the tans of the house and rug so I kept it bare:0)  I a few pillows cushion and two outdoor trellis pillows from Target that I already had with the colors navy and green:0) Love this color combo!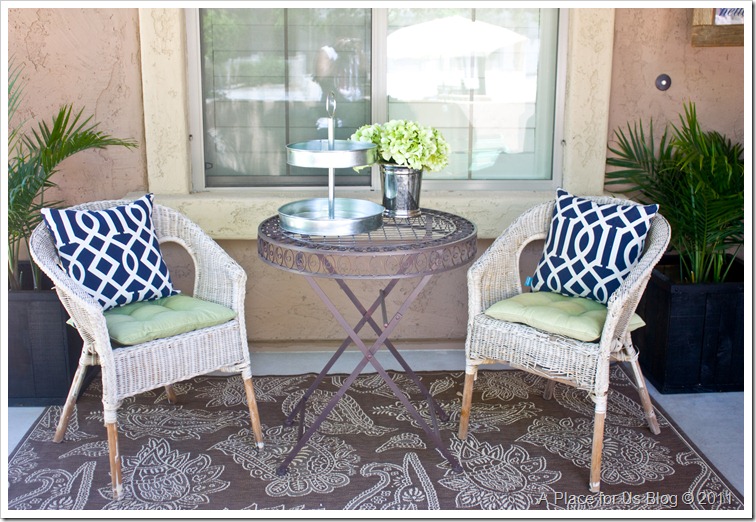 My first ideas was to plant some beautiful hydrangeas by the front door. But that was short lived as the plants died with in one day under the AZ shade. So Reggie and I decided on the palms…cant go wrong with the palms:0) I added them to those black boxes that I painted a glossy black. I picked the planters up at a garage sale last year from a woman that was selling her floral company. She let me have them for 5 bucks each:0) They tie in great with the black front door!
Moving on towards the front door….
One of the first projects I did when we moved in was I painted my brown door, black. The HOA can't even tell:0)
For this little patio makeover I added some outdoor lanterns I had in the house .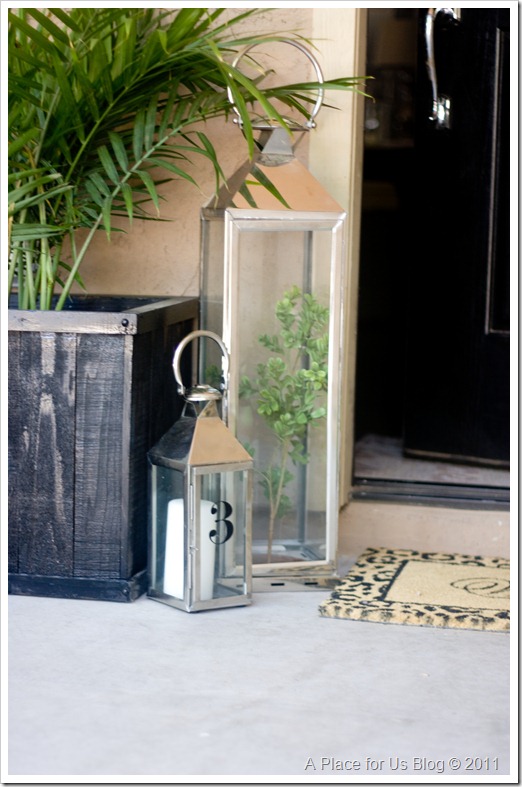 Next I added a cute little hello summer sign I made with my Silhouette machine. I used a empty frame that I picked up last year for the boys room…but that's taking a different direction..lol;0)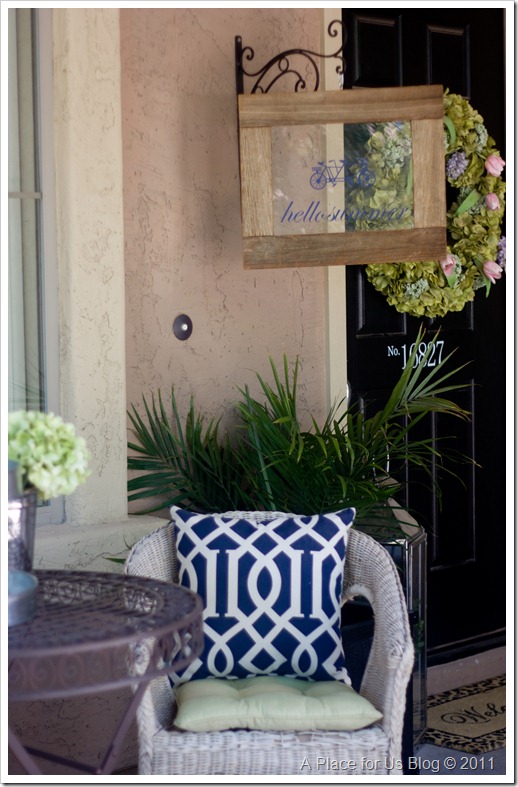 I  also added an outdoor chalkboard. I recently got the issue of Martha Stewart Living(free subscription by the way:0)  where she featured a spot on the front porch with a chalkboard. I thought how cute. A great idea for friends that stop by and missed you, the LOVLEY UPS and FEDEX men that come and give me gifts or to let your guest know that your in the backyard!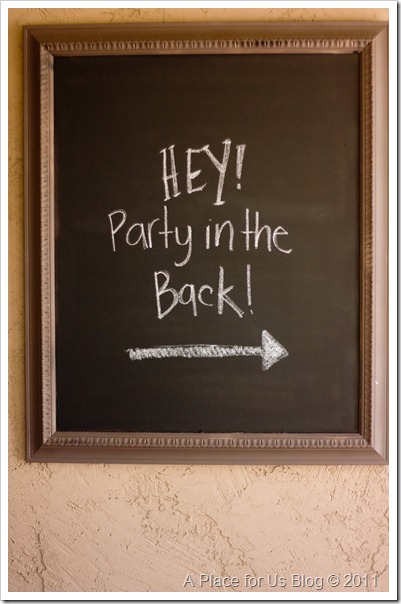 So there you have it my front patio all styled up and ready for summer:0)
Make sure you come back next week and I''ll show you how to make your own outdoor chalkboard and hello summer sign!
Joining these parties…..