What you ask? Her room. Yeah it's coming along I guess!!! I have sooooo much to do still but here are somethings I've done or been working on!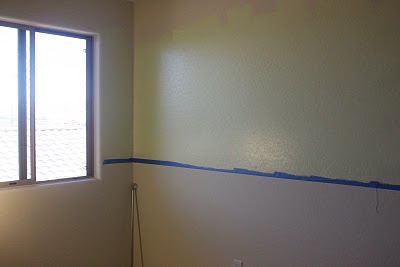 So this is the color that I first decided was going to go into her room. A nice Crisp Green from Benj. Moore. LOVED LOVED loved it in PotterybarnKids Catalog. It reminded me of a pretty garden and it looked soooo relaxing and girly. I even purchased a sample and it look great. Then it bought a whole gallon of it, did one wall and hated it! lol! It just looked neon…and then I didn't like the fact that it looked like I didn't even paint! I just can't commit to painting an entire room and at the end have it look like NOTHING….lol. So instead of taking it back I mixed this color with another green I had and got this color…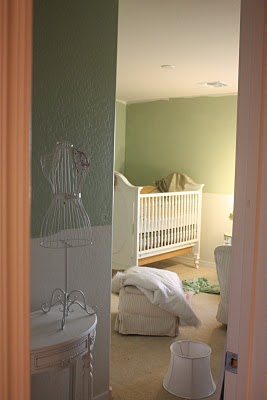 (sigh) much better..a nice sage green, not to dark not to light, girly, garden, and relaxing. So that just about all I've done so far! lol!
So checked off the list is:
Her crib
Half of the paint…lol
Rocker-From the boys room
Semi Table from HomeGoods
Cute little girly dress stand..HomeGoods
Things I gots to do:
Decide: Wainscotting or Ribbon Stencil
Hang Chandilier- PoshTots had HER chandelier on sale for 50% off…guess who missed the sale?But I found one on Overstock.com that will do just fine:0)
Crown Molding-anyone good at this?
Hang Mirror-From my childhood! Mom saved it!
Paint Dressers- Mom saved some from my room, gonna redo them!!!
Finish Crib Skirt!!! Started but haven't finished-LOVE MY NEW SEWING MACHINE!!!!
Order Bumper-Not sure still:0) lol
Get another lamp and shade
Hang curtain rods
Pick out curtains..lol
Nicknacks..picture frames,
Decide on shelving
Hang up shelving!
I am thinking I want everything done by the end of Jan! SO that way I can just wait for her to come! Wish me luck….wait who wants to come help?????!!!! lol!!!!