Easy Homemade NAKED CAKE in Less Than an Hour
This post is sponsored and may contain affiliate links, please read my disclosure policy.
I love the new trend of naked cakes. They're not only beautiful to look at but depending on your baker, they can be some of the most delicious desserts you have ever tasted despite the lack of frosting.
---
How to Make a Naked Cake
---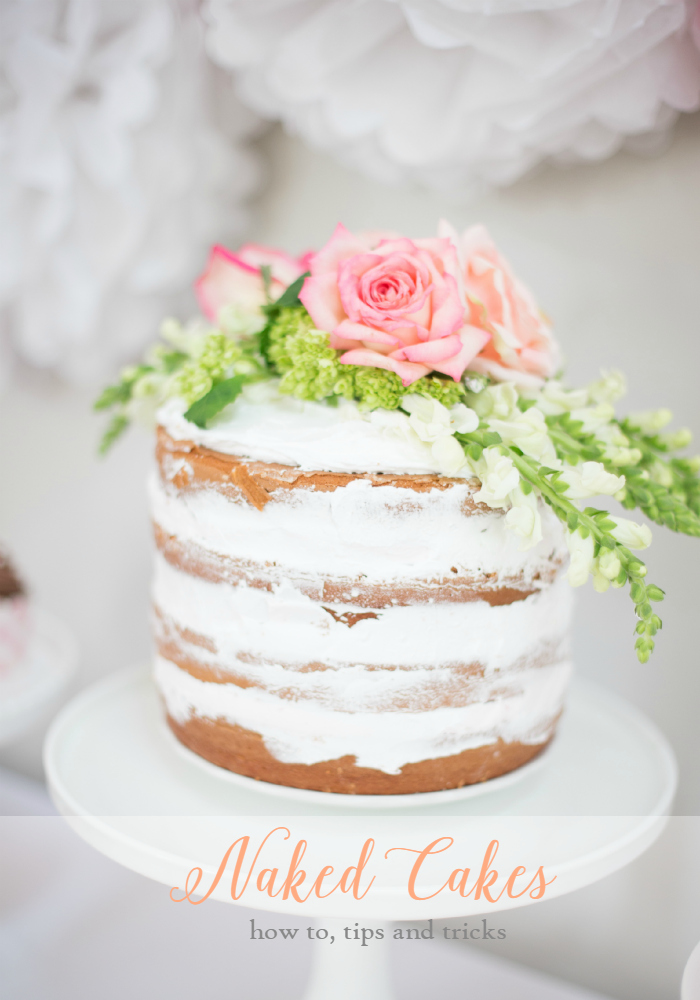 I set out to make my own version of the naked cake at my SIL baby shower and it came out pretty good! Today I'm going to give you some steps, tips and tricks to create your own naked cake at home for your next party using, boxed cake and whipped frosting from your local grocery store. Semi-homemade if you will!
Prepare 2 boxed cakes of your choice in TWO 3×8 inch round pans. ( I entire box with fill one 3×8 pan) Find them here! Make sure that you generously coat the pan in pan release or oil and flour so that it comes out nice and easy!
---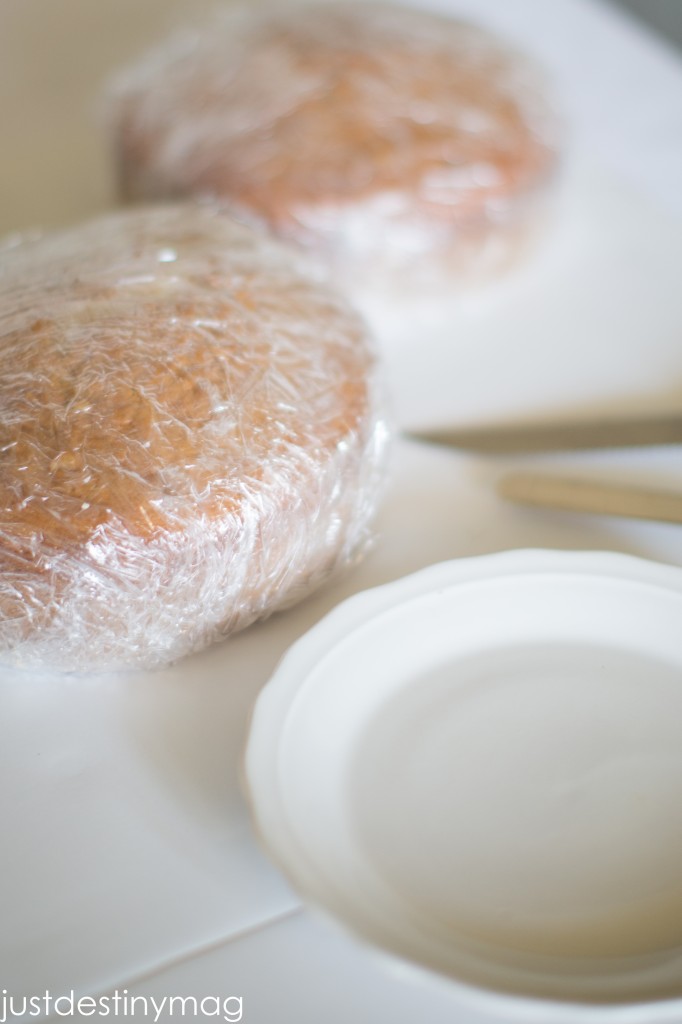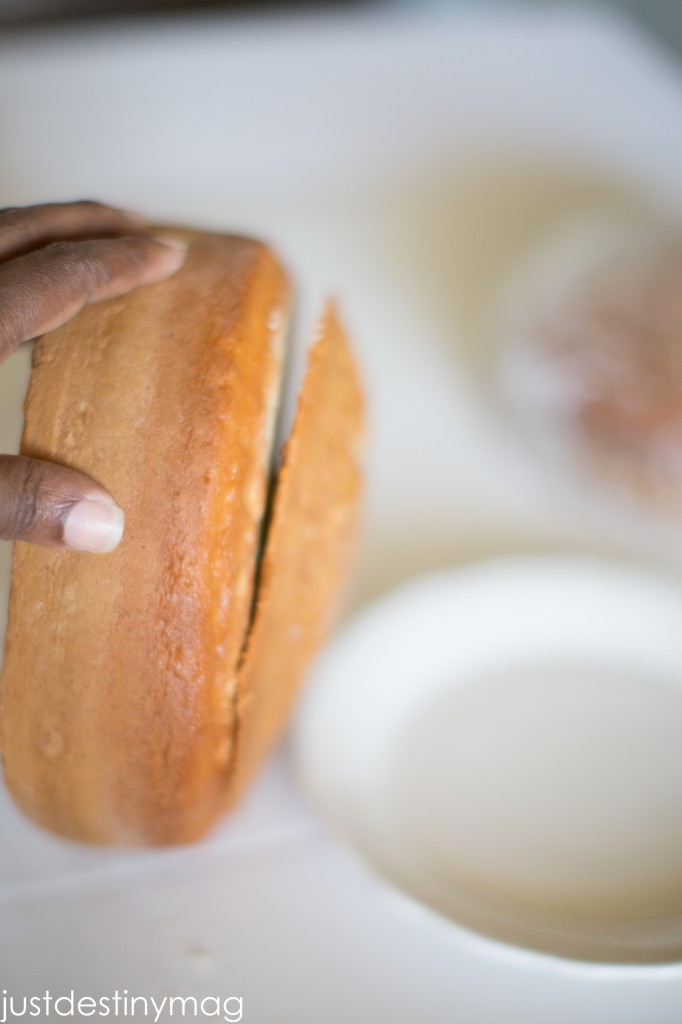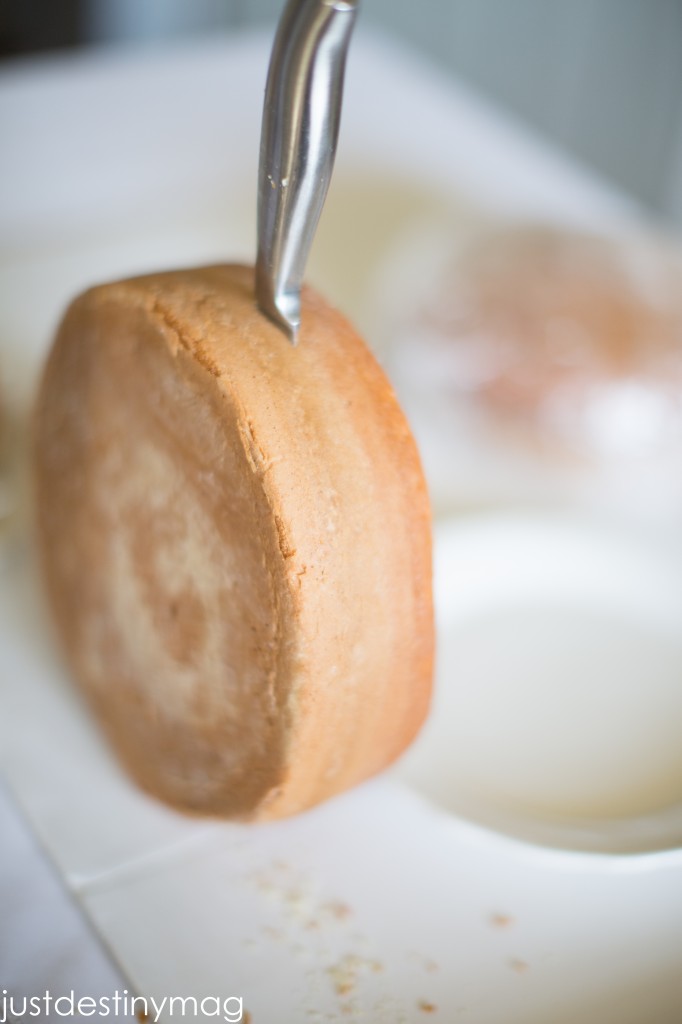 Once your cakes are cool ( after about 10-15 minutes) Remove them from the pan and carefully wrap them in plastic wrap. Then place them into the freezer for 4-6 hours.Working with frozen cakes is SO much easier, especially when you have a lot of handling and cutting. So do yourself a favor and freeze your cakes friends! If your cake didn't bake evenly then you will need to cut off the top hump with a serrated knife for easy cutting. Feel free to shove the scraps in your face. yum.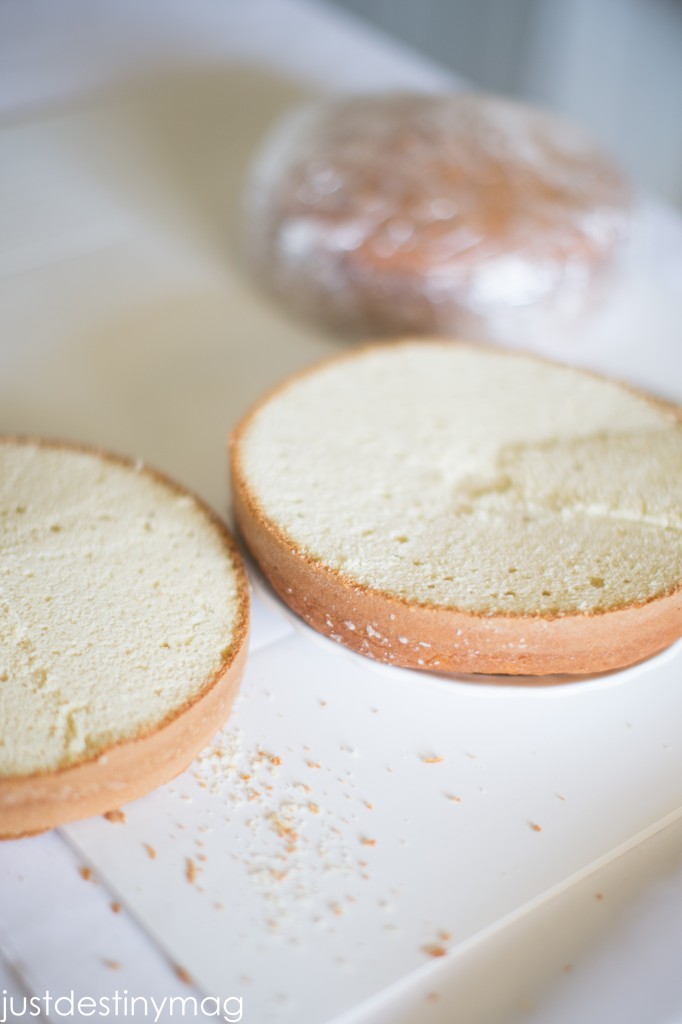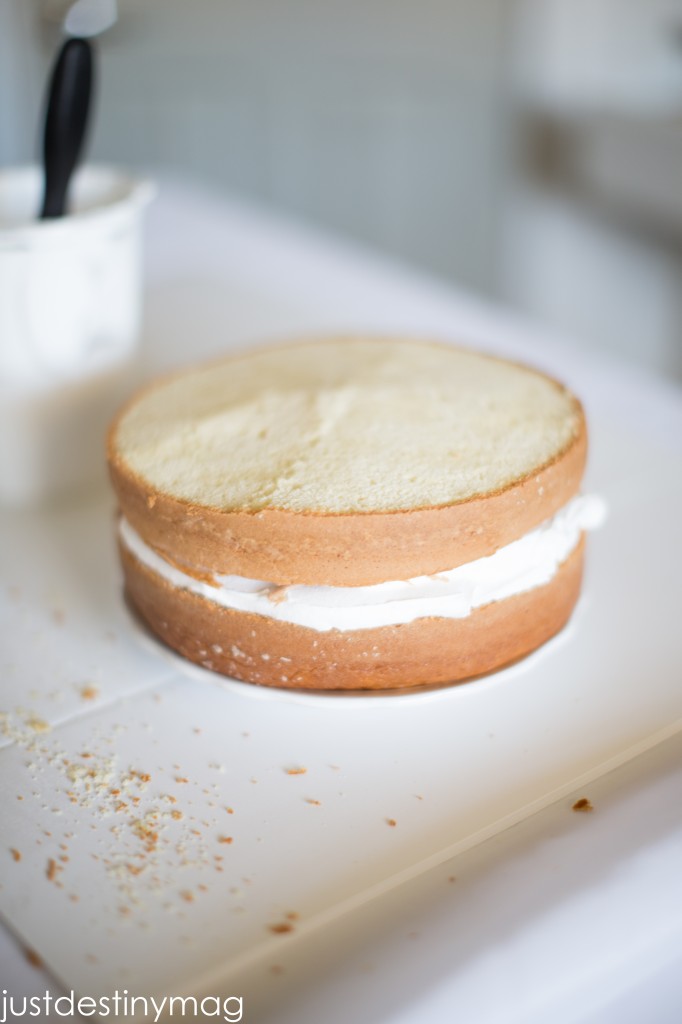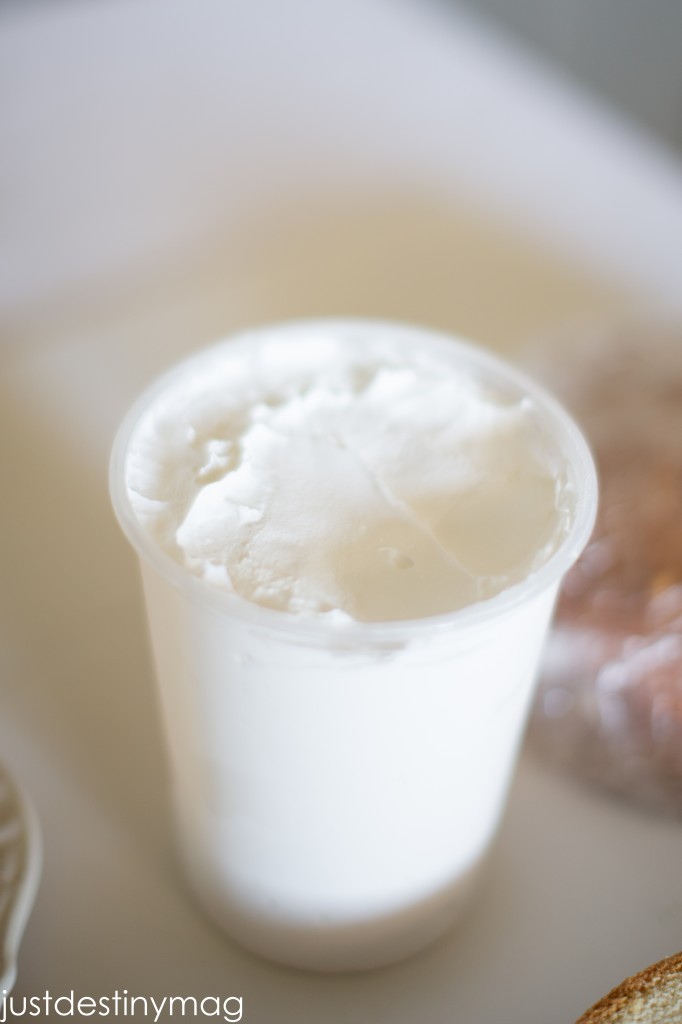 The next step is to cut the cake in half. There are all sorts of technically ways to make sure that the cake is even when you are cutting. Some people use toothpicks, while others use the cutting tool from Wilton. I personally just find the middle and cut through making sure I stay somewhat even. That's the type B in me. Type A's, you might not want to try this:0) Next begin to assemble the cake.Take the bottom of the first cake and set it on a small plate or cardboard mat. Once the cake is in place begin to stack up the cakes using layers or cake and whipped frosting/topping (not cool whip) in between for fluffy and light layers. I picked this tub up in the bakery section at Fry's. I LOVE this option because sometimes heavy buttercream is too much. This frosting really gives it a heavenly look and it's really easy to work with.
For the 3 layered cake, make sure the top of the cake is turned over to make the bottom. You want to END your cake with a very flat top, so make sure you save the bottom of the cake for last. Yeah, that was confusing. Read it again or just look at the picture below:0)
Fill it any gaps you see with extra frosting and don't be afraid to gently maneuver and shift the cake as need to get a nice even look. Instead of covering it with frosting leave the layers exposed. You've got yourself a naked cake!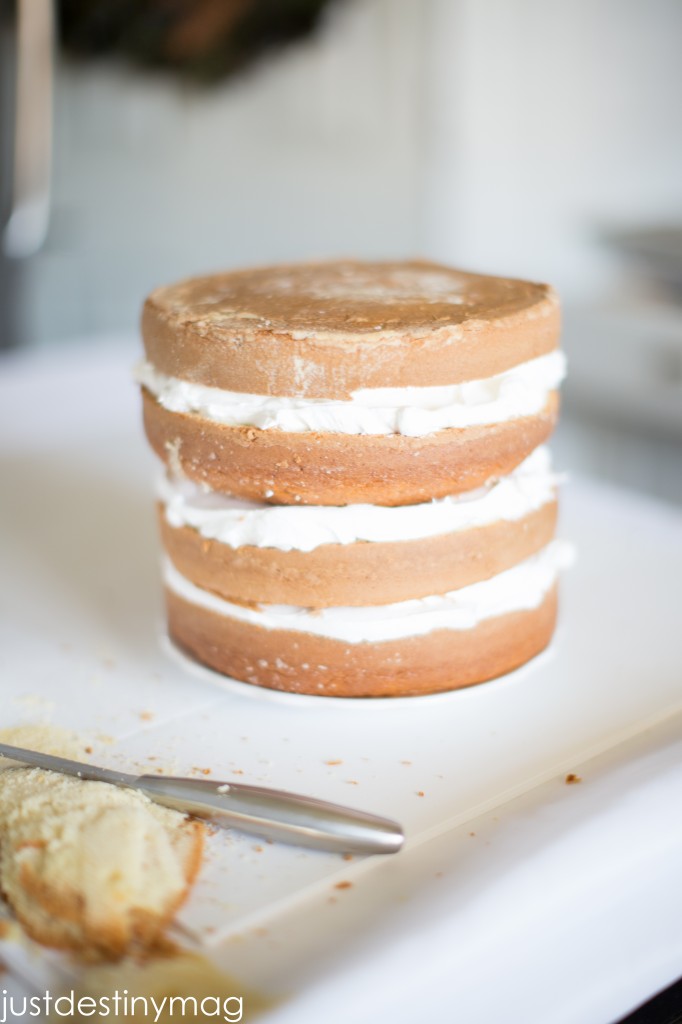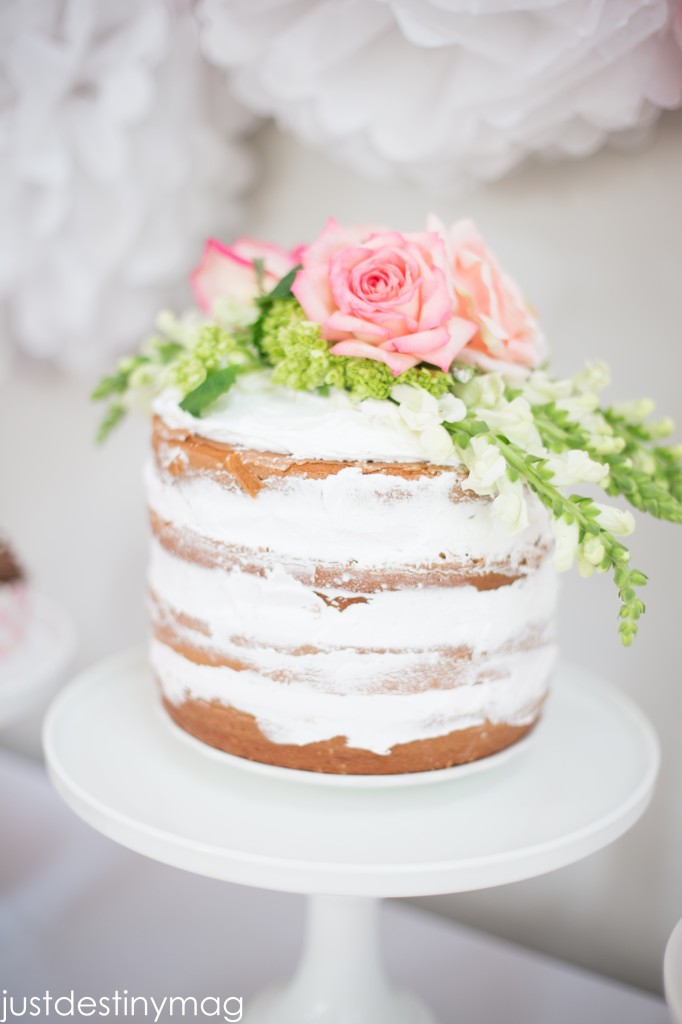 The final touch should come with flowers or any other objects that match the theme of the party. Simply cut foliage or flower stems and arrange them around the cake in a bouquet or cascading type form. Have fun and don't get to caught up on perfection.
[su_button url="https://justdestinymag.com/springtime-in-paris-party-ideas/" target="blank" style="flat" background="#ffa87c" size="6″ center="yes" radius="20″ icon="icon: heart"]Click to see more shots of this cake! [/su_button]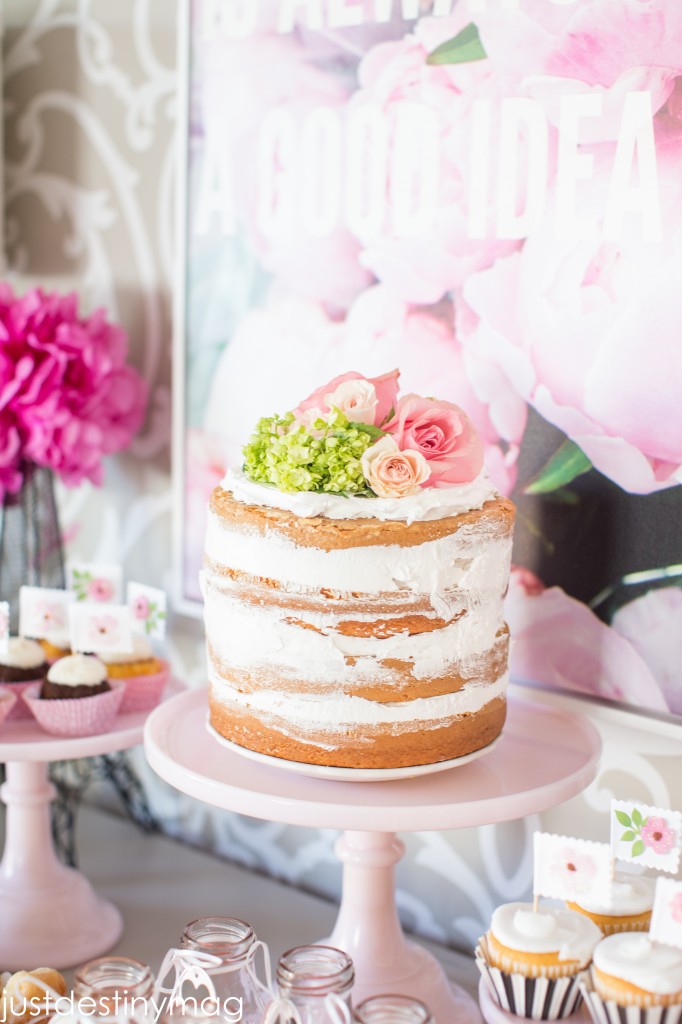 So there you have it! Naked cake! Let me know if you make one, I would love to see it over on Instagram!
If you're looking for some essentials here is a list I have on Amazon to help you out!