How Much does a Custom Closet Cost?
This post is sponsored and may contain affiliate links, please read my disclosure policy.
It's a great question and one that I wondered myself before I decided to get our closet done! After pinning my heart out on Pinterest to my dream closet board I decided to actually get some quotes and answer this question for myself! Custom closets are definitely a bonus to any home. Our builder grade closet had just a few basic shelves to hold our clothes. Nothing fancy at all. It was almost not even functional for someone like me who  appreciates an organized space. For years we just lived with it as we prioritized other areas in our home.  BUT we really did want to give this room more storage and maximize the space best we could! So a custom closet seemed like the way to go.
When building a custom closet system, get plenty of quotes.
To really get a full grasp of how much a custom closet you need to get a handful of quotes. At least 3 but 5 is even better. This way you can get a full range of what materials some companies use, labor costs and even who has better options for your particular space. 
Some of the national companies that are well know are California Closets, The Container Store, Home Depot, ClosetWorks and more. But you should also get quotes from local companies as well. They most likely come recommended by family and friends and also are often a community based business so their reputation is important to them and can be trusted. 
Here's our closet before…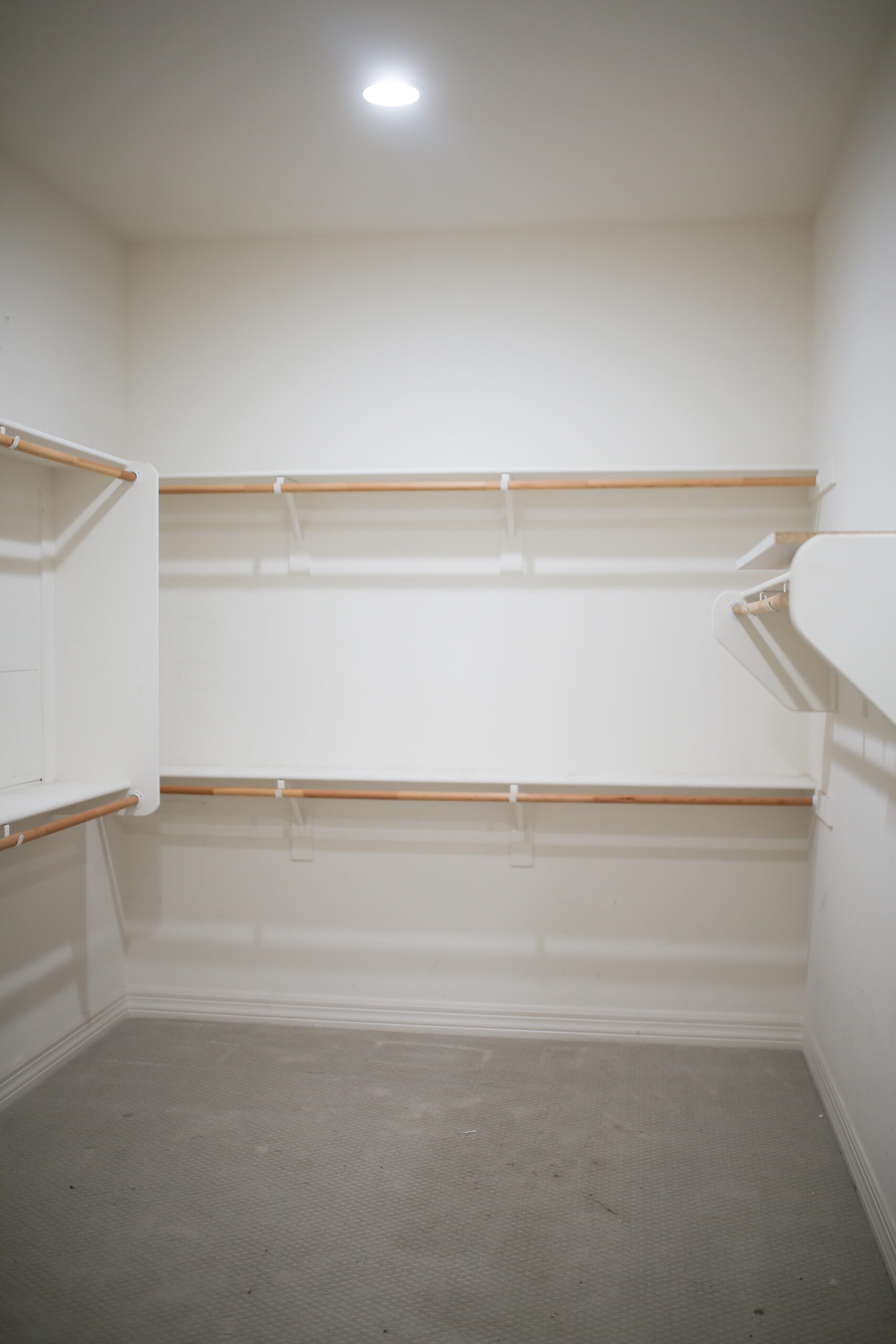 Before you even start to get quotes, know what your closet needs and wants. 
Each custom closet will have its own needs and wants so the price on a custom closet will vary! There is no way around it. Depending on the size, materials used ( wood vs mdf vs. other recycled materials ) , extra upgrades, etc your closet can be pretty basic but functional or glammed out to a dream! 
Make sure you have an idea of what you want. You can leave the layout to your designer. But if you have 140 pairs of shoes to store, you need to let your designer know. Or maybe a hand bag collection or even perfume. Maybe you just need a place to store precious heirlooms. Are you sharing this closet? How much space do you need?  All these things should be brought up in your consultation. Some designers even have you do an inventory so be ready to see how many summer blouses you have. hahah!  
For our closet I wanted to go all the way to the ceiling with storage. To stay on budget, we compromised and went up 9ft leaving and extra 12 inches for crown features of storage.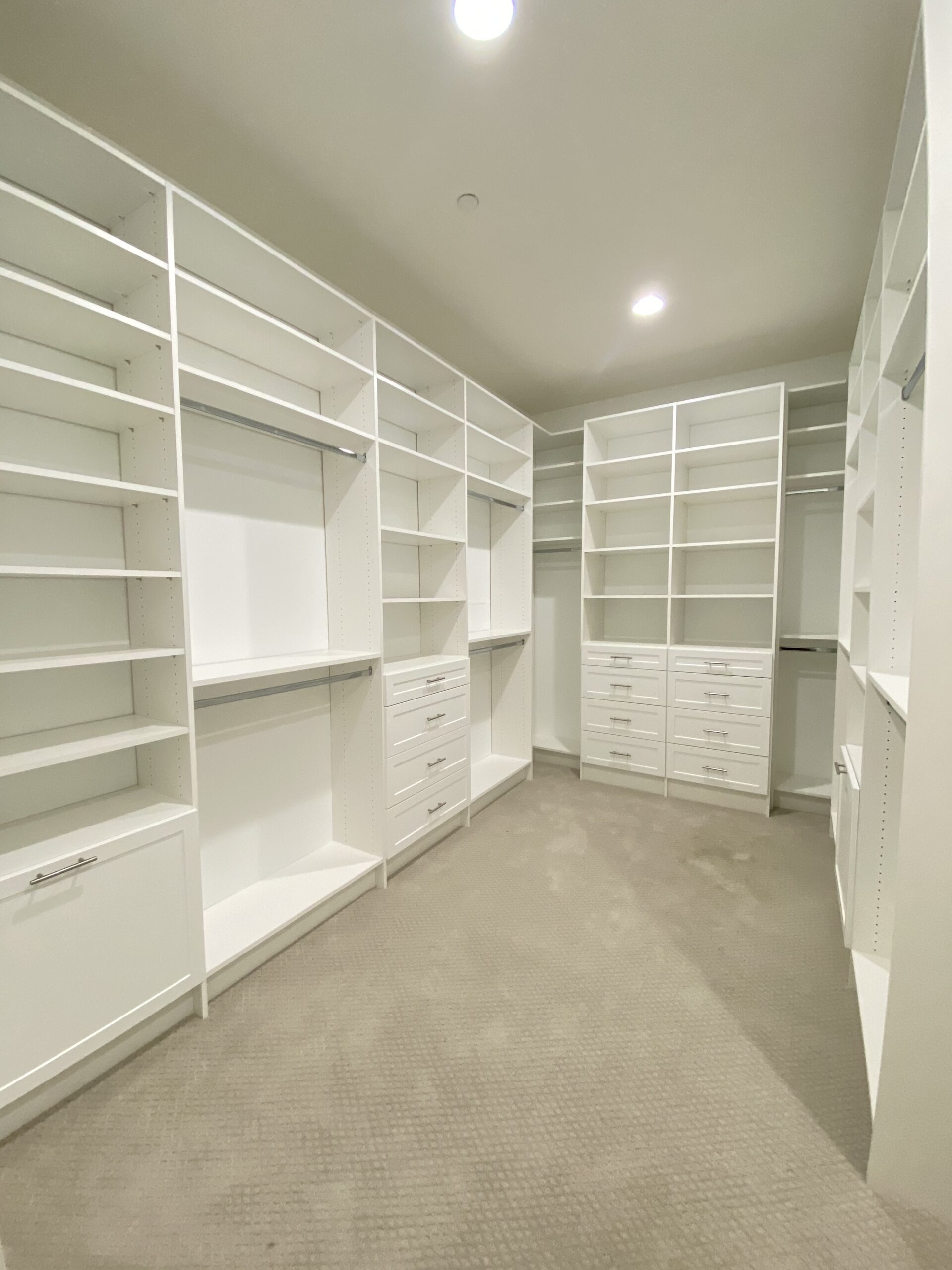 I also wanted to have a finished bottom with a toe kick. You can see this at the bottom of our closet. Without it, the closet would just go straight to the floor. Also our installer but this right over the carpet so there was no need to take the carpet out! 
Another thing I wanted were drawers! This way we could move all the dressers out of the room and have everything we needed to get dressed in the closet. This works great with our bedroom layout as well. Get out the shower and head right to the closet. Not get out, dry, go to the bedroom, then back to the closet. haha! Not a huge deal but more convenient for sure.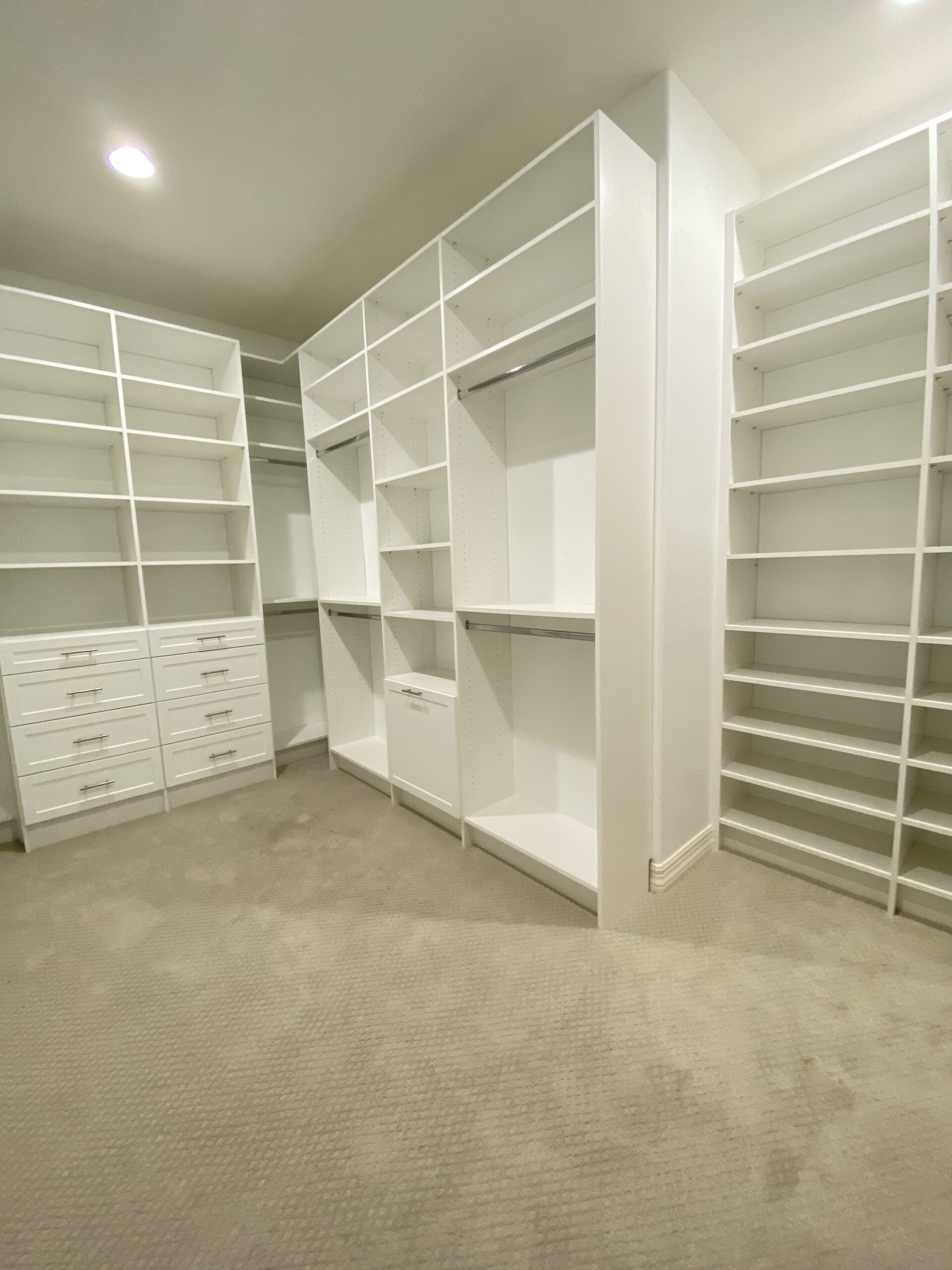 How much will a closet like this cost you? Here are some insight and price ranges.
When I did a poll on my instagram these were the prices that I got. I even got some prices around $1500. But if you don't know you don't know! So here are some of the most popular guesses. Also, to give you some reference our closet is about ( give or take)  16ftx10ft, 10ft ceilings with an extra 4ft bump out. 
$3,000-$5,000
If your guess was between $3,000-$5000, that's not quite it! But I can see why this would be your guess. It's actually pretty good! If my ceilings were just a little shorter and my closet a little smaller you would've guessed correct! Also if I was using basic materials like MDF and had a closet with no fancy or extra features ( drawers, doors, mirrors, ets)  I could've probably kept the closet within this budget! 
$6,000k- $11,000
Yes!! Big range but you were right! Let me explain. Because of the size of our closet this is the price range we were quoted. Depending on upgrades, installation and materials this is how much you'll spend . If your closet builder uses real wood for ALL of its pieces then you're going to be on the higher end. If your adding anything extra like drawers, hampers, knobs, extra space at the top then you will pay more for those features! Work with your designer to keep within your budget. If you guys are working on a digital plan it's easy for them to add and subtract features!
$11,000 +
Not quite that much! If we would've added led lighting, more doors, fancy knobs, jewelry drawers, full backing, deeper shelves (24 in instead of 14 in) , even more functional drawer and gone all the way up to the ceiling, this would've easily been a 11k+ project. The sky really is the limit after this point! It's all just a matter of how much you have to spend. 
How do you save hundreds and thousands on a custom closet?
Here are some extras you may want to skip because they add additional cost to custom closets! Pay attention to what details you keep adding over and over on your Pinterest boards! Those might be your non-negotiables! 
1.Finished bottom with kick toe– This was something I just thought made it feel more finished and a feature I kept noticing in my pins. Without it the closet would just go straight to the floor or hang from the wall. But this is something you can totally skip! 
2.Going higher than standard 8ft – I wanted to maximize our space, so I went higher with the entire unit. With the unit traveling up higher you just get more organized usable space but you still have space! But you can leave room at the top of your closet for extra bags or luggage and skip upgrading to 9ft or 10ft units.
3. Hampers– Functional pieces like hampers, pullouts, doors ( mine are coming) and jewelry drawers cost an extra $200-$500 more each! We only added two hampers and doors(that are not pictured) So be mindful of all you are adding! Do you need a safe, watch organizer, sunglasses, vanity?  I didn't need a jewelry drawer because I already had a beautiful jewelry box so that was an easy choice! 
5.Drawers– These were probably the biggest upgrade. But once again, you can decide if it's important! We wanted everything that we needed to get dressed, in the closet. Our drawer are also real wood which was an upgrade. 
6.Backing– Instead of attaching the closet to the wall, some people have a full finished back that matches the color of the closet. We skipped this. We just painted the entire closet white so you couldn't really tell a difference.
7.Crown molding– I actually just forgot to add this but you can also skip this or add later!
8. Lighting– this is also something you can get later! Adding it with the unit will cost you more up front. I actually just changed my light bulbs to these and it made a big difference of everything not looking so yellow. Highly recommended in the closet! 
Of course there are so many other features you can skip or add depending on your dream! But when it comes to a true custom closet and the cost it really just depends on your unique space! But I hope this gives you a good range to prepare.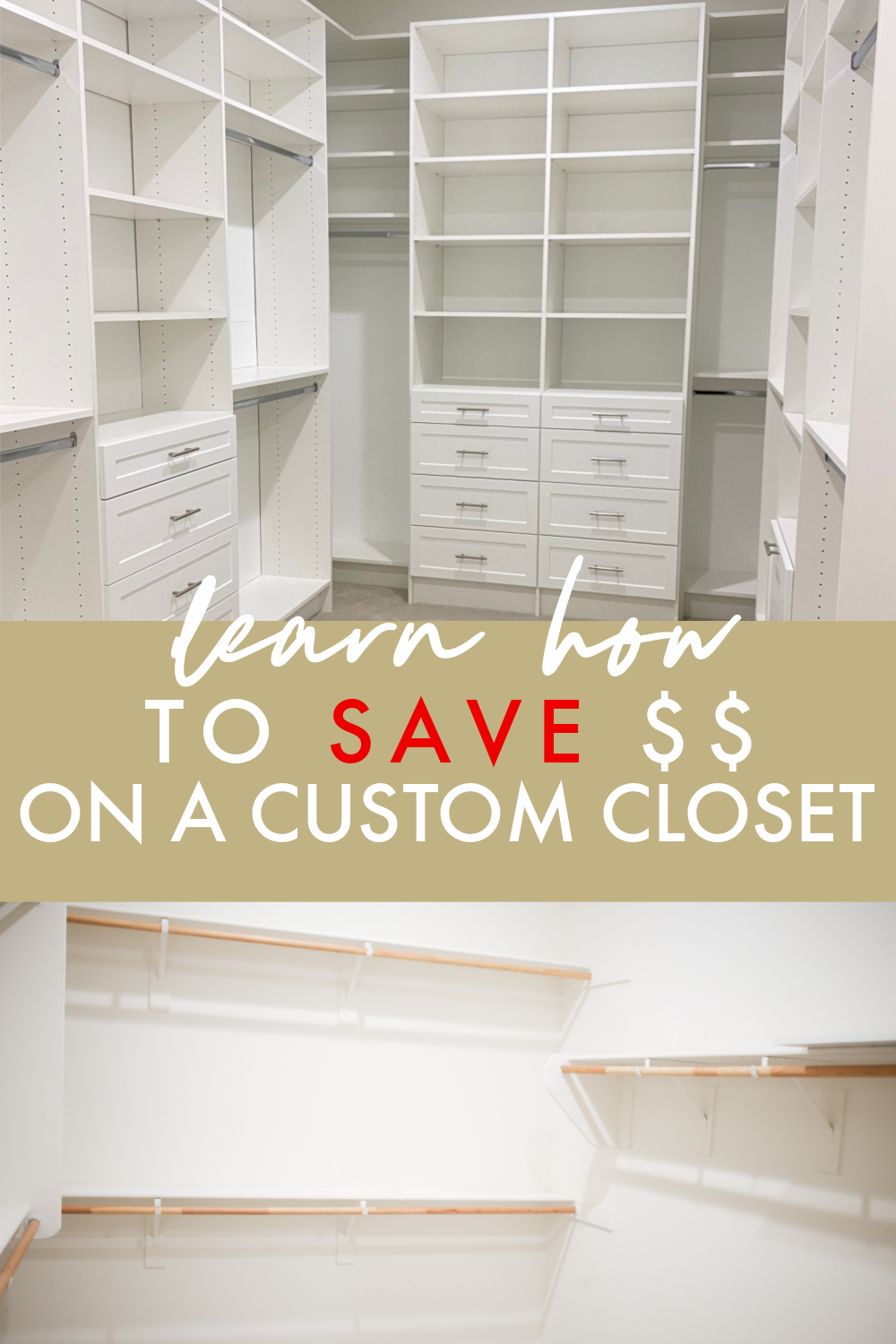 Check out our closet plan that is taking our closet from good, to better to BEST!