Holiday Gift Guide for Decorators and BIG GIVEAWAY
This post is sponsored and may contain affiliate links, please read my disclosure policy.
Hi friends! Happy Monday to you! Today is the day that I'm sharing this HUGE gift guide with you all! It's a collaboration of 23 bloggers so you are going to get the best of the best when it comes to gifts. Gifts for everyone on your list. Plus these are things we all actually want ourselves so you KNOW it's going to be good. We got to have a few chats about what everyone was going to put on their list plus some giveaway items as well! SO here's what your going to find below. First, your going to find everyone's gift guide this year. Each one of us has an amazing giveaway going along with our guides so your going to want to click and see! Then if you keep scrolling below and you'll find MY Gift Guide for Decorators! After that look for a..
HUGE GIVEAWAY RIGHT HERE ON JUST DESTINY MAG!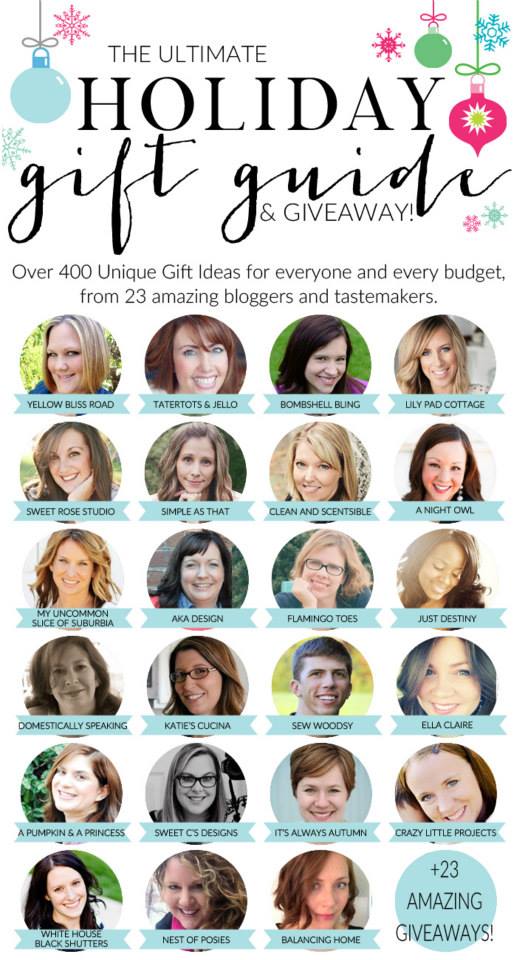 Gift for the Baker |
Stocking Stuffers
|
Gifts for Jewelry/Bling Lovers
|
Gifts for the Cook
Gifts for Little Girls (Ages 0-6)
|
Gifts for the Little Artist
|
Gifts for Ladies
Gifts for Little Boys (Ages 0-6)
|
Gifts for Big Boys (Ages 7-12)
| Gifts for Big Girls (Ages 7-12) |
Gifts for Teen Girls
|
Gifts for The Home
|
Gifts for the DIYer
| Gifts for the Foodie | Gifts for Men |
Gifts for the Host/Hostess
| Makeup/Beauty Gifts | Gifts for the Entertainer | Gifts for the Aspiring Photographer |
Gifts for the Crafter
|
Non-Clutter Gifts
|
Gifts for the Blogger
| Health/Wellness Gifts
[line]The Decorator [line][line]
When it comes to gifting to your decor friends and loved ones this guide is going to lead you into the right direction, plus I feature gifts that fit every budget! Decorators love items they can use in the corners of their homes. Items that can be placed on shelves, bookcases, in the office or on coffee tables. Keep in mind THEIR style. You can even take a peek at their Pinterest page to get some ideas! *post below contains affiliate links
1. Minted Art– I have several of these prints around my home and I can't stop getting them! There is always a spot ready for art in anyone's home. You can choose from landscapes to cute and funny sangs like this print. All these prints are made of a market of independent artist which keeps things fresh and current!
2. Speaking of art this beauty from House of Belonging and Aedriel Moxley is on my list this year. This collaboration is AMAZING. I love every piece they have to offer.
3. If you know someone who loves to shop, then a One Kings Lane e-gift card is the way to go. One Kings Lane is for serious decorators who love a great bargain, likes to stay on trend but also appreciates unique finds and collections!
4.Tiny Prints is known for all their lovely stationery pieces for parties large and small. But did you know that they also have home décor items you can customize. This super soft herringbone Monogramed Blanket it just one of the amazing items they have to offer!
5. Candles from Bath and Body Works are always a win. My favorite during the fall is Leaves and during the winter it's Marshmallow Fireside! The Barnyard Collection is perfect for neutral décor.
6. H&M Home is a great spot for affordable décor like this polka dot bowl!
7. Another H&M Home find! Textured pillows are all the rage right now. Your décor lover with hug you for this furry pillow.
8. Books like Plant Recipes are great for those who love fresh flowers and plants in the home. It's a book full of colorful images for reference!
9. You can get your décor lover a Magazine Subscription. For only $5 you can gift a subscription of Better Homes and Garden to any of your home loving friends! Wrap up the latest edition with a fun card and the subscription attached on Christmas Day! Other popular magazines I love are HGTV and Country Living
10. Decorators Lens: For pretty vignettes and closeup this 50mm 1.4 is my GO to lens. It's always on my camera!
11. This beauty will look wonderful in a bathroom, living room or under the tree this year! Who doesn't need a basket! A gold basket!
12. Gold is hot right now. This little gold beauty will look amazing on her holiday table this year!
13. Gold Scissors perfect the crafting decorator. I have these and they are WONDERFUL. This is an item I use daily when I'm around the house. Seriously a good pair of scissors goes along way!
14. These DaySpring letters are amazing. You can customize them to say anything your heart can think of. Use different fonts and letter heights to make decorate your home. I also love these letters that are on clearance!
15. Oh this little baby does wonders for the decorator. Monogrammed pillows, cutting fabric, labeling, custom wall decals! With THOUSANDS of designs in the Design Studio to help, your decorating loved one will flip for the Silhouette Portrait. You can get one learn all about it on SilhouetteAmerica.com plus I will also be featuring a project this week using it! But maybe you could use one yourself! So guess what!!
Yep JUST DESTINY MAG is giving away THREE Silhouette Portrait Machines today! That's three chances to win one of these amazing machines for all your decorating needs!
[line]GIVEAWAY[line][line]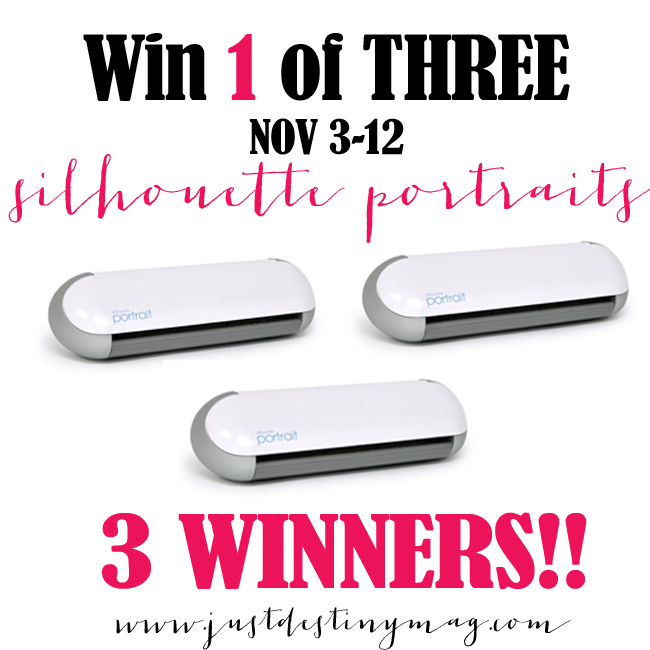 All you need to do is follow the directions below to enter! Contest ends NOVEMBER 12th 2014 Good LUCK! I remember how excited I was to win my first Silhouette a few years ago and well, I can't WAIT to give these out!
WIN 1 of 3 Silhouette Portraits Giveaway

[line][line]
We have put together an really fun gift guide for you all! Please take a look at some of the fun guides from all of my friends below!